The Wickery Bridge
Location Information
Type

Bridge

City
Wickery Bridge was the place of tragic death of Elena and Jeremy's parents.
History
Wickery Bridge was the location of tragic death of Grayson and Miranda Gilbert after they lost control of their vehicle and plunged over the edge of the bridge into the water. Stefan Salvatore was hunting in the woods nearby when he heard the crash and tried to help them. Dr. Gilbert refused to let Stefan save him before saving his daughter. Stefan rescued the daughter in the backseat and brought her to the shoreline, where he realized she looked exactly like Katherine Pierce, his former love interest from the 1800's. When Stefan goes back for Elena's parent, it was too late. Elena reveals to Stefan that that her parents were bringing her home after she had gotten stranded at a party that she snuck out to attend. The accident happened on the night of May 23, 2009 and John Gilbert tells Jeremy that there was nothing paranormal or supernatural about how the Gilberts died, which is why Grayson's ring didn't save Grayson from drowning.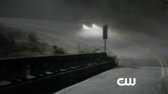 In Our Town, Stefan serves Klaus an ultimatum by kidnapping Elena, forcing her to drink his blood, and threatening to kill her as he drives recklessly towards the bridge. This would turn Elena into a vampire, meaning Klaus would no longer be able to make hybrids. Klaus finally folds, and agrees to no longer make hybrids with Elena's ​​blood.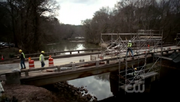 In Break On Through, it is shown that the second white oak was part of the bridge. Damon learned about it after consulting the Salvatore Family's ledgers (much to his dismay, seeing that he spent a decent amount of time in the episode travelling back and forth across the bridge, not realizing that it was basically a supply of White Oak Wood the entire time)  but Sage and Rebekah found the wood and burned it. However, Damon manages to save the nameplate of the bridge, which is made with white oak.
In The Departed, Elena and Matt are driving over the bridge and Rebekah is standing in the middle of it. Elena tells Matt to look out, but Matt swerves of the bridge and into the water. Within minutes, the car is completely immersed in water Stefan comes and tries to save Elena, but Elena tells him to save Matt first. Stefan complies with her wishes and takes Matt up to the surface, returning minutes later to rescue her however she had already drowned.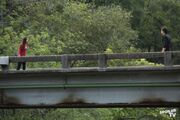 In We All Go a Little Mad Sometimes, Elena and Damon return to this bridge. She tries to kill herself because of her hallucinations of Connor, Katerina Petrova, and Miranda haunting her. Damon gets there in time to stop her. He saves Elena by jumping into the water with Elena. Later, Damon fished out her ring for her.
Vampires involved In Accidents
People involved in Accidents
Alive/Undead
Deceased
Trivia
Gallery
See also