Comments

65
Who should be the next Antagonist(Villian) for Season 4?
Just curious who do you guys think should be the next villian for s4? Right now our main villians are:
Esther
Alaric
The Originals(Tweener)
I have a possible villian for Season 4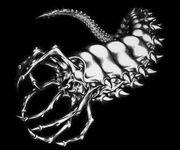 But overall the three demons be working for this guy:
Black Knight
Biographical information
Born

Ancient times

Status

Alive

Occupation

Hunter

Species

?

Family information
Family members

?

Supernatural information
Significant kills

?

Appearance
.
History
The black knight is extremely ancient and powerful, and has been locked up in a magical cave for centuries ever since a whole group of coven witches in africa locked him away. His minions include the malach, phantoms(even original phantoms) and kitsunes(including inari). His true identity is a mystery and only the original malach, phantoms, and inari know it. He claims he knows how to kill anything, literally anything. He has been hunting vampires, werewolves, all kinds of supernaturals for centuries. Its said the only witch that can unlock him is the one who had the most power channeled when he was locked up, a bennet witch.
Powers and Abilities
Immortality-The black knight is immortal and is so old, he was spotted in roman times
Weaknesses
Magic-Magic can weaken him and even locked him away with enough channeled magic
So who do you think will be the new villian of s4?