Comments

2
The Vampire Diaries SDCC 2012 Panel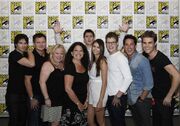 After waiting through MANY panels in Ballroom 20, The Vampire Diaries panel finally came - and boy was it worth the wait!
The season 3 final episode sure left us with quite the cliff hanger. Will Elena be a vampire now? "To Feed or Not to Feed?" was the question in the very exciting Season 4 trailer that the panel premiered right at the start.
After they showed the season 4 trailer, Kevin Williamson (Executive Producer) introduced as we welcomed the all star studded cast to the stage. The stars that attended the panel were: Ian Somerhalder, Nina Dobrev, Paul Wesley, Zach Roerig, Michael Trevino, and Steven R. McQueen, along with fellow show runner Julie Plec.
The panel ran about 45 minutes long, so I will just hit what the highlights were for me:
They started off talking about how all the characters have evolved from Season 1 to Season 4. Michael Trevino talked about his character, Tyler Lockwood, whom he said he "despised" in season 1, going so far to call Tyler a "douchebag". He loves how his character has evolved into this new hybrid werewolf. They moved onto Nina Dobrev who plays Elena Gilbert and how her character is probably the most evolved and where she is headed in S4. She spoke about how it's been so fun for her to play the two different character, Katherine the vampire and Elena the human. Now she has this new interesting task where she has to play Elena the human as a vampire now and how interesting that will be to play a vampire, yet still keep Elena's character true to who she is. She reminded us that Elena never wanted to be a vampire, so now she has to struggle with those feelings, which will be heightened now. Then Kevin spoke to Ian Somerhalder about his character Damon Salvatore. Ian says his characters feels like, "look I did everything you wanted me to do, I was everything you wanted me to be and it didn't work.". So, we'll see where Damon decides to take those feelings in S4. Next Kevin spoke to Paul Wesley who play Stefen Salvatore. Paul says that Stefen's TRUE character was finally reveled in S3, and is actually really dark and sick who covers up his darkness with all his "goodwill". Kevin moved on to talk to Zach Roerig who plays Matt Donovon. This was Zach's first Comic-Con appearance. Zach said that he's "proud to be the only human!", at which point Steven R. McQueen (who plays Jeremy Gilbert) joked, "Hey I'm human too! I see dead people, but I'm still human!... Cut me, do I not bleed?!". Zach continued, that knowing Elena - Matt would probably offer up himself for her to feed on, knowing that Elena doesn't want to bring harm to anyone. The next question from Kevin was directed to Steven, asking him if he thinks Jeremy will ever find love. Steven joked that he has the "kiss of death".
Kevin asked the group what they feel is the best and worst part of their job. Nina said the lack of sleep, and Michael said it's when he has shirtless scenes and there are homemade cookies on set that he can't eat. Ian said the best part of the job is "THIS!", meaning the fans and all the support they receive.
The group answered a question about who they would like to see hook up with who, and Zach joked that he'd like to hook up with Sheriff Forbes. Paul said he'd like to "hop in bed with Elijah". Elena said she'd love to see Katherine and Elijah hook up.
The cast talked about their favorite scenes to play. Nina said she loved doing the underwater scenes with Zach and Paul. Steven said he loved the scene where he shot his crossbow. Julie said her favorite scene to watch was the candlelight vigil held for Alaric Saltzman, who was played by Matt Davis.
Next came the Q&A. One question was to Julie which asked her to name off one thing about each cast member that people may not know. She said Steven is a goofball, Zach has grown so much over the 4 years, he is such a good soul and he hunts turkeys, Paul is hilarious, Nina will rule the world, Ian has met and done more things than anyone she knows - she even joked that she thinks he sat down with Jesus Christ at one point, and Michael has a heart of gold and is a true friend and always stands up for women (my kind of guy!).
Another question asked if Matt Davis would possibly make more appearances in a flash back sense, and Julie Plec said it's definitely possible.
Julie addressed a question about Meredith, saying she will definitely be back - but no foxes to speak of yet.
A final question asked Ian how he thinks his character, Damon, will process Elena now being a vampire. He said that it'll definitely be an interesting dynamic. He's glad that Elena will be able to fend for herself now, Damon won't always have to run in to save her all the time. Paul chimed in joking about how the three of them can now have "vamp sex" and it'll be really quick and no one would even notice. They did funny sound affects for this, that they did off and on until the end of the panel.
Overall this was a great panel, one that I was happy to attend. I can't wait for all the goodies that will be in Season 4! In my opinion, this show just keeps getting better and better. I love how they are evolving the characters, and I am especially excited to see Elena as a vampire and how that will all play out. I was a little disappointed that this was the second to last panel of the day, meaning that we had to get up early and get in line for Ballroom 20, and then sit through HOURS of panel before TVD came on. I wish they would do the biggest panels at the start of the day. Also this year was incredibly more packed out with people than last year, so I didn't get to sit as close as I would have liked.
Thanks for reading!
Tara