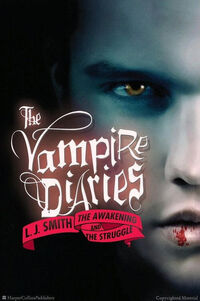 OMG!!!! I just read The Awakening!! I went to the bookstore and bought several of the books!! I've now started The Struggle but really, the book was amazing!! It's like nothing like the series, well, Damon's the same but still!! The book is a masterpiece in the making to me!!
However, it's so different from the vampire diaries that I swear it's too different things completely. The book is great and the show is awesome!1 What else is there to say??
Ad blocker interference detected!
Wikia is a free-to-use site that makes money from advertising. We have a modified experience for viewers using ad blockers

Wikia is not accessible if you've made further modifications. Remove the custom ad blocker rule(s) and the page will load as expected.