Favourite CharactersEdit
Rebekah Mikaelson
My favourite characters in the original vampire Rebekah Mikaelson. I find her very strong as she's been through a lot, and she deserves true happiness. Despite being a thousand years old, she never got to live the life she always wanted.  Her happiness was always taken away, and at first tried to hide her sadness with bitchiness, but she always stayed true to herself as the Bekah we all know and love dearly. She was always very caring, and knew how to love deeply, even if it hurt her. She is also badass and willing to fight when she needs to.
Klaus Mikaelson
Although there were times when I hated him, he's the type of person who you only hate until you know his profound feelings. He is very misunderstood, and is the way he is to due his difficult upbringing because of his father. He wants to be loved, and sometimes doesn't know to make someone love him. He has always felt that he had to fight to be loved, becuase that was how he was raised. He wanted hybrids who are sired to him so that he can be loved, but it didn't work.
After The Originals, we got to learn even more about him and love him more. He has learned to embrace and love his family more. He is also protective of his daughter, whom may help to remove his fears and find someone whom truly loves him as her father.
Elijah Mikaelson
Caring, loyal, thrustworthy, and brother. He cares deeply for his siblings, despite their differences. He has wanted to help Niklaus in his redemption, and has always loved his dear sister Rebekah. He has always put others before himself, making sacrifices for those he cares about. He also cares dearly for the child of his brother and Hayley, showing his protective side. He doesn't want to fight, in fact he wants peace. The nobel brother, and the one who will still kill you if you dare to cross him.
Davina
I have always liked Davina sinced she was introduced. There was something about her, she had something special. At the early age of 16 she had to go through having to leave her family and her whole community and control all her powers. She is also very kind and loving, and has that innocent look. She is also growing up, becoming a strong witch and being able to stand up for herself more.
Katerina Petrova
She's the bitch that just wants to be loved. From an innocent young mother to a vintictive killing vampire, she still is loved by many. She always fought for her life, no matter what she had to do and who she had to hurt or kill in the process. She also had her love for her daughter, whom she finally got to meet and in the end she realised her fault of not being the right mother for her. RIP Katerina, death but never forgotten.   
Caroline Forbes
Unlike many, becoming a vampire was the best thing that happened to her. She became the loving and caring girl that I've grown to love dearly. She has suffered in her lifetime, but still always continued to grow. Her friendship with Stefan is something that I've gotten to really love, and her character is the kind of friend one could wish for.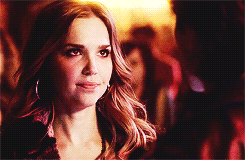 Lexi Branson
Taken away from us too soon, Lexi has always been one of my favourites. She's funny and also caring a true best friend to Stefan. Whether in flashbacks or a ghost, almost everyone looks forward to her appearances, and hopefully (whishful thinking) we will one day get her back with us !
Genevieve
In the past Genevieve had her life stolen from her. She was betrayed by her best friend and died young after all she wanted was to protect herself and her family. Now, she is back alive. She is a brilliant character and very powerful as well. She finally gets to live, and she makes the most out of it.