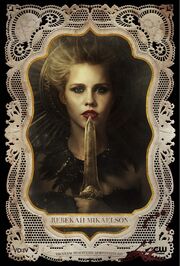 This user is on Team Rebekah!
Julia PierceEdit
Hello everyone! My name is Julia. On this page, I'll tell you a little about myself. I love Black Butler/Kuroshitsuji; I watched all of the episodes. My favorite character in Black Butler is Ciel Phantomhive. The Vampire Diaries is my favorite TV show (not counting Black Butler, which is an anime TV show). Another thing I like is Twilight. The books are really good, the movies? Not so good. My two favorite characters are Bella Swan-Cullen and Carlisle Cullen. If someone asked me what my favorite color was, I couldn't be able to decide between black and navy blue!
My Experiance at London 2011
Edit
As you may well know, my favorite city in the world is London, England. I went there over the summer of 2011, and I fell in love with it. I have to say my favorite part was the Victorian parts remaining of it. Let me just say this: if I could be alive during any time period, it would be the Victorian period at London. My favorite part was St. Paul's Catherdral -- a huge Angelican cathedral -- and Big Ben (the famous clock tower). Hopefully, I will have the chance to visit there again, If you ever have the chance to go there, take that oppurtunity and enjoy yourself.
Matt Donovan and Katherine Pierce <3
Edit
Okay, Matt and Katherine are officially my favorite couple in The Vampire Diaries. I know there's not much action going on between them, but I had a dream about them being a couple. Weird, right? But I seriously think they should be together. First of all, Elena dumped Matt, so Matt getting Katherine would be really juicy. Second, Elena might get a little jealous that Matt isn't Team Elena anymore. Do any of you think that would be a good couple? Leave your answer on my message wall!
Elijah Mikaelson and Stefan Salvatore
Edit
Elijah and Stefan are my two favorite characters in The Vampire Diaries (I like Elijah just a little more). I like Elijah because he is so moral, and I like Stefan because he actually tries to be good (unlike world class ass Damon).
Facts About Me

Edit
Favorite Color: Black/Navy Blue
Favorite Food: Cake
Favorite City: London, England
Favorite Song: "Monochrome Kiss" by SID
Favorite Book Series: Black Butler/Kuroshitsuji
Favorite TV Show: Black Butler
Favorite Movie: Don't Be Afraid of the Dark
Favorite Actress: Nina Dobrev
Favorite Actor: Alexander Ludwig
Favorite Vampire Diaries Character: Elijah Mikaelson
Favorite Hair Color: Brown
Favorite Flower: Rose
Favorite Scent: Rose
Favorite Girl Name: Katherine
Favorite Boy Name: Ciel
Favorite Twilight Character: Carlisle Cullen
Favorite School Subject: History
Favorite Animal: Cat
Favorite Bird: Crow
Favorite Accent: British
Favorite Thing To Drink: Tea
Favorite Flavor: Vanilla