My name is Janelle and I'm 19. Currently studying Business Management, already on my 3rd year of college. I have a passion in writing. And here I can apply it to editing pages and share my ideas. I also love writing poems and rhymes. I love listening to Paramore, Flyleaf, Coheed and Cambria, Sleeperstar, Paulo Nutini's Rewind and many more.
The Vampire Diaries definitely completes my week every Friday. Guys, I'm from the Philippines, so it's friday morning here when TVD airs in CW every Thursday.
Anyway, I'm just so amazed with this series that's why I joined. My fascinations with the story, The Mysteries, the characters and even the cliffhangers can now be shared with people like me. Not only that I can give my own thoughts but I can also receive information that I want to know about the series.
My Discovery of The Vampire Diaries
Edit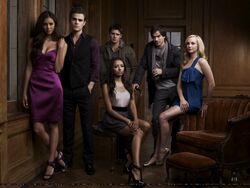 I've started watching the series when the hiatus of Season One aalready began, that was December 16, 2009. My friend introduced this series to me. It was just one afternoon and everything went legendary! She's looking for a TV series to watch online and because of her addiction of vampire books, movies and series, she picked The Vampire Diaries. At first I told her, "watch on your own", because that day, I'm on for comedy series and wanted to watch Friends. She watched the series, I read Breaking Dawn (I was also obsessed before but TVD is way more interesting than Twilight series). And when she left for her class, I checked out what she just watched and boom! I was glued on my sit in front of the laptop screen watching episodes 1-4 consecutively. When my friend got back, she teased me and said, "I told you, you'll gonna love it." And yes, I did and I still am.
At home, I immediately searched for TVD online and continued watching the rest of the episodes until I found out about that there's a huge hiatus of the holidays that year. I thought the obsession will just passed because the wait for the Episode 11 was too much, but I was wrong. I kept wanting for more, got excited of what will happen next. So what I did was watch all the episodes that was aired over and over again.
I thought to myself, this series is very interesting that even the makers of it know how to maintain and gather more viewers. It's really cool. I'm expecting more of how the story and characters will evolve and how the series will end up its relationship with the past.
My favorite pages
Edit
Favorite Shows
Edit
The Vampire Diaries definitely is first on my list! Well, obviously I'm addicted to watching it and I've been patiently waiting for every episode to air since december 2009. I really love the show, the story, the characters and the mysteries. I search for its latest news, spoilers, and even the hotties of the casts! haha. I think that everything that we put in this wiki are all worth it. It's how we show our love and support for the actors who are doing their bests to give us all these amazing episodes that makes us crave for more. And I would really love to meet them in person that's why!
Now, How I Met Your Mother makes me smile, laugh so hard and be mentally retarded for awhile. Haha! This show is amazing, the teasing of each character to another, the pranks, I love the flashbacks, the directing skills, the story of Ted is sharing how he met the mother of his children. It's just cool! And Barney! I love that man! So funny that he's so childish with those "Challenge...Accept...Wait for it..(And points to Ted)!" Nerd Ted, Pervert Barney, Crazy Lily, Hilarious Marshall and Freaky Robin! I love these characters!
---
Let's support The Vampire Diaries 01:46, November 21, 2010 (UTC) Elajnel