Tyler and Klaus
Comments

14
1,299pages on
this wiki
Tyler and Klaus
General Information
Nickname(s)

Klyler

Intimacy Level

Enemies

First Met

August 31, 2010 (The Reckoning)

Status

Enemies
"
Supernatural good fortune you've linked to me. Let's say I test your loyalty.
"
This is the relationship between the two hybrids, Tyler Lockwood and Niklaus Mikaelson. Klaus and Tyler's rivalry started when Klaus turned Tyler into a hybrid but escalated when Klaus fell for Tyler's girlfriend, Caroline.
Season Two
Edit
There was very little interaction between them in Season Two. Klaus only wanted Tyler for the werewolf part of the Sacrifice.
Season Three
Edit
In
The Reckoning
,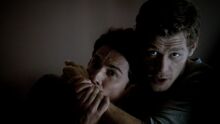 Tyler was brought to Klaus by
Rebekah
there Klaus force fed Tyler his blood and snapped his neck, thus turning him into a hybrid and forcing
Elena
and the others to find out how to save Klaus' hybrids.
In Homecoming, Tyler lets the Homecoming party be thrown at his house, and Klaus warns Tyler that it not his just a party, but a celebration of Mikael's supposed death. Klaus also informs Tyler that whatever his friends are planning, he all ready knows.
In Our Town, Tyler comes to Klaus at his mansion and Klaus tells Tyler that he wants him to bite Caroline. Tyler tells him no, but then later in the woods Tyler accidentally bites Caroline. Tyler goes to Klaus and ask him to heal Caroline, which Klaus does.
In Dangerous Liaisons, Tyler is mentioned in a conversation between Klaus and Caroline, where she was telling Klaus to give Tyler his freedom back.
In Heart of Darkness, Tyler returns to Mystic Falls, having broken his sire bond to Klaus (after having turned into a werewolf approx. 100 times). Caroline informs Tyler that once an Original dies, it's entire bloodline dies along with it. She also informs him that if the Originator of the Salvatore's bloodline is not Klaus, they would kill him, meaning that Tyler would also die. Later, he finds one of Klaus's pictures on Caroline's table, gets furious, and leaves her place.
In Do Not Go Gentle, Tyler and Caroline dance at the 20's Decade Dance together until Klaus shows up. Although Tyler has broken his sire bond, he and Caroline do not want Klaus to know that. He voluntarily steps aside to let Klaus dance with her. Klaus informs Caroline he is leaving, and tells her they both know she is not up for coming with him. He walks away before saying another word.
Season Four
Edit
Season Three
Edit
Season Four
Edit
---