Welcome
Anonymous User
to
The Vampire Diaries & Originals Wiki!
WE'VE BEGUN OUR MASSIVE CLEANUP.
IMPORTANT NOTICE: Please respect all views and all perspectives. This wikia is meant for a better understanding of the show, and for a strong, friendly community. Hateful or vulgar posts against someone or something can and will be removed by the Admins. Thank you for reading this notice; please spread the word, and keep it nice.
Please note that swearing is not allowed.
CAUTION: This wikia contains spoilers from the novels, The Vampire Diaries & Originals.
CHARACTERS

Vampire Diaries Novels
Original Novels (1991-1992)
The Return series (2009-2011)
The Hunters Trilogy (2011-2012)
Liv Parker is a powerful witch in allegiance with an unknown coven to help fight the impending war between the witches and the Travelers.
In "Total Eclipse of the Heart", Liv is first seen in class while she is playing with a pen. She is inexperienced in witchcraft and tries to avoid people. When Bonnie is forced to find a witch to save Jeremy, she goes to her and begs for her help and finally she agrees to help her. Bonnie tutors her how to do a locator spell and says that she could teach her to control her magic. She almost gives up when she accidentally breaks the lamp, but she finally manages to perform this spell. Read more
Which Family Member of the Original Family do you think may be the next to become a regular in season 3?
1508 people voted in last poll. 50% of you felt The Originals: Wheel Inside the Wheel (2.07) was the better episode of the week over Vampire Diaries. Thanks for voting, and be sure to check back for new polls each week!
---
---
Join the Chat

Loading RSS data...
Refresh


The Vampire Diaries
Season Seven teaser
The Originals
Season Three teaser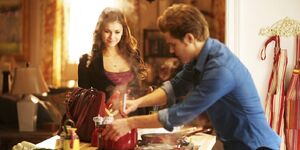 Stefan and Elena's vision of their future.