Home
Talk

43
1,593pages on
this wiki
Welcome
Anonymous User
to
The Vampire Diaries & Originals Wiki!







WE'VE BEGUN OUR MASSIVE CLEANUP.
Show your support, vote for TVD/TO in the People Choice Awards
IMPORTANT NOTICE: Please respect all views and all perspectives. This wikia is meant for a better understanding of the show, and for a strong, friendly community. Hateful or vulgar posts against someone or something can and will be removed by the Admins. Thank you for reading this notice; please spread the word, and keep it nice.
Please note that swearing is not allowed.
CAUTION: This wikia contains spoilers from the novels, The Vampire Diaries & Originals.

Doppelgängers
Deceased/Unknown Doppelgängers
Amara's Doppelgängers •
Tatia
• Silas's Doppelgängers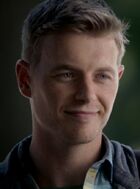 Dr. Wes Maxfield is a professor at Whitmore College. His students describe him as brilliant, in spite of his arrogant teaching style. He has studied all of Grayson Gilbert's research, and is aware of the existence of vampires and quite possibly other supernatural species.
While generally described as brilliant by his students at Whitmore College, Wes often comes off as arrogant in his knowledge of microbiology. He is also somewhat of a disciplinarian, as he thoroughly embarrassed both Caroline Forbes and Elena Gilbert when they tried to sneak into his class as college freshmen. Wes is also shown to be very observant as he knew Aaron was drinking just by walking pass him and took his keys and gave him money for a cab.

How would you rate "The Doppelgängers Chapter" (Eps 1-7) in The Vampire Diaries?
1400 people voted in last poll. 90% rated "The Originals" with 5 stars! Thanks for voting, and be sure to check back for new polls each week!
---
---

Loading RSS data...
Refresh

500 Years of Solitude airs in......
January 23, 2014 19:00:00 CST This message will be displayed if the timer does not show up (if you do not have javascript enabled on your browser)
The Casket Girls airs in......
January 14, 2014 19:00:00 CST This message will be displayed if the timer does not show up (if you do not have javascript enabled on your browser)
Elijah during the 1820s.

The Vampire Diaries
500 Years of Solitude Promo
The Originals
Promo for "The Casket Girls"