Home
Talk

43
1,941pages on
this wiki
Welcome
Anonymous User
to
The Vampire Diaries & Originals Wiki!
WE'VE BEGUN OUR MASSIVE CLEANUP.
IMPORTANT NOTICE: Please respect all views and all perspectives. This wikia is meant for a better understanding of the show, and for a strong, friendly community. Hateful or vulgar posts against someone or something can and will be removed by the Admins. Thank you for reading this notice; please spread the word, and keep it nice.
Please note that swearing is not allowed.
CAUTION: This wikia contains spoilers from the novels, The Vampire Diaries & Originals.
CHARACTERS

Vampire Diaries Novels
Original Novels (1991-1992)
The Return series (2009-2011)
The Hunters Trilogy (2011-2012)
Stefan's Diaries (2010-2012)
The Salvation (2013-2014)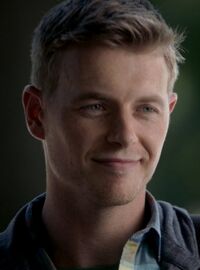 Wes Maxfield is a professor at Whitmore College. His students describe him as brilliant, in spite of his arrogant teaching style. He has studied all of Grayson Gilbert's research, and is aware of the existence of vampires and quite possibly other supernatural species.
In "True Lies", Wes opens his Applied Microbiology class by sharing a short history lesson with his students, encouraging them to imagine the smell of rotting corpses while they attend the bonfire later that night. He quickly calls out Caroline and Elena, who have enrolled in his class on a sleuthing mission, and exposes them as freshmen before dismissing them from his class.
Which Family Member of the Original Family do you think may be the next to become a regular in season 3?
1508 people voted in last poll. 50% of you felt The Originals: Wheel Inside the Wheel (2.07) was the better episode of the week over Vampire Diaries. Thanks for voting, and be sure to check back for new polls each week!
---
---
Join the Chat

Loading RSS data...
Refresh


The Vampire Diaries
The Originals
Exquisite Corpse Promo
The cast and crew honoring the late Sarah Jones.