Home
Talk

43
1,905pages on
this wiki
Welcome
Anonymous User
to
The Vampire Diaries & Originals Wiki!
WE'VE BEGUN OUR MASSIVE CLEANUP.
IMPORTANT NOTICE: Please respect all views and all perspectives. This wikia is meant for a better understanding of the show, and for a strong, friendly community. Hateful or vulgar posts against someone or something can and will be removed by the Admins. Thank you for reading this notice; please spread the word, and keep it nice.
Please note that swearing is not allowed.
CAUTION: This wikia contains spoilers from the novels, The Vampire Diaries & Originals.
CHARACTERS

Vampire Diaries Novels
Original Novels (1991-1992)
The Return series (2009-2011)
The Hunters Trilogy (2011-2012)
Stefan's Diaries (2010-2012)
The Salvation (2013-2014)
Lorenzo more commonly known as Enzo is a vampire currently imprisoned by the Augustine society. He was Damon Salvatore's cellmate back in the 1950's when the latter was captured by the Augustines.
Enzo was found by the Whitmore family after he left his post in Eastern Europe during WWII. He was imprisoned by Dr. Whitmore and forced to endure his torture for ten years. Damon was imprisoned due to Joseph Salvatore selling him out, and Enzo reached out a hand of friendship with the young vampire.
Which Episode of Vampire Diaries or The Originals did you enjoy this week?
268 people voted in last poll. 63% of you felt The Originals: Red Door (2.05) was the better episode of the week over Vampire Diaries. Thanks for voting, and be sure to check back for new polls each week!
---
---
Join the Chat

Loading RSS data...
Refresh


The Vampire Diaries
The Downward Spiral Promo
The Originals
They All Asked For You Promo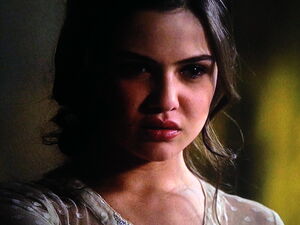 Davina