Ad blocker interference detected!
Wikia is a free-to-use site that makes money from advertising. We have a modified experience for viewers using ad blockers

Wikia is not accessible if you've made further modifications. Remove the custom ad blocker rule(s) and the page will load as expected.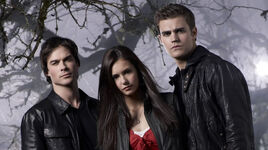 Awards and nominations The Vampire Diaries has received  37 awards out of 101 nominations.
Year
Category
Nominated
Result
2011
Favorite TV Actor - Supporting Role in a Drama
Michael Trevino
Nominated
2012
Nominated
Year
Category
Nominated
Result
2012
Best TV Drama
The Vampire Diaries
Nominated
Best TV Star: Male
Ian Somerhalder
Nominated
Year
Category
Nominated
Result
2010
Iconic TV Show
The Vampire Diaries
Nominated
Iconic TV Actress
Nina Dobrev
Nominated
2011
Iconic TV Show
The Vampire Diaries
Nominated
Iconic TV Actor
Ian Somerhalder
Nominated
2012
Iconic TV Show
The Vampire Diaries
Nominated
Iconic TV Actress
Nina Dobrev
Nominated
Iconic TV Actor
Ian Somerhalder
Nominated
2013
Iconic TV Show
The Vampire Diaries
Nominated
Iconic TV Actress
Nina Dobrev
Nominated
Iconic TV Actor
Ian Somerhalder
Nominated
2014
Iconic TV Show
The Vampire Diaries
Nominated
Iconic TV Actress
Nina Dobrev
Nominated
Iconic TV Actor
Ian Somerhalder
Nominated
Iconic Heart
Nominated
2015
Iconic TV Show
The Vampire Diaries
Nominated
Iconic TV Actor
Ian Somerhalder
Nominated
mtvU Fandom Awards
Edit
Year
Category
Nominated
Result
2010
Favorite New TV Drama
The Vampire Diaries
Won
Favorite Sci-Fi/Fantasy show
Nominated
2011
Favorite TV Drama
Nominated
Favorite Sci-Fi/Fantasy show
Nominated
Favorite TV Drama Actor
Ian Somerhalder
Nominated
2012
Favorite TV Drama
The Vampire Diaries
Nominated
Favorite Sci-Fi/Fantasy show
Nominated
Favorite TV Drama Actor
Ian Somerhalder
Nominated
Favorite TV Drama Actress
Nina Dobrev
Won
2013
Favorite Sci-Fi/Fantasy show
The Vampire Diaries
Nominated
Favorite TV Drama Actor
Ian Somerhalder
Nominated
Paul Wesley
Nominated
Favorite TV Drama Actress
Nina Dobrev
Nominated
Favorite TV Fan Following
TVDFamily
Nominated
2014
Favorite Sci-Fi/Fantasy show
The Vampire Diaries
Nominated
Favorite Sci-Fi/Fantasy TV Actor
Ian Somerhalder
Won
Favorite Sci-Fi/Fantasy TV Actress
Nina Dobrev
Nominated
Favorite On Screen Chemistry
Damon Salvatore & Elena Gilbert
Won
2015
Favorite Sci-Fi/Fantasy show
The Vampire Diaries
Nominated
Favorite Sci-Fi/Fantasy TV Actor
Ian Somerhalder
Nominated
Paul Wesley
Nominated
Favorite Sci-Fi/Fantasy TV Actress
Nina Dobrev
Nominated
Favorite TV Duo
Ian Somerhalder & Nina Dobrev
Won
2016
Favorite Sci-Fi/Fantasy show
The Vampire Diaries
Nominated
Favorite Sci-Fi/Fantasy TV Actor
Ian Somerhalder
Nominated
2017
Favorite Sci-Fi/Fantasy show
The Vampire Diaries
Pending
Favorite Sci-Fi/Fantasy TV Actor
Ian Somerhalder
Pending
Year
Category
Nominated
Result
2010
Best Network Series
The Vampire Diaries
Nominated
2011
Nominated
2012
Best Youth-Oriented Television Series
Nominated
2013
Nominated
2014
Nominated
2015
Nominated
Year
Category
Nominated
Result
2010
Choice TV: Breakout Show
The Vampire Diaries
Won
Choice TV: Fantasy/Sci-Fi Show
Won
Choice TV Breakout Star: Female
Nina Dobrev
Won
Choice TV Actress: Fantasy/Sci-Fi
Won
Choice TV Breakout Star: Male
Paul Wesley
Won
Choice TV Actor: Fantasy/Sci-Fi
Won
Choice TV Scene Stealer: Female
Kat Graham
Nominated
Choice TV: Villain
Ian Somerhalder
Won
Choice Male Hottie
Nominated
2011
Choice TV: Fantasy/Sci-Fi Show
The Vampire Diaries
Won
Choice TV Actor: Fantasy/Sci-Fi
Paul Wesley
Nominated
Ian Somerhalder
Won
Choice TV Actress: Fantasy/Sci-Fi
Nina Dobrev
Won
Choice TV Scene Stealer: Male
Michael Trevino
Won
Choice TV Scene Stealer: Female
Kat Graham
Won
Choice TV: Villain
Joseph Morgan
Nominated
Choice TV Vampire
Ian Somerhalder
Nominated
Nina Dobrev
Nominated
Paul Wesley
Nominated
Choice Male Hottie
Ian Somerhalder
Nominated
Choice Female Hottie
Nina Dobrev
Nominated
2012
Choice TV: Fantasy/Sci-Fi Show
The Vampire Diaries
Won
Choice TV Actor: Fantasy/Sci-Fi
Ian Somerhalder
Won
Paul Wesley
Nominated
Choice TV Actress: Fantasy/Sci-Fi
Nina Dobrev
Won
Kat Graham
Nominated
Choice TV Scene Stealer: Male
Michael Trevino
Won
Choice TV Scene Stealer: Female
Candice Accola
Won
Choice TV: Villain
Joseph Morgan
Nominated
Choice Male Hottie
Ian Somerhalder
Won
2013
Choice TV: Fantasy/Sci-Fi Show
The Vampire Diaries
Won
Choice TV Actor: Fantasy/Sci-Fi
Ian Somerhalder
Won
Paul Wesley
Nominated
Choice TV Actress: Fantasy/Sci-Fi
Nina Dobrev
Won
Kat Graham
Nominated
Choice TV Scene Stealer: Male
Steven R. McQueen
Nominated
Choice TV Scene Stealer: Female
Candice Accola
Nominated
Choice TV: Villain
Joseph Morgan
Nominated
2014
Choice TV: Fantasy/Sci-Fi Show
The Vampire Diaries
Won
Choice TV Actor: Fantasy/Sci-Fi
Ian Somerhalder
Won
Paul Wesley
Nominated
Choice TV Actress: Fantasy/Sci-Fi
Nina Dobrev
Won
Kat Graham
Nominated
Choice TV Scene Stealer: Male
Michael Trevino
Nominated
Choice TV Scene Stealer: Female
Candice Accola
Won
Choice TV: Villain
Paul Wesley
Nominated
Choice Male Hottie
Ian Somerhalder
Nominated
2015
Choice TV: Fantasy/Sci-Fi Show
The Vampire Diaries
Won
Choice TV Actor: Fantasy/Sci-Fi
Ian Somerhalder
Nominated
Paul Wesley
Nominated
Choice TV Actress: Sci-Fi/Fantasy
Nina Dobrev
Won
Candice Accola
Nominated
Choice TV: Scene Stealer
Kat Graham
Nominated
Choice TV" Villain
Chris Wood
Nominated
Choice TV: Chemistry
Kat Graham & Ian Somerhalder
Nominated
Choice TV: Liplock
Candice Accola & Paul Wesley
Nominated
Nina Dobrev & Ian Somerhalder
Won
2016
Choice TV: Fantasy/Sci-Fi Show
The Vampire Diaries
Nominated
Choice TV Actor: Fantasy/Sci-Fi
Ian Somerhalder
Nominated
Paul Wesley
Nominated
Choice TV Actress: Sci-Fi/Fantasy
Candice Accola
Nominated
Kat Graham
Nominated
Choice TV: Chemistry
Kat Graham & Ian Somerhalder
Nominated
Choice TV: Liplock
Candice King & Paul Wesley
Nominated
Year
Category
Nominated
Result
2010
Making Their Mark
Nina Dobrev
Won
Cast to Watch
Nina Dobrev, Paul Wesley and Ian Somerhalder
Won
2014
Fan Favorite Actor – Female
Nina Dobrev
Nominated
Best Threesome
Nina Dobrev, Paul Wesley and Ian Somerhalder
Won
Best Cast Chemistry – TV
The Vampire Diaries
Nominated
Youth Rock Awards
Edit
Year
Category
Nominated
Result
2011
Rockin' Actress TV
Kat Graham
Nominated
Rockin' Actor TV
Steven R. McQueen
Nominated
Rockin' Ensemble Cast TV/Drama
The Vampire Diaries
Nominated
References
Edit
External links
Edit