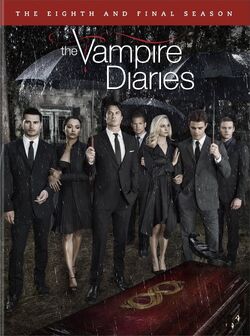 The Vampire Diaries: The Eighth and Final Season box was released on June 13, 2017 on DVD and Blu-ray. It contains all 16 episodes from the eighth season of the series and bonus content.
Age Restriction
TBA
Summary
In Season Eight, we find Damon and Enzo continuing on their killing spree, both following the commands of a sinister and unnatural force. While Bonnie, Stefan and Caroline are grieving their loss, they team up to investigate who or what may be the cause of their disappearance at the end of season seven. Alaric joins the search and continues to look for clues on how they escaped the Armory vault, and Matt's family history will reveal a deeper connection to Mystic Falls and how he may be able to save the town from destruction.[1]
Bonus Features
Trivia
This is the first and only season box to not have "complete" in the title.
Videos
Pictures
References
See also