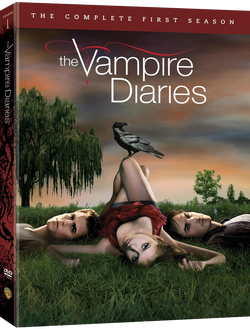 The Vampire Diaries: The Complete First Season DVD box set was released on August 31, 2010. It contains the first 22 episodes of the series with a running time of 935 minutes and has 8 hours of bonus features. The DVD version contains 5 discs and the Blu-ray version contains 4 discs. The DVD version costs $38.99 and Blu-ray version costs $48.99.
Age Restriction
R13 Contains Violence and Horror scenes.
Summary
"For over a century, I have lived in secret. Until now. I know the risk, but I have to know her". Dark, brooding, pulsing with bloodlust and transcendent with romance, The Vampire Diaries - which started as a series of must-read novels by L.J. Smith - has become a must-watch television hit. This 5-DISC, 22-EPISODE SEASON ONE offers unforgettable characters, living and undead. They are vampire brothers Stefan and Damon, one good and one evil; Elena a double for the beauty both brothers loved some 150 years earlier; plus Jeremy, Bonnie, Matt and more denizens of Mystic Falls, VA. All are caught up in a spellbinding web of secrets, passion and terror.
Discs
Bonus Features
Into Mystic Falls: Bringing Vampire Lore and the High School Experience from Page to Screen
When Vampires Don't Suck!: The Popularity of Vampires and the Fans Who Love Them
The Vampire Diaries: A New Breed of Vampires – Casting the Series
The Vampire Diaries: Vampires 101 – The Rules of the Vampire
Creators/Director Pilot Commentary
Unaired Scenes
The Vampire Diaries: A Darker Truth Webisodes
Second Bite: Gag Reel
Downloadable Audiobook of the bestselling novel: "The Vampire Diaries: The Awakening" by L.J. Smith
Trivia
If you enter in the site above in the field TAKETHEMHOME you will see some bloopers.
On the site you can vote for Stefan/Damon and there are few thing to download (wallpapers, cell-phone backgrounds and iGoogle background.)
Amazon
Gallery
Videos
Pictures
See also