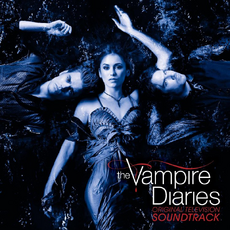 The Vampire Diaries: Original Television Soundtrack was released on October 12, 2010.
It contains music from the first and the second seasons of The Vampire Diaries. It features various popular artists and original music composed by Michael Suby and Music Supervisor Chris Mollere.
Tracklist

"Stefan's Theme" – Michael Suby


"Running Up That Hill" – Placebo - ("Pilot")


"Currency of Love" – Silversun Pickups ("Brave New World")


"Hammock" – Howls ("Memory Lane")


"Sleep Alone (909s in the DarkTimes Mix)" – Bat for Lashes ("Haunted")


"Bloodstream (Vampire Diaries Remix)" – Stateless ("Founder's Day")


"We Radiate" – Goldfrapp ("Memory Lane")


"Obsession" – Sky Ferreira ("Kill or Be Killed")


"Head Over Heels" – Digital Daggers ("Masquerade")


"Down" – Jason Walker ("Lost Girls")


"Beauty of the Dark" – Mads Langer ("You're Undead to Me")


"Cut" – Plumb ("The Turning Point")


"All You Wanted" – Sounds Under Radio & Alison Sudol Of A Fine Frenzy ("Let The Right One In")


"The Fellowship" – Smashing Pumpkins ("Kill or Be Killed")


"On Melancholy Hill (Feed Me Remix)" – Gorillaz ("Masquerade")


"1864" – Michael Suby
Trivia
External Links
See also
Ad blocker interference detected!
Wikia is a free-to-use site that makes money from advertising. We have a modified experience for viewers using ad blockers

Wikia is not accessible if you've made further modifications. Remove the custom ad blocker rule(s) and the page will load as expected.