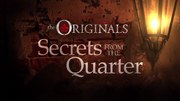 The Originals Secrets from the Quarter  was a feature on CW's site.
It recaped the latest episode of the first season of The Originals with comments and fan answers from producers, Julie Plec and Michael Narducci. It was hosted by Steven Krueger, who plays Josh Rosza.
Videos
See also
Ad blocker interference detected!
Wikia is a free-to-use site that makes money from advertising. We have a modified experience for viewers using ad blockers

Wikia is not accessible if you've made further modifications. Remove the custom ad blocker rule(s) and the page will load as expected.