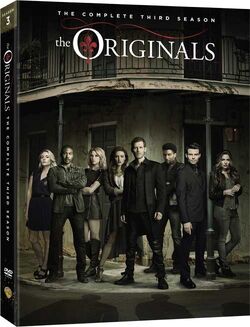 The Originals: The Complete Third Season DVD box set was released on September 20, 2016. It contains of 22 episodes from the third season of The Originals and bonus content.
Age Restriction
Edit
Not Rated.
The original vampire-werewolf hybrid Klaus Mikaelson and his brother Elijah have spent 1,000 years fighting to protect their dysfunctional family, but now that Klaus and the hybrid Hayley share an infant daughter, Hope, the stakes are higher than ever. As Season Three begins, Klaus and Elijah are estranged from each other, even as both brothers adjust to life with their long-lost sister, Freya. Hayley suffers mightily at the hands of Klaus's petty vengeance, while Marcel and Davina rule the city under a new status quo. Meanwhile, Cami and Vincent find themselves caught up in a surprising mystery involving the newest resident of New Orleans - the first vampire ever sired by the Mikaelsons a thousand years ago.
Bonus Features
Edit
"Originals: 2015 Comic-Con Panel"
"Charles Michael Davis in the Big Easy (Featurette)"
"Deleted Scenes"
"Gag Reel"
Ad blocker interference detected!
Wikia is a free-to-use site that makes money from advertising. We have a modified experience for viewers using ad blockers

Wikia is not accessible if you've made further modifications. Remove the custom ad blocker rule(s) and the page will load as expected.