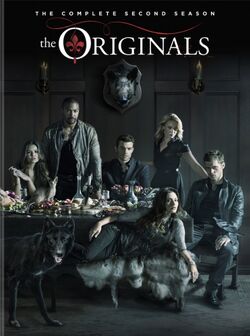 The Originals: The Complete Second Season DVD box set was released on September 1, 2015. It contains of 22 episodes from the second season of The Originals and bonus content.
Age Restriction
Edit
Not Rated.
As Original vampire-werewolf hybrid Klaus Mikaelson returned to the vibrant, supernaturally charged city of New Orleans in season one, he was stunned to learn — along with his siblings Elijah and Rebekah — that Hayley, a werewolf, was pregnant with his child, and his vampire protégé, Marcel, whom the Original siblings had thought long dead, was ruling the French Quarter. Soon, a bloody war escalated between vampires and witches — the stakes raised by powerful teenage witch Davina and by Klaus's bond with Camille, a student with a painful past — and a ruthless pack of wolves seized the opportunity to stage a violent coup. Now, in season two, a new status quo must be adjusted to, as the newly empowered werewolves control the city. Klaus struggles with weaknesses as Elijah desperately tries to save Hayley — now a hybrid — from a vicious spiral of self-destruction. Meanwhile, with the re-emergence of several Mikaelsons, "family is power" takes on new meaning.
Bonus Features
Edit
The Originals: Always and Forever - In this featurette, we will hear from cast and creators on how season two explored new depths of what it means to be a family.
The Awakening Web Series - Explore this companion series on Kol Mikaelson (Nathaniel Buzolic) and his quest to form an alliance with the witches of New Orleans in 1914. Also, go behind the scenes with the cast and creators of the digital series.
The Originals: 2014 Comic-Con Panel
Come Visit Georgia PSA
Deleted Scenes
Gag Reel
Ad blocker interference detected!
Wikia is a free-to-use site that makes money from advertising. We have a modified experience for viewers using ad blockers

Wikia is not accessible if you've made further modifications. Remove the custom ad blocker rule(s) and the page will load as expected.