The Departed is the twenty-second and finale episode of the Third Season, and the sixty-sixth episode in the series.
Summary
THE SECRET HERO — Determined to protect his sister, Jeremy makes a decision that will change everything. In the harsh reality of the present situation, Elena longs for the simpler times in her life when her parents, Grayson and Miranda, and Aunt Jenna were still alive and her biggest concerns was her relationship with Matt. Stefan and Damon leave Mystic Falls together on a mission but soon split up when Elena needs one of them. Caroline and Tyler are forced to make a life-changing decision. Finally Bonnie makes a secret deal that has unexpected consequences. 
Plot
SPOILERS AHEAD
The episode starts in a flashback, a dream from which Elena wakes up in the hospital. Meredith tells Jeremy it's just a concussion but Jeremy calls Stefan and Damon anyway, who get mad she's in the hospital because they feel the remaining originals (Rebekah, Kol, Elijah) will be trying to kill her to kill Alaric. Elijah shows up to Elena's house and she makes a deal with him to give him Klaus' body so long as he and his siblings don't harm her or her family in the near future. Jeremy, who was plotting with Matt to get everyone else out of the house so Matt could take Elena out of town, tries to lead Alaric into a trap. But Alaric has other sources, and ends up at the storage facility where Damon had Klaus' body.
Alaric stakes Klaus' body with the magically reinforced white oak stake, leaving everyone to believe Klaus died.Thus, everyone gets all worried they are going to die too because Klaus told Damon and Stefan he created their bloodline. Matt, who has driven Elena a little bit out of town says he can keep driving her to Damon or turn back and bring her to Stefan. She calls Damon and tells him she's going back, not just for Stefan but Caroline and Tyler. Damon asks if it was just between him and Stefan, who would get the goodbye. Elena tells him: "I love him Damon. He came into my life at a time when I needed someone and I fell for him instantly. No matter what I feel for you, I never unfell for him."
Turns out Damon (who has his own flashback) actually did meet Elena before Stefan, but he compelled her to forget. Caroline, meanwhile, rushes to Tyler, whom we know is of Klaus' bloodline. They kiss, embrace, then Tyler tells her to leave; he doesn't want her to watch him die. Caroline resists so Tyler starts to turn in to a werewolf and she runs.Rebekah and Elijah are talking, amazed that Stefan, Damon and Caroline are alive. They said they weren't the ones, nor was Kol, to create their bloodline; they were sure it was Klaus.And that's possibly still true. Klaus is still alive.
Bonnie did a spell that has him living in Tyler's body. It's unclear what this means for Tyler, but it's assumed that he's still alive somehow too because Bonnie wouldn't knowingly kill him. Bonnie said she saved Klaus to save her friends and her mom.So finally to the "epic" ending. Since she believes Klaus is dead, Rebekah tells Stefan that the deal is off; she's tired of running. Rebekah wants to kill Elena so Alaric dies, so she stands in front of Matt's car as he's driving Elena back into town. He swerves and the car goes over the bridge into the water, the same accident that played out with Elena's parents.
The show switches back and forth to the flashback of Elena's accident with her parents and her preset accident with Matt. When Stefan comes to the rescue in the flashback, Elena's dad, who is still conscious, motions to the backseat, and Stefan saves Elena. When Stefan comes to the rescue in the present, Elena motions to Matt, Stefan resists, but Elena is insistent and Stefan saves Matt.Meredith was lying about Elena's condition to save Jeremy the pain; she was actually bleeding from the brain, so Meredith had given her vampire's blood earlier in the episode to save her life. And since Elena is technically dead as a vampire, Alaric still dies. Stefan is sitting next to Elena's dead body in tears when suddenly Elena awakens, taking her first breaths as a vampire in transition.
Cast
Main Cast

Recurring Cast

Guest Stars
Quotes
---
---
Damon: (to Stefan) "Our life is one big proverbial coin toss."
---
Trivia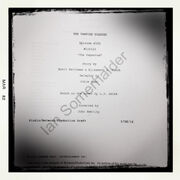 Antagonists: The Darkness and Rebekah Mikaelson.
This is the last episode of The Bloodline Chapter.
This episode features flashbacks to the night the Gilbert's car drove off Wickery Bridge and Elena's parents died.
This is the first episode of the series to have flashbacks for Elena's past.
This episode has the flashback closer to the present (Months before Pilot).
Elena, Damon, Stefan, Caroline, Jeremy, Bonnie, Alaric, Elizabeth and Carol are the only characters to appear in all three season finales to date.

Jenna, Matt and Tyler were absent in As I Lay Dying.
Katherine and Anna are absent during this finale.

This marked the first appearances of Grayson and Miranda Sommers-Gilbert, but only in flashback scenes.
Sara Canning returns as Jenna Sommers in this episode, but only in flashback scenes.
Elijah meets Jeremy, Matt and Caroline in this episode.
Almost all main characters appeared in this episode, only Vicki Donovan and Katherine Pierce were absent.
This episode marks the first time two main characters died in the same episode, Alaric and Elena, however Elena survived as a vampire.
Matthew Davis (Alaric Saltzman) leaves the main cast after this episode.
As of this episode, Bonnie, Matt and Jeremy are the only non-vampires/werewolves among the main cast.

Bonnie is the only main human female charater left.
Jeremy and Matt are the only two main human male characters left.

This is the first season finale to not feature Katherine and Anna.
Katherine was mentioned in this episode.
This is the second season finale to feature Elijah and Klaus.
Meredith meets Jeremy in this episode.
We learn that Damon actually did meet Elena before she met Stefan.
Unlike the two previous seasons, the end of the third season does not end at the Gilbert House.
This is the final episode of season 3.
This episode had 2.530 million viewers in the USA.
Continuity
Jenna was last seen in The Sun Also Rises, when she was staked by Klaus as the vampire sacrifice during the Sacrifice Ritual.
Elijah was last seen in All My Children.

Elena dies

Added by

(A)texting

Meredith was last seen in Do Not Go Gentle.
Stefan tells Matt: "Nothing wrong with free will, Matt. Trust me, you don't realize that till you lose it." Stefan was compelled by Klaus (and therefore devoid of free will) for most of the season.
Foreshadowing: when Bonnie sees Klaus dessicated in the coffin, she says "You should burn in hell. But if you die, so do my friends. So does my mother. What am I supposed to do about that?" This signals her intention to keep him alive.
This is the first time Elena and Stefan kiss this season.
Alaric's ghost appearing to Jeremy to say goodbye and tell him that Elena is dead reinforces the fact that Jeremy sees dead vampires.
Elijah mentions his brother, Kol, multiple times yet Kol does not appear in the episode. He was last seen in Heart of Darkness, in Denver, having left Mystic Falls in All My Children.
Alaric was still hunting down the Originals, a pursuit which began in the previous episode, Before Sunset.
Katerina Graham makes her 50th appearance as Bonnie Bennett in this episode.
Behind the Scenes
All main cast members appeared in the season finale, for the fifth and last time this season.
Filming began on March 23, and ended on April 2.[1]
The title refers to all those who Elena has lost over the years, starting with her parents and continuing through Aunt Jenna.
Elena dies exactly the same way she did in the books, during The Struggle, driving off Wickery Bridge and drowning. In the series, Rebekah caused Elena's death, in the book series, it was Katherine.
Both in the books and the series Elena died in Matt's car.
Errors
In the Pilot episode, Elena's parents are introduced by pictures, and her parents in this episode are different but can be explained by the casting change.
Cultural References
Multimedia
Videos
Pictures
References
See also