Super Agility
Comments

6
1,295pages on
this wiki
This article is a stub and needs blood to rejuvenate! Donate some to strengthen it!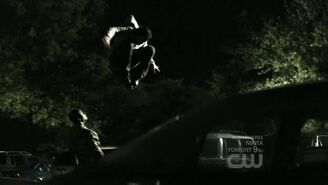 Super Agility is a supernatural ability that werewolves, hybrids, and vampires possess. This skill allows a person to run or jump extremely high and fast.
List of users
Edit
Werewolves have demonstrated that they can jump very high. They can use this ability in human and wolf form.
---
Vampires have shown that they can jump very high. Stefan jumped up to the top of a Ferris wheel and he had drank animal blood, so with human blood vampires can jump much higher. Vampires can jump with their super speed too.
---
Hybrid is both vampires and werewolf, so they can jump highest of all supernatural species.