Steven's Quarry
Comments

6
1,296pages on
this wiki
Steven's Quarry
Location Information
City
Steven's Quarry is located just outside of Mystic Falls. It is the place where the sacrifice took place, where Stefan and Damon woke up after their transformation, and Stefan thought of committing suicide here.
Season One
Edit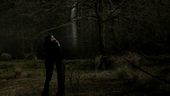 In 1864, both Stefan and Damon came back to life as vampires. Emily and her brother brought them here, and she let them know they were in transition and that if they did not feed they would die. In Blood Brothers, after Elena let Stefan escape from the Salvatore basement. He goes to the Quarry to wait for the sun to rise but Elena saves him and give him the option of throwing his ring in the Quarry or staying to keep fighting.
Season Two
Edit
Klaus chose this spot as where he would sacrifice a werewolf, a vampire, and a Petrova doppelgänger. On this location Jenna, Jules, Greta and Elena died, but Elena was resurrected.
Season Three
Edit
In The New Deal, Damon mentions that he threw Tony's head and body in the lake at the bottom of Steven's quarry.