Stefan and Gloria
Comments

2
1,299pages on
this wiki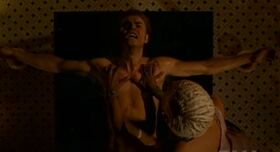 This is a relationship between the vampire Stefan Salvatore and the witch Gloria.
Gloria was a singer at the speakeasy in Chicago. She knew Stefan because herwent to the speakeasy most of the time. After meeting Rebekah for the first time, he went there more.
In The End of the Affair, Stefan and Klaus return to the speakeasy, where they find Gloria, who is older, but not dead like she should be 100 years later. Gloria says that she remembers Stefan. Stefan is ready to reply that Gloria should be dead, to which she says, "Old and dead." Klaus sends Stefan away, but he listens to them talk. Gloria says to find out what went wrong with the curse they'd have to contact the witch who made the spell, who is dead. She'll need help to contact her. "Bring me Rebekah." Gloria says. Later, Damon arrives at the bar. She says Stefan's with Klaus and will be back in later tonight after they run an errand for her. She won't tell him what.
Stefan asks who Klaus was running from. Damon comes in and signals Stefan, who excuses himself.
Outside, Stefan tells Damon that Gloria is seconds away from figuring out the doppelgänger isn't dead and that's why he can't make hybrids.
In Disturbing Behavior, Gloria is casting a spell to find the location of the necklace. At Elena's house she is in the kitchen with Bonnie and Caroline when all of a sudden the necklace burns her chest. Back with Gloria she says that she saw a girl with her friends and Rebekah says that they will be a dead girl and dead friends if she doesn't get the necklace. Gloria tells Stefan, Klaus and Rebekah that she needs time and space and they head off to get lunch. Stefan leaves Klaus and Rebekah who are feeding on girls to find Gloria and find out what she knows. Gloria says that she doesn't like Klaus and is only helping him to get the necklace for herself. She then tells him that the girls she saw were talking about him and threatens to tell Klaus that he is hiding something if he doesn't tell her the information she needs.
Stefan makes a move to attack her but she paralyses him with magic and decides to torture him. She performs a spell to connect with Stefan's "essence" to find out information she sees a series of images involving Elena and Stefan. This confuses Gloria a little but then she sees Klaus sacrificing Elena, figuring out that she is the doppelgänger and as long as she's alive, Klaus can't make any hybrids. Just as she is ready to inform Klaus of this new information, Katherine appears and stabs a knife in Gloria's neck, killing her and saving Stefan.