Stefan Salvatore
Comments

2k
1,298pages on
this wiki
Stefan Salvatore
Biographical information
Born

November 5, 1847 (age 17, 163)

Turned
Status
Occupation

Allies Soldier, World War II (1942)

Species
Gender
Family information
Family members
Supernatural information
Significant kills
Cause of death

Gunshot wound to the chest (as a human)

Killed by
Appearance
Played by
First seen
Last seen
.
"
Listen, I'm glad you're okay with who you are now. But every single thing I did to get this, I did for you. So the choice of whether you wanna be a vampire or not will always be yours.
"
Stefan Salvatore is the hero, a protagonist, and one of the male leads of The Vampire Diaries. He is a 163-year-old vampire. Stefan was born and raised in the supernatural town of Mystic Falls, Virginia and currently resides at the Salvatore Boarding House. He is the youngest son of Giuseppe Salvatore and his unnamed mother.  He has an older brother, Damon Salvatore, who is also a vampire and an unknown half-brother. Stefan has had a love-hate relationship with Damon since 1864, when they both fell in love with Katherine Pierce, the woman who turned them both into vampires. Stefan's best friend was Lexi Branson. In the 1920s, Stefan had a brotherly friendship with Klaus and is romantically involved with Rebekah Mikaelson. He is currently best friends with Caroline Forbes.
After many years away, Stefan returned to his hometown of Mystic Falls to visit his nephew Zach. On May 23, 2009, Stefan saw Elena Gilbert for the first time while rescuing her after her parents' car drove off of Wickery Bridge. Although he managed to save Elena's life, he could not save Elena's parents in time. Stefan was initially shocked and suspicious about Elena's uncanny physical resemblance to Katherine Pierce, and decided to research Elena's background in order to make sure that she wasn't the woman he'd fallen for over a century ago. Eventually, after finding her personal records and observing her from afar, Stefan determined that Elena was definitely not Katherine. Still, he was intrigued by her and decided to get to know her, posing as a new student at Mystic Falls High School.
Since then, Stefan's life has been fraught with change and complications: from falling in love and being with Elena to mending his complicated relationship with Damon; from sacrificing his freedom for his brother's life to growing apart from Elena and suffering the guilt of her becoming a vampire. Again and again, outside forces threaten those he loves and the life he most desires to have: a normal, human one.
Stefan is a member of the Salvatore Family and Silas' doppelgänger.
Early Life
Stefan was born on November 5, 1847 on Veritas Estate in Mystic Falls, Virginia to Giuseppe Salvatore and his wife (presumed to be Mary), who died when Stefan was younger. During his human years, his older brother Damon was his best friend and companion until the two had extreme differences concerning their lover, Katherine Pierce, who turned both Salvatore brothers into vampires.
Stefan was the first Salvatore brother to greet Katherine in 1864 when she came to live with them, though Damon met her soon after. She openly flirted with both brothers, but chose Stefan to escort her to the Founder's Ball. After the ball, Stefan walked Katherine up to her room and confessed his love to her. Though she was surprised, Katherine was clearly pleased. Another night, Stefan and Katherine were spending a passionate night together when she suddenly bit Stefan. The next morning, Stefan awoke with a bloody wound on his neck, and the previous night slowly returned to him. He was clearly frightened of her, saying that her face resembled that of a demon. To calm him down, Katherine compelled him to not be afraid of her.
After hearing of the town's plan to kill the vampires, Stefan went to see his father Giuseppe and unintentionally hinted to him that he knew of vampires staying in Mystic Falls, when he suggested that vampires might not be as bad as they are made out to be. During this conversation, his father drugged him with vervain. When Katherine went to see Stefan that night and bit him, the vervain poisoned and incapacitated her. Giuseppe, hearing Katherine collapse, entered and set in motion Katherine's capture. Later, finding out what had happened, Damon was devastated and furious with Stefan, as he had made him promise not to tell their father about Katherine.
Stefan felt extreme guilt for unintentionally being responsible for Katherine's capture and promised Damon that he would do everything he could to help Damon get Katherine back. They then planned a course of action to get around the guards who were on watch for the vampires, and eventually made it to the cage where Katherine was being held captive. They got Katherine out of the cage, but as soon as they were ready to escape with her, Damon was shot by an unknown person. Shocked and overwhelmed with grief to see his brother dying, Stefan picked up a gun to shoot whoever had shot his brother, but before he could do so, Stefan was also shot in the chest. He slowly lost consciousness as he watched Katherine, who lay on the ground nearby, still weakened by the vervain. 
The next morning, Stefan woke up confused and dazed. He searched for his gunshot wound but found he had been healed, and noticed that he was a wearing an unfamiliar, large silver ring, with a deep blue stone and the Salvatore family crest with the letter 'S' on it. Emily Bennett then approached Stefan and told him that Katherine had had her make that ring for him (and Damon) weeks before. She explains everything that had happened since he was shot: she had found him and Damon lying dead in the woods, brought them to the quarry, and he and Damon were now transitioning into vampires. Stefan, confused, wondered how that was possible if he had never drunk Katherine's blood. Emily confessed that Katherine had compelled him for weeks to drink her blood, while Damon drank from Katherine willingly. Stefan soon approached Damon, who recounted seeing the townspeople dragging Katherine into the church and setting it on fire.
Later in the evening, Stefan began to notice that he had heightened senses, including super-hearing. He overheard his father and Johnathan Gilbert discussing the vampires being captured and destroyed, and that his father wanted to keep secret that his sons were vampire sympathizers, preferring they be known for dying nobly and bravely in the fight against the vampires. After Johnathan Gilbert had left, Stefan went inside to talk to his father, who was shocked to see that Stefan was "alive". Stefan wondered aloud to his father that even in their death, he still felt ashamed of his sons. Giuseppe retorted with disgusted disapproval that their mother would have been extremely disappointed in her sons, were she alive to see what they had become. He then confessed to Stefan that he was the one who had shot both him and Damon, shocking Stefan.
Stefan then told his father that he hadn't fully turned into a vampire yet and that he was choosing to let himself die instead of drinking human blood. Not taking any chances, Giuseppe tries to stake and kill Stefan. Underestimating his newfound vampire strength, Stefan threw Giuseppe against the wall, causing him to accidentally be stabbed by the wooden stake in the stomach. Overwhelmed and shocked, Stefan tried to help him, but Giuseppe refused him, disgusted by what Stefan was becoming. When Stefan pulled the stake out of his father's stomach, his bloodlust became too much for him to suppress and he tasted his father's blood, completing his transition into a full vampire.
Stefan then went to meet Damon, who had also planned to let himself die. He told Damon about how amazing it felt to be a vampire, that it was a gift; how he could willingly turn off his emotions, the pain and the guilt. Stefan had compelled a young woman to go with him to Damon, where he convinced his brother to become a vampire by drinking her blood. Damon initially refused, but Stefan would not relent, saying he couldn't let him die. Eventually Damon drank the girl's blood and told Stefan that he was right, that it felt like a whole new world being a vampire. Stefan hoped this meant they could be brothers and companions together forever, but instead Damon promised Stefan that he would make Stefan's life miserable for the rest of eternity. 
Weeks after he was newly turned and still lacked control of his bloodlust, Stefan
went on a rampage
, killing members of the
Founding Families
out of revenge for what they had done to Katherine. One member was Johnathan Gilbert, though he later came back to life with the help of his
Gilbert ring
. Stefan continued on a blood-drinking bender to try to make the guilt and pain of what he had done to Damon and his father go away. He compelled young women to go home with him, so he could toy with them and feed on their blood. When Damon found Stefan like this, he was upset by his brother's uncontrollable behavior and compelled all of the women to leave and to never come back. Damon tried to convince Stefan to control his bloodlust and moderate his behavior, but could not get through to Stefan until he announced he was leaving town. Desperate to keep his brother in his life, Stefan begged Damon not to leave, that he promised he would do better. Damon showed no sympathy for his brother's pleas and left, saying he would not let Stefan get them both killed, and that he would leave him to do that to himself.
One night, Stefan went to a camp where the war-wounded lay, and discreetly fed on their blood. It was there that he spotted a girl in the shadows and tried to attack and feed on her. Instead, she drove Stefan to the ground and turned out to be another, much older vampire by the name of Alexia Branson. Lexi needed a place to stay, so Stefan brought her home with him, where she found corpses drained of blood lying everywhere. Lexi told Stefan that he was a ripper, that there are good parts of being a vampire and there are bad parts, and that he was the bad parts. Determined to change that, she later walked with him through the camp where they had met, asking him how he felt about the suffering war victims. Stefan told her that he felt emotionally numb, that he felt nothing. She then explained that he felt nothing because he had managed to turn off the part that makes him feel, the human part of him; that in spite of the intensified pain and suffering vampires feel, love is what makes life worth living. Over the course of many decades, Lexi became Stefan's mentor, best friend and companion, and she showed Stefan the 'good parts' of being a vampire; how to live compassionately and reclaim the caring, empathetic person Stefan had been as a human. From 1864 to 1912, Stefan lived on a strict animal blood diet and no longer fed on human blood.
1912 and 1917
In 1912, Stefan returned to Mystic Falls to attend the funeral of his half-nephew, Zachariah. It was there that Stefan saw Damon for the first time in fifty years. Damon initially had no desire to rekindle any brotherly relationship with Stefan, but Stefan convinced Damon to join him for a drink, saying he had missed him.
Later, while at a boxing ring, Damon tried to persuade a very resistant Stefan to have a drink of human blood with him again, selecting Marianna Lockwood and luring her away from the crowd. Stefan fed on her, but quickly lost control of himself and accidentally ripped her head off, astonishing both of them. Out of extreme guilt and remorse, Stefan irrationally apologized and tried to put her head back onto her body. Stefan, angry with Damon for forcing him to drink human blood, refused Damon's offer to help him learn to control it, then ran off into the woods. Damon watched him go, concerned for his brother's well-being, though not enough to pursue him. After drinking human blood in 1912, Stefan fell off the wagon and returned to his former ripper lifestyle.
1917
Klaus reveals that Stefan had become notorious for his horrific killing sprees, including the massacre of an entire migrant village in 1917, after which he became known as the "Ripper of Monterrey".
1922
After Mexico, Stefan traveled to Chicago in 1922. It was there that he frequented a particular speakeasy, and one day caught the eye of a beautiful blonde, Rebekah. She initially resisted his interest, but they soon became romantically involved. 
Stefan eventually met Rebekah's older half-brother, Nik. At first, Nik disliked Stefan because of his relationship with Rebekah. As time went on, however, they bonded over their similar family histories, as well as Stefan's penchant for petty cruelty toward humans, and became best friends who enjoyed each other's company immensely. The three of them frequently partied together at the speakeasy, enjoying booze, blood and dancing all night long.
On one such night of revelry, the club was attacked by what appeared to be the police. Discovering that the police were using wooden bullets, Stefan realized they knew there were vampires inside. He sensed Rebekah's panic when she responded cryptically "He's here," but before he could find anything out, Nik compelled Stefan to forget about him and Rebekah. Unbeknownst to Stefan, Katherine was in the club while the police were searching it; she spotted Rebekah's necklace on the floor and went to pick it up, but fled when she heard Stefan approaching. He in turn saw the necklace and picked it up, observing it carefully. A detective then approached him, showed him a sketch of Nik and Rebekah and asked if he had ever seen them before. Stefan told him what he believed to be the truth: that he had never seen those people before in his life.
In April of this year, Lexi found Stefan again, "dragged him off the train tracks" and started to help him recover his humanity and get off of human blood. According to Stefan's journal entries, it took the better part of a decade to do so; around 1935 he still felt cravings for human blood, but it was getting easier, and by the 1940s, still under Lexi's guidance, he continued to make progress with his rehabilitation.
1942
Before he left for the war, Stefan, at Lexi's insistence, sought out his brother Damon in New Orleans in order to make amends with him. He approached his brother in a bar, and after an initial skepticism, Damon welcomed the reunion and seemed glad to have Stefan back in his life after thirty years apart. After Stefan told Damon about his plans to join the war effort as an ambulance driver, Damon proposed spur-of-the-moment that he could join Stefan. Unknown to Stefan at the time, Lexi talked Damon out of leaving with Stefan, citing his profligate lifestyle and how Damon's behavior would not be good for Stefan's rehabilitation. She seemed to be proven right when, after Charlotte had brought a bleeding victim back to the bar, Stefan started to lose himself at the sight and smell of human blood. Lexi's interference proved instrumental in the brothers' long estrangement, as Stefan left for the North African campaign believing Damon had abandoned him yet again.
1977
Stefan returned to Mystic Falls this year along with Lexi. Stefan asked Lexi to go to New York City to help Damon get his humanity back and to get his act together.
Season One through Three
Stefan was first seen as a mysterious, handsome and new high school student at Mystic Falls High School. He was born and raised in the town of Mystic Falls and had just moved back to town, where he lives with his nephew Zach in the Salvatore Boarding House (he lived in Salvatore Estate). Zach refers to him as "Uncle Stefan", even though Stefan looks significantly much younger. When Stefan first arrives at the high school, all the girls are irresistibly attracted him and want to gain his attention.
It is at the high school that Stefan inevitably and fatefully meets Elena Gilbert, who bears an unusual, and striking uncanny physical resemblance to Stefan's past love from 1864, Katherine Pierce. Upon meeting each other, Stefan and Elena are instantly, undeniably drawn to each other and the two instantly connect. Over a gradual period of time, Stefan and Elena bond, fall deeply, passionately in love and eventually develop a romantic relationship. According to Caroline Forbes, Stefan's favorite color is blue. Stefan wears a large, silver ring made from enchanted Lapis Lazuli stone (a stone which was enchanted by Emily Bennett back in 1864) that allows him to walk around in the sunlight without burning. Unlike Damon, who drinks human blood and feeds off of innocent people, Stefan has chosen a vegetarian diet, living on an animal blood diet.
His best friend, and supposedly one of his few friends, was a vampire named Lexi Branson. In 162 Candles, it was mentioned that she visited him every year on his birthday, and this was the only day he allowed himself do any crazy or stupid stuff. He has jumped naked into the Trevi Fountain and he has also got drunk on a tour to the Statue of Liberty. When Damon killed her, he was furious. He was thinking about killing Damon. He instead let him off with a warning, staked him, but missed the heart on purpose.
It is revealed that it was Stefan who rescued Elena from the car crash which killed her adoptive parents he tried to rescue them too, but he was too late.
When Damon turned Vicki Donovan into a vampire, Stefan tried to teach her the ability of self control but she couldn't handle it. She ran away and went to the Halloween Party at school, but when Vicki was threatening
Elena and Jeremy's life, Stefan had to kill her. He has a bitter relationship with his older brother Damon.
They overcame some of their differences when they tried to free Katherine from the tomb, but after they opened it, they discovered she wasn't there. When Damon learned that Katherine wasn't there and that she had never really loved him he was heartbroken, leaving both Stefan and Elena to do their best to comfort him. In Let The Right One after the vampires were released from the tomb, a vampire named Frederick and some other vampires kidnapped Stefan and tortured him and tried to kill him. Harper tried to protect him, but they tied him up. He was saved by Damon and Elena.
They killed most of the vampires, but because Harper tried to help Stefan, he told Damon not to kill him. Elena gave Stefan some of her blood so could be stronger Frederick put a stick into him and almost killed him but Stefan was faster then Fredrick and killed him. But then he became addicted to human blood, and drank it behind Elena's back.
When Damon told Elena what he was doing, they got into a fight. Stefan then attacked Amber, a girl in the Miss Mystic Falls Pageant. He drank her blood and almost killed her but was stopped by Bonnie when she cast a spell on him. Elena and Damon then locked Stefan up in the basement to try to get him back to normal.
In Blood Brothers, Stefan felt really guilty about all the things he had done and thinks that Damon did was his fault since he forced Damon to turn into a vampire. He also told Elena how he and Damon became vampires. Stefan felt so guilty that he tried to take his ring off and was about to commit suicide, until Elena convinced him not to do it. When they came back, Damon told him two things. 1: What Damon does isn't Stefan's fault, it's Damon's. 2: Damon still hates Stefan, but not because he forced him to turn into a vampire. He hates him because he wanted Katherine all to himself.
In Founder's Day, when the tomb vampires was about to attack the during the Founder's Day festival,, Stefan was affected by the device when John Gilbert started it like all other vampires in town. He was about to be taken by a deputy, but Alaric and Elena came when Stefan was spotted, Alaric sent the deputy to towards another vampire instead of Stefan, saving his life. after they discovered that Damon had been taken, Stefan and Elena asked John were Damon was, he told them where they could find Damon; Stefan saved Damon with some help from Bonnie.
In The Return, Stefan arrived at Elena's house and examined Jeremy, confirming that he wasn't a vampire. Stefan then watched Jeremy while Elena goes to the hospital to check on Caroline. When Stefan comes downstairs, he sees "Elena", who is really Katherine. Stefan quickly realizes who it is and immediately throws her over the couch. Katherine breaks his arm, and then leaves when Damon and Elena walk into the house. Stefan asks Damon how Katherine had fooled him and Damon replied that he had kissed her, thinking he had kissed Elena. This upsets Stefan and he was about to attack his brother, but Elena stopped him.
Stefan and Elena went to question John about the attack, but John insulted Elena's love for Stefan and offended her. Stefan then threatened John's life by giving him blood to turn him into a vampire, and would do it if John didn't leave town. Stefan arrived at the Lockwood Estate in time to stop Katherine from attacking Bonnie. Stefan tried to get Katherine to spill why she was there, ignoring her flirting. Katherine told him she had com
e back for him, but when he responded that he hated her, she stabbed him and said that it was the beginning of a love story—not the end.
Elena took care of Stefan's wounds until Damon came and she went to see how Jeremy and Jenna were. Damon was ready for a fight, but Stefan refused, knowing this was what could tear them apart with Katherine on the loose. Katherine got under Damon's skin and Damon killed Jeremy with the intention of turning him into a vampire, but due to Jeremy's ring, Stefan was able to identify that he was still human.
In Brave New World, at a carnival, Damon challenged Stefan to hand-wrestle Mason Lockwood but Stefan lost. Damon thought he hadn't been trying, but Stefan admitted that he actually had and Mason was unnaturally strong. Damon decided to compel Carter, a worker, to get in a fight with Tyler Lockwood and see how Mason reacted. Stefan spied the fight from a far and witnessed Mason's unusual fighting against Carter. When they left, Carter was confused by why he did what he had done, and Stefan told him he was at the wrong place at the wrong time.
Stefan tried to give Elena a normal day, but the revelation of Caroline's transformation into a vampire was a shock. Stefan was furious that Katherine would do this to her, and was in agreement with Damon that Caroline should die (because of what happened to
Vicki Donovan
). While talking to Elena, Stefan was distracted when he smelled blood from Caroline's victim. He and Elena arrived just in time to stop Damon from killing
Caroline.
Stefan took her off to the bathroom to clean the blood of her face. Caroline was disgusted and horrified by what she had done and freaked out when she saw her eyes change to black. Stefan got her to calm down and showed that this was completely natural. Caroline asked him why Katherine had done this to her, but Stefan didn't know. Afterwards, Stefan convinces Bonnie to create a lapis ring for Caroline and begins to teach her how to live on the animal diet. At the realization that Mason Lockwood was a werewolf, he even tried to protect her.
In Kill or Be Killed, Stefan tried to make peace with Mason who told his secret to Elizabeth Forbes, the sheriff, who went about trying to destroy the brothers. This time Caroline came to the brothers rescue. Knowing that he was too weak from his diet, Stefan decided to start taking small amounts of human blood every day, and Elena who was against it at first, started to help him by giving him her own blood.
In Plan B, Stefan jumps into a well to try and find the moonstone that Mason hid, but didn't realize the water was full of vervain and he couldn't move, his face and body beginning to burn; Elena comes down to rescue him. After a dangerous situation in which Jenna, Elena's aunt, stabs herself after being compelled by Katherine, Stefan and Elena realize that it was a mistake not listening to Katherine and allowing themselves to challenge her, and decide to break up, despite their affection and deep love for each other.
In Masquerade, Stefan and Damon decided to kill Katherine at the Masquerade party, Alaric, Bonnie, Caroline and Jeremy helped them. At the party when Katherine came he had to dance with her or she would kill someone. Katherine told Stefan that she wants the moonstone back and when he told her that she can't have it Katherine killed Amber Bradley and left her in Stefan's arms he put Amber body in his car. Stefan returns to the party and says to Damon they need to call the whole thing off, but Damon convinces him to change his mind. Later Stefan and Damon is in the room were Bonnie had cast a trapping spell.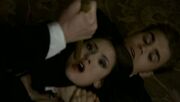 Caroline lured Katherine inside the room, then the brothers attacked Katherine. Stefan and Damon continue fighting, and when Damon is just about to drive the stake through Katherine's heart Jeremy comes and says "Everything you're doing to her is hurting Elena" both Stefan and Damon stop. Trapped inside the room Stefan realizes something. He remembers that Katherine told him that she gave George Lockwood something that he needed to make him help her fake her death, he figures it's the moonstone. He asks Katherine why she needs it back but Katherine doesn't answer him.
Lucy appears, getting their attention, she gives the moonstone to Katherine. All of a sudden Katherine starts gasping and falls. Lucy says that Elena is fine and that the spell is broken. She apologies for her involvement to the Salvatore's and leaves. Stefan the goes out to Elena while Damon traps Katherine in the tomb. Stefan tries to get back with Elena, but she refuses and decides to wait until she makes sure that she and her loved ones are safe first.
In Rose, Stefan and Damon have to rescue Elena, when she is kidnapped and held by two vampires called Trevor and Rose. When Stefan finds Elena, he and Damon work together to bring down another vampire called Elijah. In the tenth episode he goes into the cave to save Jeremy from Katherine. He got stuck in the tomb with Katherine because Bonnie is unable to release the spell over it. However, Elijah made a deal with Elena; to get Stefan out of the tomb, and so he kept the deal and got Stefan out and compelled Katherine to stay in the tomb until he told her to come out. He has now started drinking vervain to build up tolerance to it.
In Crying Wolf, Stefan brought Elena to a lake house where Elena and her adoptive family used to go. When they arrived, Elena took a few moments and went into the house, leaving Stefan outside. She tricked Stefan into believing that the house was left to John Gilbert after her parents died, but she revealed the truth shortly after. Elena then invited Stefan into the house. Later that night, Tyler and Brady wanted to retrieve the Petrova Doppelgänger, Elena.
Brady shot Stefan in the chest, probably not hitting his heart and left Tyler with a gun and a stake to watch over him while Brady took Elena. Elena was smart enough to hide around the house while Brady searched for her. Brady was stabbed a couple of times by Elena. Elena rushed towards the door and out and when Brady came out in pursuit, Stefan pulled his heart out, literally. Stefan explained to Tyler that Elena had to be sacrificed to break the curse and Tyler released him.
In
The Dinner Party
, Stefan tells Elena about a dark time in his history. He states that he was a monster and fed off human blood and was worse than Damon back then. He also tells Elena the person that changed his life around was
Lexi
. When Elijah shows up at the lake house, Elena tricks him by stabbing herself with the dagger and subsequently stabs him with the dagger. Stefan then gives her his blood to heal her.
Stefan and Elena both realize that Katherine is no longer in the tomb and she's posing as Elena. Stefan then goes to Bonnie hoping that they can get the Martins on their side. Later Stefan goes to the Martin's house when Luka was just killed. Stefan tries to comfort him, but Jonas casts a spell that causes him to scream in pain. Jonas yells that he has no-one left and Stefan is about to find out what that feels like. Stefan then goes to the Grill and finds Caroline, updates her on the situation, and while she goes after Jonas, he will get Elena away. At the Gilbert house, Katherine pretends to be Elena and bites Jonas, but he soon wakes up and attacks Bonnie. Stefan then snaps his neck.
When Isobel returned to Mystic Falls, Stefan and Elena wanted answers from her. He is later seen with Elena, protecting her, as John falls down the stairs, dead. Katherine kidnapped Elena and posed as her, but Stefan knew where Elena was, and he gets stabbed with vervain. He then teams up with Damon to find Isobel and Elena. After that, they give Elena their house to protect her from vampires. Damon and Stefan realized that they have a new secret weapon: Bonnie.
In The Last Dance, Stefan attends the '60s Decade Dance with Elena after Klaus starts to send his disturbing messages. He can see that something is troubling Jeremy and after talking with him, he finds out that Bonnie might die if she uses too much power to kill Klaus. He goes to Damon asking if he knew that already, and Damon admits he did. Later both Stefan and Damon help Jeremy who is being attack by students, Stefan then realizes that it was a distraction.
He meets up with Elena, both rushing to find Bonnie and Damon. After Elena has freed Elijah from the dagger, Stefan respects her wishes and lets her try to talk with him alone and soon after is seen protecting Jenna from Klaus who is still in Alaric body. Later Stefan tells Damon to stop treating Andie Star like that. The brothers start to fight about Damon loving Elena, after Stefan says that Damon doesn't have Elena's respect. They are interrupted by Elijah and Elena.
[In the episode The Last Day, Stefan respects Elena's decision on using the Elixir that Elijah has to save her. However, when Damon fed Elena his blood, Stefan fought him and ended up with a stake in the stomach. Stefan then took Elena on a hike to watch the sunset and to have one last romantic day together. During the sacrifice he tries to exchange himself for Elena's aunt Jenna as the vampire but Klaus refuses saying he has plans for him. Stefan watches in horror as Elijah, instead of killing Klaus as planned, fled with him.
Klaus's plans are revealed in As I Lay Dying. Klaus offers him a deal to save Damon from a werewolf bite: he will become his right-hand man, leaving everything including Elena and Klaus will cure Damon. Stefan accepts and drinks the number of blood bags Klaus gives him. Klaus then gives his blood, the cure, to Katherine to be delivered to Damon. At first Stefan is shocked, but relieved when Elena sends him a text saying Damon is okay. As Stefan watches Klaus place Elijah's body with the rest of his family. Klaus then calls out a teenage girl from behind the crate and forces Stefan to kill her and drink her blood as his initiation. Stefan does so, and Klaus is pleased.
In The Birthday, Stefan and Klaus are in Tennessee. Stefan stops a brunette/black haired woman from running out of her house, while being chased by Klaus. The girls give up Ray Sutton' s location, a werewolf, but Klaus tells Stefan to kill the blonde quickly and make the runner suffer, before walking out. Stefan obliges. Then Klaus and Stefan arrive at a bar to find Ray.
Ray is suspicious and soon figures out that he's in the company of vampires. Stefan's compelled everyone in the bar so Ray is all alone - and refusing to give up the location of his pack. Still, that doesn't bother Stefan, who menacingly suggests that they're going to play a drinking game - "truth or wolfsbane". Back in the bar, Ray's being tortured, he's chained up and Stefan's throwing wolfsbane soaked darts at him. He's still refusing to give up details of his pack. Fortunately for Ray, he gets a slight reprieve when Klaus gets word that Damon has been sniffing around.
Stefan promises to go and deal with it - and vows to return to Klaus. Damon meets Stefan who tells him to stop causing problems. Damon, of course, claims that he doesn't care about Klaus, but Stefan tells him again to let him go. Damon warns that if Stefan carries on, they'll be no saving him, but Stefan says he doesn't need that - though Damon points out that Elena thinks differently. Stefan, at this point, shows just how far he has fallen. He calls out to Andie, who is up high on a beam in the studio roof. Terrified, she sobs that Stefan has compelled her and she can't move. Damon tells Stefan that it's "not cool" but Stefan chillingly replies: "Oh, come on. A little bit cool".
He then tells Andie that she can move, she falls and breaks her neck. Stefan returns to Klaus, who has extracted the wolf pack information from Ray. Klaus announces that he now has to go through a three-stage process. First, he feeds Ray his blood, and then he swiftly breaks his neck. Klaus says he knew Stefan would come back, and Stefan, for his part, claims that he doesn't care about anything anymore. Interestingly, Klaus accuses him of putting on a "good show".
He says Stefan will never stop caring about his family, but the blood makes it easier to let go. Later Stefan leaves the bar in Tennessee. He calls Elena, but when she picks up he remains silent, Elena realizes who is on the phone. She tells him he will be alright and tells him to hold on to the fact that she loves him. Stefan nods and begins to cry. In The End of the Affair, it is revealed that Stefan use to be a lover of Rebekah, an vampire and Klaus' sister.
Klaus takes him to Chicago about their memories (who was erased by Klaus) and their days and Rebekah is now dead, waiting for her resurrection. Elena stays at Stefan's old apartment, hides from Klaus and Stefan who hides from Elena before he takes a wine. As Elena attempted to shoot him with a vervain dart, Stefan tells her that he doesn't want to come back. After Rebekah's reawaken, Klaus compels him to remember.
Still in Chicago with Klaus and Rebekah at the start of Disturbing Behavior, Katherine signals to Stefan (who is in a clothing store) that she wants to talk with him. She knows he has a plan, and warns him that Klaus is smart and will figure it out. As Gloria starts to search for Rebekah's necklace, Stefan begins to worry that Elena will be found. Gloria later says that what she saw in her vision bothered her, that the girls she saw were talking about him. She tells him he could tell her, or she could torture him for it. As Stefan speeds to attack her, she only glances at him and he falls to the floor in pain.
Gloria sets up everything to torture him for the information, and finally sees where the necklace is. Katherine arrives and stabs Gloria in the neck. Katherine offers that they should work together, yet Stefan still refuses. Stefan goes to where all Klaus' family members coffins are held, and almost opens one before Rebekah comes in. He asks her out about the man that was looking for them, but she give him a straight answer. She kisses him, testing if he has any feelings for her, and is disappointed, asking him if he would ever love someone like his previous girlfriend (Elena).
Klaus comes in a few seconds later telling them Gloria is gone, and Rebekah says Stefan isn't on their side, that he's been asking about Mikael. Klaus attacks him. He is shown to wake up in the back of a truck, where Klaus welcomes him back to Mystic Falls - to find out what Stefan is hiding.
Klaus started using mind compulsion on Stefan in The Reckoning, to get Stefan to obey to his orders and kill two students, Dana and Chad. He then compelled him to kill Elena if the clock reached 0. Stefan showed great strength when he fought the compulsion and told Elena to run. Unfortunately, Klaus then used compulsion one last time and ordered Stefan to turn his emotions off. Stefan was forced to attack Elena. In the end of the episode, Stefan is shown back at the Salvatore boarding house, saying as Klaus left town, he's been ordered to keep Elena safe (for the reason that her blood is needed to create hybrids).
His attitude is much like that as when Damon first arrived in Mystic Falls in the season one premiere. In Smells Like Teen Spirit, Stefan goes back to school and has moved back to Salvatore Boarding House again, staying behind to keep an eye on Elena, and "guard" her for Klaus. Damon is unimpressed by his brother's behavior, most importantly the way he is feeding off of girls in the house. As Rebekah enters telling them Klaus left her behind and she doesn't have a place to stay, Stefan shows he doesn't really care about that.
Elena, Damon and Alaric later formulate a plan to catch Stefan off guard and lock him up, to try and restore him to his normal self. The plan fails thanks to Vicki interfering and trying to kill Elena, but Elena does see a glimmer of hope for Stefan: that there may still be a part of him left. Stefan later asks Elena why did she save him from the burning car, and calls her pathetic when she says she still has hope, causing his ex-girlfriend to stab him.
In Ghost World, after Bonnie casts a spell revealing all of the ghosts, Lexi appears. She knocks him out and locks him in the county Jail. She brings Elena and shows her how to get him to feel something, by torturing him. Stefan tries to get Elena to let him go by saying that he loves her, but Lexi and Elena see through it, causing him to howl in rage and say that he wishes that he never met them. After Lexi disappears, Stefan asks Elena if she's given up, but Elena says no, but Stefan couldn't either, because he would lose her if he did, she would not love a ghost.
In Ordinary People, Damon frees Stefan, seeing Lexi's approach as useless.
The two of them go to a bar and drink, both beer and blood. Stefan asks why Damon he freed him, but Damon brushes the question off. Eventually, Mikael shows up and drives his fist through Damon's heart in an attempt to get Stefan to tell him where Klaus is, after hearing that Stefan is connected to him. At first, it seems as if Klaus' compulsion made it so that he didn't care, but he eventually agrees to lure Klaus to Mystic Falls. However, he later tells Damon that he did it to get freedom from Klaus, not because of any feelings for his brother.
In
Homecoming
, Stefan participates in the plan to kill Klaus, luring him to Mystic Falls by saying that Mikael is dead (in fact he was dead as Elena daggered him so Stefan could inform Klaus of this and not have Klaus' compulsion stop him from lying.) After hearing about a change in the plan, Stefan asks what it is, only to be attacked by Mikael. Katherine later shows up and informs him that Klaus' hybrids have orders to kill Damon if Klaus is killed.
She tells him that she is going back to go through with the plan, but that will mean Damon's death. She tells Stefan to care enough about Damon to save him. After Stefan interrupts the plan, which results in Mikael's death, Klaus undoes his compulsion, and Stefan and Katherine leave. Stefan asks why Katherine, who wanted Klaus dead for 500+ years, would stop a plan that would have worked to killed him, just to save Damon. Katherine states that, while humanity is a vampire's greatest weakness,
it is the one weakness that cannot be beaten down, and that she loves Damon, despite early comments. Stefan states that he can't go back to feeling after everything he has done. But Katherine tells him that he needs to feel, because she needs him to get angry. He then calls Klaus and tells him that, despite fulfilling his promise and undoing the compulsions, he took everything from Stefan.
When Klaus tells him to let bygones be bygones, and that an eternity of bad feelings gets old, Stefan counters saying that revenge never gets old, and reveals that he stole the coffins that hold Klaus' family. Klaus threatens to kill everyone Stefan has ever met, and Stefan says that if he does that, he will never see his family again.
In The New Deal, it is revealed that Stefan is hiding Klaus' family coffins with the help of Bonnie. Damon gets angry with Stefan when he realizes that Stefan stopped him from killing Klaus in order to save his life again.
In Our Town, Stefan's obsession for revenge, drives him to kidnap Elena in an effort to get Klaus to call off his hybrids. He threatens to drive Elena off Wickery Bridge unless he calls them off. He agrees at the last moment. Elena is very hurt and Stefan tells her that Klaus took everything from him and now all he has left is to get revenge on Klaus. Elena says he had her but he says, "I lost you the minute I left town..."
In The Ties That Bind, When Bonnie shows Elena the coffins, Stefan gets angry because Elena shouldn't have seen those. He then followed Elena and Bonnie to Abby's House, talking to Elena. Then, Jamie came to protect Elena but Stefan compels him to leave. Stefan gets shot by Jamie, after realizing that Jamie has been compelled by someone. Unable to move he has to lie on the ground together with a tied up Elena.
After she knocked out Jamie she helps Stefan to pull out the wooden bullets and she tells him, she kissed Damon. Stefan is quiet but he seems hurt by the news. Elena seems confused by his reaction and he later tells her that she is better than Damon, that she is better than both of them. Stefan leaves and goes to Damon who was surprised to see his brother. He then hits Damon due to kissing Elena. He then becomes concerned when Damon reveals that he undaggered one of the Originals.
In Bringing Out The Dead, Stefan makes sure that the fourth coffin is safe and wants Bonnie and her mom to open it. After that he was accused by Elena of having killed Brian Walkers, he asks her if Damon has recently killed someone and leaves. He and Damon have a conversation about un-daggering Elijah and Damon explains that Elijah's in the perfect mood to help killing Klaus. Together they appear at The Original Family Mansion for dinner with Klaus and Elijah. They reveal their past with Tatia, the Original Petrova.
After Klaus made the offer that the Salvatores would keep away from Elena, Stefan disagrees, causing Klaus to overpower him and burn his hand in the chimney while Damon and Elijah go away. Stefan states he should kill him and Klaus asks where the Ripper has been. Elijah frees Stefan and Damon, meaning that this is family business. As Stefan and Damon leave and walk in the woods Stefan says "I love her, Damon," and Damon says that he does as well. Afterwards they look to see if the coffin got opened. They find Bonnie and Abby knocked out and the coffin opened. Whatever was inside is gone now.
In Dangerous Liaisonsit is learned that Elena had been invited to the Mikaelson Family home for a ball and that the mother, Esther has requested an audience with her. Stefan and Elena agree that she should meet with Esther while Damon doesn't want her to go. They all end up showing up to the ball and Elena is escorted in by both brothers. Later, Stefan watches as Damon and Elena begin to dance but as the waltz shifts to a sequence that switches partners, Elena runs into Stefan.
They dance and while the energy is intense they share a light hearted chat about Stefan's usual lack of enthusiasm for dancing. The subject then switches to Damon and Stefan tells Elena that Damon needs to figure out that she can look out for herself. Elena tells Stefan she needs to talk to him and she asks for his help in getting her into the room with Esther alone. She mentions that he cares about killing Klaus more than anything and Stefan says she's not wrong, though he has a conflicted look in his expression.
Elena mentions her appreciation that he still at least lets her make her own decisions. Stefan helps Elena and later takes her home. They talk about Damon's self destructive behavior that night. Elena says she said something she didn't mean and Stefan admits that he did too. Stefan says goodbye and as he walks out Elena stops him and asks how he can't feel anything and tells him that feeling anything is better than acting like he doesn't care. Stefan reveals that he can't because he hates himself for what he did to her. He says "If I let myself care, all I feel is pain," and then leaves.
In All My Children, Elena calls Stefan but he declines to answer, an emotionally pained expression on his face. He also appears to be writing in his diary for the first time in a while.
Stefan asks Damon why he killed and turned Abby into a vampire while it should of been him. Damon says he can see that Stefan just wants to be the old him again and Stefan responds shaking his head and saying, "That part of me is gone for good." Damon doesn't believe this and mentions that he has taken notice that Stefan has not been drinking human blood lately. Stefan reveals that he stopped drinking human blood since the night he threatened to drive Elena off of Wickery Bridge.
In the episode 1912, it was revealed that this was the year that Stefan went into "ripper" mode again. He and Damon showed up for a funeral of a family member and Damon later convinces Stefan to start drinking human blood again. Later Stefan is shown drinking the blood of a woman. He looses control and ends up killing her. Stefan panics and goes into a frenzy, crying, "I'm so sorry, I'm so sorry, I'm so sorry." He gets angry at Damon saying, "What did you do to me?" Damon offers help and Stefan pushes him away as he says "I don't need your help." In the present, Stefan and Damon try to figure out the murder mystery occurring in the town. Damon notices that Stefan seems to be having a hard time going back to his animal diet.
Later, Damon tempts Stefan into drinking from a human girl and tries to stop him before he gets too carried away. Elena catches them and seems very upset. Stefan is hurt and angrily walks away from Damon. Later on Stefan is at the house sitting and looking upset. Damon walks in and tells him, "You did really well tonight." He explains that he is trying to help him recover. Stefan asks Damon why he is trying to help him and Damn responds, "Because right now, you're all I got." This statement seems to have an emotional impact on Stefan.
In Break On Through, Elena runs into Stefan at the Salvatore boarding house and catches him serving himself blood from a blood bag. Stefan seems uncomfortable with her presence as he is about to drink the blood. He then told Elena about Samantha Gilbert and says if the same thing is happening to Alaric then there is nothing she can do about it. Elena seems disappointed with Stefan's comment and leaves. Damon tries to tell Stefan to control his blood lust and to accept the fact that he is a vampire. Later, Stefan and Elena are about to go into Alaric's apartment and Stefan tells her that he is not trying to hurt her, he just can't be what she wants him to be right now.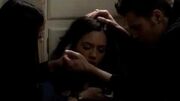 In reference to Alaric, Elena tells Stefan that she wasn't planning on giving up on either of them. This seems to effect Stefan. As they return to Elena's home Stefan realizes that someone is bleeding upstairs. He tells Elena he is going to need her help and they go upstairs to find Meredith badly injured and bleeding. Stefan seems to be tempted by the blood but then looks at Elena. He finds the strength to stay long enough to heal Meredith by feeding her his blood, and then leaves, resisting the urge to drink from her. At the end, Stefan is shown having a drink and he reveals to Damon that he is toasting to "control".
In The Murder of One, Stefan and Damon make a plan with Elena, Matt and Caroline to kill the Originals. Damon is later taken by Rebekah and tortured. When Elena asks to go rescue Damon, Stefan refuses and insists that they carry out the plan. The truth of the vampire bloodlines is revealed and Stefan goes to rescue Damon, offering Klaus the remaining white oak stakes in exchange for Damon's freedom. Klaus realizes that Stefan had not given him all of the stakes but Rebekah releases Damon anyways. Later, Elena enters Stefan's room telling him that he scared her by trying to go up to Klaus on his own. Stefan says she doesn't have to worry about that anymore because he realizes hating Klaus and getting revenge isn't worth it. He seems disappointed saying it was all for nothing and that he is back where he started.
Elena tells him that's not true and that he was dragged through hell but he came out the other side. Stefan reveals that hating Klaus was easy because it allowed him to ignore everything happening around him, everything he let slip away. Elena reveals that she never stopped loving him but Stefan seems troubled at the notion that she has feelings for Damon. He says to Elena, "I love you, I will always love you." He tells her he wants her to look him in the eye and say she doesn't feel anything for Damon. She says she doesn't know what she feels. Stefan nods and walks away in sadness.
In Heart of Darkness, it is revealed that Elena is going on a trip to Denver with Damon due to Stefan's idea that she figure out her feelings for Damon. Stefan stays to watch over Alaric and he tells him in regards to Elena, "No matter what i go through to get her back...none of that matters if she has feelings for somebody else." Klaus shows up to get the stakes. Later on, Klaus tells Stefan he is still waiting for his "old friend to come back," after Stefan notes that Klaus won't kill him. Stefan responds saying that he has been trying to fight off the "ripper" part of himself but that now that he has accepted it, it can't control him. He then tells Klaus, "And neither can you. So, unless your gonna stake me, why don't you get the hell out of my house."
In Do Not Go Gentle, Elena asks Stefan to the decade dance with the encouragement of Caroline. Stefan seems excited by her invitation and when he goes to pick Elena up they exchange compliments. They joke about the bad luck they usually have at the dances and Elena responds saying that they need to live their lives. Stefan jokes, saying, "Who gave you that horrible advice?" and Elena responds with "some guy I use to date," in an ironic and sweet reference to Stefan. When they arrive at the dance and begin to slow dance Stefan mentions that he has been meaning to apologize to Bonnie. Elena brings up Damon and their trip to Denver but Stefan stops her saying, "If you and I find our way back to each other, you can tell me if you want to. Otherwise, I don't need to know, I don't want to know."
He expresses that he is just honored to be her date that night. Later on, Stefan and Klaus are standing outside talking about Esther. Klaus mentions that the dance's 1920's theme reminds him of their friendship and "brotherhood". Damon walks up, saying "Well he already has a brother...not to be, you know, territorial or anything." Klaus laughs at this and jokes about "The Salvatores and their unshakable bond." He starts provoking them with the idea that Elena's "choice" will shake them up a bit. This episodes exhibits more growth for Stefan as he apologizes to Bonnie and tries to comfort Caroline and Tyler.
After it is revealed that Alaric is going to let himself die, Stefan watches Elena break down and asks her to come with him. He takes her hand and leads her to the gym, explaining that that is the place where he hit rock bottom. He says to her, "After I bit you I never wanted to feel anything again." He explains that someone kept telling him that it was okay to feel, that emotions is what makes people human. Elena responds saying "Who gave you that horrible advice?" Stefan says, "Some girl I use to date," as tears form in his eyes. Elena is saddened and says that she doesn't have anyone anymore. Stefan comforts her and tells her, "You have me."
In Before Sunset, Stefan appears the most upbeat he has been all season. He offers Elena and Jeremy help with painting Alaric's old bedroom. Him and Damon worry after Bonnie shows up with news of Alaric and it is revealed that Elena is missing. Stefan, Damon and Klaus finally agree to save Elena and Caroline together. While waiting to complete their plan, Klaus talks to Stefan about Elena. Stefan mentions that he will turn his back on everything to make sure Elena is safe. Klaus tells him that he is Elena's better option and says "Personally I think she is wasting her time with Damon." Stefan responds saying that all the time and energy Klaus had put into trying to make Stefan and Damon hate each other has actually brought them closer. He says "Damon and I have been through a hell of a lot worse than you."
Later on, Stefan, Damon and Tyler begin to desiccate Klaus' body with help from Bonnie. As Stefan stops Klaus' heart, Klaus looks on in shock and sadness and Stefan's expression seems conflicted as well. Stefan seems satisfied at finally being able to stop Klaus but a part of him appears sad as well. As Stefan and Damon take off to put away Klaus' body they talk about Elena and Stefan mentions that if she chooses Damon he will go away and let them be happy. Damon agrees to do the same and implies towards the trouble they go through for "one girl". Stefan responds saying, "She is a pretty special girl" and Damon agrees. This episode reflects one of the strongest points in the relationship between both brothers.
In The Departed, Stefan and Damon decide that one of them needs to go back to Mystic Falls to keep on eye on Elena. Stefan later appears and Elena hugs him. Stefan seems very comforted and relieved to be with Elena in that moment. In the kitchen, Stefan talks to Matt about the importance of free will. Later, Stefan allows Elena to decide whether she wants to trust Elijah or not and she decides that she will.
After it is revealed that everyone is in danger from Alaric, Stefan prepares to take off and help keep everyone safe. He comforts Elena with his promise. As he walks away Elena stops him, implying that she wants to say something to him but then she changes her mind. Stefan begins to walk away again but then turns around, walks over to Elena and kisses her. He looks at her longingly and says, "That's just in case there is no later," and then finally leaves.
Later on, Damon reveals to Stefan that Klaus is dead and they both seem very sad. Stefan reveals that he is concerned that Damon won't be able to say goodbye to Elena. Though it is not explicitly said by either brother, in this moment it becomes clear that they each care for each other very much. After Matt forces Elena to decide which brother to say goodbye to, she calls Damon and reveals that she has chosen to say goodbye to Stefan. They are both sad, but Elena expresses that Stefan came into her life at a time when she needed someone and she fell for him instantly. She explains that despite her feelings for Damon, she always loved Stefan. Afterwards, Rebekah calls Stefan and reveals that she wants to kill Elena while Stefan tries to stop her.
In the last moments of the episode, it flashes back and forth as Stefan tries to save Elena. In the past, it shows Elena's father asking him to save his daughter and Stefan's confusion as he sees her face. In the present Stefan reaches to pull Elena out but she refuses and motions for him to save Matt first. They exchange intense looks and Stefan finally surrenders to Elena's plea, pulling Matt out of the car. After Damon realizes Alaric is dead, it is revealed that Stefan ran out of time to save Elena and that she has died. The last shot of Stefan shows him sitting over her dead body as tears fill his eyes and he mourns the loss of her human life.
Season Four
In Growing Pains, Stefan is first seen with Elena when she first wakes up in her bedroom, along with Damon. Stefan then tells Elena that she was in an accident and that she had vampire blood in her system. Unfortunately, she drowned in the accident and in so many other words, Stefan told Elena she was in transition. Stefan was shown to be extremely guilty over the fact that Elena was transitioning into a vampire and therefore being denied of her human future. He and Damon were arguing over what to do. Stefan wanted to find options and every possible way out of her transition, while Damon wanted her to feed on human blood to complete the transition because he didn't believe it was possible to find a way out. Unexpectedly, Stefan, along with Elena and Rebekah are all captured and then imprisoned in a cell. It is there where Stefan confesses his regrets about Elena not feeding in order to complete her transition. In a heartfelt moment with Elena and with Elena withering away facing possible death due to lack of blood, Stefan confesses that he loves Elena so much. Elena also confesses that she had chosen him over Damon and that the reason she was on that bridge was because she was coming back for Stefan. Elena tells Stefan that no matter what happens (to her and to them), it's the best choice she has ever made. Desperate to save Elena, Stefan quietly plots with Rebekah to scare one of the guards.
With the help of Rebekah, Stefan brutally kills a guard by cracking his head open. Stefan then warns Elena before it's too late that there is access to blood on the ground. A weakened Elena, with all of her strength, has her first taste of human blood and therefore, completes the transition. After Stefan, Elena and Rebekah escape and are let free, Stefan then saves Matt using his vampire blood to heal him after Damon had bitten him. Matt then tells Stefan that he wishes that he would stop saving him and that Stefan should have let him drown, otherwise Elena wouldn't be a vampire. Stefan tells Matt that he wasn't his first choice and that he wanted to save Elena first, but Elena wouldn't allow that. Stefan tells Matt that Elena put his (Matt) life before her own so that he can live and function as a normal person and because of that, Matt had better appreciate it and earn it.
Stefan is seen with Elena on the rooftop of the Salvatore mansion. Stefan tries to reassure Elena that although there is already much chaos with the vampire hunters, everything will be okay because he believes that Damon already has a revenge plan cooked up. Stefan then tells Elena that he wishes that he could let Elena know that everything is going to be okay, that he wishes that Elena could never feel pain and that she'll never crave blood but unfortunately, she will. Stefan tells Elena that her craving blood will be the worst thing that she has to live through as a vampire. Elena then tells Stefan that even though there will be struggles, she will get to live and she will get to be with Stefan forever and spend an eternity with him. Stefan then gives Elena a daylight ring, which was made by Bonnie, just in case. Stefan puts the daylight ring on Elena's finger and Stefan tells Elena that they will take it one day at a time. They then share a romantic moment as they kiss and watch the sunrise together.
In Memorial, Stefan wakes up in the morning in the woods with Elena, so that they can get ready to hunt forest animals together. In a separate scene, Stefan is seen in his bedroom arguing with Damon about Elena's feeding methods and her diet as a vampire. Stefan tells Damon that he wants her to try the animal blood diet and not feed on the blood of humans straight from the vein, the way Damon is suggesting Elena live her vampire life. Stefan tells Damon that Elena's compassion is her Achilles heel and if she were to harm or kill someone, she would feel immense guilt and pain, especially now that her emotions are heightened. Stefan fears that Elena, whose blood lust is currently out of control due to being newly turned, will kill someone, feel immense guilt and suffering and therefore, have the urge to shut off her humanity switch afterwards. Stefan and Elena are in the woods together and Stefan is trying to teach Elena methods on how to hunt for forest animals.
However, Elena is distracted by Stefan's embrace and touch and her overwhelming sense of passion and desire for Stefan. Elena describes Stefan touching her as if he is literally touching every single nerve on her body, implying that she finds Stefan's touch electrifying. Stefan tells Elena that when you are a vampire, everything is heightened, including your emotions, sight, smell, sound, taste and touch. Elena, overwhelmed with passion and sexual desire for Stefan, begins to passionately make out with Stefan against a tree. During the passionate make out session, Elena begins to feel sick and pushes Stefan away. She runs away using her super speed and vomits up the animal blood. Elena is seen in Stefan's bedroom calling Caroline and asking her for help on her having adjustment issues. Stefan then walks into the bedroom with Elena sitting on the bed and comes in with two glasses and a bottle of champagne. Stefan tells Elena that they should celebrate her first feed and for surviving it even though it was traumatic, horrible and disgusting.
Elena tells Stefan that she didn't really survive the first feeding and that it kind of made her sick. Stefan tells Elena that he choked down the animal blood for a month before he could stomach the taste of it and that eventually, with time, it will get much easier. Elena tells Stefan that he so cheery for such dire situations and Stefan responds to Elena by saying that is because she is here and that she is alive-ish and that she will get through the issues. Stefan appears extremely hopeful and optimistic that Elena is going to get through the issues but Elena keeps it a secret that she can't keep any of the animal blood down from Stefan. Stefan lets Elena open the champagne and she decides to go along with the celebration with Stefan. Stefan and Elena kiss and are then interrupted by a phone call from Damon.
After Tyler getting shot by Connor, Tyler and Caroline go to the Salvatore mansion, where Stefan is seen removing special bullets out of Tyler's chest. Stefan tells Tyler that the bullets he were shot with were specially carved and made and that if he were a normal vampire and not a Hybrid, he would be dead. Tyler tells Stefan that the hunter who shot him knew what he was doing and that his gloves were covered in vervain. Tyler tells Stefan that he was looking for a vampire and that he didn't hesitate for a second when he found one. Stefan curiously observes the special bullets and says that the etchings on the bullets are suspicious. When Stefan touches one of the bullets, it causes pain to Stefan's hand implying that the special bullets might be spelled with something that is harmful to vampires. Out of concern for the safety for the others, Stefan goes to Bonnie's home and knocks on the door, telling Bonnie that it is important. Bonnie is seen depressed and sad lying down on her living room couch. Bonnie comes to the door and sees Stefan.
Stefan sees that Bonnie is very distraught and upset and concerned, he asks Bonnie if she is alright. Stefan tries to step into the house so that he could embrace Bonnie but he is unable to come into the house due to a lack of invitation. Stefan then asks Bonnie if he could come in, she says yes and he goes to comfort and hug a crying Bonnie. Bonnie then tells Stefan that when she was conducting the spell, it was like her Grams was dying all over again, just because she didn't listen to her Gram about doing Black Magic. Stefan tells Bonnie that she was dealing with the Other Side, that it is not reliable and that he thinks that the witches might be possibly messing with Bonnie's head by trying to teach her a lesson. Bonnie tells Stefan that she had tried to a basic nature spell in order to clear her head but all it ended up doing was bringing everything back, like it was happening all over again. Stefan listens to Bonnie sympathetically and compassionately.
Bonnie tells Stefan that she is sorry if she is distant and avoiding everyone and that she is doing so because she is depressed and a mess. Bonnie then asks Stefan what is wrong and why he decided to come by. Stefan tells her that is not that important considering what Bonnie is going through and decides to forget it. Bonnie tells Stefan that it's okay and that he is not a drop by kind of guy and that is seemed to be something important so Bonnie urges Stefan to tell her what is wrong. Stefan then shows Bonnie the special bullets that he took out of Tyler and tells her that the bullets burnt to the touch, that the bullets could be just steeped in vervain. Stefan then goes on to ask Bonnie if she had ever seen the writing on the bullets before. Bonnie then tells Stefan that she has not seen the writing on the bullets before and that it is not magical writing if it was what Stefan was originally thinking. Stefan then tells Bonnie that he thinks they have a new vampire hunter in town.
After Damon gets Elena a change of clothes after she vomits Damon's blood, Elena then goes behind a tree and drinks blood from a blood bag that Damon gave to her. Stefan then sees Damon with Elena walking away and asks Damon what is in the bag. Damon tells Stefan that he brought the blood bag for Elena. Stefan then asks Damon if he is really that intent on having his way. Damon tells Stefan that it is not his way, that it is the only way. Stefan then tells Damon that if Elena happens to hurt or harm someone, she will be desperate to turn the guilt off and especially desperate enough to shut off her humanity afterwards.
Damon tells Stefan that he is just afraid that Elena will turn out like Stefan to be a Ripper. Stefan then tells Damon that he cannot and will not let Elena turn out anything like him (Stefan). Damon says to Stefan that God forbid that she turned out anything like himself, which is what Stefan was probably really thinking. Damon tells Stefan that Elena is eventually going to lose control on her blood lust, go off the rails so the faster that it happens, the sooner that she can get back on track. Stefan continues to argue with Damon and tells him that Elena is strong, that if they help her she can survive this. Damon then argues back and tells Stefan that she is starving and reveals to Stefan that Elena has been keeping all blood sources down for days. Stefan is surprised by this and tells Damon that he thought that Elena was fine. Damon tells Stefan that she lied and that she couldn't keep any blood sources down, including animal blood, human blood from a blood bag and Damon's blood. Stefan looks shocked and questions Damon about Elena drinking or feeding from him.
Stefan walks into the church and walks up to Tyler and Caroline. Concerned for Tyler's safety, Stefan questions what Tyler is doing out at the memorial service. Tyler tells Stefan that he is being sensitive to the community's loss. Stefan asks Tyler that he is doing so even with a hunter out to kill him. Tyler tells Stefan that he is not going to let a hunter try to stop him from where he is supposed to be. Caroline then tells Stefan that if the hunter happens to show his face, she will kick his ass. Stefan then goes to find a seat and sits down as Carol begins the service for Pastor Young. Elena goes up to the podium to say a few words in Pastor Young's memory. Damon then comes into the church, dipping his fingers in holy water and doing the cross. Damon then sits down beside Stefan and watches Elena as she begins to give her speech. Damon tells Stefan that Elena is not looking so good.
Stefan tells Damon that maybe he should have told her from the beginning that Elena was rejecting all blood or food sources. Damon says that jealousy is beneath Stefan, with Stefan responding to Damon with "Oh, bite me". As Elena is giving her speech, she begins to see blood dripping from the ceiling due to April being stabbed by Connor, setting up a trap in order to shoot and kill Elena. Stefan, Damon, Caroline and Tyler and Elena included, all smell blood and Damon tells everyone to not move and don't turn around because it is a trap. Elena begins to slowly lose control of her bloodlust as she sees the blood dripping off the ceiling. Just as Elena's eyes go veiny, Stefan comes up to the podium and comforts and helps Elena off the stage back to their seats. Elena, overwhelmed with bloodlust, holds onto and tells Stefan that she smells so much blood and that she is having hard time controlling her hunger.
Stefan comforts her and tries to get her to calm down by pushing back, breathing and focusing so that her blood lust doesn't overtake her. Matt asks Stefan what's wrong with Elena and Stefan tells him that Elena is hungry and that she hasn't fed. Matt tells Stefan to get Elena out of the church, but Stefan tells him that they can't because they are being watched and there a trap. Damon tells Stefan that he is going to rip Connor's head off but Stefan tells Damon to not do so, because then he would risk exposing all of them. Damon tells Stefan that the risk would be diminished if he just went and killed Connor right then and there.
Elena tells Stefan that she is really losing it and that he blood lust and hunger is overtaking her. Damon tells Stefan that he has ten seconds before he goes to kill Connor but Stefan tells him to not do it. Just as Damon is about to get up to go attack and kill Connor, Matt then tells Elena to feed from him, telling both Elena and Stefan that it's okay, because everyone will think that Elena is just upset. Elena, looks to Stefan for his approval, before Stefan gently lets Matt take Elena into a comforting embrace. Matt looks at Stefan slightly worried and Stefan looks back at Matt with sheer concern. Elena feeds on Matt's neck and afterwards, thanks him for letting her do so. Elena then tells Stefan that she can still smell the blood and that it has got to be April who is in trouble and that she has to help her. Stefan, worried for everyone's safety, Elena included, tells Elena that it is too risky and that they can't risk it at the moment. Tyler is then shot and Stefan, along with Carol, Caroline and Elena, goes to check on Tyler to see if he is okay. Once Tyler has the bullet taken out of his chest by Caroline, Stefan tells Elena that he is going to find Damon.
Damon goes to attack and kill Connor, but as Connor is prepared to stake Damon, Connor is scared off when Stefan calls for Damon. Stefan then runs up to Damon to see if he is okay and offers Damon his hand. Instead of helping Damon up, Stefan punches Damon in the face. Damon asks what the punch was for and Stefan responds with "You know what" and then afterwards, walks away. Back at the Salvatore mansion, Stefan and Elena are sitting in the living room. Stefan pours Elena alcohol and hands it to her. Elena smells the alcohol and is immediately overwhelmed by the strong smell.
Stefan pours himself a drink and tells Elena that drinking the alcohol helps with the cravings for human blood. Elena slowly drinks as well as Stefan. Elena tells Stefan that he seems mad. Stefan then lets Elena know that he is indeed mad because Elena lied to him. Elena says that she didn't lie to him, she just didn't tell him everything that was going on. Stefan doesn't buy it and tells Elena again, that she lied to him. Elena tells Stefan that he was just so happy that things seemed to be going fine. Stefan interrupts Elena and asks Elena if she really thinks that he's happy. Elena tells Stefan that she didn't want to ruin it for him by bringing him down and spoiling his optimism and hope in everything. Stefan tells Elena that she is in hell, which means that he is in hell as well and that instead of coming to him, she went to Damon for help instead.
Elena tells Stefan that she felt that Damon would understand and Stefan questions Elena asking if she thinks that he (Stefan) doesn't understand as well. Elena pleads with Stefan and Stefan, frustrated, tells Elena that she fed on Damon. He then goes on to say that it may not have meant that much to her but it meant a lot to him and that it certainly meant a lot to Damon. Elena then tells Stefan that she didn't want to tell him because she did not want to hurt him. She apologizes and begins to cry. Elena then asks why is she crying and says that she is so sick of crying all of the time. Stefan tells her that it is because her emotions are heightened at the moment. Elena continues to tell Stefan that she feels like she has been crying since the day that her parents died and that her life feels like it has been a never ending funeral.
Elena says that they keep burying people and what is really heightened is her feeling everyone's grief, that she can't stop feeling everyone's grief, hurt and suffering and that it feels like it is going to explode out of her. Stefan sympathetically comforts her and tries to calm her down. He then tells her to come with him and that they have to do something. At the school, Stefan gathers everyone together (Elena, Matt, Jeremy, Caroline, Damon and Bonnie) to do the memorial that they didn't have a chance to finish. Stefan tells Damon and everyone else that they need to start healing because everyone has lost so much and suffered so much grief. Damon objects to Stefan's idea and thinks that they have more important things to be doing such as finding out who the new vampire hunter is in town. Stefan objects to Damon and says that not tonight, they don't. Stefan then lights a Japanese floating lantern in memory of his Uncle Zach, his best friend Lexi and for Alaric. He, along with everyone else who lit a lantern, lets go of his lantern into the sky.
In The Five, Stefan walks into the living room and sees Damon unpacking boxes with unknown stuff in it. Stefan asks Damon what are in all of the boxes. Damon tells Stefan that they are a bunch of items that Damon took from Connor's RV, afterwards mentioning that Connor is also dead. Damon goes on to tell Stefan that he in the search of a supernatural handbook. Stefan asks Damon if he knew for a fact that he was supernatural. Damon tells Stefan that it definitely wasn't natural. Damon then says that the guy magically appears and then someone blows up the entire Founders Council. Damon tells Stefan that Connor is covered i a special tattoo that only Jeremy Gilbert is able to see.
Damon tells Stefan that Klaus had mentioned to him that Connor was possibly one of The Five and then he kamikaze's himself with explosives. Stefan then questions Damon about what The Five is. Damon tells Stefan that he is hoping that he finds it out in the first chapter of the handbook. Damon then gets a phone call and picks it up as Stefan starts to unpack all of the items and look through them. Damon gets a call from Sheriff Forbes. Damon is concerned about the news in which Liz is giving to Damon. Stefan wonders if Damon is gonna tell him what was going on. Damon tells Stefan that he can't tell Stefan and that it's private, and that they are in a fight. Stefan tells Damon that he's the one who is in a fight, that he's not in a fight with him and that he's over it.
Damon questions Stefan if he is still mad about Elena blood sharing with him. Stefan tells Damon that he let her feed off of him and that he is always going to be mad at him for that but that they are technically not in a fight. Damon then gives in and tells Stefan that there were no remains of Connor's body left at the explosion site. Stefan then says that Connor is still out there. Damon then tells Stefan that he needs him to get out to investigate about the Connor situation and that he needs to take Elena to college. Stefan questions Damon about taking Elena to college. Damon tells Stefan that he is going to take Elena to college in order to teach her how to feed effectively. Damon tells Stefan that Elena needs to learn "snatch, feed, erase" now more than ever. Before Stefan has the chance to respond, Damon tells him to not debate him because they are not in a fight as Stefan had said earlier. Damon then leaves the room with a confused Stefan.
Stefan and Elena are in the woods together. Elena tells Stefan that it may sound crazy about Damon taking her to college in order to learn how to feed but that she has to do it. Elena continues to tell Stefan that Damon had to rip Elena off of Matt when she was feeding on him and compel Matt to forget what happened afterwards. Elena tells Stefan that she cannot drink animal blood or human blood from blood bags, but that she has to drink human blood straight from the vein, possibly due to her Doppelgänger curse. As Elena is explaining to Stefan about her feeding and diet issues, Stefan shoots an arrow towards Elena but it misses her and hits the tree behind her instead.
Stefan tells Elena that her reflexes are a little bit slow and that the arrow almost got her. Elena pulls the arrow out of the tree and tells Stefan that was the reason that they were not using the wooden arrows for hunter's defense class. Elena throws the arrow back at Stefan playfully and it misses Stefan. Stefan and Elena smile at each other playfully. Stefan then tells Elena if she thinks Caroline would be a good teacher for her because she is a genius at self-control. Elena tells Stefan that Caroline is too good at self-control and that she doesn't understand how hard it is; the struggle for human blood. Elena then tells Stefan that for him, it's really hard for him to be around all of the human blood and that Elena cannot subject Stefan to that difficulty.
Stefan super speeds behind Elena with an arrow in his hand and playfully holds her. Stefan then tells Elena that since he and Caroline don't seem to be any help in teaching Elena how to feed, that only leaves Damon to do it. Elena playfully flips Stefan to the ground and sits on top of him holding the arrow to his throat. Elena tells Stefan to not be jealous and that she wishes that it could be Stefan to teach her the concept of self-control. Stefan tells Elena that he knows that she wishes that it could be him. Stefan super speeds up and affectionately holds Elena. Elena tells Stefan that she and Damon are crashing Bonnie's trip to Whitmore College because the professor that took over Gram's classes had invited her to come to the college. Elena tells Stefan that he is the one who is getting her through all of the struggles and issues with being a vampire, regardless of who teaches her how to feed effectively. Stefan then nods agreeably and then super speeds, pushing Elena back against a tree playfully. Stefan then tells Elena to be careful and that the blood, the feed is easy to get caught up in it. Elena tells Stefan that she promises to be careful. Stefan and Elena put their heads together and share a romantic moment.
Klaus is seen walking into a room where Connor is chained to a wall. Klaus then senses that Stefan is in the house and that he will have to beef up the hybrid security around the premises. Stefan tells Klaus that he would've taken Connor out of Klaus' house, but that he didn't because Klaus went through all the trouble in order to trap Connor in his special room of pain in the first place. Klaus tells Stefan that it is from the Inquisition and that he thought that it was a nice touch. Stefan then questions what Klaus got out of Connor. Klaus tells Stefan that he didn't get enough information out of Connor. Klaus continues saying that Connor is being quiet about the Council fire and that he is also not saying anything about the "greater evil" that everyone is supposed to be shivering over.
Klaus then questions what brings Stefan to the house snooping. Stefan tells Klaus that whatever he has to say, he cannot say in front of Connor as Connor cannot be compelled. Klaus then tells Connor that he is full of mysteries. Connor tells both Klaus and Stefan that he doesn't know anything. Klaus then says that thankfully, he knows plenty. Klaus then escorts Stefan into a separate room. Klaus questions Stefan again why he invaded Klaus' house. Stefan tells Klaus that Damon had told him that Klaus knew something about Connor and that Stefan should've known that Klaus was up to something when he used his hybrid blood to heal Elena when she had werewolf venom in her system without asking for anything in return from Stefan. Klaus tells Stefan that he healed Elena because he was simply feeling benevolent. Stefan then tells Klaus that he is never benevolent and again, questions Klaus about who Connor really is and what The Five is. Klaus then tells Stefan that he has asked so many questions.
Stefan tells Klaus that it was a good thing that he had nothing to do, except get answers from Klaus. Klaus then gives in and then tells Stefan that he might actually be useful in persuading Rebekah to cooperate with Klaus. Klaus tells Stefan that the brotherhood of The Five was a group of highly skilled vampire hunters and that Klaus and his siblings had crossed paths with them in the 12th century, Italy. Klaus continues to tell Stefan that he and his siblings had followed the Normans as they conquered the South, feeding and turning people as they went. But due to Klaus and his siblings killing humans and turning them, they began to become exposed to humans. Stefan then questions Klaus that these vampire hunters have been around for 900 years. Klaus tells Stefan that yes and that Connor is the very first vampire hunter that he has seen since the 12th century.
Klaus tells Stefan that he wonders what these vampire hunters have been up to for all of the past years. Stefan questions if Rebekah had a "thing" with one of the vampire hunters. Klaus tells Stefan that Rebekah didn't just have a fling, she was in love with one of them. The hunter whom Rebekah had fallen in love with (Alexander), had told Rebekah all of his deep secrets, which Klaus says that he would share with Stefan if he did Klaus a favor. Stefan questions what Klaus wants him to do. Klaus tells Stefan to persuade Rebekah over at the house; Klaus says that Rebekah is being stubborn and hateful and that he needs to make peace with her. Klaus tells Stefan that he wants Rebekah to give him some very important information regarding the hunter, which she wouldn't do if he and Rebekah don't make up. Stefan questions Klaus what's in it for him if he does persuade Rebekah. Klaus doesn't say and tells Stefan to just get Rebekah over at the house and then he will tell him. Klaus tells Stefan to trust him when he says that Connor holds the answer to all of Stefan's prayers.
Rebekah and April are sitting at a table at the Grill. Stefan comes up to them and sits next to April. He then compels April and tells her that she will not remember anything of what is being discussed right in front of her. Stefan then tells Rebekah that Klaus wants him to fake peace with her so that they can talk about The Five. Rebekah tells Stefan that he's sure that he does and that afterwards, Klaus will just betray you because it;'s what he always does. Stefan then tells Rebekah to forget about helping Klaus and to just help him instead. Rebekah question Stefan why because Stefan hates her more then Klaus does. Stefan tells Rebekah that he wants to figure out what Klaus is up to and that he can also give Rebekah the one thing that Klaus won't.
Rebekah questions Stefan on what that would be. Stefan tells Rebekah a clean slate. Stefan then tells Rebekah that he is not necessarily willing to forgive Rebekah for what she did to Elena but that he is willing to put his anger towards her aside and start over. Rebekah question Stefan on why he would do that. Stefan tells her because it seems as though Rebekah is not leaving town any time soon and that he wants to look for a way where they can all get along. Stefan then goes on and says that Rebekah can't be too happy about wandering around school with no friends. Rebekah snaps back at Stefan sarcastically and says that what if she doesn't care what he or anyone else thinks. Stefan then tells Rebekah that he is sure that she cares about what Matt thinks and that maybe, he can talk to Matt about a clean slate with Rebekah.
After Stefan persuades Rebekah, he brings Rebekah back to Klaus' place. Rebekah sees Connor chained up and asks Stefan and Klaus if it's a trick. Rebekah questions Klaus and asks him how does he know that Connor is a part of The Five if there is no tattoo visible. Klaus tells Rebekah that his tattoo is invisible. Klaus then tells Stefan and Rebekah to eat in the dining room. Klaus, Rebekah and Stefan are all sitting at the dining room table eating dinner. Klaus tells Stefan and Rebekah that he could kiss the Council for burning all of the vervain in town and that they have made his life so much easier. Klaus then tells Rebekah to eat her veggies.
Rebekah tells Klaus that she is not eating until Klaus apologizes to her. Klaus questions for which indiscretion for there have been so many. Klaus and Rebekah start to bicker, with Rebekah telling Klaus that he broke her neck and Klaus telling Rebekah that she threw away Elena's blood so that he couldn't make any more Hybrids. Klaus and Rebekah continue to bicker back and forth. Stefan then tells Klaus and Rebekah that he can name a million other people that he would rather be eating dinner with. Klaus then apologizes to Rebekah and tells Rebekah that he can't forget how delicate she is. Klaus then tells Rebekah to forgive him. Rebekah tells Klaus that she is willing to take his apology into consideration. Stefan then questions Klaus about Rebekah's hunter. Klaus then mentions that Rebekah's hunter's name is Alexander. Klaus then says to Stefan that Alexander was a "nice chap" foregoing the obvious issues. Klaus tells Stefan that Alexander was looking for creatures of the night (vampires), which is why Klaus, Elijah and Rebekah felt safe being around Alexander while wearing their daylight rings.
After Klaus tells Stefan about Alexander and his history, Stefan questions if that is what it was all about, a special weapon that can destroy all vampires. Rebekah tells Stefan that it is not just any weapon. Klaus tells Rebekah to not get ahead of the story. Stefan then questions both Klaus and Rebekah on how a random weapon is the answer to all of his prayers. When Klaus and Rebekah do not say anything, Stefan tells both of them to cut the dramatics and to get to the point. Klaus tells Stefan that in order to find the special weapon, they need to solve the "puzzle" which seems to have disappeared. Stefan questions Klaus "What puzzle?" Stefan then thinks deeply and comes up with the tattoo being the puzzle. Stefan then questions what the tattoo is and what it means. Klaus tells Stefan that the tattoo is a map, which leads them all towards the treasure.
Rebekah tells both Klaus and Stefan that what good is figuring out the map of a tattoo if they can't even see it. Klaus tells Rebekah and Stefan that they might not be able to see the tattoo, but that there is someone else who can. Klaus then gets his female guard to tell the Hybrid to bring the person in. Klaus tells Stefan that the hunter was so eager to get to the bottom of his tattoo that he had mentioned that there was only one other person that can see the tattoos. The guard then brings Jeremy into the room. Stefan sees that it is Jeremy and super speeds over to him in attempts to protect him, but Klaus super speeds in front of Stefan and tells him that Stefan wouldn't. Klaus tells Stefan that lucky for them, Jeremy is a bit of an artist. Jeremy tells Klaus that he is not going to help him with anything. The Hybrid guard then removes Jeremy's Gilbert ring and tosses it over to Klaus. Klaus then bribes and threatens Jeremy and tells him that he is going to help him whether he likes it or not. Stefan looks on at Jeremy, deeply worried and concerned for his safety.
In The Killer, Stefan is first seen writing in his journal, writing about Elena. He writes that she has been spiraling ever since her transition and at times barely recognizes her, however now he feels there is finally hope after learning of the cure. He writes he knows what to do; everything Klaus' tells him to, no matter the cost. He is interrupted by his phone which is a text from Klaus reading 'we have a problem'. Connor has escaped by killing Klaus' hybrid; Nate, in the process taking some of his werewolf venom; presumably to use against the vampires in Mystic Falls. Klaus is in Italy, digging up The Sword of Alexander and tells him that there would be no access to his blood if anyone is bitten. Klaus tells him to find Connor, catch him and keep him alive as his tattoo is the only lead on finding the cure. Stefan wants to tell Damon, who is intent on killing Connor himself and says he trusts his brother more than Klaus. Klaus threatens Stefan with throwing the sword into the Mediterranean if he tells anyone of the cure.
Later, after ignoring Damon and Elena's calls all morning, he appears to help rescue Jeremy, Matt and April from Connor's clutches. Without telling the other's about his knowledge of the cure, he manages to buy himself time to come up with a plan to save the hostages whilst keeping Connor alive by reminding them he may have werewolf venom.
Afterwards, Stefan is walking around outside Mystic Grill, having been cornered off by police due to a 'faulty gas main' speaking with Klaus over the phone about getting his hybrids on board with his plan, a suspicious Elena watching from an upstairs window. He then talks to Elena and Damon and tells them there are three hostages in the Grill, having made out their voices.
Returning back up to Damon and Elena, he explains his plan of having one of Klaus' hybrids enter the Grill first as they are immune to werewolf venom. Damon, becoming in Stefan's words 'paranoid' demands to know why Klaus is even involved in this plan and how he is sure that Connor has venom to begin with. Stefan quickly subdues Damon with vervain after Damon says he will kill Connor himself.
Elena is determined to follow Stefan through the
tunnels underground in order to get Jeremy to safety, however he tells her the guilt would wreck her if she killed Connor. Stefan promises to save Jeremy and asks her to trust her, he kisses her before leaving. He calls Connor and reveals he knows about the
Hunter's Mark
yet Connor refuses to free the hostages until 'you and everyone like you are dead', before hanging up. After making his way through the tunnels, Stefan tells
Matt
and
April
to leave before cautiously making his way towards the front, running beneath the bar as Connor shoots at him. He tries to persuade him into putting the gun down to no avail.
After Elena enters, in the guise of being human to the unknowing Connor, Stefan reveals himself after Connor begins a countdown to shoot Jeremy, quickly ducking as he is shot at, Elena tackling Connor. Jeremy, however was shot in the stomach and begins to fall off the bomb trigger beneath his feet however Stefan saves him. Elena, distracted by the bomb blast and Jeremy's location is overpowered by Connor and Stefan manages to push him off her. Elena looks up to see that Connor and Stefan have disappeared.
Stefan is later seen walking up to Elena in the graveyard with Damon, where she is burying Connor. She tells him angrily that she thought she could trust him. In a conversation with Damon, he thanks him for not telling Elena about 'killing the only chance she had at being human again'. Damon asks if he wants the cure for Elena as he can't love her as a vampire, to which he responds 'I'll always love her, but she's not supposed to be this person'.
In We All Go A Little Mad Sometimes, Stefan shows up at the Gilbert House after receiving a call from Damon that Elena had stabbed and killed Jeremy. He heads upstairs to Elena and says he understands if she is still upset with him from the previous day and wants to help her. She accuses him of working with Klaus and refuses to talk to him after he tells her it isn't what she thinks.
Klaus calls him and soon appears at the house and Stefan demands to know what he does about Elena's hallucinations. Klaus tells him when a hunter is killed, they are unable to fulfill their destiny as spelled to by witches, and therefore are consequences in which the hunter will take their killer down with them as their final kill. Klaus says Elena will need to come with him 'for her own good' to which Stefan refuses. After Elena runs onto the porch after seeing Connor once more, Stefan watches as Klaus quickly snatches Elena and disappears. Stefan and Damon call Bonnie who says if she could do anything to help she would, but the spirits won't allow her to use magic, she says she could ask Shane for help and Stefan leaves.
He then calls
Caroline
and tells her that he needs Tyler to distract the hybrids so he can get inside
Klaus' mansion
to get Elena out. He goes to the Lockwood mansion where Tyler tells him about
Hayley
being able to un-sire another hybrid;
Chris
, making it easier to infiltrate Klaus' mansion. Stefan and Tyler try to persuade Chris into distracting the hybrid's guarding Elena and he relents.
After relieving the hybrids, Chris gives the key to the room Elena is being held. As he enters, Elena backs away in fear as she sees Connor instead of Stefan, then manages to stab him with a metal pole from the bed and escapes. He then calls Damon, informing him of Elena's escape as he removes the pole from his stomach, telling him that he needs to talk Elena down.
Stefan is next seen, storming through Klaus' mansion and incapacitating Chris, due to Caroline being able to convince Klaus into giving up one of his hybrid's. Stefan apologizes before nodding to Jeremy, who then kills Chris with a meat cleaver.
He goes to Elena's house the next day, where she jokes if he killed Damon for telling her of the cure, he says they both want the same thing and have to work together. After Elena asks why he sent Damon to look for her, he says 'it seems he's able to get through to you in ways I can't.' He urges her to admit that she feels for Damon, and realizes her feelings for Damon have been magnified after transitioning. He tells her sadly that he can't do it anymore and they break up.
In
My Brother's Keeper
, Stefan is doing push ups whilst talking to Caroline over the phone who is trying to persuade him into attending the
Miss Mystic Falls Pageant
.
He tells her he and Elena broke up so he doesn't have to be anywhere, Caroline is disgusted at Elena's feelings for Damon and says she will talk to her, however Stefan says it wouldn't do any good as being a vampire has changed
her
. As Stefan hangs up and stands, Klaus suddenly grabs him in a chokehold and demands why he told people of the cure. He orders Stefan to find some vampires for
Jeremy
to kill before he offers Stefan up as a victim.
As Stefan leaves the Boarding House, Damon intercepts him and asks where he is going to which Stefan replies 'out'. Damon accuses him of being back to 'Shady Stefan', and working with Klaus, Stefan turns, abruptly telling him that he and Elena broke up. Damon tells him of the plan for them to find another hunter to reveal the map as Jeremy would go 'Connor 2.0', and that Shane maybe able to shed some light on matters after discovering he and Pastor Young were in contact the day he died. After offering some brotherly bonding, Stefan laughs and tells Damon 'let's not pretend this isn't the best day of your life' before leaving.
Stefan is next seen at the hospital, checking through clipboards for potential vampires, and finds a police officer guarding a door. He compels the officer and the man handcuffed who reveals he is a convicted murderer. After learning the man has no regrets other than being caught, Stefan feeds him his blood and snaps his neck.
He then texts Jeremy to meet him and waits in the cellar for him to appear.
He asks if Jeremy is interested in making Elena human again and he agrees, following Stefan deeper into the cellar to reveal the fugitive who is tied up and in transition. Stefan cuts Jeremy's wrist and gives his blood to the fugitive who completes his transition into a vampire. Stefan thrusts a stake in his hand and demands that Jeremy kill the vampire, who protests but stakes the vampire after Stefan threatens he will let the vampire loose. Whilst on the phone with Damon, he tells Stefan to leave Jeremy out of it, and Stefan responds with 'Elena needs the cure'. Hanging up, Stefan shows Jeremy a picture of Connor's tattoo and asks where the mark is up to. Jeremy won't tell Stefan anything as he can't be trusted, and Stefan tries to compel him into revealing how far the mark has grown, Jeremy however stakes Stefan in the stomach, saying he can't be compelled anymore before leaving.
Stefan then rushes into the house when the out of control Jeremy attempts to stake Elena and pulls the stake from her neck.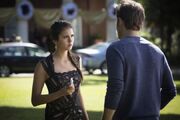 She then tries to find Jeremy and Stefan catches up with her, he is silent when Elena asks if he has been making Jeremy kill vampires. She doesn't want her humanity back if it means Jeremy loses his, but Stefan says it's the only way to 'fix all of this'. He looks hurt when Elena tells him that the old Elena died on the bridge and that he should let her go, and leaves after seeing Damon approach.
Later on, Stefan leaves his house after Elena moves in due to not being able to live in the same house as Jeremy anymore, telling her to 'pick a room'. He moves into Caroline's house who tells her he can't give up on the cure- or Elena. Stefan retorts he couldn't even if he wanted to due to Klaus wanting more hybrids with Elena's blood. Caroline suddenly stands after talking about Tyler's hybrid friends being un-sired, and after talking to through with Stefan, he realizes that Elena is sired to Damon.
In
We'll Always Have Bourbon Street
, Stefan is first seen discussing Damon and Elena's sire bond with Caroline, and stops her from calling Elena until they know for sure. Caroline tells him she will talk to Tyler, and Stefan asks her to keep the information to herself
. Later, he walks into his
house
and shares an awkward greeting with Elena before telling Damon they need to talk. Off screen, he tells Damon about the potential sire bond who adamantly rejects his claims. After Stefan asks Damon to test the sire bond; for example tell Elena to drink from a blood bag (which she previously cannot do, due to Damon's indirect command), Stefan admits if he is wrong, he will be the first to apologize.
Stefan is on the phone with Caroline, having spoken to Tyler about his own sire bond, she reveals hybrids are sired due to being grateful to Klaus, and Stefan seems upset when she adds there is no vampire equivalent for the reasons behind a sire bond. He hangs up and enters the library where Damon is rummaging around through old papers. Damon tells him that he was right, Elena is sired and Damon holds up a photo Stefan realises of being from New Orleans in 1942. Stefan asks about 'that girl you used to hang around with', to which Damon tells him was Charlotte, a woman he turned.
Damon reveals the time when Charlotte killed a sailor after touching Damon's drink, having told her to 'have no mercy', he tells Stefan that was his first clue she was sired. Stefan retorts 'I can only assume you took full advantage of that?' then Damon hands him a paper which reads Valerie LaMarche, Stefan looks up curiously and Damon tells him she was the witch who helped break the sire bond.
Later, Stefan and Damon arrive in New Orleans and Stefan says he hasn't been back since 1942. The two begin arguing with Stefan demanding to know 'one thing you've asked her to do, you haven't gotten?', he says he blames the sire bond for Elena feelings and that 'it's impossible for her to be so blind that she doesn't see how wrong you are for her'. Damon walks away, angry to which Stefan apologises.
A flashback shows Stefan, dressed in his war uniform rehearsing lines to
Lexi
which to say to his brother. Stefan walks up to the bar and pats Damon's shoulder and tells him he wishes to 'bury the hatchet' before they hug. Whilst drinking and laughing, Stefan reveals his plans to join the war and seems surprised, yet joyful when Damon requests to join, and says he will speak to his C.O before leaving to get another round of drinks. When he returns, they clink glasses before Charlotte arrives, with a bloody corpse in her arms. Clearly trying to fight his bloodlust as Charlotte tosses the corpse over to him, his fingers bloody and veins appearing underneath his eyes. Damon takes the victim from Stefan before Lexi drags him from the bar.
In the present, Stefan apologises again, saying he 'shouldn't blame him for the sire bond' and asks if Charlotte may still be in New Orleans, then leaves to see 'how literal the sire bond is', after Damon reveals he told her to count all the bricks. After reaching the corner, Stefan bitterly retorts that not telling Elena the truth- as Damon suggested 'is Damon speak for let's just do what's right for me'. After Damon leaves, Stefan looks at the ground, ashamed yet rushes forwards after he hears a commotion in Damon's direction. He pulls a vampire off Damon and asks what the hell happened, looking confused when Damon tells him the vampire kissed him. Stefan looks horrified as the vampire is revealed to be Charlotte, having counted every single brick in New Orleans, waiting for Damon.
Stefan and Damon enter a shop, approached by a woman who Damon quickly asks for Val. The woman,
Nandi
, tells them Val was her great grandmother and another flashback reveals Val told Damon of a way to break the sire bond with twelve human sacrifices. Back in the present, Stefan is horrified and demands to know whether Damon killed twelve people, looking disgruntled when he says he did.
Sometime later, Stefan re-enters the shop after Damon and finds out Nandi is actually Val's daughter. She tells them her mother sold Damon a bill of good because she wanted access to
Expression
, a form of magic which channels the power of human sacrifices. After asking about the sire bond spell, Stefan looks dismayed and upset when she reveals that the only way a vampire bonds to her sire is if she had feelings for them before she was turned, and the only way around the bond is to release her.
As Stefan and Damon leave New Orleans, Stefan tells him he doesn't think he will be able to let Elena go, as 'selflessness isn't a trait of his'. As Damon tells him of the time when he let Stefan go to war alone, for his own good rather than joining him, Stefan looks shocked. He then says he is upset about losing Elena to him, but when it's all over and if she never feels the same way about him, it'll be her choice.
Stefan is last seen at Caroline's house, feeling sympathetic towards Damon, believing he will do the right thing. He tells her that Damon loves Elena as much as he does so he can't be selfish with her, and will let her go.
In O Come, All Ye Faithful, Stefan first appears at Klaus' house exchanging small talk about Klaus' 'snowflake' painting before revealing Elena is sired to Damon, and so he needs the cure now more than ever. Klaus tells him that they were 'in this together' and proceeds to show him Alexander's Sword, explaining that the sword decodes Jeremy's hunter's tattoo.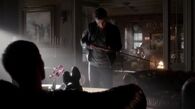 Stefan is next seen in the Salvatore Houses' library when Caroline calls him, he repeats Klaus' words about the tattoo leading to the Cure. Caroline says they need to find the sword, as the
hybrids
are taking out Klaus that night. Stefan agrees as he is later seen ripping off the handle of the vault in Klaus' mansion, looking frustrated when he sees that the sword is gone. He talks with Damon over the phone on ideas of where Klaus could've hidden the sword and rejects the idea at killing Tyler before falling silent after rummaging around a trunk and finding letters, none of which are addressed to Klaus and he begins to read one.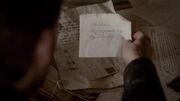 He puts down a letter he had been reading and questions Damon over Elena's movements, he is sympathetic towards Damon after asking how she took Damon 'letting her go', and Damon quickly offers an excuse before he hangs up.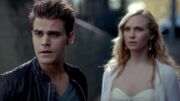 Caroline and Stefan are later waiting by an alley nearby the Grill and Stefan demands that Tyler stop or delay the plan to attack Klaus. Tyler dismisses him and Stefan attempts to stop Tyler with super-speed however stops as Caroline motions towards the number of hybrids standing in the alleyway. Tyler takes them to the Lockwood Cellar where he tells the hybrids to keep them down there until they're ready to bring in Klaus, Stefan tries to persuade him that it isn't about revenge for them, to no avail. Some time later Caroline and Stefan are still 'hostages' in the Lockwood Cellar and Stefan answers the phone, it's Damon who tells him something unheard. Stefan hangs up; telling Caroline and the hybrid guards that they don't need the sword anymore.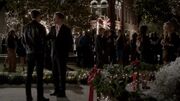 After being released, Stefan finds Klaus at the Winter Wonderland event, when Klaus threatens to compel the truth about why he has been 'dodgy' as a distraction tool, Stefan admits that he broke into Klaus' house for the sword and that he doesn't trust him. He says he found Klaus' letters from 'pen pals' over the centuries and is silenced momentarily as Klaus reveals that he memorializes his dead, much like Stefan because of 'loneliness', that keeping letters and writing names on a wall is because they are left utterly alone. As Klaus spots a hybrid; Adrian over his shoulder, Stefan watches him go with a thoughtful look on his face, clearly having listened to Klaus' words.
Whilst sitting with Caroline later on, they exchange words regarding Klaus, and Stefan admits he felt guilty watching Klaus get 'led away to his slaughter'. Stefan says that he has been trying to figure out what makes them better than Klaus, and that it is because they have family they can trust. Caroline eye's him wearily as she asks somewhat bitterly about having heard from Damon. Stefan seems confused at her question and by Caroline's look knows Damon and Elena are
together. Stefan looks away as Caroline doesn't answer 'how together are they?' and demands to know, yet finally realizing by Caroline's lack of response just how together they are. He paces and knocks over a chess piece, suddenly lashing out, tossing the chess board off the table and throwing the end table against the wall, angry at how far Damon and Elena's relationship has escalated.
In After School Special, Stefan is drinking alone at the Grill, expressing his bitterness over the phone to Caroline about Damon and Elena sleeping together. She berates him about missing the mandatory school assembly consisting of Carol's memorial and tells him to get it together. Whilst still at the Grill sometime later, he answers the phone to an unknown caller, revealed as a now un-daggered Rebekah who says she has Elena hostage at the school and expects to see him there soon. Angered, he calls Caroline and asks if she 'would like to drive the White Oak Stake through Rebekah's heart' whilst quickly leaving the Grill.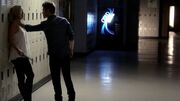 Stefan shows up at the school in search of Rebekah, checking his text messages for any word from Caroline. Hearing a noise down the end of the corridor, he starts to text Caroline yet Rebekah soon shows up, pushing him against the locker, stating she wants the cure. Stefan switches their positions, pushing her against the wall as a means to distract her until Caroline reaches them, though releasing her when Rebekah holds up the stake, saying she already found her. Rebekah forces Stefan into the library where she quickly delves into finding out how far they have gotten into finding the cure. Things turn ugly when Rebekah learns Elena and Stefan broke up and taunts them into knowing the reason. Under compulsion, Stefan reveals Elena slept with Damon.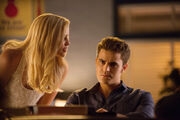 Rebekah, continuing to divulge information sarcastically asks Stefan why Elena would hurt him like that to which he responds 'she was sired to Damon'. Rebekah looks at Elena, knowing she is hiding something and compels her into 'fessing up', Elena admits that she slept with Damon because she's in love with him, leaving Stefan looking visibly hurt and heartbroken at the admission. Rebekah then moves onto finding out about the cure, and Stefan tells her where they can find Professor Shane. Later, Rebekah re-enters the library and compels them into playing 'truth or dare', where she dares Elena into telling Stefan the truth about Damon. As Elena tells him she isn't in love with him anymore, Stefan is hurt and tells Rebekah to 'go to hell' after further goading. As Tyler arrives, Rebekah provokes him into transforming, compelling Elena, Stefan and Caroline not to 'vamp run' in the hallways. As Tyler begins to transform, Stefan quickly ushers Caroline and Elena out. As Caroline darts away in another direction, Elena and Stefan run through a hallway, slamming a door and trying to use their collective strength to keep hybrid-Tyler out.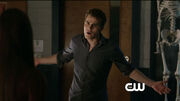 After they no longer hear Tyler, Stefan and Elena run into the lab after Bonnie's screams of help where they are stunned to find an unconscious April, Stefan feeds her his blood to heal her and forces Bonnie to get herself and April out of the school. After they leave, the room is tense as Elena tries to approach Stefan to talk about what has happened. Stefan is visibly angered at her approach and demands 'how many more ways is there for you to rip my heart out?'. Elena apologizes, and Stefan scoffs whether she 'sorry that it happened, or sorry he found out' before Rebekah appears, striding into the room with a grin on her face. She seems disappointed that after everything, Stefan still protects Elena and offers to take every memory of Elena away. Both Elena and Rebekah seem shocked as Stefan jumps at the chance, telling her to 'do it'. Elena protests immediately, and Rebekah begins to laugh, saying it would be far too easy, and that she refuses to make Stefan forget Elena, the way Klaus made him forget her. She smirks at Elena, at least she knows how
Stefan really feels before looking back to Stefan declaring his pain is her revenge.
After being freed from the school, Stefan is at home with a drink when Rebekah walks through the door. Stefan called her and convinces her to join forces in the race to the cure, saying they both hate their brothers, both have nothing, so they're better off as partners as if they find the cure first, they can decide what to do with it.
Personality
Human
As a human, Stefan was seen as being compassionate, kind, noble, honorable, intelligent, athletic, responsible, academic, dutiful, and a gentleman. He was definitely seen as the 'Golden Boy' and he had the admiration and respect of the entire town of Mystic Falls and most of all, of his father Giuseppe. Stefan was also seen to be ambitious and studious and he desired to become a doctor during his human life and this was his profession or career of choice before he was turned into a vampire against his will. In his human years, when it came to love and romance, Stefan was liked, admired by and popular with women or the opposite sex. He was seen to be chivalrous, gallant, romantic, well-mannered, courteous and polite, traits which made Katherine Pierce fall deeply for the younger Salvatore.
In regards to Katherine, Stefan was much harder to get and challenging unlike Damon, who persistently chased and pursued Katherine as much as possible. Unlike Damon, Stefan had a very close relationship with his father Giuseppe and Stefan was Giuseppe's favorite son. Stefan was also close with his mother, Mary, before she had died when he was 10 years old. Before turning into a vampire in 1864, Stefan was seen to be happy, optimistic, light-hearted, playful, mischievous and naive. He was also seen as athletic, dutiful, respectful, intelligent, scholarly, noble, chivalrous and even-tempered. Stefan was very close to his older brother Damon growing up. Although Stefan was very popular and had many male friends during his human life, Stefan always considered Damon to be his best friend and companion. Stefan was also a bit idealistic when it came to love and romance, even naive at times. This is evident in Stefan when he very quickly and easily became infatuated and fell in love with Katherine Pierce, which is evidence of his youthfulness, naivety and simplicity as a regular teenage human. Although Stefan was only 17 years old, he displayed maturity, responsibility and had a wisdom beyond his years. Because of this, Stefan always seemed to be much older than his actual age.
Vampire
As a vampire, Stefan's personality became increasingly complex. Much of Stefan's personality as a human transcended into his vampire personality, although his basic human traits became significantly more heightened. Although Stefan became increasingly darker by nature due to his vampire nature, he still retained the same basic personality traits that he had as a human. As a vampire, Stefan is described as mysterious, brooding, inscrutable, intense, kind, caring, empathetic, compassionate, loving, affectionate, heroic, noble, selfless, brave, intelligent, protective, and loyal. On the dark side, Stefan can be incredibly self loathing, self-destructive, addictive, guilt ridden, martyring, unpredictable, melancholic, self-righteous, naive, secretive and judgmental. Since he turned in 1864, Stefan has always had trouble controlling his blood lust, that has often become a major problem for him throughout the course of his immortal life.
Because of his blood addiction, Stefan is a certified "blood-a-holic" (which is a term coined from alcoholic by Caroline). When Stefan consumes copious amounts of human blood, his entire attitude seems to change. When Stefan gives into his blood lust, Stefan is unstable, volatile, unpredictable, rash, reckless, careless and can become highly destructive. The "ripper" side of him usually causes him to push people away and become emotionally cold, withdrawn and distant. When Stefan lets his blood lust take over, this is because unlike his older brother Damon, Stefan never learned how to control, his thirst for human blood, he often shuts off his humanity and his emotions to block out his suffering, guilt and pain. After he was newly transformed into a vampire, Stefan was seen to be extremely dependent towards Damon. This was not the case when Stefan was a human. When Stefan was a human, although he and Damon were very close, Stefan always had an independent personality. Stefan's dependence on Damon due to his newborn vampire-ism and heightened emotions is example by a time right after he transitioned and then persuaded an unwilling Damon to complete his own transformation into a vampire.
Although Stefan was initially optimistic and happy that he and Damon were going to spend eternity together, Damon had shattered Stefan's optimism and hopes when Damon told Stefan he promised him a lifetime of misery. Over a century later, in the episode Rose, Stefan apologizes to Damon for betraying him and admits that he was selfish by getting Damon to complete his transition. That he did not want to be alone because he just wanted his brother by his side forever. There is a large part of Stefan and who he is deep down in his core that cares deeply and strongly for his own humanity as well as humankind. Stefan has a strong respect for humans and a strong regard for human life. Because of this, Stefan often feels immense guilt and remorse if he hurts, harms or kills a human. As the powerful witch Emily Bennett had once told him after Stefan had transitioned into a vampire, Stefan's heart is pure and good. This is what has caused most the self-loathing and brooding which has become deeply associated with Stefan's personality.
When Stefan is at his best, he is extremely caring, loving, helpful, understanding, selfless, empathetic, and compassionate. He does not like to see others suffering or in any kind of pain, whether it be physical, emotional, spiritual or mental. Stefan can be very wise and comforting to others and people can always depend on Stefan. Stefan likes to give advice, help people, and comfort others who need comforting and support. Stefan is always willing to lend a helping hand when it is needed most and he will put the needs of others before his own. He is always willing to save people, especially those who need saving the most at a particular time. He is the kind of person who tries to protect and save everyone at the same time. Stefan is also highly honorable, noble, brave, courageous, altruistic, and selfless, especially when it comes to the people he loves and cares about.
One of the most heroic, selfless acts Stefan has ever committed is to give up his entire life in Mystic Falls, including his values, morals, and his devotion to his own humanity in order to save the life of his beloved brother (Damon) when he was dying from a fatal werewolf bite. When it seems appropriate, Stefan can be very fun-loving, upbeatm and humorous. He is particularly practical, charming, playful, mischievous and humorous around his close friends (such as Lexi or Caroline, for example) or people who he knows. He can sometimes be somewhat sarcastic or display a dry, sarcastic wit. His best friend Lexi often brought out the more fun, light-hearted, playful side of Stefan's personality. Stefan is usually one to shy away from dancing, because he thinks that he is a bad dancer, but admits that he is much more enthusiastic about it when he is drunk or under the influence of alcohol.
Stefan is charismatic, charming, passionate and deeply romantic and because of this, he is highly magnetic to and popular with the opposite sex. He has a very selfless, idealistic approach to love. Stefan is known to be respectful, polite, courteous, and chivalrous towards women. Because of this, Stefan has always been popular, admired and loved by the opposite sex or women since his human life. He almost always respects women's (namely Elena) choices and decisions, even if he doesn't agree with them. This is especially shown with Elena, but also with Caroline and Bonnie in particular. His deep, strong love for Elena Gilbert has highlighted how his values and outlook on life have significantly changed since he was human and how deep, affectionate, understanding and loving he can truly be. Elena's own compassion and kindness are very important to Stefan. He is often very tender, loving and gentle towards Elena but he is also extremely passionate about her. Stefan has also proven many times, that values such as respect, honesty and trust are very important to him when it comes to romance, love and relationships. Stefan often emphasizes the importance of free will, freedom, liberty, choice and respecting one's decisions.
Physical Appearance
Physically, Stefan is described to be classically handsome and athletic, with a brooding, mysterious and intense aura. Due to his good looks, athleticism and his quiet charm, Stefan has always been liked, admired by and popular with the opposite sex. Stefan appears to have a 'James Dean' aura; a combination of a dreamer and a rebel. Physically, Stefan has a classically handsome appearance with a pale complexion, a broad European forehead, strong bone structure (angular jawline), deep-set, captivating, and soulful forest green eyes, a straight classical nose and a well-formed mouth. He has straight, short, dark brown hair which is often gelled or spiked. Stefan also has straight teeth with a heartwarming smile. Stefan is of slightly above average height, about 5'11", and he has a lean, flat-muscled and athletic physique. In regards to his clothing and fashion sense, Stefan is generally rather trendy and casual.
He is often seen wearing darker colors such as black, grey and dark blue although sometimes, he does wear lighter colors. Stefan has also been seen wearing plaid shirts in lighter tones from time to time. He is often seen wearing t-shirts, shirts or sweaters of darker colors and in various styles (such as short-sleeved, round-necked and v-necked shirts). Stefan is a casual, yet trendy dresser and he always looks neat, clean and well put together. He often wears dark or black jeans with a belt with black, leather boots with a buckle. On occasion, Stefan will sometimes wear black leather jackets. Sometimes, Stefan will wear dark sunglasses, which give him a mysterious and rebellious aura. Stefan will wear more formal clothing, such as suits and tuxedos, if he is either attending a formal gathering/event or a special occasion.
Stefan has a tattoo of a rose on his right shoulder. However, the origin of the tattoo, its significance and when Stefan got the tattoo is all unknown. He also wears a large, silver lapis lazuli daylight ring on the middle finger of his right hand in order for him to walk around in the sunlight. On his lapis lazuli stone bears the Salvatore family crest with the letter "S" for the first letter of his first name. During his human years in the 1860's, Stefan's sense of style was 'Victorian' and old-fashioned. In the 1864 flashbacks, Stefan was often seen wearing long pants, overalls made of denim with suspenders with a shirt underneath, dress shirts (often white in color), dress coats, vests (of various colors), trousers (normally in beige), waistcoats, and cravats with laced-leather boots (often beige in color). Stefan's hair was styled much differently; flatter and much longer in length with a part in the side.
Although Stefan was only a 17 year old teenager, because of his fashion sense during that time, Stefan appeared to look much older then his actual age. It is assumed that Stefan's sense of fashion changed with the times. Damon mentions to Stefan in the Pilot after 15 years of not seeing each other, that the 90's "grunge" look did not suit Stefan, implying that Stefan went through a grunge phase in terms of his personality, attitude and his sense of style.
Relationships
Powers and Abilities
Some of these powers are more potent when the vampire gets older and feeds on human blood.
Super Strength: Vampires are much stronger than humans and grow stronger with time. Even new vampires who are still in transition can toss a fully grown human across a room with great speed and force. Their strength is also more powerful then werewolves that are not in wolf form.
Super Speed: Vampires can accelerate their movements to cover short distances in an instant, faster than the human eye can see. When running across long distances, they appear as vibrating blurs of motion.
Emotional Control: The supernatural ability to control and manipulate the emotions of one's self.
Dream Manipulation: Vampires can control dreams and subconscious. The vampires can produce and modify dreams, bestow nightmares or lucid dreaming. Other effects of this ability is the distortion of reality and trapped in the dreams.
Heightened Senses: This includes super sight, super hearing, touch, taste, smell. They can hear whispered conversations, even ones in far off buildings, smell blood, and see in total darkness.
Mind Compulsion: Vampires have the ability to control minds, plague people's dreams, and alter/erase human memories.
Immortality: A vampire stops aging once turned. Upon their transformation, vampires then on become immune to all conventional illness, disease, virus and infection. The only known disease or infection that can kill a vampire is a werewolf bite.
Healing Factor: Vampires can snap their finger bones back into place after being broken and have been seen to fully recover from gunshots, stab wounds, and torso impalement.
Lapis Lazuli: He possesses a Lapis Lazuli ring that enables him to walk in daylight without being harmed.
Weaknesses
Vervain: When ingested, vervain causes a vampire to become severely weak, sick and feverish. Also, If a vampire's skin is exposed to vervain, it can result in burning them.
Wood: If a vampire is wounded by wood it will cause the vampire to become severely weak and if a vampire takes a wooden stake through its heart it will result in death.
Heart Extraction: The act of removing a vampire's heart will result in death.
Werewolf Bite: The bite of a werewolf is extremely lethal to normal vampires.
Magic: Witches are able to give supernatural aneurysms that cause the blood vessels of vampires to explode.
Decapitation:The act of dismembering or removing the head of a vampire will result in death.
Uninvited Invitation: Vampires cannot enter a house without being invited in. If they are in the house without being invited in they will become disoriented.
Vampire Bloodline: Vampires who were turned by an original who turned others will die if the original is staked by the white oak stake
Werewolf Venom: The venom extracted from a werewolf or Hybrids mouth can prove lethal and deadly to vampires if ingested. If a vampire ingests werewolf venom, they will start to hallucinate, normally about their biggest fears.
White Oak Ash Dagger: Although never seen, it has been said if a vampire daggers an Original, they will die.
Hunter's Curse: If a vampire kills a member of The Brotherhood of the Five then they will be tormented by the hunter until they kill themselves or if the hunter is replaced then they will be free of torment, or in the case of the original vampires that cannot be kill by anything, except by the white oak stake, will continue to torment them, until it where's off, according to Klaus it lasted for 52 years, 4 months, and 9 days.
Appearances
| | | |
| --- | --- | --- |
| | "Due to it has not yet been filmed, there will be no episodes inserted here." | "Due to it only has one episode filmed, there will be future episodes insert here." |
Stefan's Diaries
Stefan's Diaries is a trilogy of novels based and written according to the TV series version of the Vampire Diaries. The books are narrated by Stefan and therefore, are from Stefan's point of view. It is a retelling of Stefan's history before and after he transformed from a wealthy, well adjusted youth to a vicious immortal.
Origins
In Stefan's Diaries: Origins, it is said that he had a horse named Mezzanotte (Midnight in Italian) when he was human. Stefan knows four languages, English, French, Latin, and Italian, the later two less fluently. He said he learned French at his mother's knee. He had a nanny named Cordelia and his ex-fiance, Rosalyn Cartwright, was killed by a jealous Katherine Pierce. Stefan is the first of the two brothers to embrace his nature as a vampire and accidentally killed his father, later, purposely killing the barmaid, Alice, and forcing Damon to feed in order to complete his transition. Stefan had great respect for his father Giuseppe, but he was horrified to discover that Giuseppe planned to marry Stefan off to Rosalyn Cartwright. Unable to oppose or disappoint his father, Stefan goes through with Giuseppe's plans, but discovers that he has fallen in love with another maiden instead, a beautiful, young girl named Katherine Pierce, whom Giuseppe allowed shelter after her family died in a fire in Atlanta. Damon, Stefan's older brother, returns from the Confederacy and is immediately attracted to Katherine as well. While Stefan attempts to do his job of wooing Rosalyn, Damon spends time with Katherine, much to Stefan's disappointment. At the Founder's Ball, Stefan finally proposes engagement to Rosalyn in front of everyone who accepts happily, but a saddened Stefan goes to his father's study. He is interrupted by Katherine, who amazes him with her knowledge of literature. Stefan, overcome with desire and temptation, kisses her, but after realizing what he did, he fled to find his Rosalyn, who he discovers has been unexpectedly and mysteriously murdered.
For weeks, Stefan is distressed by Rosalyn's death, though he did not love her. Katherine's handmaid Emily arrived with flowers Katherine sent for him and warns his not to eat anything that Cordelia, his childhood nanny, gave him. Soon Katherine visits him in his room, and Stefan is overcome by his desire for her and they sleep together. Cheered up by his love for Katherine, Stefan livens up and constantly sneaks off to be with her. One night, he discovered she was a vampire and was horrified, but she compelled him to keep her secret. In the meantime, the Founders of Mystic Falls know that vampire are behind the attacks. Giuseppe recruits Stefan into the cause, but Stefan worries for Katherine and her vampire friends, Pearl and Anna. He tries to persuade Giuseppe into believing that not all vampires were evil, knowing that his father was fond of Katherine, but Giuseppe spiked Stefan's drink with vervain, and when Stefan went to Katherine and she bite him, she was poisoned.
Giuseppe arrived as Katherine took her true form in front of Stefan: a fanged and red-eyed monster. Disgusted, Stefan does as Giuseppe told him and fled to retrieve Sheriff Forbes and a deputy, Noah, to the estate. Damon is furious with Stefan as he too knew Katherine's secret and Stefan decided to help Damon rescue her. They managed to distract the deputies long enough to free her from her bonds, but are both shot and killed in the process. Stefan wakes up the next day to discover by Emily that he is transitioning into a vampire. She gave him a ring of lapis lazuli to protect him from the sun.
Stefan is, at first, confused, but understands what has happened to himself. Emily answers a few of his questions and confirms that Katherine had indeed killed Rosalyn. Stefan goes to see his father, who reveals that he was the one to kill him. He tries again, and in self-defense and underestimating the strength of his newborn vampire abilities, Stefan throws him off and Giuseppe is mortally wounded. Stefan tries to help his father take the stake out of him, but his bloodlust takes over his rationality. Stefan tastes his father's blood and transitions into a vampire, but when he offers to save Giuseppe, his father refuses and dies. Stefan later attacks Alice, a barmaid, and takes her to Damon. He gets Damon to feed, completing his transformation into a vampire.
Bloodlust
In Stefan's Diaries: Bloodlust, it is shown that Stefan originally acted like Damon when they were turned, feeding on whomever, whenever, wherever, with no regards for the consequences. He had trouble with compulsion at first and killed as a "more permanent style of memory erasing". Damon swore to avenge all of Stefan's murders. He met Lexi in New Orleans and she got him to feed on animal blood. He dated a human, Callie Gallagher, as he tried to free Damon from Callie's father's imprisonment. After the brothers escaped, Stefan wanted to run away with Callie who was killed by Damon, much to Stefan's horror. When he notice Damon has been waiting for the day they had a fight because Stefan made him turn.
The Craving
After leaving New Orleans, Stefan moved to New York and while hunting a squirrel, he found the body of a young girl who was bleeding to death. Despite his raging hunger, he fed her some of his blood and took her to her home. The girl, Bridget, was healed by the little blood Stefan could spare and her father insisted on giving Stefan room in his household, even though Stefan appeared to be a vagrant. Once he cleaned up, the family was surprised to find that Stefan looked like a perfect gentleman. However, Stefan's hunger grew and he attempted many times to escape the family's hospitality due to his thirst for their blood. Stefan was forced to marry Bridget because of Damon because he wanted to mess with Stefan. But the Family was later killed by an enemy they were not aware of.
The Ripper
The Asylum
The Compelled
Novels
Main article: Stefan Salvatore (novel)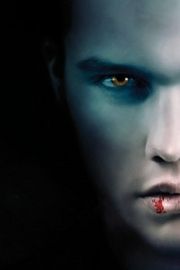 In the novels, Stefan is Damon's moral, benevolent younger brother. He was born during the fifteenth century on November 6, 1474 in Renaissance Florence, Italy to Conti Di Giuseppe Salvatore and his unnamed mother, who died a few years after Stefan's birth due to an illness. Stefan is a five hundred plus year old immortal born during the time of The Renaissance, who was one of the Salvatore brothers that fell deeply in love with a young beautiful Bulgarian girl who was a vampire, Katherine Von Schwarzschild, during his human life and before he was transformed into a vampire when he was a seventeen year old human boy. During his human life, Stefan was a noble, aristocratic young man who lived by a strict code of morals, values, ethics and code of honor.
Name
Stefan is a masculine first name of Greek origin 'Στεφανος (Stephanos) meaning "crown", "garland", or invested with a "crown of martyrdom". In turn, Stephen or Stefan comes from the Greek word "στέφανος", meaning "wreath", "crown", "honor", "reward", literally "that which surrounds or encompasses". Saint Stephen was a deacon who was stoned to death, as told in Acts in the New Testament, and he is regarded as the first Christian martyr. Due to him, the name became highly common in the Christian world. It was popularized in England by the Normans.
His last name, Salvatore, means "Savior" in Italian. His last name suits and fits Stefan's role in the series, considering that Stefan is the hero and the one who is always the savior making sacrifices, especially for those he loves.
Behind The Scenes
The casting call for Stefan was: "A gloriously, amazingly, epic-ly beautiful young man, elegant and ageless, he appears to be 17 or 18, but he's really a 200-year-old vampire who has come to Mystic Falls in search of Elena. Stefan is poised, polite and reserved but easy to talk to, and intense sparks fly between him and Elena, who share the experience of having lost their parents…"
Trivia
Stefan was the very first character heard and introduced in the series.
Stefan is the narrator of the series. It is Stefan who is telling the story and the story is from his point of view.

"For over a century I have lived in secret; hiding in the shadows, alone in the world. Until now. I am a vampire. This is my story..."

Stefan was born on Veritas Estate in Mystic Falls.
Stefan's birthday is November 5.
Stefan is a fan of:

F. Scott Fitzgerald, especially his masterpiece The Great Gatsby;
I Love Lucy is his all time favorite, Loving cup episodes are the best;
Music:

Bob Dylan, Jimi Hendrix, Patsy Cline, Willie Nelson, Kanye West and he even likes one of Miley Cyrus' songs.

Stefan loves literature and loves to write, especially in his journal.
As it appeared in the Pilot, Stefan seems to have a journal or diary for every year, recording all of the events and memories from each year in a journal. Stefan had even written in a journal during his Ripper phase during the 1920's.
Stefan is very quick, intelligent and has an excellent memory. He is able to memorize events and dates at the top of his head as seen in The Night of the Comet.
Stefan enjoys doing crossword puzzles.
Stefan's car is a red 1963 Porsche 356B Karmann Coupe
Stefan owns a Harley motorcycle.
Stefan was engaged to a girl named Rosalyn Cartwright before he met Katherine.
Stefan has been engaged twice.
Stefan was an aspiring doctor during his human life.
Stefan's favorite color is blue.
Stefan plays and owns a guitar.
Stefan is highly sentimental and likes to keep objects and souvenirs from his past as memories. Because of this, Damon has referred to Stefan as a "pack rat".
Stefan wears his lapis lazuli daylight ring on the middle finger of his right hand. Damon wears his daylight ring on the middle finger of his left hand.
Stefan loves football and is very good at it. He played the position of wide receiver on the high school football team.
Stefan is an excellent cook.
Stefan owns his own iMac desktop computer
Stefan also owns his own typewriter.
Stefan speaks four languages: English, Italian, Spanish and French.
Stefan has a tattoo of a rose on his right shoulder.
Stefan was his father Giuseppe's favorite son.
According to Damon, Stefan attended many ivy league schools. He attended Harvard during the 1970's.
Stefan had a horse during his human years named Mezzanotte, which means "midnight" in Italian.
In the Pilot, Caroline says that she found out that Stefan is a Gemini, but this must be false information since his real birthday is in November, which makes his sign a Scorpio.
Stefan has an Apple iPhone 4.
Stefan's cell phone number is 404-358-4345.
Stefan often drinks alcohol to help curb his blood cravings.
Stefan's aliases and nicknames include Stefan Pine, Silent Stefan, Stef, Ripper of Monterrey, Scholarly Stefan, and Savior Stefan.
In the novels, Stefan was named after the first Christian martyr, St. Stephen.
Stefan died when he was 17 years old in human years.
Stefan was turned in a vampire between 7 October and 27 October, 1864, a few weeks shy of his 18th birthday.
Stefan helped both Damon and Elena's transition into vampires. In regards to Damon, Stefan got Damon to feed on the blood of a barmaid by biting her neck and tempting Damon to drink. In regards to Elena, Stefan brutally killed a guard by bashing his head against the bars so that Elena could gain access to blood to complete her transition.
Almost all of the main female characters have displayed a romantic interest in Stefan (Elena, Caroline, Bonnie, Katherine, and Rebekah).
Similar to his show counterpart, Stefan in the novels was also the object of romantic interest for all of the main female characters of the books (Elena, Bonnie, Meredith, Katherine and Caroline).
In the novels, Stefan loved Katherine for many centuries and was horribly saddened and grief-stricken over her "death". However, on the show, Stefan only loved Katherine before finding out that she was a vampire and before she had betrayed himself and Damon.
Stefan on the show has had many love interests throughout the course of his life (both human and vampire). However, in the novels, Stefan has only claimed to have been in love twice in his 500 years of existence; first with Katherine and then with Elena.
In 1864, Stefan had a romantic courtship with Katherine but overtime, Stefan's feelings for Katherine turned antagonistic.
Katherine has  chosen or preferred Stefan over Damon.
Stefan is the only known vampire that seems to be able to live completely off of an animal blood diet. He has most likely chosen this lifestyle due to his past issues with blood addiction.
Canonically, Stefan has been shown to be a Ripper three times: once after he was newly turned in 1864, another time during 1912 to the 1920's and most recently in 2010.
Stefan had been forced to become a Ripper once again by Klaus in the last episode of season 2, As I Lay Dying.
He and Klaus are the only characters to have permanently killed a main character (Vicki and Jenna respectively).
Stefan is the only character in the main trio who hasn't killed Elijah.
Stefan and Damon's brotherhood and relationship is often compared to and mirrors [[Klaus and Elijah]'s relationship. In this scenario, Stefan is often compared to Elijah and Damon is compared to Klaus.
In The Last Day, Stefan confesses that he has climbed Mount Everest.
Both Paul Wesley (Stefan) and Ian Somerhalder (Damon) were guest stars and recurring characters on Smallville. Paul portrayed Lucas Luthor, Lex Luthor's younger, rebellious half brother. Ian portrayed Adam Knight, a villainous, mysterious young man who displays an interest in Lana Lang.
Stefan is the last vampire seen fed on by Mikael.
In 1912, it is revealed that Damon and Stefan had a half-brother. Their father Giuseppe had gotten one of the maids pregnant and she had a son. This half brother is the ancestor to Zach Salvatore.
Stefan is the first vampire to be bitten by an unsuccessful hybrid.
In 1912, Stefan was living on a strict animal blood diet, controlling his urges for human blood. That was until Damon had asked him to drink human blood with him and feed on Marianna Lockwood, an distant ancestor of Tyler Lockwood. During his feed, Stefan was so overcome with severe bloodlust, that he fed to much and her head fell off. Afterwards, Stefan was shocked, appalled and disgusted with what he had just done, felt extreme guilt and remorse and tried to put her head back on. After that experience, Stefan had relapsed into his Ripper phase again and became the well-known "Ripper of Monterrey".
Stefan's last name in the show was originally going to be "Whitmore" because it sounded American. Although, it was kept as "Salvatore" instead, which is Stefan's surname in the novels and Italian for "Savior".
In the novels, Stefan is born in during the Renaissance period in the fifteenth century in Florence, Italy. On the show, Stefan is born in the nineteenth century period during the Civil War era in Mystic Falls, Virginia.
Stefan's ethnic background on the show is half-French (from his mother) and half-Italian (from his father). However, in the novels, Stefan is of full Italian descent.
Stefan on the show is roughly 350 years younger then his novel counterpart. His novel counterpart is over 500 years old.
Stefan in the novels speaks fluent Italian but is also fluent in English. He is able to learn new languages at an increased speed and adjust to the American customs rather quickly, so much so that his Italian accent becomes less strong.
In the novels, Stefan is born in Italy and is foreign with an Italian accent at the beginning of the series. On the show, Stefan is born in America and is therefore, Italian-American and has no Italian accent.
In the novels, Stefan is an aristocrat and comes from a wealthy, noble family.
In the novels, Stefan is Catholic and has a strong sense of faith, morals and values. On the show, Stefan is shown to be particularly non-religious.
In the novels, Stefan's best friend is Matt Honeycutt, who is the novel counterpart of Matt Donovan. In the show Stefan's long time best friends is Lexi Branson and after she dies, his new best friend is Caroline Forbes.
In the novels, Stefan and Damon have never had a close relationship since their childhood. However, on the show, Stefan and Damon were best friends since their human lives and became rivals later on.
In the books, Stefan's mother died a few years after Stefan was born, but on the show, Stefan's mother died when he was about 9 or 10.
When Stefan was a child, his mother always used to sing him a French lullaby.
Stefan played the position of wide receiver on the high school football team, both on the show and in the novels.
In the novels, Stefan dates Caroline but then eventually dislikes her. On the show, Stefan and Caroline are best friends.
In the novels, Stefan is the one who kills Damon by stabbing him with a sword. But on the show, Stefan's father Giuseppe is the one who kills Damon with a gunshot wound.
In the novels, Stefan is killed by Damon by a stabbing of Damon's sword to Stefan's heart. On the show, Stefan is killed by his father, Giuseppe by a gunshot wound to the chest.
In terms of his characterization, Stefan is often compared to other mysterious, brooding vampires such as, Edward Cullen from Twilight, Angel (Angelus) from Buffy The Vampire Slayer, Louis de Pointe du Lac from Interview With The Vampire and Dimitri Belikov from Vampire Academy.
Stefan has jet black, wavy hair and emerald green eyes in the book series.
He, Damon, Katherine and Caroline were all bitten by a Werewolf or a Hybrid and were all cured by Klaus' blood.
It has never been revealed or shown if he ever turned someone into a vampire before the series.
Stefan is the only character amongst the main trio that has never killed Alaric.
Stefan, along with Damon and Elena, are the only main characters who have appeared in all episodes thus far.
Caroline has promised to keep Stefan from going of the rails and becoming The Ripper again. She also is Stefan biggest supporters in his relationship with Elena. She is becoming Stefan's new Lexi.
It's possible that Silas and Stefan are connected as Silas has been starving for two thousand years which could be why Stefan is crazy for blood.
He and Elena were only descendents and doppelgangers of Silas and Katherine.
Tropes
Gallery
See also