Stefan, Elena, and Damon
Comments

560
1,299pages on
this wiki
Stefan, Elena, and Damon
General Information
Nickname(s)

Stelena, Delena

First Met

May 23, 2009 (Before Pilot) Damon met her first
September 9, 2009 (The Night of the Comet)

Status

Ended
The relationship between the Salvatore Brothers (Stefan and Damon) and Elena Gilbert. The two vampire brothers love the same beautiful girl.
Like the love triangle between the two Salvatores and Katherine Pierce, Damon and Stefan are again in love with the same girl. Her name is Elena Gilbert, who happens to be the Petrova doppelgänger and looks exactly like Katherine.
At the beginning of season four, Elena, who is now a vampire becomes a more wild, fun-loving vampire in the company of Damon and begins to realise some feelings for Damon, Stefan breaks up with Elena. Meanwhile, Damon and Elena's relationship progresses and the two commence a relationship. Even though she is sired to Damon, she believes her feelings for him are real. Now the sire bond is broken and Elena declared her love for Damon and they are together.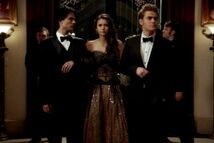 Stefan and Elena meet and instantly fall in love but their romance becomes more complicated when Stefan's brother, Damon, arrives in town to free Katherine , Elena's ancestor and doppelganger, from the tomb. Elena and Damon develop a friendship, and after Katherine breaks Damon's heart by telling him it was always Stefan that she loved, Damon begins to fall in love with Elena. Meanwhile, Elena and Stefan are very much in love, despite Damon's many attempts to destroy his brother's life and his relationship because he holds Stefan responsible for Katherine's death and for making him turn to vampire. It is believed that Elena starts to develop feelings for Damon as the series moves forward, and it is clearly shown in many episodes that she is not completely unaffected by him, though she remains in a steady relationship with Stefan and even puts herself in a lot of danger for him when he's forced by Niklaus Mikaelson to turn his humanity off in Season 3. Damon and Elena become very good friends during Season 3, whilst both try to save Stefan from his Ripper self, and Damon tries to get her to forget Stefan and just be with him. She never wavers, and she loves Stefan even though though his ripper self is not kind to her at all. 
As for Stefan, he is true and genuine and will always love Elena. He gives her freedom to choose, and respects her choices - even when it hurts him or her. He gives her freedom, and she makes him a better person by allowing him to forget things he has done as a vampire. Both Damon and Stefan become better people for Elena, and show more compassion.
When Elena fears both brothers would die in the end of Season 3, Elena felt she must make a decision between which Salvatore brother she would see before they die. She tells Damon over the phone that she chooses Stefan, but maybe things would be different if she and Damon had met first. She's sorry, but she is sure that Stefan is her choice. Shortly after she and Matt Donovan turn the car around to head back for Stefan, Rebekah puts herself in the middle of the road (as she thinks Klaus has been killed) and both Matt and Elena drive off Wickery Bridge into the water. Elena doesn't survive, because she makes Stefan, who knows she has vampire blood in her system, save Matt first. The season ends with Elena waking up as a vampire.
Becoming a vampire, brings Elena and Damon closer than ever
, and the sexual tension between them increased as Elena's emotions were heightened from human to vampire. During 
Season 4
, Stefan ends his relationship with Elena because of her no longer fighting the feelings she has for Damon. This breaks his heart, but once again he lets her make her own choice. Elena and Damon begin a relationship and despite being sired to him, she believes her feeling for him are real as the sirebond does not affect feelings.
Later, when a group of people inclusive of Stefan, Damon and Elena are out on the island searching for the cure, Damon confesses to Elena that he does not want her to take the cure because he's scared of whether her feelings are real or not. He confesses to being selfish about her, and that he likes her as a vampire. She told him "That's what you do Damon, you think you don't deserve something so you ruin it. I'm not gonna let you pull that this time! Take the cure with me! That's how much I know this is real, that's how certain I am that I'm gonna love you even after all this is over. Take the cure. Be human with me. We can be together, grow old together… this doesn't have to be hard anymore." He replies back what his true feelings are, " You know, I used to miss being human. Now I can't think of anything more miserable on earth."
In
Pictures of You
, Elena works with
Rebekah
to try and get her to take the cure before the Salvatores brothers can find a way to give it to her. Meanwhile, Damon and Stefan are both trying to find a way for Elena to turn her humanity back on, using emotional manipulation (e.g. using pictures of her and
Jeremy
, having all her friends around, trying to ignite her romantic feelings for both of them, etc.).
When Damon and Elena are together, she tells him that he is not her boyfriend and that it was never real between them. She tells him that she only said she loved him because she was sired to him. Both Stefan and Elena share a dance at prom, and flirt, but Elena tells him she's not affected by him. Elena tries to murder Bonnie and when Bonnie attacks Elena, the Salvatore brothers came and it seemed that Elena needed help. At the end of the episode, it is clear Elena needs help (due to attempting to murder her best friend, Bonnie, and also April Young, as well as other erratic behavior) and the Salvatore brothers then decide to stun her with vervain and lock her in the cellar. 
Elena made her choice in the Graduation (Episode). She chose Damon because she's not sorry she met him, not sorry meeting him has question everything, and in death, he made her feel most alive. And out all of the choices they've both made, she truly deeply loves him. 
Elena: "Matt's taking me home."
Damon: "To Stefan."
Elena: "Not just to Stefan, Damon. To Tyler, to Caroline."
Damon: "Ah, I know, I get it. So, since I'm possibly a dead man, can I ask you a question?"
Elena: "Yeah, of course."
Damon: "If it was just down to him and me and you had to make a choice who got the goodbye, who would it be?"
(Elena becomes choked up.)
Elena: "I love him, Damon. He came into my life at a time when I needed someone and I fell for him instantly. No matter what I feel for you, I – I never unfell for him."
Damon: "Yeah, I get it. Stefan, it's always gonna be Stefan."
Elena: "I can't think about always. All I can think about is right now. And I care about you, Damon, which is why I have to let you go. (Elena begins to cry.) I mean, maybe if you and I had met first."
Damon: "Yeah, maybe."
Elena: (voice gets stronger) "You're gonna be fine. You hear me. You're gonna be okay and I'm gonna see you soon."
(Alaric is behind Damon. Damon looks at him.)
Damon: "Real soon. Goodbye, Elena."
---------------------------------------------------------------------------------------------
Stefan

: 

"I love her Damon."
Damon

: 

"So do I."

----------------------------------------------------------------------------------------------

Damon, to Elena, 

the first time he met her:

 You want a love that consumes you. You want passion and adventure, and even a little danger...  I want you to get everything you're looking for. But for right now, I want you to forget that this happened. Can't have people knowing I'm in town yet. Goodnight, Elena...(compells Elena to forget).
---------------------------------------------------------------------------------------------
Stefan

: I love you so much.

Elena: Do wanna know why I was even on that bridge? I was coming back for you Stefan. I had to choose... I picked you. Because I love you. No matter what happens, it's the best choice I ever made. God, sucks that I can't see you right now.
Stefan: I'm smiling.
Elena: Me too.
---------------------------------------------------------------------------------------------
Rose 

(to 

Jeremy

 about 

Elena

's choice): "

It's not just that she makes him a better person, she does, but he changes her too. Damon challenges her, surprises her, he makes her question her life, beliefs. Stefan is different, his love is pure, he'll always be good for her. Damon is either the best thing for her or the worst

."

----------------------------------------------------------------------------------------------

Elena 

(sired), to 

Damon

: 

I realized something today....about you......about us....And you can say that it's the sire bond. You know what?....Maybe it is. BUT I'm telling you it's the most real thing..that I've ever felt in my entire life... I love you Damon... I love you. 

---------------------------------------------------------------------------------------------
---------------------------------------------------------------------------------------------
Elena (no humanity), to Damon: "I told you I loved you because I was sired to you. Now that I'm not, I know that none of it was real."
---------------------------------------------------------------------------------------------
Elena: I feel nothing.
Stefan: I don't believe you.
---------------------------------------------------------------------------------------------
Stefan (dips Elena): Does your heart really refuse to remember?
Elena (no humanity): What heart?
---------------------------------------------------------------------------------------------
Related Relationships
Edit