"Now I'm hurt.."

This article contains spoilers that do not violate our spoiler policy.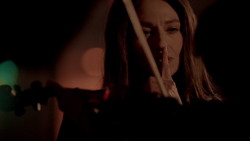 For the latest season see
The Originals
'
Season Five
News and Spoilers
.
The Originals
SPOILERS AHEAD
There are no plans at the moment, but according to TVD and Originals showrunner Julie Plec, there are still stories to be told.

"My hope is The Originals will stay on and that I can bring some of these characters over there," Plec says of the Vampire Diaries spinoff. But if that doesn't work out, there's another option. "I could see our universes coming together in five years, 10 years, when people miss the shows," she says. "There's still stories to be told for The Originals that our characters here very smoothly and seamlessly fit into, so if we don't get to do that while The Originals is still on the air, I think that one day, if somebody wanted it badly enough, it could exist."
One final note: For those worried that Stefan's death means he wouldn't be a part of any future stories, fear not. If there were a future opportunity to tell more stories, Plec feels they could find a way to make sure both Salvatores would return. Is there a chance that next year -- after TVD comes to a close and if The Originals continues for another season -- we could see some Mystic Falls favorites show up in New Orleans?

A thousand percent. One of my goals is to find really exciting and organic ways to combine the universe just a little bit, whether it's a flavor or something more aggressive. There are a lot of really wonderful people that I work with that I'd like to continue working with, so it's certainly not out of the question that we could find ways to integrate them into The Originals.
Is there any possibility we will see any of the Vampire Diaries characters living on through The Originals once the show is over?

JULIE PLEC: First of all, it is my hope and desire that The Originals lives on [for] many more seasons to come, precisely for those kinds of opportunities, that we can take this world that we have developed, with the Mikaelson family, and occasionally have a little drive-by or a repopulation with these characters that we love. I'm not going to say anything about how this season ends, or the series ends, but there is definitely opportunity for that moving forward.
---
Rebekah will return
Alaric is coming back
We will see hope as a teenager at the school
Freya and Vincent have made the city more fun and less dangerous
In that time period the new villains are from Klaus and Rebekah's past
The theme of next season is about whether or not to keep the family apart or not [1]
Stefan will not appear in TO and neither will Bonnie according to Paul Wesley and Kat Graham
---
Episode 5x03 will be Elijah-centric
Rebekah and Marcel will be in New York together when season 5 begins, but something will bring everyone back to New Orleans. [7]
Many characters might return[8]
The time jump is 8 years[9]
Vincent will get a love interest[10]
Season 5 will take place during Mardi Gras and Hayley will have a friend with benefits.[11]
klaus has killed many people in the hiatus
Nina Dobrev will not star on The Originals[12]
Casting for 1930's BAR PATRONS. Think Cabaret, burlesque, moulin rouge, rocky horror picture show. Corsets, Lederhosen, mini shorts and suspenders. No crazy hair colors!
Voelkel commented on what Freya's been up to during the time jump by saying, "even though family's first and she's still trying to figure out how to bring everyone back together, she's kind of in this place of, 'do I put myself first for once, instead of my family?'She doesn't want to lose Keelin so she's kind of in that predicament, but I think she's also had some peace in these last 10 years."[13]
The Originals season 5 will feature "all kinds of threats," but the Mikaelsons will definitely be dealing with the consequences of their family, and the four pieces of the Hollow, being brought back together.[14]
CAUCASIAN MEN: should have a very " lean and sexy " vibe AGES : 20's 30's (should have good lean figures, look great without shirts and in "shorts") Willing to be shirtless and comfortable being handsy with another man. Real male couples highly encouraged to apply! Please provide shirtless photos. and full body recent photos, must be willing to shave chest/legs if needed Must be willing to have NO facial hair NO TATTOOS NO UN-NATURAL HAIR COLOR OR HIGHLITES AGAIN NO VISIBLE TATTOOS – YOU WILL BE SHIRTLESS & IN SHORT SHORTS (MUST BE COMFORTABLE WITH THIS)[15]
Caroline will appear in at least 2 episodes[16]
References
Ad blocker interference detected!
Wikia is a free-to-use site that makes money from advertising. We have a modified experience for viewers using ad blockers

Wikia is not accessible if you've made further modifications. Remove the custom ad blocker rule(s) and the page will load as expected.