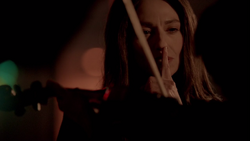 Spoiler warning!
This article contains spoilers.
For the latest season see
The Vampire Diaries
' 
Season Eight
and
The Originals
'
Season Four
News and Spoilers
.
The Vampire Diaries
SPOILERS AHEAD
Season 8
TVLINE | How is Bonnie going to handle this, considering it was all to save her?

Bonnie, out of everybody, is the one who's going to be just paralyzed by this struggle. She has two men in her life — Damon, who's a platonic, but also deep, soulful best friend, and Enzo, who has really become her one true love — and she lost both of them in one fell swoop. In addition to that, she also lost her magic. She's starting at an absolute deficit in terms of being able to fix this problem. That's going to have a great impact on her.

TVLINE | If there's anyone who can recover from this, I feel like it's Bonnie.

[Laughs] She certainly has crawled out of some deep holes, but this is going to be tough for her, emotionally.

A major character will die in the middle of the final season.[1]
Entertainment Weekly | What can you tell us about Steroline in season 8 of The Vampire Diaries? Are they going to be happy and what is in store for them? Thanks. — Cameliamane

Well, it's certainly not an easy restart to the relationship since Stefan has other things on his mind. But Caroline also has a big year ahead. "Caroline is trying, in her wonderfully Caroline way, to be all things to all people," EP Julie Plec says. "She's trying to be the perfect mother, the perfect baby mama to her recently parted fiancé, she has a new job, she's back in Mystic Falls. She's working at the local news station in Mystic Falls as a behind the scenes journalist this time. She's also trying to juggle a very important relationship to Stefan against the crisis of the moment, which is that Stefan's brother is MIA. She's multi-tasking in her own fierce, fabulous way. Lots big shifts and moves coming up for her this year." [2]

Another major character will die during this season.[3]
The Originals
SPOILERS AHEAD
Season 4
Aurora de Martel could return.[4]
Davina Claire could return. In an interview with Clevver News, Narducci stated: "I think there is also a question to be asked when it comes to Davina, which is, does a New Orleans witch ever truly die?" Narducci then went on to reffer to the fact that Papa Tunde, Genevive and Sabine all returned after death. Narducci then mentioned: "there may be another glimpse of Davina's fate."
There will be a wolf attack in the first episode. [5]
This Season's Theme: "This season is all about putting family love to the test by introducing something that is scarier and more evil than they are," says showrunner Michael Narducci. "And that thing is threatening the most vulnerable member of their family, their daughter."

Coming Up: The season begins with a five-year time jump, during which Hayley and Hope have been on the road. "[Hope] is now 7 years old, she is smart, she is savvy, she understands what magic is and that she is extremely powerful," Narducci says. "She has this curiosity about who her dad was, and is and will she ever see him again?" Meanwhile, Hayley's been tracking down the missing werewolf clans to find the cure, and new character Keelin (Christina Moses) may be the key.
Daddy Dearest: With Hope becoming a major character this season, her relationship with Klaus will be focal point. Says Narducci, "Can Klaus Michaelson, in good conscience, be a father to this very powerful young witch who needs guidance and who needs a dad?" — KW [6]
References
Ad blocker interference detected!
Wikia is a free-to-use site that makes money from advertising. We have a modified experience for viewers using ad blockers

Wikia is not accessible if you've made further modifications. Remove the custom ad blocker rule(s) and the page will load as expected.