"Now I'm hurt.."

This article contains spoilers that do not violate our spoiler policy.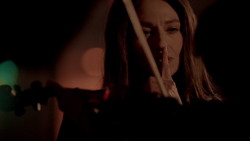 For the latest season see The Originals' Season Five News and Spoilers.
The Originals
There are no plans at the moment, but according to TVD and Originals showrunner Julie Plec, there are still stories to be told.

"My hope is The Originals will stay on and that I can bring some of these characters over there," Plec says of the Vampire Diaries spinoff. But if that doesn't work out, there's another option. "I could see our universes coming together in five years, 10 years, when people miss the shows," she says. "There's still stories to be told for The Originals that our characters here very smoothly and seamlessly fit into, so if we don't get to do that while The Originals is still on the air, I think that one day, if somebody wanted it badly enough, it could exist."

One final note: For those worried that Stefan's death means he wouldn't be a part of any future stories, fear not. If there were a future opportunity to tell more stories, Plec feels they could find a way to make sure both Salvatores would return. Is there a chance that next year -- after TVD comes to a close and if The Originals continues for another season -- we could see some Mystic Falls favorites show up in New Orleans?

A thousand percent. One of my goals is to find really exciting and organic ways to combine the universe just a little bit, whether it's a flavor or something more aggressive. There are a lot of really wonderful people that I work with that I'd like to continue working with, so it's certainly not out of the question that we could find ways to integrate them into The Originals.

Is there any possibility we will see any of the Vampire Diaries characters living on through The Originals once the show is over?

JULIE PLEC: First of all, it is my hope and desire that The Originals lives on [for] many more seasons to come, precisely for those kinds of opportunities, that we can take this world that we have developed, with the Mikaelson family, and occasionally have a little drive-by or a repopulation with these characters that we love. I'm not going to say anything about how this season ends, or the series ends, but there is definitely opportunity for that moving forward.

---

Alaric is coming back.
In that time period the new villains are from Klaus and Rebekah's past.
The theme of next season is about whether or not to keep the family apart or not.[1]
Stefan will not appear in TO and neither will Bonnie according to Paul Wesley and Kat Graham.

---

Rebekah and Marcel will be in New York together when season 5 begins, but something will bring everyone back to New Orleans. [7]
Many characters might return.[8]
Vincent will get a love interest.[9]
Season 5 will take place during Mardi Gras and Hayley will have a friend with benefits.[10]
Nina Dobrev will not star on The Originals.[11]
Casting for 1930's BAR PATRONS. Think Cabaret, burlesque, moulin rouge, rocky horror picture show. Corsets, Lederhosen, mini shorts and suspenders. No crazy hair colors!
The Originals season 5 will feature "all kinds of threats," but the Mikaelsons will definitely be dealing with the consequences of their family, and the four pieces of the Hollow, being brought back together.[12]
CAUCASIAN MEN: should have a very "lean and sexy" vibe AGES: 20's 30's (should have good lean figures, look great without shirts and in "shorts") Willing to be shirtless and comfortable being handsy with another man. Real male couples highly encouraged to apply! Please provide shirtless photos. and full body recent photos, must be willing to shave chest/legs if needed Must be willing to have NO facial hair NO TATTOOS NO UN-NATURAL HAIR COLOR OR HIGHLITES AGAIN NO VISIBLE TATTOOS – YOU WILL BE SHIRTLESS & IN SHORT SHORTS (MUST BE COMFORTABLE WITH THIS)[13]
Caroline will appear in at least 2 episodes.[14]
The Originals Seeking Second Line Krewe, High Steppers, and People with Rhythm Work Dates: 10/2 and 10/3. Also accepting people with non-formal training who are familiar with New Orleans second line parades and confident they would be able to pull it off.[15]
Anything about the Klaroline reunion on The Originals?

"I hear Caroline and Klaus cross paths in Europe after Rebekah — unable to visit Klaus herself due to their magical predicament — asks for Caroline's help with an intervention of sorts. As of now, Caroline will appear in two of the first 10 episodes, so while she's important, she's also not taking over the entire family story."[16]

Spoilers about the finale (episode 5x13).[17]
Many spoilers about this season.[19]
The Originals now seeking New Werewolves, Looking for fresh faces & wolves from previous seasons.[20]
Aurora will not appear in season five.[21]
Anyway, executive producer Julie Plec explains that while last season's baddie — remember the Hollow? — will remain a present force in Season 5, the real enemy is far more complicated. "The Big Bad this year is launched from an ideology more so than one singular person's nefarious desire," Plec explains. "It's an ideology that was spawned almost a century ago, a movement that has been simmering and stewing over that century. It does have a personal connection to the Mikaelson family, but it also has a thematic resonance that is very timely."[22]
One episode of season five, will put a sharp focus on Elijah: "Three episodes in, we actually get an episode that is Elijah from start to finish, and it's the first time we've ever done that," creator and showrunner Julie Plec says. "We get to see where Elijah left off in that episode so long ago, and what he's been doing in the seven years that's passed." Plec likened this episode, titled "Ne Me Quitte Pas," to one of Damon Lindelof's episodes on The Leftovers, which zeroed in on one character in particular to tell their story. If we're to take Plec at her word, it means we're likely to get Elijah in every scene of this bottle-like episode and very little of anyone else. Given that it takes place during the years the Original siblings have been separated by the Hollow, we may not see any of them at all.[23]
Is there any hope for The Originals' Elijah and Hayley to get back together? – Tulsi

Never say never — especially on a show like The Originals, where literally anything can happen — but it doesn't sound like Elijah and Hayley will be reuniting anytime soon. Series creator Julie Plec says she enjoyed getting to craft new beginnings for the show's characters in Season 5 now that they've all had to go their separate ways. "Being able to write a narrative for Elijah that allowed him to live an entirely different life and imagining what that life would look like was a lot of fun," she says, promising "a whole bunch of new dynamics" to come. (The recent casting of Jaime Murray as Elijah's new vampire "friend" also doesn't bode well for your question.)[24]

Apparently Lizzie and Josie, the twins of Caroline and Alaric, will be present in an episode of The Originals. How will they be involved in the episode in question? – Ines

Here's what I know: They will appear in the penultimate hour, and we'll see them while Caroline is giving prospective students a tour of the school. But further details are being kept under wraps, so you'll just have to watch and see![25]

Question: Anything on The Originals? How do the Mikaelsons end up reuniting when they're supposed to remain apart? – Charlie

Ausiello: Well, Charlie, it sounds like we'll have Klaus and Hayley's daughter to thank for the family coming back together in the show's final season. "Hope goes to great lengths, and not necessarily always on the up, to find ways to be reunited with the people that she loves," series creator Julie Plec hints. "When you're a 15-year-old at a boarding school, that involves breaking some rules and possibly relying on some cute, charming, young male assistance to help you escape where you are so you can get home." (Hmm… sounds like she's referring to Hope's new vampire beau Roman, played by Descendants' Jedidiah Goodacre).[26]

The Scoop: The Originals will return for its final season after a huge time jump, picking up almost a decade later with Hope now a teenager. Unfortunately, no matter how hard Hope tries to fit in with the other teens at her school, it's going to be clear very early on that she's not like most of the other kids there. "Her life there has given her some structure of normalcy - whatever normalcy you can get at a supernatural school - but she's also the only one of her kind," Danielle Rose Russell says of Hope's life at the Salvatore Boarding School. "She is the most powerful being in this supernatural world that everyone is living in, and no one really knows that. She doesn't even know that, so I think that it's hard for her to fit in with people her own age. The fact that she's been raised by thousand-year-old vampires and supernatural beings has grown her very quickly as well, so it's hard for her to mesh with people her own age."[27]
"Rebekah has a hard time understanding how Elijah can't remember anything at all," Claire Holt told TV Guide. "There's a specific episode this season where we're imploring him to remember and it's hard. It's a really hard thing for her to face... This was a pretty traumatic thing for everyone."[28]
References