"Now I'm hurt.."

This article contains spoilers that do not violate our spoiler policy.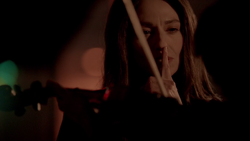 For the latest season see
The Originals
'
Season Five
News and Spoilers
.
The Originals
SPOILERS AHEAD
"Caroline and Klaus are not coming face-to-face in this season," Plec told THR after the TVD finale. "That being said, we do have crossover elements in the upcoming season of The Originals … and it all brings it back to what I see as a future for either The Originals or another piece of the franchise to launch off of the end of The Originals."
There are no plans at the moment, but according to TVD and Originals showrunner Julie Plec, there are still stories to be told.

"My hope is The Originals will stay on and that I can bring some of these characters over there," Plec says of the Vampire Diaries spinoff. But if that doesn't work out, there's another option. "I could see our universes coming together in five years, 10 years, when people miss the shows," she says. "There's still stories to be told for The Originals that our characters here very smoothly and seamlessly fit into, so if we don't get to do that while The Originals is still on the air, I think that one day, if somebody wanted it badly enough, it could exist."
One final note: For those worried that Stefan's death means he wouldn't be a part of any future stories, fear not. If there were a future opportunity to tell more stories, Plec feels they could find a way to make sure both Salvatores would return. Is there a chance that next year -- after TVD comes to a close and if The Originals continues for another season -- we could see some Mystic Falls favorites show up in New Orleans?

A thousand percent. One of my goals is to find really exciting and organic ways to combine the universe just a little bit, whether it's a flavor or something more aggressive. There are a lot of really wonderful people that I work with that I'd like to continue working with, so it's certainly not out of the question that we could find ways to integrate them into The Originals.
Is there any possibility we will see any of the Vampire Diaries characters living on through The Originals once the show is over?

JULIE PLEC: First of all, it is my hope and desire that The Originals lives on [for] many more seasons to come, precisely for those kinds of opportunities, that we can take this world that we have developed, with the Mikaelson family, and occasionally have a little drive-by or a repopulation with these characters that we love. I'm not going to say anything about how this season ends, or the series ends, but there is definitely opportunity for that moving forward.
---
Rebekah will return
Alaric is coming back
We will see hope as a teenager at the school
Freya and Vincent have made the city more fun and less dangerous
In that time period the new villains are from Klaus and Rebekah's past
The theme of next season is about whether or not to keep the family apart or not [1]
Stefan will not appear in TO and neither will Bonnie according to Paul Wesley and Kat Graham
---
klaus has killed many people in the hiatus
References
Ad blocker interference detected!
Wikia is a free-to-use site that makes money from advertising. We have a modified experience for viewers using ad blockers

Wikia is not accessible if you've made further modifications. Remove the custom ad blocker rule(s) and the page will load as expected.