"Now I'm hurt.."

This article contains spoilers that do not violate our spoiler policy.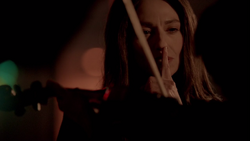 For the latest season see
The Vampire Diaries
' 
Season Eight
and
The Originals
'
Season Four
News and Spoilers
.
The Vampire Diaries
SPOILERS AHEAD
8x16 Spoilers
Is there anything you can tease about what fans should expect from the finale?Malarkey: There's blood, sweat and tears. And also a little bit of joy. There's a little bit of something for everybody. You'll get to see some familiar faces. There's going to be a lot of tears shed, I'm sure.[1]
Is it a happy ending or more bittersweet? Malarkey: It's kind of different for some of the characters, but I feel overall it's going to definitely feel bittersweet. There's always a silver lining, and we definitely get that at the end of the series.[2]
Klaus (Joseph Morgan) was such a big part of this show for many seasons. Should we expect him to pop up in Mystic Falls this year?Plec: Well, he can't pop up in Mystic Falls because our timelines. If you match them up, Klaus is in a coffin in the back of a moving van. But I do know that there's opportunity in the series finale for us to hopefully see people then. We're a bit far off from knowing what we'll be able to accomplish, but that's certainly a hope that we'll be able to see him.
Minor character[3]
Minor charactes #2 [4]
Has it been tricky balancing the timeline of The Vampire Diaries since it's currently not parallel with The Originals?No, it's actually made it extremely easy, much to the chagrin of the people I'm sure would have loved multiple crossovers before the series comes to a close. But I do think the final episode will have some time-shifting, so I'm not worried about being inhibited from seeing The Originals again in The Vampire Diaries universe. I don't know how or who, but I certainly think we can make it work on some level.
Ian Somerhalder is in the last scene. [5]
There's a lot of darkness in The Vampire Diaries' eighth and final season. With the sirens as this year's villains, the show has introduced its version of hell complete with Cade, its very own devil. But what will that mean for our favorite heroes (and villains)? Could the series end with everyone we love having to pay for their sins?The short answer is: Yes, it could. But more than anything, Vampire Diaries showrunner Julie Plec says this story is about bringing things to an end. "There's this sense of finality that we needed to accomplish this year which meant that characters that we've introduced and loved over the years, even the series regulars, had a journey that had to come to an end," Plec says. "As we ask the question, 'What does hell mean?' and eventually ask the question, 'Does peace exist?' — that question will exist for each and every one of our characters. Now I'm not saying you're going to watch them all die on camera, but the question is going to exist for everybody."
Nina Dobrev will probably return to The Vampire Diaries some time soon, but will Damon (Ian Somerhalder) get his happy ending with her? Probably, but how? Will he have to become human too?"That's his plan," creator Julie Plec tells TVGuide.com. "I think he was ready to do that before she went down, and he remains ready to do that." Of course, Damon is currently too busy being enslaved by a murderous siren to think about tracking down another cure. But even while he's dealing with the siren's mind control (not to mention, while having his humanity turned off), the idea of building a family with Elena is never too far from Damon's mind. "I think the only hope that he's holding on to is the idea of the two of them living in Tribeca in their brownstone and raising kids and having a life together as humans when this is all said and done," Plec says.
According to Julie Plec at Comic Con, Sybil is the main antagonist of the final season but not the final antagonist.
"The goal is not to try to make the fans happy because of some small thing they've latched onto that they consider important to them, but to make the experience resolve itself satisfyingly, to make sure that your characters are being true to themselves and true to each other, finding closure in relationships, letting people come back together to be happy, answering those questions of where will these people be, these are immortal beings, how long will they live and what will their life look like at the end, and really delivering on a good, happy ending, as much as that's even possible for each character."Plec feels confident they'll end the show in a way that makes people happy, even if something, like a particular ship, doesn't go the way they want.
Katerina Petrova will appear in the finale. [8]
Tiki's Grandfather was supposed to make a cameo in the series finale, but his scenes were cut. [9]
A song by The Fray is in the finale. [10]
Some of the songs from the previous seasons will be in the finale. [11]
There will be flashbacks/flashforwards. [12]
The Originals
SPOILERS AHEAD
Season 4
Aurora de Martel could return.[13]
Davina Claire could return. In an interview with Clevver News, Narducci stated: "I think there is also a question to be asked when it comes to Davina, which is, does a New Orleans witch ever truly die?" Narducci then went on to reffer to the fact that Papa Tunde, Genevive and Sabine all returned after death. Narducci then mentioned: "there may be another glimpse of Davina's fate."
There will be a wolf attack in the first episode. [14]
This Season's Theme: "This season is all about putting family love to the test by introducing something that is scarier and more evil than they are," says showrunner Michael Narducci. "And that thing is threatening the most vulnerable member of their family, their daughter."

Coming Up: The season begins with a five-year time jump, during which Hayley and Hope have been on the road. "[Hope] is now 7 years old, she is smart, she is savvy, she understands what magic is and that she is extremely powerful," Narducci says. "She has this curiosity about who her dad was, and is and will she ever see him again?" Meanwhile, Hayley's been tracking down the missing werewolf clans to find the cure, and new character Keelin (Christina Moses) may be the key.
Daddy Dearest: With Hope becoming a major character this season, her relationship with Klaus will be focal point. Says Narducci, "Can Klaus Michaelson, in good conscience, be a father to this very powerful young witch who needs guidance and who needs a dad?" — KW [15]
References
Ad blocker interference detected!
Wikia is a free-to-use site that makes money from advertising. We have a modified experience for viewers using ad blockers

Wikia is not accessible if you've made further modifications. Remove the custom ad blocker rule(s) and the page will load as expected.