Spoiler warning!
This article contains spoilers.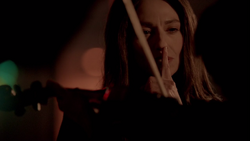 For the latest season see
The Vampire Diaries
' 
Season Eight
and
The Originals
'
Season Four
News and Spoilers
.
The Vampire Diaries
SPOILERS AHEAD
Season 8
What are we calling this evil force that's totally ruined Damon and Enzo?

[Laughs] We are not calling it anything, we are waiting for Season 8. I mean, internally, we're calling it something, but we're not telling people what that is yet. It's funny, this is the first time we've done this little story trick where we're actually withholding the identity and mythology of the new villain from the audience before the next season. What could it be that's been around for thousands of years? We didn't see it, but it has some creepy ass monster hands, and it has the ability to get inside your head and strip away everything good about you. There's a nice mystery taking us into next season about what exactly this creature is.[1]

TVLINE | How is Bonnie going to handle this, considering it was all to save her?

Bonnie, out of everybody, is the one who's going to be just paralyzed by this struggle. She has two men in her life — Damon, who's a platonic, but also deep, soulful best friend, and Enzo, who has really become her one true love — and she lost both of them in one fell swoop. In addition to that, she also lost her magic. She's starting at an absolute deficit in terms of being able to fix this problem. That's going to have a great impact on her.

TVLINE | If there's anyone who can recover from this, I feel like it's Bonnie.

[Laughs] She certainly has crawled out of some deep holes, but this is going to be tough for her, emotionally.

A major character will die in the middle of the final season.[2]
Entertainment Weekly | What can you tell us about Steroline in season 8 of The Vampire Diaries? Are they going to be happy and what is in store for them? Thanks. — Cameliamane

Well, it's certainly not an easy restart to the relationship since Stefan has other things on his mind. But Caroline also has a big year ahead. "Caroline is trying, in her wonderfully Caroline way, to be all things to all people," EP Julie Plec says. "She's trying to be the perfect mother, the perfect baby mama to her recently parted fiancé, she has a new job, she's back in Mystic Falls. She's working at the local news station in Mystic Falls as a behind the scenes journalist this time. She's also trying to juggle a very important relationship to Stefan against the crisis of the moment, which is that Stefan's brother is MIA. She's multi-tasking in her own fierce, fabulous way. Lots big shifts and moves coming up for her this year." [3]
The Originals
SPOILERS AHEAD
Season 4
Aurora de Martel could return.[4]
Davina Claire could return. In an interview with Clevver News, Narducci stated: "I think there is also a question to be asked when it comes to Davina, which is, does a New Orleans witch ever truly die?" Narducci then went on to reffer to the fact that Papa Tunde, Genevive and Sabine all returned after death. Narducci then mentioned: "there may be another glimpse of Davina's fate."
References