The soundtrack of the TV series contains quite a lot of songs. Here are the songs from the Fourth season.

"Twice" – Little Dragon


"Whirring" – The Joy Formidable


"Wait for the Morning" – Amy Stroup

"Hurt" – The Gods of Macho


"Woe Is Me…I Am Ruined" – The Lonely Forest


"Change" – Kopecky Family Band


"Fear And Loathing" – Marina & The Diamonds


"How Can I Keep From Singing" – St. Phillips Boy's Choir


"Youth Knows No Pain" – Lykke Li


"Ungodly Hour" – The Fray

"Ho Hey" – The Lumineers


"Disparate Youth" – Santigold


"Keep You" – Wild Belle


"Girl Like Me" – Ladyhawke


"Don't Say Oh Well" – Grouplove


"Too Close" – Alex Clare

"Kill Your Heroes" – AWOLNATION


"Sweat" – Hard-Fi


"Glamour" – Anders Manga


"Feel So Close (Benny Benassi Remix)" – Calvin Harris


"Happening" – Olivia Broadfield

"Smother" – Daughter


"Tick" – Yeah Yeah Yeahs


"Keep On Runnin" – Cat Power


"The Light" – The Album Leaf

"Same Ol'" – The Heavy


"Bedroom Eyes" – Dum Dum Girls


"Away Frm U" – Oberhofer


"The Thread Of The Thing" – Fay Wolf


"It's Alive" – A Fine Frenzy


"Walking Blind" – Aidan Hawken and Carina Round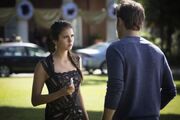 "Let's Go" – Matt & Kim


"Kiss Me" – Ed Sheeran


"Falling Slowly" – Vitamin String Quartet


"Little Deschutes" – Laura Veirs


"Ain't Fair" – Deap Vally


"Ordinary World" – Vitamin String Quartet

"Eyes On Fire" – Blue Foundation


"It Don't Mean a Thing" – TVD NOLA Band (Originally Duke Ellington & Ivie Anderson)


"Take It Back" – Junior Prom


"Stop Breaking Down" – TVD NOLA Band (Originally Robert Johnson)


"The Mall" – Fort Lean


"Let it Go" – Dragonette


"So What Do You Say" – PJ Parker


"Hooray For You" – Felicia Carter


"Speechless" – Morning Parade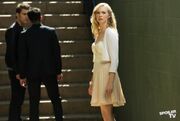 "Covering Your Tracks" – Amy Stroup


"Christmas Treat" – Julian Casablancas


"Take You to the Mistletoe" – The Kicks


"Christmas Wrapping" – The Waitresses


"Christmas Song" – The Raveonettes


"Jingle Bells" – Sugar & The Hi Lows


"O Holy Night" – Cary Brothers


"Oblivion" – Bastille


"Have Yourself a Merry Little Christmas" – Digital Daggers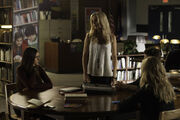 "Shooting The Moon" – Mona


"Go Right Ahead" – The Hives


"Female Robbery" – The Neighbourhood


"New York" – Snow Patrol


"Nothing Will Ever Change" – Jimmy Jules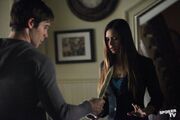 "They Told Me" – Sallie Ford and The Sound Outside


"Sleep Alone" – Two Door Cinema Club


"Baby I Call Hell" – Deap Vally


"Missing" – The XX


"16 Years" – Phantogram


"Skin" – Zola Jesus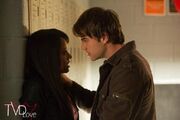 "Just Another Girl" – Wild Belle


"99 Red Ballons" – 7 Seconds


"12 Gauge" – Bundle Of Hiss


"Maneater" – The Bird And The Bee


"Half Asleep" – Trever Keith


"Lovesong" – The Cure


"Wanted Dead Or Alive" – Bon Jovi


"If You Were Here" – Cary Brothers
No songs used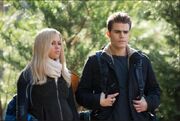 "Been A Long Day" – Rosi Golan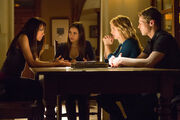 "Family" – Noah Gundersen

"White On White" – Fidlar


"5 To 9" – Fidlar


"Temporary" – White Rabbits


"Lions Of East" – Pontiak


"I Love It" – Icona Pop


"Miracle Mile" – Cold War Kids


"Control" – Garbage


"Professional Griefers" – deadmau5 feat Gerard Way


"Dance With Me" – Ra Ra Riot


"Anymore of This" – Matthew Perryman Jones & Mindy Smith


"White On White" – Fidlar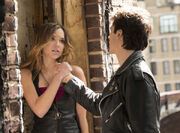 "Psycho Killer" – Talking Heads


"Psycho Killer" – Harper Blynn


"Bite Your Lip" – New Cassettes


"Loudmouth" – The Handys


"Shut Up And Dance" – Rookie


"Evil Soul" – The Young Werewolves


"Ask The Angels" – Dead Sara


"Lemon Scent" – Dead Sara


"In Search Of An Audience" – The Godz


"Let's Dance" – The Ramones


"Arms and Enemies" – The Quiet Kind


"Heartbeat" – Kopecky Family Band

"Forget Me Not" – The Civil Wars


"Days Long Gone" – Don Gallardo


"Why Try" – Young Summer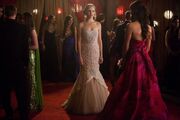 "Whispers" – Dave Baxter


"Keep Together" – Hunter Hunted


"Bottled Up Tight" – Luke Sital-Singh


"Pictures Of You (The Cure cover)" – Class Actress


"Desert Song" – Hot As Sun


"Stay" – Rihanna


"Remember" – Kari Kimmel


"Paper and Gun" – The Cold And Lovely


"Lights" – Josh Ritter


"Song For Zula" – Phosphorescent


"Stay Away" – Charli XCX


"You Send Me (Sam Cooke cover)" – Caught A Ghost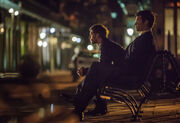 "Revolution" – Dr. John


"Ball & Chain" – Martin Harley


"How You Like Me Now" – The Heavy (Marcel's cover)


"Walking Backwards" – Leagues


"No Sugar In My Coffee" – Caught A Ghost


"Testified BK" – Steve Nathanson


"Mojo Fix" – Martin Harley


"How" – The Neighbourhood


"New Cannonball Blues" – TV On The Radio


"Terrible Love" – The National


"Do Whatcha Wanna" – Rebirth Brass Band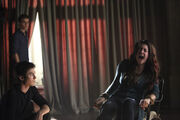 "Tightrope" – Walk The Moon


"Bitter" – Benny Marchant


"Blue" – Israel Cannan


"Found" – Christel Alsos


"Open Mind" – Wilco

"Sail" – AWOLNATION


"Lean On Me" – Telekinesis


"Things We Lost In The Fire" – Bastille


"Fragile Love" – Adam Agin


"Dream" – The Boxer Rebellion

"You Give Love A Bad Name" – Bon Jovi


"Dance In The Graveyards" – Delta Rae


"Gone" – Olivia Broadfield


"Belong" – Cary Brothers


"When I Was Younger" – Liz Lawrence


"In The Stream" – S. Carey
Ad blocker interference detected!
Wikia is a free-to-use site that makes money from advertising. We have a modified experience for viewers using ad blockers

Wikia is not accessible if you've made further modifications. Remove the custom ad blocker rule(s) and the page will load as expected.