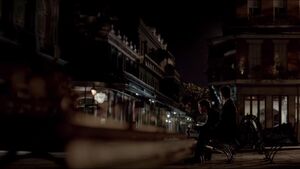 The slogan "Previously on The Originals" was heard at the beginning of all Originals episodes since episode 10 (The Casket Girls). These words are followed by a series of short clips that recap the scenes that are important for the current episode. All of this lasts for approximately one minute.
The purpose of these clips is to both remind viewers about current and past storylines, as well as aid comprehension for those who may not have seen the last few episodes of the show. In some cases, speech and actions are edited.
In Season One, for the first 9 episodes (until Reigning Pain in New Orleans) of both the season and the show, there is a special opening, where the three main characters of the show, Klaus (Joseph Morgan), Elijah (Daniel Gillies), and Rebekah (Claire Holt), narrate briefly their history, mainly regarding the city of New Orleans.
The Voice
In every episode the voice on the "Previously..." is different. That's because different actors from the main cast are saying it. Normally the actor who does the voice-over for an episode is the character who is given the main focus of the episode, or is mostly centered on them.
List of cast that voice-over
Trivia
Claire Holt, Yusuf Gatewood and Danielle Campbell are the only cast members to do a voice-over while not being part of the main cast.

Claire Holt has done voice-overs as a special guest and former lead star in season 2's episode 9 and season 3's episodes 6 and 9.
Yusuf Gatewood did a voice-over while being a guest star, before becoming part of the main cast, in season 2's episode 10.
Danielle Campbell did a voice-over in season 4's episode 8 as a special guest star and former main cast member.
Examples
See also
Ad blocker interference detected!
Wikia is a free-to-use site that makes money from advertising. We have a modified experience for viewers using ad blockers

Wikia is not accessible if you've made further modifications. Remove the custom ad blocker rule(s) and the page will load as expected.