Persia White
Comments

8
1,296pages on
this wiki
Birthplace
Miami, Florida, USA
Birth date
October 25, 1972 (age 40)
Persia White (born October 25, 1977) is an American actress and musician who plays Abby Bennett in The Vampire Diaries. Known for playing Lynn Searcy on the sitcon Girlfiends. She is a member on an industrial rock band "XEO3", also is a solo singer which in 2009 released her debut album.
Biography
Edit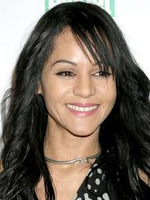 In one word, Persia White can be described as prolific. An actress, musician, producer and animal rights activist, she is best known for her lead in the popular CW series "Girlfriends." Driven by her passion to change the world, Persia co-produced the award winning documentary film "Earthlings", narrated by Joaquin Phoenix, and is also involved in the series "Whale Wars" on Animal Planet. Persia is a board member of the Humane Society of the United States, as well as the Sea Shepherd Conservation Society. She is the co-founder of Echoed Images, a new production company whose mission is to create conscious, world-changing media. She's a proud member of PETA and a member of the Church of Scientology.
She is a human and animal rights advocate and an environmentalist.
She was honoured by the PETA as a 2005 Humaniterian of the Year.
She is also a board member for the Human Sociaty of the United States of America at the Sea Shepard Conversation Sociaty.
She is a active member of Global Green and Farm Sanctuary.
She is a member of the Church of Scientology and its affiliate Citizens Commission on Human Rights.
She has a daughter.
She's a vegan.
External links
Edit