October 1Edit
The 20's Decade Dance occurs on a Friday night.
Esther is in Rebekah's body, and has made a deal with Evil Alaric. She fools Klaus and convinces him to go to the decade dance.
Elena asks Stefan to take her to the ball, and he agrees, despite their tragic historic related to decade dances.
Alaric leaves his loft and he did not take Bonnie's herbs.
Esther uses the power of the hotspot created at the place where she was killed to channel power. She fuses the last Oak Tree stake with Alaric's immortality ring to make an indestructible stake.

The Ultimate Weapon... For The Ultimate Hunter

Added by

IniZa519

Tyler comes to the dance, and has a face off with Klaus. But he decides to pretend he is still under Klaus influence, although he is very jealous.
Esther pours a gigantic salt ring around the school that traps all the vampires inside, and takes Elena to the cemetery, where she uses Elena's blood to turn Alaric into an Original Vampire.
When Alaric wakes up in transition, he decides he will not complete the transition. Almost all the cast shows up in the cemetery to say their goodbyes.
Damon resists his impulse to snap Alaric's neck and end his misery, which gives Esther a chance to interfere. She influences Bonnie to sleepwalk to the Cemetery and feed Alaric her blood completing the transition.("

Do Not Go Gentle

")
October 2Edit
Early morning next day after the dance, Alaric holed out at the school.
Rebekah, Caroline & the cleanup committee occurs early at 8:03 am.

Alaric puts a vervained gag on Caroline,

Added by

Sittelra

Klaus tries to take Elena out, but cannot enter the Gilbert house. He stakes the house in the best Big Bad Wolf style.
Klaus, Stefan and Damon team up to free Caroline and Elena.
Bonnie offers to desiccate Alaric, but its Klaus who end up dessicated. She has to tap into dark magic to do this.
Elena figures that Alaric's vampire life is linked to her: if she dies, he dies too.
Alaric tells the council about Caroline, Tyler and all the other friendly vampires. ("

Before Sunset

")
Night between October 2 and 3Edit
NOTE: It's the same night from Elena passing out, Meredith says that Jeremy took Elena to the Hospital "earlier tonight." After the council meeting with Alaric outing Caroline and Tyler, Sheriff Forbes and Carol Lockwood waited for Caroline and Tyler to come home.
Because he found Elena on the floor bleeding by the nose, Jeremy took her to the hospital.
Damon and Stefan turn ballistic, because her life is in danger, and order him to take her back home.
They flip coins to decide who will go back to Mystic Falls, and who will proceed to hide Klaus.
Alaric tries to make a pact with Jeremy.
Elijah makes a deal with Elena: if she returns Klaus body and the stake, he, Rebekah and Kol will scatter around the world, Alaric will follow and leave her alone. They promise they would not revive Klaus while she, or her children are still alive.
Carol Lockwood and Sheriff Forbes call Caroline and Tyler. They give them some money, fake ids and tell them to run for their lives.
Bonnie meets Damon, allegedly to make a spell that will prevent Alaric from finding Klaus body.
Stefan kiss Elena before he goes to face Alaric.
Matt drugs Elena, puts her in his truck and drives her away from Mystic Falls.
Alaric found out where Damon is. He fights him and Rebekah and stakes Klaus.
Believing that Klaus sired their bloodline, all the vampires we came to love prepare to die - only they don't die.
Elena chooses to go to Stefan (Caroline and Tyler) instead of towards Damon.
We learn that Damon met Elena before Stefan, but glamored the memory away from her.
Tyler tricks Caroline into believing he is dying, but actually, Bonnie has switched him with Klaus, or put them both together in Tyler body, or something - so no friendly vampire dies.
Because Klaus is dead, Rebekah decides to kill Alaric by killing Elena.
Matt and Elena go off the Wickery Bridge and Elena drowns.
The third season ends.("

The Departed

")
October 3Edit
NOTE: It's the morning after the accident. Elena mentions the accident happened "last night".
Elena wakes up in transition

Elena awakens on the morning after the accident to find the thing she dreaded the most has come true. She died with Damon's blood that Dr. Fell gave her, now she is in transition to become a vampire. Stefan promises her that he and Bonnie will exhaust every possible way out of the situation, Damon is furious with his brother for letting her die in the first place.
Pastor Young drops by the hospital and informs Dr. Fell he's upping the security surrounding the hospital blood supply, under the authority of The Mystic Falls council.
Next, he arrests the mayor and takes the sheriff's badge. He takes Caroline, Rebekah, Stefan and Elena to his cattle ranch.
Klaus (as Tyler) saves Caroline, but leaves Rebekah revealing himself to them.
Damon, Matt, Meredith and Liz try to sort out where Caroline, Elena and Stefan could be. Matt realizes they may be at Pastor Young's ranch, and Damon and Matt set out there.
Bonnie does the spell to try and bring Elena's human soul back to her body, but Grams shows up, telling Bonnie she is not allowed to do that. Grams sends her back to the land of the living, without Elena.
Though Rebekah initially shows happiness in seeing Elena die, she is impressed by their love and helps Stefan kill a guard. His blood allows Elena to turn into a vampire, just in time to prevent Damon from killing Matt.
Klaus forces Bonnie to put him back into his body. Grams pays the price for her actions and Bonnie is shattered by what has happened.
Klaus rejects Rebekah as part of his family abandoning her for good and leaves town.
Stefan gives Elena her daylight ring, as they sit on the roof of his house contemplating how life is going to change forever for Elena.

Elena's daylight ring

Pastor Young locks himself and many council members in house and kills himself for a purpose. ("

Growing Pains

")
October 9Edit
Damon mentions Elena hasn't been able to keep blood down for days, so some time has passed since the previous episode. Memorial Service would off occur on the weekend at Church.
Stefan tries to get Elena to learn and follow the diet of drinking animal blood. She vomits it all, but Stefan, despite his super vampire hearing and blood smelling capacities, is unaware of it.
A vampire hunter (Connor) investigates the council members deaths, and confronts Sheriff Forbes and Carol Lockwood about it.
Damon mourns Alaric at the Grill, and both Liz and Elena accuse him of killing the council.

Added by

IniZa519

April Young, who has been away on a boarding house since her mother dies, returns for her father's funeral. Everybody knows and likes her.
At the Lockwood house, Connor recognizes that Tyler is a vampire and shoots him with wood bullets carved with mysterious symbols. Stefan declares them deadly to all vampires and Bonnie declares the symbols are not magical.
Elena cannot keep animal blood down, Damon feeds her his blood, and she pukes that too. She won't even feed from a blood bag.
Connor sets a stakeout during the Memorial Service, making April bleed. Elena almost looses it, and Matt offers his vein.
Damon confronts Connor, Stefan slaps Damon, Caroline teaches Elena some self and mind control.
Elena, Caroline, Stefan, Damon, Bonnie, Jeremy and Matt have a little gathering where they remember all the people each of them lost including; Alaric, Jenna, Lexi, Bill, Vicki, Grayson, Miranda, John, Isobel and Grams.
October 11Edit
Since the memorial service occurred on the weekend, and Elena is a vampire for one week, Elena took a week off school to adjust and returns fresh on a Monday.
Connor took Tyler's venom and puts the beer keg at the Curfew party. It affected Rebekah (who's Original,so nothing happened to her) and Elena. Klaus healed Elena.
When Damon went to investigate Connor he got caught in his trap. Meredith helped him out of it.
Klaus came back to town with a few hybrids to protect Tyler.
Klaus and Damon set the same trap in the hospital. Connor got out and blow up the hospital.
Klaus found out that Connor is one of The Five, so he saves and imprisons him.
Elena and Rebekah fight.
Hayley arrives and Klaus found out that she was with Tyler.
Elena looses control while feeding on Matt and almost kills him. Damon arrives just in time.("

The Rager

")
October 12Edit
Elena tells Stefan that "last night" she almost killed Matt feeding on him.
Damon raids Connor's trailer trying to find some clue about "The Five ".
Bonnie, Elena and Damon go to Whitmore College . Bonnie wants to visit Professor Shane, who is taking over the Occult Studies classes formerly taught by Bonnie's grandmother.
At a costume party, Damon gives Elena a lesson in being a hunter.Rebekah buys Matt a new truck, as an apology.
Klaus has Connor imprisoned. He teams up with Stefan to get information from Rebekah about The Five. He also forces Jeremy to make a drawing of the invisible tattoos. Connor tells Jeremy that every time he kills a vampire, the tattoos grow.
After he gets the information from Rebekah, Klaus daggers her.
Elena is disgusted at herself, that she was having fun feeding at the party. Stefan will do everything to make her human again - even a deal with Klaus. ("

The Five

")
October 13

Edit
Damon thinks Elena told Stefan about their bloody dance at the Murder House, last night.
Klaus is in Italy, digging for Alexander's Sword - which he finds.
Connor invades the Mystic Grill and takes Jeremy, April and Matt as hostages.
Elena, Damon, Tyler and Caroline try to come up with a plan to rescue the hostages, but Stefan interrupts - nobody knows he is working with Klaus and they need Connor alive.

Added by

Drechao

Connor has rigged some werewolf venom bombs, and another hybrid dies while trying to rescue the hostages.
Caroline finds out about Tyler and Hayley's relationship.
Elena looses control and kills Connor - then immediately spirals into regret and depression.
The hunter's mark appear on Jeremy's hand.
Elena has a vision of blood all over her bathroom, and the word killer written in blood in her mirror. ("

The Killer

")
October 14 Edit
Elena is mad with Stefan for what happened "last night".
Terrifying hallucinations leave Elena shaken and confused.
Mistaking Jeremy for Connor, she stabs him on the neck, killing him.
Luckily he was wearing the Gilbert Ring, so he came back to life.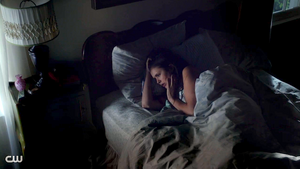 Elena is still mad at Stefan because he is working with Klaus, compelled Jeremy to forget something and has been hiding stuff from her.
Klaus recovers Alexander's Sword. He kidnaps Elena to keep her safe from her hallucinations.
Tyler and Hayley are working to free the hybrids from the sire bond. Caroline agrees to fake she is fighting with Tyler to help them. 
Professor Shane gives a lecture about the first immortal, Silas,  and how his spurned lover, the witch Qetsiyah, buried him alive.
Damon learns from him that hallucinations will stop when the next hunter is activated.
Caroline tell Klaus about Jeremy being a potential hunter. Klaus agrees to sacrifice one of his few remaining, incredibly precious, impossible-to-make-more-while-Elena-is-a-vampire hybrids to activate Jeremy as a hunter.
The victim, Chris was Hayley's friend, who had just broken his sire bond and helped Stefan get to Elena. Poor Chris - we barely knew you...
Stefan lets Elena escape. Following the hallucinations, she goes to the Wickery Bridge, where she throws away her daylight ring. ("

We All Go A Little Mad Sometimes

")
October 15Edit
Damon saves her in the nick of time, just before sunrise.
Stefan and Elena break up.
Matt gives Damon startling new information about Professor Shane.("

We All Go A Little Mad Sometimes

")
October 16Edit
It's Saturday. Caroline is making arrangements for Miss Mystic Falls Pageant that will happen next day.
Stefan tells Caroline and Damon that he and Elena broke up.
Klaus threatens to have Jeremy kill Stefan if he does not find (or make) vampires for Jeremy to kill.
Stefan finds a convicted murderer in the hospital. After ensuring that the guy is unrepentant, he feeds him his blood and breaks his neck.
Jeremy has a nightmare about killing Elena. He wakes up with a knife in one hand and a stake in the other.("

My Brother's Keeper

")
October 17Edit
It's Sunday, the day of the Pageant.
Stefan forces Jeremy to kill the newly made vampire. Jeremy does not trust him and refuses to tell him how far the tattoo has grown. He stabs Stefan when he tries to compel him.
April wins Miss Mystic Falls.
Elena moves in with Damon, and Stefan moves out and stays at Caroline's house.
Damon and Elena have sex for the first time and start dating.("

My Brother's Keeper

")
October 18Edit
It's Monday, a school day. Damon and Elena wake up together, and so do Stefan and Caroline.
Damon tests the bond by suggesting that Elena might safely drink from bloodbags now - and she does without puking.
Elena calls Bonnie and Caroline for a "girl's night". It ends badly when Caroline calls Damon a "manslut" and blurts that Elena is sired to him.
Damon and Stefan go to New Orleans to try and find a way to break the sire bond.

They learn from Nandi that Damon was lied to in 1942. Her mother wanted a sacrifice of 12 humans to invoke a powerful and darker-than-dark magic called "Expression".
Kimberly defies Tyler's position as Alpha. She kidnaps and tortures Caroline for no apparent reason except that nobody has done it this season.
Tyler makes Kimberly submit to him as Alpha, and the whole pack bows to him.
(We'll Always Have Bourbon Street)
October 19Edit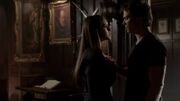 It's the following morning. Elena is cleaning the mess from the girl's night.
Stefan and Damon return from New Orleans.
Damon wants to break the bond, but Elena believes her feelings are true.
Bonnie merrily informs us that the new, exciting magic Professor Creepy has been teaching her is called "Expression"
Adrian broke his sire bond. This completes the set of 12 unsired hybrids Hayley has promised to deliver to Professor Shane. In return he informs her that her parents are dead, but she can still talk to them. (We'll Always Have Bourbon Street)
Note: Time-jump to December 2011.