Name
Nikolina Konstantinova Dobreva
Birthplace
Sofia,Bulgaria
Birth date
January 9, 1989 (age 25)
"
I think people should be with the person who makes them smile. The minute you're not smiling anymore, you shouldn't be in the relationship. That's what you figure out by having good or bad experiences with boyfriends and finding out what qualities you like and don't like in a person. It's part of growing up and learning. You should always be with the people who make you feel happiest.
"

— Nina Dobrev in the October 2012 issue of Seventeen magazine
Nikolina Konstantinova Dobreva (Bulgarian: Николина Константинова Добрева, born January 9, 1989) is a Bulgarian-Canadian actress who plays Elena Gilbert, Katherine Pierce and Amara on The Vampire Diaries. She is perhaps best known for her role as  Mia Jones in Degrassi: The Next Generation. Dobrev has also been featured in movies.
Biography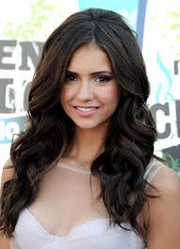 Nina Dobrev was born on January 9, 1989 in Sofia, Bulgaria as Nikolina Konstantinova Dobreva (Bulgarian: Николина Константинова Добрева). Her father Konstantin is a computer specialist and her mother Michaela is an artist. She has an older brother, Alexander. Her cousin, Jeny Nikolova, is a model in Canada. Nina moved to Canada at the age of two and has lived in Toronto, Ontario until 2009.
From a very young age she showed great enthusiasm and talent for the arts of dance, gymnastics, theater, music, visual arts, and acting. Modeling jobs led to commercials, which then turned into film auditions. Shortly after, she booked roles in feature films "Fugitive Pieces", "Away From Her" and the popular television series "Degrassi: The Next Generation" on CTV.
Nina loves to travel and has often visited Europe both for pleasure, as well as competing internationally representing Canada in Aesthetic gymnastics. She enjoys playing volleyball, soccer, swimming, rock climbing, wake boarding, snowboarding, and horse back riding. But above all acting is her passion, and she sees it as an adventure that has just begun; she believes that the journey and the characters we create along the way will help us understand ourselves. 
Personal Life
Nina dated her co-star Ian Somerhalder, who portrays Damon Salvatore, for three years. The two were in a relationship, however, they officially broke up in May of 2013. Despite their breakup, the two remain friends. A few months later, Nina became romantically linked to Dancing With The Stars dancer Derek Hough. The two have been spotted holding hands and sharing various romantic tweets towards each other. [1] There was a rumour around October of 2013 that Nina and Derek had broken up, but this has neither been confirmed or denied. 
Music
Nina has released an album entitled "Survivor".
Trivia
Nina plays three characters on TVD: Elena, Katherine and Amara.
Nina's nicknames are: Ninche, Ninjah, French Kote, Trouble, DoeDoe
Nina is born on January 9 1989
Nina was born in Sofia, Bulgaria and immirgrated to Canada when she was 2.
Nina is a Capricorn.
Nina is right-handed.
Her mother's name is Michaela (Bulgarian: Михаела), her father's is Nikolai (Bulgarian: Николай) and her brother's is Alexander (Bulgarian: Александър).
She's a major fan of the Harry Potter series by J.K. Rowling.
Nina attended Wexford Collegiate, an arts school in Toronto. In 2007, she began her post secondary studies at Ryerson University in Toronto, where she was majoring in Sociology. Nina also trained at the Dean Armstrong Acting Studio in Toronto, Ontario.
She is fluent in Bulgarian, French, and English.

For her role as Bella in the World War II drama Fugitive Pieces, Nina had to learn Yiddish phonetically.
Nina Dobrev, the actress who plays Katherine Pierce, was born in Bulgaria and speaks Bulgarian. For this reason, Katherine, who was German in the books, became Bulgarian in the series

Nina has competed internationally representing Canada in Aesthetic Group Gymnastics. In 2005, she joined both the Senior World Championships in Copenhagen, Denmark and the Junior World Championships in Plzen, Czech Republic.
Nina is named after her grandmother.
Her trademarks are her big brown eyes and long, dark hair.
She is close friends with her Vampire Diaries co-stars.

Her BFF is

Candice Accola

.

She dated her co-star Ian Somerhalder from mid-2010 to May 2013.
Nina was never a cheerleader, yet she has played a character who is or has been a cheerleader at least twice.

Mia Jones, Nina's character on Degrassi was a cheerleader who was later forced off of Degrassi's Spirit Squad by the team captain who resented her for being an unwed mother.
Elena Gilbert, Nina's character on The Vampire Diaries, was a cheerleader who quit the squad before the beginning of the series after the deaths of her adoptive parents, Grayson and Miranda Gilbert. This information was revealed to the audience in flashbacks. In the season 4 episode Bring It On, Elena asks Caroline for her old position on the squad back. This backfires miserably when Elena goes to a cheerleading competition, and feeds on an opposing squad member. Elena gets into a fight with Caroline about the ribbon, and is told she cannot compete but does so anyway, later stepping out of the bottom of the team's pyramid and causing Caroline to fall.

Is a fan of Twilight, and even auditioned for the role of Bella Swan, before landing the role of Elena Gilbert.

Is also a fan of True Blood and watches it.

The Vampire Diaries Directors wanted a blonde hair and blue eyed girl. But they liked Nina too much.
All her names have a "a" and  a "o" in them (Nikolina Konstantinova Dobreva)
She spends a lot of her time to yoga
Filmography
Awards
| Year | Award | Category | Work | Result |
| --- | --- | --- | --- | --- |
| 2010 | Teen Choice Awards | Choice TV Breakout Star Female | The Vampire Diaries | Won |
| 2010 | Teen Choice Awards | Choice TV Actress Fantasy/Sci-Fi | The Vampire Diaries | Won |
| 2010 | J-14 Teen Icon Awards | Iconic TV Actress | The Vampire Diaries | Nominated |
| 2011 | Teen Choice Awards | Choice TV Actress Fantasy/Sci-Fi | The Vampire Diaries | Won |
| 2011 | Teen Choice Awards | Choice Hottie Female | - | Nominated |
| 2011 | Teen Choice Awards | Choice Vampire | The Vampire Diaries | Nominated |
| 2012 | People's Choice Awards | Favorite TV Drama Actress | The Vampire Diaries | Won |
| 2012 | Teen Choice Awards | Choice TV Actress Fantasy/Sci-Fi | The Vampire Diaries | Won |
| 2012 | San Diego Film Critics Society Awards | Best Ensamble Performance | The Perks of Being a Wallflower | Won |
| 2013 | People's Choice Awards | Favorite Dramatic TV Actress | The Vampire Diaries | Nominated |
Gallery
External links
Reference