"
I know it's Thursday, but this is not a TBT. #BackOnSet #TVDForever
"
Nikolina Konstantinova Dobreva (Bulgarian: Николина Константинова Добрева, born January 9, 1989) is a Bulgarian-Canadian actress who plays Elena Gilbert, Katherine Pierce and Amara on The Vampire Diaries and Tatia on The Originals. She is perhaps best known for her role as Mia Jones in Degrassi: The Next Generation. Dobrev has also been featured in movies.
Biography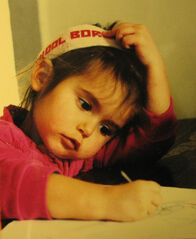 Nina Dobrev was born on January 9, 1989 in Sofia, Bulgaria as Nikolina Konstantinova Dobreva (Bulgarian: Николина Константинова Добрева). Her father Konstantin is a computer specialist and her mother Michaela is an artist. She has an older brother, Alexander. Her cousin, Jeny Nikolova, is a model in Canada. Nina moved to Canada at the age of two and has lived in Toronto, Ontario until 2009.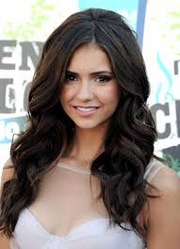 From a very young age she showed great enthusiasm and talent for the arts of dance, gymnastics, theater, music, visual arts, and acting. Modeling jobs led to commercials, which then turned into film auditions. Shortly after, she had roles in the feature films Fugitive Pieces and Away From Her as well as the popular television series Degrassi: The Next Generation on CTV.
Nina loves to travel and has often visited Europe both for pleasure, as well as competing internationally representing Canada in Aesthetic gymnastics. She enjoys playing volleyball, soccer, swimming, rock climbing, wake boarding, snowboarding, and horse back riding. But above all acting is her passion, and she sees it as an adventure that has just begun; she believes that the journey and the characters we create along the way will help us understand ourselves. 
Personal Life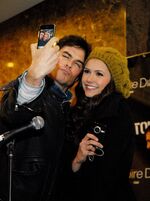 Nina dated her co-star Ian Somerhalder, who portrays Damon Salvatore, for three years. The two officially broke up in May of 2013. Despite their breakup, the two remain friends. A few months later, Nina became romantically linked to Dancing With The Stars dancer Derek Hough. The two have been spotted holding hands and sharing various romantic tweets towards each other. [2] Around October of 2013 it was reported that Nina and Derek had broken up. In a May 2014 InStyle Magazine interview, Nina says that she's a bit of a Tom Boy and loves to skinny dip. Nina also admits to carrying a bikini with her, no matter where she goes so that if the urge strikes to go for a swim.
Trivia
Nina plays three characters on The Vampire Diaries: Elena Gilbert, Katherine Pierce, Amara. She has also played Silas (In Graduation).
Nina played Tatia in Red Door, an episode of The Originals' season two.
 Nina has become well-known for her nuanced and layered performances of the doppelgängers on The Vampire Diaries; each distinct and recognizable:
Nina's nicknames are: Ninche, Ninjah, French Kote, Trouble, DoeDoe.
Nina was born on January 9, 1989 in Sofia, Bulgaria.
Nina is 3 years 5 months and 13 days older than the character Elena Gilbert that she plays in the series, as Elena was born on June 22, 1992.
Nina was born in Sofia, Bulgaria and immigrated to Canada when she was 2.
Nina said she got interested in acting at age 15. She started acting professionally at 17.
Nina has been working as an actress for the last 9 years since 2006 with her role of Mia Jones on Degrassi according to her interview in the SELF magazine June 2015 issue.
Nina has had her cat Lynx since she was 10, according to her to the June 2015 SELF Magazine Lynx is 18 years old.
Nina's favorite period in history is the 1920s.
Nina is a Capricorn.
Nina is right-handed.
Nina wears glasses.
Nina snorts when she laughs hard according to a interview with People's Choice blog at the premiere of her movie Let's Be Cops.
Nina considers herself a foodie.
She doesn't like to drink beer, as she hates the taste of it.
Nina doesn't date cops as she fears her date will arrest her for say for example jaywalking during the date. She also feels guilty even when she didn't do anything wrong when a cops around.
Nina has no feeling in her right thumb do to being bitten by a friends pet monkey in Bali during her 2014 vacation. She also has a scar on her right wrist from the incident.
Nina in the last year,2013-2014, vacationed for the first time by herself in her life. Which she said she was surprised to enjoying.
On her August 5, 2014 appearance on The Tonight with Jimmy Fallon (who is also her friend), Nina said that in the past year she started saying "yes" to most things that she normally would've talked herself out of doing.
She was mentioned in a song, "Coachella Girl", by the band, Gentleman's Vibe.
Nina doesn't like to take or post  selfies by herself.
Nina doesn't watch much TV.
Nina says she's a klutz/accident prone by saying anything that bad can happen to her has. 
Nina has a fear of spiders, saying she doesn't like anything that can crawl in your mouth while sleeping or anything with more than 4 legs. Except her cat Lynx.
Nina is fan of friend/co-star Kat Graham's music, especially her song "Power".
Nina is a certified scuba diver.
Nina knows how to surf, ride horses and ride motorcycles.
Her mother's name is Michaela (Bulgarian: Михаела), her father's is Nikolai (Bulgarian: Николай) and her brother's is Alexander (Bulgarian: Александър).
She's a major fan of the Harry Potter series by J.K. Rowling.
Nina attended Wexford Collegiate, an arts school in Toronto. In 2007, she began her post secondary studies at Ryerson University in Toronto, where she was majoring in Sociology. Nina also trained at the Dean Armstrong Acting Studio in Toronto, Ontario.
Nina is tri-lingual. She is fluent in Bulgarian, French, and English.

For her role as Bella in the World War II drama Fugitive Pieces, Nina had to learn Yiddish phonetically.
Katherine Pierce, was born in Bulgaria and Nina speaks Bulgarian. For this reason, Katherine, who was German in the books, became Bulgarian in the series.

Nina has competed internationally representing Canada in Aesthetic Group Gymnastics. In 2005, she joined both the Senior World Championships in Copenhagen, Denmark and the Junior World Championships in Plzen, Czech Republic.
Nina is named after her grandmother.
Her trademarks are her big brown eyes and long, dark hair.
She is close friends with her Vampire Diaries co-stars.
She dated her co-star Ian Somerhalder from mid-2010 to May 2013.
Nina has never been a teenage mother, yet she has played a character who is or has been a teen mother twice. Mia Jones her character on Degrassi was a teenage mother. Katerina Petrova (Katherine Pierce), her character in the series was a teenage mother who at 17 gave birth to a daughter Nadia in 1490 who was taken away from her by her father after she gave birth and given away so as not to bring any further shame on the family.
Nina was never a cheerleader, yet she has played a character who is or has been a cheerleader at least twice.

Mia Jones, Nina's character on Degrassi was a cheerleader who was later forced off of Degrassi's Spirit Squad by the team captain who resented her for being an unwed mother.
Elena Gilbert, Nina's character on The Vampire Diaries, was a cheerleader who quit the squad before the beginning of the series as revealed in flashbacks. In the Season Four episode Bring It On, Elena briefly becomes a cheerleader again but eventually quits for the second time.

Nina's favorite character on The Vampire Diaries is Katherine Pierce.
Nina's favorite episode of The Vampire Diaries is Lost Girls. [3]
Is a fan of Twilight, and even auditioned for the role of Bella Swan, before landing the role of Elena Gilbert.
In a July 21, 2014 live online StageIt chat with fans, Nina admitted to becoming a recent fan of the cancelled NBC series Friday Night Lights and was almost finished with season 1. In the same event Nina says she doesn't like to watch herself on TV or hear her own voice in voice mails.
The Vampire Diaries producers wanted a blonde hair and blue eyed girl. But they liked Nina too much.
All of her names have an "a" and an "o" in them (Nikolina Konstantinova Dobreva).
She spends a lot of her time doing yoga.
Nina's favorite films are Knocked Up, Juno, The Notebook, and Schindler's List.
Her favorite TV shows are Gossip Girl, Grey's Anatomy, and House.
During her appearances in Total Eclipse of the Heart and No Exit, Nina portrayed only the role of Katherine Pierce, her secondary main role, marking the first and second episodes in which she does not portray Elena Gilbert, her primary main role.
On Monday 6th April, 2015, Nina announced her departure from the show via instagram and that season six would be her last. [4]

Though it's possible she could return as a guest star in season seven.
She wrapped her last scene on the series (hopefully to date) on Wednesday April 15, 2015.

The Vampire Diaries is the longest that she has played a single character on TV as Elena Gilbert with a total of 133 episodes from Pilot to I'm Thinking Of You All The While.

Before this was as Mia Jones for 52 episodes on Degrassi: The Next Generation was the longest that she ever played the same character on TV.

After 6 years of living in Atlanta, Georgia, USA and even calling it her home Nina posted a photo of herself via her WhoSay account on Monday May 4, 2015 showing that she has been packing up her apartment to move her things and live in her new house in Los Angeles full time.

In another WhoSay post that same day, she would be traveling cross country road trip after packing up her things. Implying she plans to both keep her car & drive it across the US to her new home in the Los Angeles area.

Nina had been dating actor Austin Stowell from July 2015 to February 2016.
She loves to play Ping Pong.
Following her departure after Season Six, Nina said she'll be watching the seventh season of The Vampire Diaries.
Nina is close friends with Paula Brancati from Degrassi.x
According to her Instagram, she is back on the TVD set and is returning in 8x16.[5]
Nina Dobrev's final goodbye to The Vampire Diaries:[6]

Click "Show" to read

Dearest TVD family, It feels like it was just yesterday that I was saying goodbye. And yet two years have passed and here we are again. This is my true final goodbye, as today I shot my last scene of the Vampire Diaries forever. Coming back for the series finale has been a whirlwind of emotion, nostalgia, love, tears of joy and bittersweet endings. It feels like the beautiful closure we all needed, myself included, and I couldn't have been happier to come home to be with my TVD set family and friends. I feel the fans family will also be happy with the show's conclusion when they tune in to watch the last episode air in a few short weeks. From the bottom of my heart, I send you my biggest thanks for the countless years of implicit dedication, passion, support, and undying love from all the fans that have stuck with us on this truly amazing and beautiful journey. As this last chapter ends, we welcome and look forward to going on to the next adventure and hope that you continue to follow us as our new journeys begin. I grew up on this show and am eternally grateful for all the opportunities it has given me, and so thankful for each and every person who worked on The Vampire Diaries over the last 8 years. We are all pieces of a big puzzle and without every truly amazing cast and crew member, this magical puzzle would not be complete. Thank you for all your hard work, friendship and love. You have touched my heart in ways you will never know. Sending looch smooches, Love, Katherine, Amara, Tatia, and of course, Elena Gilbert. #TVDforever #FangsForTheMemories ❤
Filmography
| Year | Movie/TV | Role |
| --- | --- | --- |
| 2006 | Repo! The Genetic Opera | |
| | Playing House | |
| | Away from Her | |
| 2007 | How She Move | |
| 2007 | The Poet | Rachel |
| 2007 | Too Young to Marry | Jessica Carpenter |
| | Fugitive Pieces | |
| | My Daughter's Secret | Justine |
| 2008 | Never Cry Werewolf | Loren |
| 2008 | The American Mall | Ally |
| 2009 | The Border | Maia |
| 2009 | The Eleventh Hour | Grace Dahl |
| 2009 | Degrassi Goes Hollywood | Mia Jones |
| | Degrassi: The Next Generation | Mia Jones |
| | The Vampire Diaries | Elena Gilbert / Katherine Pierce / Amara |
| 2009 | Chloe | Anna |
| 2011 | The Roommate | Maria |
| 2011 | Arena | Lori |
| 2012 | The Perks of Being a Wallflower | Candace |
| 2014 | Let's Be Cops | Josie |
| 2014 | The Originals | Tatia |
| 2015 | The Final Girls | Vicki  |
| 2016 | Crash Pad | Hannah |
| 2017 | xXx: The Return of Xander Cage | Rebecca "Becky" Clearidge |
| 2017 | Flatliners | Marlo |
Awards
Year
Award
Category
Nominated
Result
2010
J-14 Teen Icon Awards
Iconic TV Actress
The Vampire Diaries
Nominated
Teen Choice Awards
Choice TV Breakout Star Female
The Vampire Diaries
Won
Choice TV Actress Fantasy/Sci-Fi
The Vampire Diaries
Won
Young Hollywood Awards
Making Their Mark
The Vampire Diaries
Won
Cast to Watch (with Ian Somerhalder and Paul Wesley)
The Vampire Diaries
Won
2011
Teen Choice Awards
Choice TV Actress Fantasy/Sci-Fi
The Vampire Diaries
Won
Choice Hottie Female
Nominated
Choice Vampire
The Vampire Diaries
Nominated
2012
J-14 Icon Awards
Iconic TV Actress
The Vampire Diaries
Nominated
People's Choice Awards
Favorite TV Drama Actress
The Vampire Diaries
Won
San Diego Film Critics Society Awards
Best Ensemble Performance
The Perks of Being a Wallflower
Won
Teen Choice Awards
Choice TV Actress Fantasy/Sci-Fi
The Vampire Diaries
Won
2013
J-14 Icon Awards
Iconic TV Actress
The Vampire Diaries
Nominated
People's Choice Awards
Favorite TV Drama Actress
The Vampire Diaries
Nominated
Teen Choice Awards
Choice TV Actress: Fantasy/Sci-Fi
The Vampire Diaries
Won
2014
J-14 Icon Awards
Iconic TV Actress
The Vampire Diaries
Nominated
mtvU Fandom Awards
Ship of the Year (with Ian Somerhalder)
The Vampire Diaries
Won
People's Choice Awards
Favorite Fantasy/Sci-Fi TV Actress
The Vampire Diaries
Nominated
Favorite On Screen Chemistry (with Ian Somerhalder)
The Vampire Diaries
Won
Teen Choice Awards
Choice TV Actress: Sci-Fi/Fantasy
The Vampire Diaries
Won
Young Hollywood Awards
Fan Favorite Actor – Female
The Vampire Diaries
Nominated
Best Threesome (Along with Ian Somerhalder and Paul Wesley)
The Vampire Diaries
Won
2015
People's Choice Awards
Favorite Sci-Fi/Fantasy TV Actress
The Vampire Diaries
Nominated
Favorite TV Duo (with Ian Somerhalder)
The Vampire Diaries
Won
Teen Choice Awards
Choice TV Actress: Sci-Fi/Fantasy
The Vampire Diaries
Won
Choice TV: Liplock (with Ian Somerhalder)
The Vampire Diaries
Won
Gallery