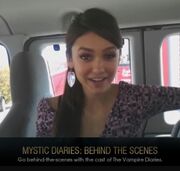 Mystic Diaries was a feature on the CW website. It's a collection of all behind-the-scenes videos, similar to Inside The Vampire Diaries.
Part one features Sara Canning. We met Candice's dad, Kevin Accola. It was released on February 19, 2011.
Part 2 & Part 3
Edit
They were both released on February 25, 2011. Part two featured Candice Accola and part three featured Kat Graham.
Website (no longer active)