Merchandise created for The Vampire Diaries (TV series) and novels.
Official Merchandise
Edit
Miscellaneous
Edit
Main article: The Vampire Diaries: Trading Cards
The Vampire Diaries Season One Trading cards & Binder are available in five card packs for $3.50 and a full 24-pack display for $84.00. "The Vampire Diaries" Season One Trading Card Binder will be available for $30.00 and will contain an exclusive wardrobe card from Elena Gilbert. Both products can be purchased at your local retail hobby store or ordered online at Cryptozoic Entertainment's e-store.
Main article: The Vampire Diaries (1996 game)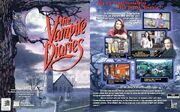 The Vampire Diaries Game was developed by Her Interactive. It was released in 1996 by American Laser Games, Inc. for windows.
The video game is Based on Young Adult Fiction author L. J. Smith's books 'The Vampire Diaries', this game is a mystery adventure about a town infested with vampires and children falling victim to a mysterious illness. Some children are even missing!
Main article: Blood Brothers Official Tee
Ian Somerhalder & Paul Wesley's Official Tee. Designed by fan Kathryn Kij, the shirt — which comes in crew-neck and baseball styles — is significant for TVD trivia buffs with the words "Blood Brothers since 1864" written under a handsome, black-and-white shot of the two actors' faces.
External links
Edit