Ad blocker interference detected!
Wikia is a free-to-use site that makes money from advertising. We have a modified experience for viewers using ad blockers

Wikia is not accessible if you've made further modifications. Remove the custom ad blocker rule(s) and the page will load as expected.

Melinda Clarke is an American actress who portrayed Kelly Donovan on The Vampire Diaries. She is best known for her appearances on the TV series The O.C. and Days of Our Lives. Melinda has a role in the CW TV series called Nikita that played after The Vampire Diaries.
Biography
Edit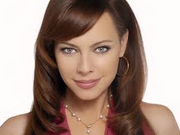 Melinda Clarke was born on April 24, 1969 in Dana Point, California. She was raised by her ballet dancer mother Patricia and actor father John. She has a brother named Joshua and a sister named Heidi (who died in 1994 of a malignant heart tumor). Melinda graduated from Dana Hills High School in Dana Point, California with the Class of 1987. Was in the Drama Club and took part in school productions. At the age of 18 she moved to L.A. and launched her career in acting and modeling. She now has a daughter named Catherine Grace, who was born in early 2000.
Filmography
Edit
Nikita 2 .... Amanda 
Mate (2010) (pre-production) .... Dr. Mia Middleton
Nikita .... Amanda (Principal Cast)
The Vampire Diaries .... Kelly Donovan (4 episodes, 2010)
Ghost Whisperer .... Donna (1 episode, 2010)
Entourage .... Melinda (2 episodes, 2006-2009)
Eli Stone .... Dr. Lee (3 episodes, 2008-2009)
CSI: Crime Scene Investigation .... Lady Heather (6 episodes, 2001-2011)
Chuck .... Sasha Banacheck (1 episode, 2008)
King of the Hill .... Charlene (1 episode, 2008)
Reaper .... Mimi (1 episode, 2007)
She Drives Me Crazy (2007) (TV) .... Blithe Meacham
The O.C. .... Julie Cooper ... (88 episodes, 2003-2007)
The Man (2007) (TV) .... Brooke McCluskey
Avatar: The Last Airbender .... Additional Voices / ... (1 episode, 2006)
Mission: Impossible - Operation Surma (2003) (VG) (voice) .... Sofia Ivanescu
Firefly .... Nandi (1 episode, 2003)
Matriculated (2003) (voice) .... Alexa
The Animatrix (2003) (voice) .... Alexa (segment "Matriculated")
The District .... Detective Olivia Cahill (5 episodes, 2002-2003)
Tremors .... Dr. Megan Flynn (1 episode, 2003)
Everwood .... Sally Keyes (1 episode, 2002)
Charmed .... The Siren (1 episode, 2002)
First Monday (1 episode, 2002)
Cold Sweat (2002) .... Starring
.com for Murder (2002) .... Michelle Williams
Dynamite (2002) .... Beta
Star Trek: Enterprise .... Sarin (1 episode, 2001)
Nash Bridges .... Inspector Abby Gordon / ... (2 episodes, 1997-2000)
The Pretender .... Miss Eve (1 episode, 2000)
Soldier of Fortune, Inc. .... Margo Vincent (10 episodes, 1997-1999)
Spawn (1997) .... Jessica Priest
Sliders .... Allasandra (1 episode, 1997)
Seinfeld .... Alex (1 episode, 1997)
Xena: Warrior Princess .... Velasca (2 episodes, 1997)
Soldier of Fortune (1997) (TV) .... Margo Vincent
Critics and Other Freaks (1997) .... Mrs. M
La lengua asesina (1996) .... Candy
Strange Luck .... Lola Vale (1 episode, 1996)
Mulholland Falls (1996) .... Cigarette Girl
Return to Two Moon Junction (1995) .... Savannah Delongpre
Heaven Help Us .... Lexy Monroe (10 episodes, 1994)
The George Carlin Show .... Christy (1 episode, 1994)
Return of the Living Dead III (1993) (as Mindy Clarke) .... Julie Walker
Young Goodman Brown (1993) .... Faith Brown
Out for Blood (1992) .... Laura
Jake and the Fatman (1 episode, 1991)
Hot Under the Collar (1991) (as Mindy Clarke) .... Monica
Days of Our Lives .... Faith Taylor (17 episodes, 1989-1990)
External Links
Edit