Matthew Davis (born May 8, 1978), credited as Matt Davis, is an American actor who portrays Alaric Saltzman on The Vampire Diaries. He's best known for his roles on TV show What About Brian and movies Blue Crush and Legally Blonde. He has also done a lot other movies.
Biography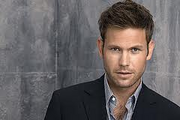 Davis was born on May 8, 1978 in Salt Lake City, Utah. He attended Woods Cross High School in Woods Cross, Utah where he was raised. Matt first became interested in acting while attending the University of Utah. Post-college, Davis moved to New York to further his studies at the American Academy of Dramatic Arts. His first starring role came in 2000, when he was only 22, with Colin Farrell in Tigerland.
In March 2008, Matt began dating actress Leelee Sobieski. In September of the same year, they got married, but filed for divorce just two months later - The divorce was finalised in February 2009. In August 2012, Matt began dating Afghan-American actress, Azita Ghanizada.
Year
Title
Role
2017
The Originals
Alaric Saltzman
2009-2017
The Vampire Diaries
2013-2014
CSI: Crime Scene Investigation
Sean Yeager
2013
Cult
Jeff Sefton
2010
When Vampires Don't Suck
2009-2010
Damages
Josh Reston
2010
Waiting for Forever
Aaron
2009
S. Darko
Pastor John
2009
In Plain Sight
Lewis Fowler / Lewis Ford
2009
Finding Bliss
Jeff Drake
2009
Limelight
David
2008
Law & Order: Special Victims Unit
P.J. Bartlett
2007
Aaah! Zombies!!
Mike
2006-2007
What About Brian
Adam Hillman
2006
Bottoms Up
Johnny Cocktail
2006
Mentor
Carter
2005
BloodRayne
Sebastian
2005
Into the Sun
FBI Agent Sean Mack
2005
Heights
Mark
2004
Shadow of Fear
Harrison French
2004
Seeing Other People
Donald
2003
Something Better
Skip
2002
Below
Odell
2002
Blue Crush
Matt Tollman
2002
Lone Star State of Mind
Jimbo
2001
Legally Blonde
Warner
2001
Pearl Harbor
Joe
2000
Urban Legends: Final Cut
Travis Stark / Trevor Stark
2000
Tigerland
Pvt. Jim Paxton
Appearances
| | |
| --- | --- |
| The Vampire Diaries | The Originals |
Trivia
He likes the colors red and blue.
Matt's Twitter alter-ego is Ernesto Riley.
He first went for the role of Logan but he got the role of Alaric who killed Logan (his first vampire kill).
He, Zach Roerig, Michael Trevino, Nina Dobrev and Paul Wesley are the only cast members that played 3 different characters (Matt played Alaric, Klaus and Silas).
Gallery
References
External links
Ad blocker interference detected!
Wikia is a free-to-use site that makes money from advertising. We have a modified experience for viewers using ad blockers

Wikia is not accessible if you've made further modifications. Remove the custom ad blocker rule(s) and the page will load as expected.