Lorenzo
Biographical information
Born
Turned
Status
Occupation
Species
Gender
Family information
Family Members
Supernatural information
Significant sires
Significant kills
Cause of death
Killed by
Appearance
Played by
First seen
Last seen
.
Lorenzo, more commonly known as Enzo, is a major recurring character that appears in Season Five. He is a vampire under the imprisonment of the Augustine society. He was Damon Salvatore's cellmate back in the 1950's when the latter was captured by the Augustines. He is the one responsible for killing Megan King. He was first mentioned by Wes Maxfield.
Early Life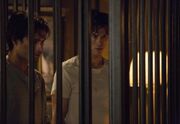 Enzo was found by the Whitmore family after he left his post in Eastern Europe during WWII. He was imprisoned by
Dr. Whitmore
and forced to endure his torture for ten years. Damon was imprisoned due to Joseph Salvatore selling him out, and Enzo reached out a hand of friendship with the young vampire. They would talk about many things to keep their hope of escape up. Enzo planned to have Damon take his ration of blood for a year so that he would be stronger and assist in the escape. During the annual New Year's Eve Party at Whitmore, Damon broke free of his chains and attacked everyone but, in the process, caused a fire. Enzo was still stuck in a cage laced with vervain and Damon attempted to free his friend to no avail. Realizing that he could not free his friend and fearful that
Augustine
would take him back, Damon turned off his emotions and abandoned him. Enzo continuously screamed for his friend to free him and presumably died.
In I Know What You Did Last Summer, Enzo chases Megan King through the Whitmore house, attacks her and throws her out of a second story window. Due to the circumstances of her death, it is labeled as a suicide to cover up the vampire's attack.
In Handle with Care, Dr. Wes Maxfield, under compulsion, reveals to Caroline that the Augustine society has a vampire and that the murder of Megan was covered up because it involved Enzo.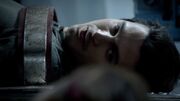 In The Cell, Enzo is revealed to be alive and makes his first present day appearance. Elena wakes up, strapped to a table in a lab as she hears some humming from nearby. She turns her head and Enzo "welcomes" her, introducing himself. She looks to him, shocked after hearing Damon's story of his death as he continues to quietly sing a song.  
In Fifty Shades of Grayson, Enzo reveals that he survived due to one of the scientists helping him but only to further torment him. It ultimately clarifies that when Megan King went into the Whitmore House, she had apparently found Enzo only for the starved vampire to chase, feed and ultimately throw her out of the building. Wes Maxfield uses him to distract Damon and Stefan, and grants him leverage over him by injecting a poison that will cause Enzo to dessicate. Enzo appears before Damon, Stefan and Aaron. When telling his "tragic tale" to Stefan and Aaron, he gets ultimately annoyed by Damon's interruptions. Enzo angrily attacks Damon, taunting him on how easy it was to abandon him and "live a merry life." As he begins to fight Damon, his body begins to give into the poison but Damon ultimately saved him by injecting a random amount of syringes labeled "antidote" in Wes' lab. Damon reveals to Enzo what he did and why but Enzo rebuffs his pleas of forgiveness, instead refers to him as a monster that cannot redeem himself.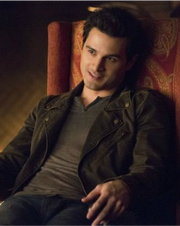 In The Devil Inside, when Aaron goes into his room, Enzo is there. At the Salvatore Mansion, Damon gets home to see Enzo there. Damon returns home to find Enzo lounging on the Salvatore couch and drinking up his best bourbon. Damon groans and notices a body bag on the floor and some leftover blood smeared on Enzo's face. "You missed a spot," he says, before asking what's in the bag. Enzo did some research and discovered that Damon did indeed kill off all the Whitmores (except for one in each generation so that they could keep reproducing) like he promised back then. Enzo apologies and offers Damon, Aaron. Enzo thinks they can stay friends and wants them to have a fresh start. Damon refuses to kill Aaron and Enzo gets his neck snapped by Damon.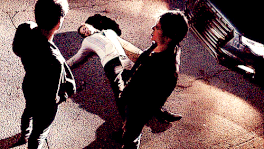 The episode ends with Aaron driving alone at night and stopping for a stranger in the middle of the road. That stranger turns out to be Enzo and he says they've been waiting for him. Aaron spins around and finds Damon leaning against his car. Aaron points out that Elena won't like it if Damon kills him but Damon doesn't care because they broke up. "Elena was too good for you," Aaron spits out in anger, after Damon goes into detail about how he relished the sound the Whitmores made as Damon tore them to shreds. Aaron reminds Damon he killed his whole family and Damon says they deserved it. He bares his teeth and attacks Aaron killing him. Enzo says – "That's the Damon Salvatore I remember". Then they both look down at Aaron's body.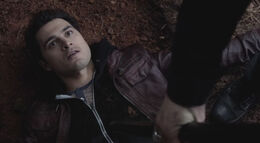 In Total Eclipse of the Heart, Enzo and Damon are trying to find Wes and kill him. Stefan asks him to leave his brother alone, because he is worried that Enzo is bad influence for Damon. They captured one of the Augustine workers, Diane, and compelled her to tell them everything she knows about Maxfield's whereabouts. When she tells them she doesn't know, Enzo kills her. When Damon kidnaps Jeremy, Enzo stays with him while Damon is forcing Bonnie into helping them. When it is taking too long, Enzo calls Damon and then begins "motivating" them by hurting him as long as Jeremy is almost dead. When Stefan and Katherine save Jeremy, Enzo leaves with Damon to kill Wes but they walk straight into the trap.
They are ambushed by Travellers and when the attack is over Damon and Enzo then hear a noise, which they go to inspect an when Enzo goes and checks one room, Damon checks the other where he finds Joey. Damon then frees the young vampire, Damon then feels his body elevate at the smell and sight of Joey's blood which causes Damon to savagely feed on Joey to the point where he rips his head clean off. Damon then turns to a shocked Enzo, realizing that Damon now feeds on vampires, they both know this is going to be a major problem for their plan for revenge.
In No Exit,
Enzo returns in While You Were Sleeping.
Enzo will appear in Rescue Me.
Personality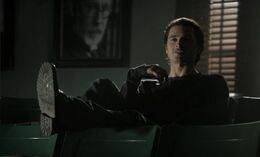 Enzo is a charismatic person who had lived quite a fulfilling life prior to his imprisonment by Augustine. Despite his imprisonment, he remained optimistic and hopeful to one day escape and possibly take revenge on Augustine for their torture on him. After it is revealed that he was still alive and imprisoned, Enzo may be losing his mind as a result of the five decades of torture, as he slowly hums a song just after he introduces himself to Elena. He also showed anger towards Damon for being unable to save him.
Attitude towards humans
Enzo seems to have little respect for human life, is fed directly from them and did not show any remorse when attacking or killing people.
Physical Appearance
Enzo is very handsome, very high, he has a beautiful face and toned physique. He has hair straight, short, almost black. White skin but a slightly tanned, strong bone structure with high cheeks bones and a solid jaw line, dark eyes, also has straight teeth with a mischievous smile. His physical appearance is that of around a 22-25 year old despite having more or almost a century.
His style is more with darker clothing; black shirts, scarves and thick jackets, boots underneath darkened jeans and black trousers, although on occasion has been seen wearing lighter colors in general is a "bad boy" style.
Relationships
Main article: Damon and Enzo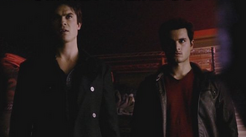 Enzo met Damon in 1953, they were both captured and tortured by the Augustine society for scientific purposes. Having been in captivity ten years longer, Enzo taught Damon how to "live for the future", when they're free instead of the moment, individually planning their revenge. Enzo seemed to care for Damon, one day allowing himself to be tortured in Damon's place. On the night of their planned escape, Damon accidentally started a fire and was unable to free Enzo, and turned off his humanity to escape the pain of his "death" before abandoning him. Damon and Enzo are currently best friends.
Appearances
Season Five
Name Meaning
Lorenzo is a Spanish and Italian masculine given name of Latin origin derived from the name Laurentius. It is used in Spain, Italy, and other Latin European and Latin American countries. Enzo is of Italian and Old German origin, and the meaning is "home ruler". Variant of Henry.
Trivia
He will have a major recurring role throughout Season 5.
He is experiment number 12144 in the Augustine Society.
Enzo and Damon were best friends.
Damon left him to die in the fire at Whitmore when he turned off his emotions because he couldn't free him from his cage.
He was a Soldier in WWII which lasted from 1939 to 1945 which puts him the army around the same time as Damon Salvatore whom we see in his uniform in flashbacks in We'll Always Have Bourbon Street and TO's Thierry who was also a soldier in the 1940's.
Enzo met Stefan and Aaron in Fifty Shades of Grayson.
His only friend appears to be Damon.
He might have a scene with Caroline Forbes in a future episode this Season. [1]
Enzo has built up a resistance to the vampire weakness of wood due to the experiments he endured, this is proven when he jabs the wooden end of a shovel into his own body.
Enzo met Jeremy and Bonnie in Total Eclipse of the Heart.
Damon and Enzo's friendship will be tested in the episode No Exit, where Damon will have to resist to feed on Enzo as Damon in now an Augustine Vampire and they're trapped in a house by The Travellers and Wes.
Quotes
Season Five
Enzo:(Damon) " Welcome. Dr. Whitmore never gets tired of watching us vampire heal, but he gives us one glass of blood per day, just enough to keep us alive. Pick yourself up, soldier... My name's Enzo. "

Enzo:(Damon) " You're doing it wrong. You're living for the moment. You need to live for the future. "

Enzo:(Damon) " The one where you get your revenge. For instance, in my future, my revenge will start with killing Whitmore's dog and mailing it to his house postage due. Go on. Picture your revenge. Use your imagination. "

Enzo:(Damon) " Neither am I. Any other interests... fine wines, travels, cars?... I'm partial to Jaguars myself, convertibles, the kind you take on a Sunday drive to impress a pretty girl. Ever done that? "

Enzo:(Damon) " Eh, too many to count... Actually, there was one. Her name was Maggie. "

Enzo:(Damon) " She was kind to me. She used to sit here in the hallway taking notes while she observed me. "

Enzo:(Damon) " You have to understand she... she wasn't part of the torture and the experiments. For the longest while, she didn't realize that Dr. Whitmore was doing more than just observing my behavior. I didn't have the heart to tell her. I was just so glad of her company, you know? "

Enzo:(Damon) " When she finally realized what was going on here, she couldn't bear it. So she said she was sorry, and she left. "

Enzo:(Damon) " You need a more positive outlook, mate. "

Enzo:(Dr. Whitmore) " I take that as an insult! I have far more energy than my neighbor here. "

Enzo:(Damon) " I'm sure I can only try with your help. We've just got to choose between us. "

Enzo:(Damon) " All right, Damon. We're gonna play scissor, paper, stone to decide. "

Enzo:(Damon) " All right then. A win's a win. You'll lead the way. Here's my ration. Now we've got 364 days to get you ready for the party. Cheers. "

Enzo:(Damon) " Damon! We got to get out of here! Damon, now! "

Enzo:(Damon) " Please don't leave me! Damon! Come on! Damon! Damon! Please! "

Enzo:(Elena) " Welcome. I'm 12144. My name's Enzo. "

- The Cell

---

Enzo:(Stefan) " Lorenzo, but my friends call me Enzo. Ah. Kidding. I don't have any friends. "

Enzo:(Damon) " That's your first question for me? Not "How are you? How'd you survive in that fire I left you to die in? "

Enzo:(Aaron) " I'd love to. Have a seat. Been waiting 70 years to tell my story. "

Enzo:(Aaron and Stefan) " Damon and I had been locked in those cells for years, tortured, beaten, humiliated, but we weren't gonna let them break us, no. We decided if were going to escape, we needed to work together... We needed each other. "

Enzo:(Stefan) " Tragic. Can I continue my story now, please? "

Enzo:(Stefan and Aaron) " Where were we? Uh, ah, right. I was telling my story, and you were all politely listening. Huh?... So I'd given Damon all of my blood ration so he'd have the strength to escape and save me in the process. Our plan began perfectly, didn't it? "

Enzo:(Stefan, Damon and Aaron) " I was waiting in the cage for him to release me, waiting for my friend, my cellmate, the only soul with whom I'd connected with in all those years of captivity. "

Enzo:(Stefan, Damon and Aaron) " Then a fire starts, burns out of control, but Damon just can't get the damn cage open. "

Enzo:(Stefan, Damon and Aaron) " He looks me in the eye as if he doesn't even recognize me, turns around, saves himself, leaving me to die. "

Enzo:(Stefan) " No. Unfortunately I lived. I was spared by one of the scientists so I could spend another 50 years on a table being opened and closed. Now that we've all been acquainted, I'm gonna find something to wet my whistle. "

Enzo:(Stefan, Damon and Aaron) " Ah. It's frightening what you can find on campus these days. "

Enzo:(Stefan) " Damon's not. Damon's staying right here. He knows all my secrets, so he knows how ornery I can get when I don't get my way. "

Enzo:(Damon) " What about cricket? That ever become a thing here? "

Enzo:(Damon) " Oh, shame. Fun sport. Not that I can play. Took up drawing for a while. Of course I had no pencil, so I'd just prick my finger and paint the cell wall with my blood. "

Enzo:(Damon) " Wes injected me with poison that will stop my heart. I'll desiccate if I don't return for the antidote. "

Enzo:(Damon) " Did you even think about it after you left, the experiments, the cell, or did you just go out and live your merry life to its fullest? "

Enzo:(Damon) " You're not gonna see your girl again, Damon, because I want the antidote, and Wes told me not to come back until you were dead. "

Enzo:(Damon) " I imagine you just broke your clavicle. Probably a few lumbar and thoracic vertebrae. It's funny what you learn about your body when it's taken apart like a bloody automobile right before your eyes! "

Enzo:(Damon) " What are you gonna do then, run? You're good at that. "

Enzo:(Damon) " While you were out running wild, I had one single thought, that I'd have the pleasure of killing you "

Enzo:(Damon) " Or what?! You never see her again? It might be good for you to know what it's like to miss someone for the next 60 years. "

Enzo:(Damon) " If this is some attempt to make amends, it's a bit pathetic, mate. "

Enzo:(Damon) " And now what do you feel, remorse, regret, pain? Even if I forgave you, Damon, would that make you less of a horrible person? "

Enzo:(Damon) " You were the most important person in my life, and you ruined me, but that's just who you are, that's who you'll always be... A monster. "

---

Enzo:(Damon) " Hello, Damon. We've got a bit of business to attend to. "

Enzo:(Damon) " God. I love a good fire... Oh. That's so wrong, isn't it? Since you left me to burn alive in one. "

Enzo:(Damon) " More like who. Uh. Since you and I last spoke, I've done a bit of soul searching... had a trip to the barber... did a little research, which revealed to me that you killed almost every member of the Whitmore family in the years since you escaped, leaving just one alive each time to carry on the family name -- producing a whole new generation of victims for you to slaughter... exactly as you said you'd do back when you and I were cellmates. "

Enzo:(Damon) " And it's occured to me that perhaps I wrote you off too quickly. That, in fact, the Damon Salvatore I remember is alive and well. I have a present for him. "

Enzo:(Damon) " He's the last of the Whitmore clan. Do you remember this vervain wrist watch? Dr. Whitmore never took it off even when he was rooting around in our chest cavities. How fitting that Aaron should die while wearing it too. So.. do you want to kill him, or shall I? "

Enzo:(Damon) " As much as I've enjoyed your quality bourbon, I feel confident our next drink will taste better with young Aaron's dying screams ringing in our ears. And your final act of revenge will bring us both closure and a new beginning. "

Enzo:(Damon) " His grandfather split our eyes open with a scalpel. You've taken it out on everyone else in the Whitmore family. I thought you'd want this. "

Enzo:(Damon) " No because that would force me to believe that you've gone soft, when you and I both know that your first impulse when I presented him to you was to rip out his throat. Show me my old friend is still in there someplace. "

Enzo:(Damon) " It's time to come to a decison, Damon. Do you want to kill him, or shall I? "

Enzo:(Aaron) " Never better. We've been waiting for you. "

Enzo:(Aaron) " Damon's teaching me a little game. See, he assured me you'd be on this road, heading out of town. "

Enzo:(Damon) " Now that's the Damon Salvatore I remember. "

---

Enzo:(Stefan) " It was my idea if it makes you feel any better. "

Enzo:(Stefan) " Say, you haven't heard from Dr. Wes Maxfield by any chance? Bloke's next on the Augustine hit list, and he's a slippery little devil. "

Enzo:(Stefan) " What do you say? Shall we get you a new hobby? Golf..., scrapbooking? "

Enzo:(Damon) " So, once we've finished off this Augustine mess, what do you say we do a road trip? I was thinking South America, Cape Horn. Sailed pas but never stopped over. "

Enzo:(Dianne Freeman) " Oh, that's ironic, isn't it? You know, since we broke in and kidnapped you from your office. "

Enzo:(Dianne Freeman) " mother. Ah. Interesting. Well, then you can imagine how heartbreaking it would be to learn that your child committed suicide, especially when said child was actually murdered by a vampire, a murder covered up by you. "

Enzo:(Damon) " Looks like the vervain is officially out of her system. "

Enzo:(Damon) " Well, technically. Now she's a dead end. "

Enzo:(Stefan) " Be a mate. Grab a shovel. "

Enzo:(Stefan) " I'm sensing a metaphor. "

Enzo:(Stefan) " He mentioned you were a bit of a do-gooder. "

Enzo:(Stefan) " Ah, but it's so much more fun when you can just commit to the leap. You're welcome to join in on the fun. Looks like you could use it... Good man. "

Enzo:(Stefan) " You think that hurts? I'm curious, Stefan. What do you think you can possibly do to me that hasn't been done a hundred times before? Go on. Give it your best shot. "

Enzo:(Damon) " What have I missed? She denied your request yet? Can we get on to the fun bit? "

Enzo:(Bonnie) " I'm the one who gets people to do things they don't want to do. "

Enzo:(Damon) " Let them know that Jeremy will be dead very soon. "

Enzo:(Jeremy) " Damon tells me your sweetheart hasn't come through on your behalf. "

Enzo:(Jeremy) " You know, you're right. She'll think I'm just some cliche murderer. I really like to make a good impression, you know? "

Enzo:(Jeremy) " You see, that's the thing about threats. If there's no follow-through, no one takes you seriously. "

Enzo:(Jeremy) " Sorry to make this about me. "

Enzo:(Stefan) " Did I give you the impression that I was taking orders from you? My bad. "

Enzo:(Damon) " You missed all the fun. "

Enzo:(Damon) " Brilliant. I'll drive. "

Enzo:(Damon) " So, what do you say? Paper, scissors, stone for who gets to give Dr. Frankenstein his fatal blow? "

Enzo:(Damon) " Now don't tell me you're having second thoughts about leaving home. "

Enzo:(Damon) " Okay. I can see how this might be a problem.. "

---
Gallery
References
See also