"
After I plunge this into your heart, you will be immobilized, imprisoned in a state of raw, inescapable anguish. Time loses all meaning. It's not unlike a living hell, which I find rather fitting, given your treachery.
"

Long Way Back From Hell is the fourteenth episode of the first season of The Originals and the fourteenth episode of the series overall.
Summary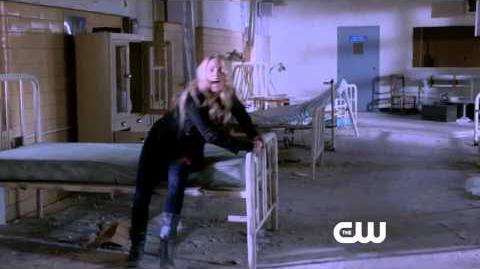 REBEKAH'S PAST CATCHES UP WITH HER — When Rebekah finds herself locked up in the sanatorium where she worked in 1919, she realizes a witch named Genevieve is back to seek revenge and to reveal dark secrets that would destroy Rebekah if she is exposed to them. A distraught Elijah turns to Marcel and Hayley for help when one of his decisions puts Klaus and Rebekah's lives in danger. With time working against them, Marcel realizes he may hold valuable information that could lead them to Klaus and Rebekah, but revealing it will almost certainly result in deadly consequences.
Plot
SPOILERS AHEAD
Guilty and angry Mikaelsons have become the status quo at this point and, while Elijah took care of the former, Klaus definitely fits into the latter category now that Rebekah's deepest, darkest secret has been unveiled.

Yet the news that she and Marcel had conspired to bring Michael to New Orleans back in the day didn't have the impact that I'm sure the writers had hoped, and the big problem with this episode were the reactions of the characters to this newest betrayal. Sure, Klaus didn't like his dad much and would have been peeved to learn that his sister had intentionally brought his to town in the hopes of getting rid of him, but we know that its pretty standard for this family to commit such treachery on a weekly basis. We also met Michael back on The Vampire Diaries and, contrary to what were told, he wasn't so bad.

Unfortunately, that's going to be a problem for a few weeks yet, with Klaus on the warpath, Rebekah on Marcel on the run and Elijah tasked with explaining his actions to Hayley and her unborn Mikaelson offspring. The episode itself was another great example of flashbacks being made interesting and relevant to the present-day action, with Rebekah running around an abandoned hospital from her past and running into everything from influenza-riddled living corpses and creepy hallway twins, but it didn't fill in as many blanks as I had hoped going in. These guys have been alive for a long time, and I'm certain heck I've seen that they've committed worse crimes against each other.

But, ignoring this niggle, what were left with is a fractured family of ruthless originals intent on destroying one or both of their siblings. Before Klaus had the chance to plunge the torture dagger (is anyone clear on exactly what that does?) into Rebekah, Elijah swept in like a hero, intervened and instead stabbed Klaus in the heart. Now we know that there would be no Originals without Klaus running around so, assuming its not too long before said dagger is removed, should Elijah also be running for the hills? He doesn't seem like the type, of course, and its not knowing how the three of them will now exist that made the episodes cliffhanger feel as big as it did.
Cast
Trivia
Body Count
Continuity
Locations
Behind the Scenes
This episode had about 1.83 million viewers in the USA, which was 0.27 million less than the previous episode.
Cultural References
"Long Way Back From Hell" is a song by Danzig released in 1990 on the album Danzig II: Lucifuge.
The story of New Orleans' battle with influenza is a particularly interesting one. A port city, it saw influenza arrive by sea via merchants and sailors. New Orleans influenza epidemic was a devastating one, between October 1918 and April 1919, the city experienced a staggering 54,089 cases of influenza. Of these, 3,489 died – a case fatality rate of 6.5%, and an excess death rate of 734 per 100,000. Only Pittsburgh (806) and Philadelphia (748) - the two cities with the worst epidemics in the nation – had higher death rates.
Tremé is a neighborhood of the city of New Orleans. "Tremé" is often rendered as Treme, historically the neighborhood is sometimes called by its more formal French names of Faubourg Tremé; it is listed in the New Orleans City Planning Districts as Tremé / Lafitte when including the Lafitte Projects. Originally known as "Back of Town," urban planners renamed the neighborhood "Faubourg Tremé" in an effort to revitalize the historic area. A subdistrict of the Mid-City District Area, its boundaries as defined by the City Planning Commission are Esplanade Avenue to the east, North Rampart Street to the south, St. Louis Street to the west and North Broad Street to the north. It is one of the oldest neighborhoods in the city, and early in the city's history was the main neighborhood of free people of color. Historically a racially mixed neighborhood, it remains an important center of the city's African-American and Créole culture, especially the modern brass band tradition.
The fleur-de-lis or fleur-de-lys (plural: fleurs-de-lis) is a stylized lily (in French, fleur means flower, and lis means lily) or iris that is used as a decorative design or symbol. The fleur-de-lis has appeared on countless European coats of arms and flags over the centuries, but it is particularly associated with the French Monarchy in a historical context, and continues to appear in the arms of the King of Spain and the Grand Duke of Luxembourg and members of the House of Bourbon. It remains an enduring symbol of France that appears on French postage stamps, although it has never been adopted officially by any of the French republics. According to French historian Georges Duby, the three petals represent the medieval social classes: those who worked, those who fought, and those who prayed.
Quotes
---
Multimedia

"Grinnin' In Your Face" – Son House


"Creeper" – True Widow
Videos
Pictures
References
See also
Ad blocker interference detected!
Wikia is a free-to-use site that makes money from advertising. We have a modified experience for viewers using ad blockers

Wikia is not accessible if you've made further modifications. Remove the custom ad blocker rule(s) and the page will load as expected.