The complex relationship between the Original Hybrid Niklaus Mikaelson and the non-original hybrid Hayley Marshall-Kenner.
Klaus and Hayley first met in The Rager, when Hayley came to Mystic Falls to visit Tyler Lockwood, whom she helped to break his sire bond. Klaus initially believed her to be someone with whom Tyler had a fling while they were in the Appalachians, a misconception that Tyler and Hayley encouraged to cover up their plans to help the rest of Klaus' hybrids break their sire bonds. It was later revealed that Hayley was working with Shane, who promised her information on her true parentage in exchange for her help in manipulating Klaus into murdering his hybrids.
Hayley returned to Mystic Falls in Bring It On, during which Klaus tried to obtain information from her about Katherine Pierce, which ultimately led to them having sex. It was later revealed when they met again in New Orleans that Hayley was pregnant with his child, their daughter Hope Mikaelson, who they conceived during their one-night-stand. Their main priority is to protect Hope. However they have disagreements over the best way to protect their daughter.
Unfortunately, their relationship takes a turn for the worse when Hayley tried to take Hope away from Klaus. Klaus became hurt/enraged by this attempt and he had Dahlia place The Crescent Curse on Hayley and her pack, as punishment for trying to take their daughter away from him. They are no longer friends or allies after this; they have become enemies once again.
In You Hung the Moon, after six months, Hayley and her pack are temporarily released from the curse, and she confronts Klaus for what he did to her and fights him, eventually resulting in her taking custody of Hope from him. They continue to share an antagonistic rivalry, but are allies for the sake of their daughter. However, they somewhat reconcile later on and end up running away together with their daughter after Klaus' sireline is broken, which sends all of his enemies rushing to kill him.
They are known as "Klayley" by fans.
Throughout The Vampire Diaries Series
In The Rager, they first met in the Lockwood mansion, after Hayley decided to visit her friend Tyler. Hayley immediately recognized him as an Original and didn't bother to hide her dislike for the hybrid. Klaus speculated that she and Tyler had an affair while he was off breaking his sire bond, a rumor which they both let him believe in order to hide their true intentions, which was to help the rest of the hybrids break free from Klaus' control.
After Dean's death, Klaus was upset by Dean's failure to keep Elena secure in his home and to prevent Connor's death, but Hayley argued that he should have had Dean use force against the hunter. Later that night, Hayley covered for Chris, lying that it was she who let Elena out of her "cell", and not Chris. Hayley also added that if he wanted to kill someone, he should kill her, as she'd rather die than end up being one of his hybrid slaves.
In
Bring It On
, Klaus saved Hayley from
a rogue vampire
sent by Katherine, and it was revealed that Klaus and Hayley had made a pact; she would give Klaus information on
Katherine
in exchange for safety from Katherine's minions.
Hayley went back to Klaus' mansion with him and looked through all of his paintings, taking a liking to a certain one she describes as "twisted". Klaus reminded Hayley that their time together was because he wanted information on Katherine, so Hayley suggestively replied that she might just tell him. Later, Klaus told Hayley she was free to go, seeing as Will had been killed, but did admit that she could stay if she wanted. Hayley replied that she could be persuaded to stay, as she likes to enjoy "the good life". Asking her again if she would like to stay or go, she told Klaus that she knows that he likes to be in control, so he should decide.
Klaus pushed a piece of hair from her face and started kissing her. They began stripping and kissing aggressively before he pushed her onto the table. He looked down at her and began kissing her neck. They ultimately moved to the bedroom, where they proceeded to have sex.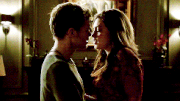 In a later scene, Hayley was seen sitting near Klaus on the bed, putting on her bra after a night of hooking up. While Klaus was watching her from his bed, he noticed Hayley's unique crescent-moon birthmark on her shoulder blade. He then revealed to her that he'd seen this birthmark before, but only on a handful of other people who descended from the same bloodline - a werewolf clan that once thrived through what is now Louisiana. Hayley was shown to be intrigued by this information and demanded to know if he was serious, as finding a connection to her biological family was not a joke to her. However, Klaus insisted that he wouldn't dare to lie about it, as matters of family are sacred.
In The Originals, Sophie explained to Klaus that she had the gift to sense a pregnancy. Sophie looked at Hayley, and sensed it was Klaus' daughter, mentioning that nature had found a loophole because while Klaus was a vampire, he was born a werewolf. Upon hearing the baby's heartbeat, Klaus was visibly shocked, and left in a huff, leaving Hayley behind. Hayley appeared to be hurt by Klaus' lack of affection toward her and their unborn child and his seemingly lack of desire to see her live. Elijah later managed to convince Klaus that his and Hayley's child could be their family's one chance at redemption. Klaus, seemingly now on board with the idea, replied that every king needs an heir.
Throughout The Originals Series
Quotes
Season Four (The Vampire Diaries)
---
---
The Originals Season One
Klaus: No. It's impossible.
Elijah: I said the same thing myself.
Sophie: But werewolves can. Magic made you a vampire, but you were born a werewolf. You're the Original Hybrid, the first of your kind. And this pregnancy is one of nature's loopholes.
Hayley: Hey, I've spent days held captive in a freaking alligator bayou because they think that I'm carrying some magical miracle baby. Don't you think I would've fessed up if it wasn't yours?
Sophie: My sister gave her life to perform the spell she needed to confirm this pregnancy. Because of Jane-Anne's sacrifice, the lives of this girl and her baby are now controlled by us. We can keep them safe. Or, we can kill them. If you don't help us take down Marcel, so help me, Hayley won't live long enough to see her first maternity dress.
Hayley: Wait, what?
Elijah: Enough of this. If you want Marcel dead, he's dead. I'll do it myself.
Sophie: No. We can't, not yet. We have a clear plan that we need to follow, and there are rules.
Klaus: How dare you command me? Threaten me', with what you wrongfully perceive to be my weaknesses. This is a pathetic deception. I won't hear any more lies.
Elijah: Niklaus! Listen.
(Klaus can hear the heartbeat of the baby.)
Klaus: Kill her and the baby. What do I care?
---
Klaus: Does anyone have any more questions? No? Good, because I have a question. Hayley, what were you doing in the bloody French Quarter in the first place? Answer me!
Rebekah: Leave her be.
Hayley: You wanna know what I was doing? I was buying poison, so I could put your little baby out of its misery.
(Klaus grabs her at the neck with vampire speed and pins her to the door.)
Rebekah: Nik! Nik!
(Rebekah pushes him off Hayley with vampire speed and grabs him by the shoulders.)
Rebekah: Keep your hands off her! She is pregnant, for God's sake! All of this bluster about not wanting the child, and then the second she tells you she's ready to get rid of it? It's okay to care. It's okay to want something. That's all Elijah was trying to do, all he's ever wanted for you. All we've ever wanted.
(Klaus enters Hayley's room while she's still sleeping. He opens her bag and takes out a vial of wolfsbane. He opens it and lifts it to his nose to smell, when Hayley wakes up.)
Hayley: I didn't use it.
Klaus: You're awake.
Hayley: I could barely sleep all night. This house is like a freaking swamp sauna.
Klaus: What stopped you? You could have been free of all of this... of me.
Hayley: Yeah, well... when I was fighting off those vampires, I.. I realized I wasn't just protecting myself. Maybe it has to do with the fact that my birth parents gave me up, and my adopted parents kicked me out. All I know is push came to shove, and... I realized I wouldn't let anyone hurt it.
Klaus: I'm beginning to think we're a lot alike, you and I. We're both castoffs who have learned to fight when we're backed into a corner.
Hayley: Well, we're backed into a corner now.
Klaus: Ah, that we are. It's time to fight... little wolf.
Hayley: This whole thing with Marcel, the deal you have with the witches, trying to take him down, take what's his. Rebekah told me that you two once loved each other like family. What happened?
Klaus: I made Marcel everything that he is. I treated him like a son. And when my father chased me and my family from New Orleans a hundred years ago, we believed Marcel was killed. We each mourned him, in our own way. Yet, when I returned, I found not only had he survived, he had thrived. Instead of seeking us out, instead of sticking together as one, he made a choice to take everything my family had built and make it his own. Now, he is living in our home, he is sleeping in our beds. That 'M' he stamps everywhere... it's not for 'Marcel'. It's for 'Mikaelson'. I want it all back, and if I have to push him out to get it, then that's exactly what I'll do. I'll have someone see to the air conditioning.
---
Klaus: I thought you might like to know. Elijah is returning to us.
Hayley: Congratulations. I guess being diabolical has its perks.
Klaus: You hardly know him. And yet you miss him. What is it about my brother that always inspires such instant adoration?
Hayley: He was kind to me.
(Klaus looks a bit hurt and starts to walk away, when Hayley speaks)
(Klaus takes it in for a moment, smiles and walks away)
---
Klaus: When I get my hands on Sophie Deveraux...
Hayley: It wasn't Sophie. It was Agnes.
Klaus: Fine! Sophie, Agnes, it's all the same to me. I'll slaughter the lot of them.
Hayley: Hey, so... can we go home now? I'd really like to sleep for a few days.
(Hayley stands up and stumbles, but Klaus quickly catches her)
Niklaus Mikaelson: I've got you, love. I've got you.
---
Klaus to Sophie Deveraux: Those witches tried to kill Hayley. I prefer for Marcel's informant not to find anything that would lead him back to us, to her or to... you know, that.
(Klaus points at Hayley's stomach)
Hayley: You are all class.
---
Klaus to Elijah Mikaelson about Hayley: I've sampled what she has to offer, and let me tell you, she is exquisite.
Klaus to Elijah Mikaelson: Standing beside the noble Elijah, how can I be anything but the lesser brother? A liar, a manipulator, a bastard. That's all I am to you, isn't it? And to Rebekah. And judging by the way Hayley stands on your every word it's clear she feels the same way, no doubt my child will as well.
-- Bloodletting
---
Klaus: You're coming with me, little wolf.
Hayley: Why would I go anywhere with you?
Klaus: Because, Hayley, that child you are carrying is the only thing on this earth that matters to me. Now, you can fight me on this, but you will lose. As will anyone else who tries to stop you from getting in this car!
---
---
---
(Klaus grabs Hayley for a brief moment at the private party)
Klaus: I hear you make quite an impression with the wolves. My arrangement with them was supposed to be a secret and yet you forced it out of them. That was very bold. As was your decision to represent them here today, on your own. I trust you'll do nothing to harm our cause."
Klaus:Oh, come on, what difference does it make to you as long as your people benefit?
Hayley: If I find out that you are playing some game, trying to manipulate us for one of your schemes...
(Klaus chuckles softly)
Klaus: You know you've come a long way, little wolf? I knew you were tough. I knew you were cunning, but I never knew you were a queen.
(Klaus smiles at her and leaves)
---
(Hayley calls Klaus)
Hayley: Klaus, where are you?
Klaus: I'm in a bit of a situation here, love.
Hayley: Somebody sent a suicide bomber out to the bayou this morning.
Klaus: What? Where are you?
Hayley: I'm in the city now, I'm fine. I figured an attack like that must have been Marcel. He's hated the werewolves for years and after that stunt he pulled with the witches, so I tracked him down and I thought you might like to help me kick his ass for trying to blow us to kingdom come.
Klaus: Hayley, listen, I assure you once I have finished here, you will have my undivided attention. In the meantime, please, stay out of trouble.
(Hayley looks hurt and replies bitterly)
Hayley: You don't have to worry. Elijah's with me.
(Hayley ends the conversation and enters a building, without Elijah)
---
(At the bar)
Hayley Marshall: What's the deal with these moonlight rings? Oliver is trying to start a revolution every 5 seconds, people are scared, angry and frankly, I'm tired of stalling.
Niklaus Mikaelson: It's a day of peace, Hayley. Try to enjoy it. In the meantime, with a matter of unknown enemies conspiring against our family, you'll move back in with us.
Hayley Marshall: Awesome. Then we can do that thing where you lock me in the tower, I escape, then there's drama and you two both realize I'm very capable of looking after myself.
Niklaus Mikaelson: The rings are in progress. I will live up to my word. We will find and punish whoever launched the attack in the Bayou and you will return to the compound for your own safety. But right now, I want to finish this bottle and the next in the hope of drowning the demon that has chosen today to haunt me. Cheers, Mikael, impeccable Freudian timing."
(At Father Kieran's funeral.)
Hayley Marshall: Do you think I was the target of those bombings?
Niklaus Mikaelson: Of course you were the target. Were I to wage a war, you would be my first kill. I would string you up for all your worshipers to see.
Niklaus Mikaelson: As much as I would hate to throw you over my shoulder and drag you to the compound kicking and screaming, we both know that I will. For the sake of my child.
Hayley Marshall: One bad dream and suddenly you want to become a responsible daddy.
(Klaus puts his arm over her shoulder)
Niklaus Mikaelson: Let me put this in perspective. My father lived to torment me, it is not my intention to become him. This cycle of misery ends with my child.
Hayley Marshall: Hmmm.
(She pushes Klaus' arm away)
Hayley Marshall: You forgot one thing in your attempt to plead your case... She's not your child, she's ours.
(Hayley walks away)
(At the compound)
(Klaus knocks on Hayley's bedroom door)
Niklaus Mikaelson: You've proved quite resilient, little wolf. Fighters, both of you.
Hayley Marshall: I guess we had to be. Especially lately. I've decided that I'm going to move back in.
Niklaus Mikaelson: Well, I'm relieved to hear that.
Hayley Marshall: But no mouth-breathing bodyguards, no telling me what to do.
Niklaus Mikaelson: All I ask is that the child is kept safe.
Hayley Marshall: And what about me? What happens after she's born? If you try to take her from me, I ...
Niklaus Mikaelson: Come with me, hmm?
(Klaus walks to another door in Hayley's room, she looks at him suspiciously)
Niklaus Mikaelson: Please, I want to show you something.
(Hayley walks towards him. He opens the door so that she can see the nursery he has prepared for their daughter)
Niklaus Mikaelson: Believe it or not, Hayley, but I would actually like you to be here. Our daughter should be raised by her parents in her family home.
Hayley Marshall: You, me, Elijah and the miracle baby all under one roof. Sounds like a bad reality show.
(Klaus smiles, but doesn't respond)
Niklaus Mikaelson: You said you saw my father.
Hayley Marshall: Why do you call him that? He's not your real dad.
Niklaus Mikaelson: He's done damage only a father could do. What did he say to you?
Hayley Marshall: Nothing true.
(Hayley smiles)
(Klaus smiles and walks away)
---
Niklaus Mikaelson: (comes into the room where Hayley's sitting in a chair and writing something) Writing a love letter to one of your many suitors? Who is the lucky recipient then? Jackson... or Elijah? (gasps) Don't tell me it's me...! I thought I was out of the running ages ago!
Hayley Marshall: ' ...and the award for biggest ego goes to... (she feels the baby kick)
Niklaus Mikaelson: How is our littlest wolf?
Hayley Marshall: Do you want to ... ?
(Klaus looks surprised and hesitates; Hayley smiles encouraging) 
Hayley Marshall: "Come on."
(Klaus kneels down to her and puts his hand slowly at her baby bump) 
Hayley Marshall: "You feel that?"
(Klauslooks at the baby bump and smiles; Hayley smiles, too) 
Niklaus Mikaelson: (looks up) "...so I'll leave you to your letter then."
The Originals Season Three
Rebekah: You know, when I left last, I thought for sure you'd hate Klaus forever.
Hayley: Oh, I will! But even when you hate him...
- Savior
---
Klaus : [to Hayley] I am sorry... for your loss.
Gallery
The Vampire Diaries
The Originals
Videos
TVD and TO