Katherine and Caroline
Comments

51
1,590pages on
this wiki
Katherine and Caroline
General Information
Intimacy Level

Enemies, Allies, Worked together

First Met

February 26, 2010 (The Return)

Status

Allies, Former Enemies
"
I killed you once. Don't forget. We still hate each other, okay?
"
The relationship between Caroline Forbes and Katherine Pierce.
Katherine turns Caroline into a vampire, planning to hand her over to Klaus to use her in the sacrifice. Katherine threatens Matt, thus using Caroline as her spy. Caroline gets her revenge in helping imprison Katherine in the tomb.
Season Two
Edit
In The Return, Katherine visits Caroline in hospital where Caroline mistakes her for Elena. Katherine corrects her and says to tell Stefan and Damon, "Game on." She then smothers her to death with her pillow.
The next day, Caroline confronts Damon, giving him Katherine's message. Caroline later mistakes Elena for Katherine and is terrified but Elena explains it to her. She asks Stefan why Katherine would do this to her and he says he doesn't know.
In
Bad Moon Rising
, In the morning, Caroline's asleep and wakes up to find Katherine by her bed. She mistakes her for Elena but Katherine corrects her again. Caroline's scared, but Katherine tells her not to be.
In
Memory Lane
, Caroline tries to persuade Elena to break up with Stefan, following Katherine's orders. After the car breaks down, Caroline doesn't want to be left alone presumably because Katherine will get her. Later at the Mystic Grill, Caroline is in the Grill's lavatory at the sink freshening up in the mirror. Then she hears footsteps and Katherine appears in the reflection.
Caroline turns around with trepidation. Katherine is angry because Caroline didn't do exactly what she said and occupy Elena and keep her from returning home and contacting Stefan (Elena came home just as Katherine "escaped" from Stefan and menace Elena). Caroline told her that she did all she could to convince Elena that her relationship with Stefan was doomed. As Katherine menacingly stepped forward Caroline said she thought she got to her. "I hope so, because let's not forget. I've already killed you once; I can easily do it again." Katherine said with undisguised contempt. When Stefan and Elena break up, Caroline listens to them probably then reports it to Katherine.
In Kill or Be Killed, Elizabeth Forbes notes that Elena was there the previous night. Reflexively Caroline corrects her saying that Elena wasn't there but then she catches herself saying that Elena was there and needed to talk. She had realized her mother was unknowingly referring to Katherine. After they brought Caroline's mom to the Boarding House, a crying Caroline tells her that she can't go home. Elena asks why. Tenderly Elena coaches out of her, it is because Katherine is going to be there. She confesses that she will want to know everything that happened that day and also that she had to spy on Elena and report back to Katherine. Elena tells her that she knows and she was so mad at Caroline then she tried to put herself in her position to try to figure out why she would do that to her and Stefan after being such a friend to her. Elena gets up and sits next to her friend. Insightfully she asks "Who did she threaten?" "Matt" Caroline said Saying that she was very scared of Katherine. Elena said she should be they all should be scared of her. Caroline ask why is Katherine doing this to them. "That's the million dollar question" Elena says. Caroline, despite being many times stronger than Elena settles in Elena's embrace with her head against her chest feeling safe and falling asleep in the arms of her best friend.
A few days later in
Masquerade
, Caroline is at the Salvatore Boarding House relating a story to Damon and Stefan, about her encounter with Katherine at the Mystic Grill. She had gone to the Grill "gawk" and "stalk" Matt. After an awkward moment he asked her if she wanted a table. She told him in a giggly manner that she just wanted to use the little girl's room. Damon, impatient tells her to get to the point. Caroline then tells them that when she went to the lavatory (to follow up on her "dufus" lie to Matt) she met "Elena" there but she really instantly knew it was Katherine possibly from the lavender dress that was unlike Elena would wear casually and the wavy hair that distinguishes the otherwise completely identical beings. Katherine pretended to be Elena asking Caroline in her reserved way if she was okay. Caroline made a bit of small talk pretending to be sad then using her Super speed bolted for the door to rush by Katherine, but Katherine, either by being faster or anticipating the attempt catches blocked the door. "What gave me away; was it my hair or was it my clothes?" She rhetorically asked Caroline She told Katherine that she knew Elena was at home. Katherine told her she needs her to deliver a message to Damon and Stefan: "Tell Damon and Stefan I want the moonstone or I will rip this town apart until it rains blood. Tonight. At the Masquerade Ball." Stefan says that she wants to get the stone in public the death of Mason threw her off guard. Damon says that she is running scared and what she did to Jenna was an act of desperation. Stefan counters that they must not underestimate her. Caroline just wants to give her the moonstone so she would leave.
Later at the Ball, Caroline's phone vibrates and she sees a text message from Jeremy saying "your turn". Seconds later she is walking in a lonely isolated part of the mansion away from the party. She walks toward a room and she reaches for the handle but a small fist reaches out and catches Caroline's wrist. In a flash Caroline is pinned against a wall face first with her arm twisted behind her back and grimacing in pain with Katherine's other hand against her head. "What are Stefan and Damon up to?" Katherine "ask" Caroline without preamble. What do you mean?" Caroline ask with her lips almost pressing against the wall. Katherine says that Jeremy is trying to lure her to the lake what is going on? She demands. Caroline plays dumb saying she doesn't know. Katherine spins her around and grabs her by the neck again pinning her against the wall and says to her don't lie to her they are up to something. Caroline then leads Katherine into a room as Katherine walks in Caroline smiles saying, "I did it, I didn't think I could trick you but I did it." Leaving an angry Katherine in the spelled room as Caroline walks away she says, "Goodbye, Katherine."
Season Five
Edit
In
Handle with Care
, Caroline enters to her room in the college and meets with who she thinks is Elena fresh out of the shower, she says to her that she Don't want to know if Tyler called, and they have to finish packing her things to leave college for the threats of professor Maxfield, Caroline realizes that Elena has no idea what she's talking about, then she takes her neck because she knows that it is actually Katherine and not Elena.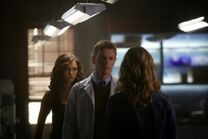 Katherine says that her need a place to live, Caroline at first says no but Katherine tells her that she can help with the professor Maxfield and Caroline accepts. Later, the professor Maxfield in his laboratory, is conducting experiments with vampire blood, Caroline appears and Katherine takes the opportunity to inject a substance into his neck, the professor faints in the floor. Caroline and Katherine planned drain the vervain in his system to compel him to tell them everything he know about vampires,
Katherine takes over and begins to drain blood from the professor, he tells them that the secret society planned to invite Elena to belong the group but for his suspicions that she was a vampire, they desisted, Katherine then takes the decision to impersonate Elena and Caroline stays with the professor.
In
Death and the Maiden
, Caroline is at
Whitmore College
and she meets
Nadia
, they are talking and then comes Katherine, Nadia tries to tell Caroline that Katherine is her mother, but Katherine interrupts her and doesn't permit, Caroline leaves and leave them alone. Later Caroline interrupts the conversation between Nadia and Katherine and takes to Katherine to the Salvatore mansion, since
Qetsiyah
need her to perform the spell to the resurrection of
Bonnie
.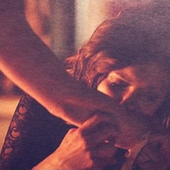 When Katherine is trying to clean her blood after being cut by Qetsiyah in her hand,Caroline offers her blood to heal her but
Katherine
can't drink vampire blood.
Later in the college Caroline is preparing her room for Bonnie too, then Katherine arrives and understands that she has to go. When Nadia comes and starts talking to Katherine, Caroline discovers that Nadia is the daughter of Katherine and she is surprised about that.
Katherine and Caroline's Quotes
Season Two
Caroline: Elena?
Katherine: Hey Caroline.
Caroline: What are you doing here?
Katherine: My name is Katherine. I was hoping you could give the Salvatore brothers a message for me.
Caroline: What are you talking about? What message?
Katherine: Game on.
---

Caroline: Elena?
Katherine: Nope. Try again.
Caroline: Katherine.
Katherine: Don't be frightened... We're gonna have so much fun together.
---

(Caroline is in the bathroom. She looks in the mirror. Katherine is behind her.)
Caroline: Katherine.
Katherine: Care to share how you couldn't follow through with one simple task?
Caroline: I tried okay? But I couldn't exactly kidnap my best friend.
Katherine: Occupy her. That's all I asked.
Caroline: I told her that her relationship was doomed and all that mortality stuff. I think…I really think that I got to her.
Katherine: I hope so because let's not forget. I already killed you once; I can easily do it again.
---

(Caroline is in the bathroom. She's washing her hands when Katherine arrives. She poses as Elena.)
Caroline: Elena?
Katherine: Hey, I saw you with Matt, are you okay?
Caroline: Yeah, you know... whatever.
(Caroline tries to super speed passed Katherine, but Katherine grabs her and pulls her back.)
Katherine: You're good. What gave me away? Was it the hair? Or was it my clothes?
Caroline: I know Elena is...I know Elena's at home.
Katherine: I need you to deliver a message.
Stefan: What was the message?
Katherine: Tell Damon and Stefan that I want the moonstone or I will rip this town apart until it rains blood.
Damon: Tell him the rest of it.
Katherine: Tonight, at the masquerade ball.

(Caroline is inside. She sees Matt with Sarah and Tyler. He stops, looks at her and leaves with them. She receives a text from Jeremy telling her that it's her turn. She's walking in an empty part of the manor. She's going to open a door but Katherine arrives, catches Caroline's wrist and pushes her against the wall.)
Katherine: What are Stefan and Damon up to?
Caroline: What do you mean?
Katherine: I've got Jeremy Gilbert luring me out to the lake. What's going on?
Caroline: I don't know...nothing.
(She strangles her.)
Katherine: Don't lie to me, Caroline. They're up to something, what is it?
Caroline: I...
(She strangles her harder.)
Caroline: Wait, no, no, no! Okay. They're trying to kill you.
Katherine: I figured as much. Where is the moonstone?
Caroline: Bonnie has it.
Katherine: And where is Bonnie right now?
Caroline: I don't know.
(She strangles her again.)
Caroline: Okay. She's upstairs, she's upstairs!
(She releases her)

(Katherine is dragging Caroline upstairs)
Caroline: Why do you keep dragging me into this? I don't want any part of it.
Katherine: Shut up!
(They are in front of a door.)
Katherine: Which room is it?
Caroline: It's that one.
(She goes into the room. Caroline stays outside.)
Katherine: Where is she?
(Caroline laughs.)
Caroline: I did it. I really didn't think that I'd be able to fool you but I did it. (Katherine rushes over but she can't leave the room. She's trapped.)
Katherine: What the...? Stefan? (He's in the room too. He has a stake in his hand.)
Stefan: Hello Katherine.
Caroline: Goodbye Katherine.
(She leaves)
---
Season Five
(Katherine is in Elena and Caroline's dorm room. After having taken a shower, she is in a towel staring at her reflection in a mirror. There is a box of black hair dye in her hand.)
Caroline: (as she enters the room) I don't want to know if Tyler called, so don't even tell me. So, do you want to do small appliances, or toiletries?
(Caroline is putting her things into her bags. Not realizing that Katherine is in her room instead of Elena.)
Caroline: I mean, I'd compel a cute boy to do it for us, but I don't think I want to see a cute boy ever again. Except for Jesse, who's conveniently not answering his phone.
Katherine: Um, we're moving out?
Caroline: Hello, Dr. Maxfield thinks we're vampires, you know, threatened to expose us, told us to drop out.
Katherine: That sucks. (She clears her throat.)
(Caroline becomes suspicious. She charges after Katherine and puts her in a chokehold against the wall.)
Caroline: What the hell are you doing in my dorm, Katherine?
Katherine: I just need a place to crash.
Caroline: What? I loathe you.
Katherine: I'm desperate, okay? Damon kicked me out, Stefan doesn't remember me and I just spent my last $20 on a meal that I didn't even get to enjoy.
Caroline: Aw. And how is any of this my problem?
Katherine: Look at you. Moving out, giving up? It's very un-Caroline of you. You need me. Bad.
(Caroline loosens her grip on Katherine and backs away. Katherine clears her throat.)
Katherine: In exchange for a place to stay, and Elena's meal card, I will help you deal with Dr. Whoever.
Caroline: Dr. Maxfield. He teaches bio.
Katherine: (snickering) I'm sorry. What? You're scared of a teacher? Aw, honey, you really need to take a crash course on Villain 101, but luckily for you, I have an honorary doctorate. What do you say, roomy?

Caroline: What did you inject him with?
Katherine: I don't know. It just said "avoid contact with eyes..." (Katherine looks at the bottle.) ...and "do not ingest." Oops.
Dr. Maxfield: (As he's coming back to consciousness) It's etorphine.
Katherine: There ya go.
Dr. Maxfield: (in confusion) What are you doing, Elena?
Caroline: We're draining vervain blood out of your system so I can compel you to forget that Elena and I are vampires.
Dr. Maxfield: Wait, what? You'll kill me!
Caroline: Shhh. (Puts her hand up to quiet Dr. Maxfield) I'm just...I'm trying to do some math. Okay. Uhh. So, if the average male has 5 liters of blood in his system...
Katherine: That's about right.
Caroline: ...then, carry the 1...
(Caroline begins to mumble whilst running calculations)
Katherine: Just round up...
Caroline: Perfect! 4.7 pints. (to Wes) Should I use the right arm or the left arm?
Dr. Maxfield: Untie me. I'll find the vein myself. You will kill me.
Katherine: Give me. It's not my first rodeo.
(Caroline hands her the IV.)
Katherine: Can you hand me one of those tube-y things, and, um some tape?
(Caroline walks across the room to retrieve the things Katherine asked for. They put the IV into Dr. Maxfield's arm, letting the blood drain into a beaker.)
Caroline: Oh, my God, it's totally working! (in surprise)
Katherine: Ta da! (She grabs a scalpel from the table and touches Dr. Maxfield with it.) So, doctor, you tell me, who else knows about us? (She puts the scalpel against his neck.)
Dr. Maxfield: If you were willing to kill me, you wouldn't have gone through all of this trouble. You should have left when I told you to. They're on to you.
Caroline: Who's they? The people you want to expose us to? That secret society thingy that you belong to?
Dr. Maxfield: There's a gathering today at Whitmore house. The society is using it to suss out potential candidates. They were going to invite you, until they started suspecting that you were a vampire.
Katherine: So all I have to do is convince them that Elena Gilbert is not a vampire? Done.
Dr. Maxfield: They'll never let you in and a vampire could never get past the threshold.
(Caroline and Katherine both smile at one another.)
-- Handle with Care.
---

(Katherine walks in the college and sees Nadia and Caroline talking.)
Katherine: Are you kidding me?
Nadia: (to Katherine) I need to speak with you.
Caroline: Um, how do you two know each other?
Nadia: Katherine is my...
Katherine: She's my stylist... She cuts my hair.
Caroline: Ok. Whatever.
(Caroline walks away.)

(Katherine and Nadia are talking when Caroline arrives)
Caroline: Sorry to interrupt the world's weirdest lunch, but, you with the doppelgänger blood, duty calls.
Katherine: Wonderful. Now that Katherine's a human and fragile, everyone thinks that they can just boss her around. (Caroline tries to grab her by the arm, she pulls away.) Hands off, ok? I'm going.
Nadia: We're not done.
Katherine: Oh, yes, we are.
(Katherine walks away. Caroline smirks at Nadia and leaves.)

(Caroline walks around with a flashlight. She finds Katherine sitting on a chair by a fireplace, wincing in pain, holding her cut hand.)
Caroline: Katherine? What are you doing?
Katherine: Tessa's stupid nonsurgical incision won't stop bleeding.
(Caroline bites her own wrist and offers it to Katherine.)
Caroline: Here. Heal.
(Katherine takes it, but she starts gagging and coughing once she starts drinking the vampire blood.)
Caroline: What's wrong?
Katherine: Nothing. Just another tragic side effect from taking the cure. Apparently the universe just doesn't want me to heal from vampire blood. Stupid universe. Find me that damn witch so she can finish that spell!

(Caroline is tidying the dorm room when Katherine enters.)
Caroline: Hey... Umm, now that Bonnie's back...
Katherine: Your room's full. Got it. I'll just get my stuff.
Caroline: Thank you, for what you did today.
Katherine: Enough. I killed you once, don't forget. We still hate each other, okay?
Caroline: Yes, you did, and yes, we do.
(Katherine looks around, confused.)
Katherine: Where the hell is my bag?
(Nadia appears in the doorway.)