Katherine Pierce
Physical Information
Species
Gender

Female

Height

5' 7"

Build

Slim

Hair color

Dark brown

Eye color

Brown

Skin color

Light
"
Your hair's messed up, your nails are chipped. You're a sad and miserable human being and you want me to turn you.
"
Appearance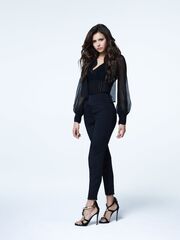 Almost every character that has met both of them have remarked that Katherine looks identical to Elena; indeed, they are both doppelgängers of their common ancestors, Amara and Tatia. As such, Katherine is an extraordinarily beautiful and seductive young woman: she has an oval face with fine bone structure, a wealth of brown curly hair, and almond-shaped, deep brown eyes with thick dark lashes.
The simplest way of distinguishing Katherine from Elena is in observing basic cosmetic differences: Katherine favors a curly hair style, while Elena typically wears hers straight; Katherine often pairs a sensually cut outfit with heels, while Elena is usually seen wearing comfortable, practical options like jeans, T-shirts and sneakers; and Katherine tends to wear more makeup than Elena.
However, there are subtle differences between the two that a keen eye can detect. Katherine's eyes seem to be a shade darker than Elena's, having a smoky, shadowy appearance; where Elena's eyes are guileless, Katherine usually seems to be hiding something behind hers. Her mannerisms are more deliberate, almost as though she is performing for her audience - a skill that comes in handy when she wants to borrow the identity of the younger doppelgänger . Even her speaking voice seems harsher, more cutting than Elena's.
Whenever Katherine pretends to be Elena she dresses very similar to Elena's style and straightens her hair. But she also can't help but still rock some major cleavage.
Seasons
See Also
Ad blocker interference detected!
Wikia is a free-to-use site that makes money from advertising. We have a modified experience for viewers using ad blockers

Wikia is not accessible if you've made further modifications. Remove the custom ad blocker rule(s) and the page will load as expected.