John and Isobel
Comments

6
1,296pages on
this wiki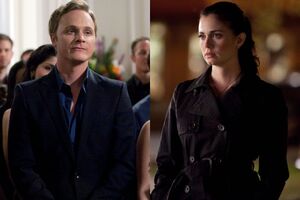 The relationship between John Gilbert and Isobel Flemming.
They used to be in love before Isobel left Mystic Falls. They share a daughter together,
Elena Gilbert
.
Early life
Edit
When they were in High School, John and Isobel dated and slept together. This resulted in a child, Elena, who was delivered by John's brother, Grayson Gilbert. No one knew who the real father was.
At some point, John told Isobel about vampires, something she started obsessing over. He also gave her his Gilbert ring, wanting to protect her.
Finally, in 2007, she expressed a desire to meet a vampire, and he sent her to Damon. He did not know of her true motives, and later confessed to Katherine (believing her to be Elena) that had he known what she wanted to do, he would never have sent her to him. He also admitted that part of the reason why he hates vampires, is because of what being one did to Isobel.
When Isobel returned to Mystic Falls she met with her husband Alaric and demanded to speak to her daughter or she would kill his students. Then later John comes to visit her at her house and sees a woman and man dancing, whom she has compelled and she is teaching them France, Isobel then sence how he is feeling about her uses them like that. John tells her they are in a partnership and says to her that he don't like her lifestyle and says he will get his anchestor Johnathan Gilbert's device, Isobel doesn't think he will since when threatened to expose Damon Salvatore he didn't get even when he staked Pearl he didn't get it.