John and Alaric
Comment

1
1,299pages on
this wiki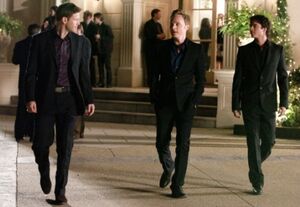 The relationship between John Gilbert and Alaric Saltzman.
Both of them have been rivals from the beginning since the end, and they are both vampire slayers to hunt them down and kill them.
Alaric first met John in Under Control, during the Founder's Day Kick-Off Party. After John antagonizes Damon, he gets thrown off of the balcony and dies, only to come back to life later, showing off his ring. Damon notices that it is the same ring that Alaric wears and tells Alaric so. Alaric questions if John knew Isobel. Alaric then asks John where he got his ring, and John tells him that he inherited his ring. He says that the one on his finger originally belonged to his brother Grayson, and the one on Alaric's finger originally belonged to him, and he gave it to Isobel, who later gave it to Alaric.
In Blood Brothers, Alaric and Damon try to find the Gilbert Device before John does but John eventually gets it from Pearl. In Founder's Day, John activates the Gilbert Device and rounds up all the vampires. Alaric notices this, and tries to help Stefan and Damon.
John makes his return in Daddy Issues and unsuccessfully tries to convince Alaric to give him his ring back. In Crying Wolf, John tries to blackmail Alaric by telling Jenna that Alaric isn't trustworthy and isn't being truthful about Isobel's death.
This article is a stub and needs blood to rejuvenate! Donate some to strengthen it!