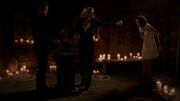 Immortality is the ability of eternal youth and infinite lifespan. It is worth noting that 'immortality' in the world of The Vampire Diaries is not immunity to death; Elijah stated that every creature must have a weakness and that nature would never allow a truly immortal being to exist.
Professor Atticus Shane said that human blood was the life force of an immortal.
Vampires are immune to natural death, physical aging, diseases, and illnesses.

Silas' tomb.

Added by

Noctis Lux Kaelum

The only weapon that can weaken or kill a vampire is werewolf venom, which will infect the wound and spread through the bloodstream. After that the vampire will start to hallucinate and throw up his meals. Ultimately the vampire dies, crazy and suspicious of everything. Vervain can also be used to weaken and slow down a vampire. Wooden bullets can also weaken a vampire.
The only way to kill a vampire is to rip out their heart, burn or decapitate them, and the most well known method, a wooden stake through the heart.
Silas was said to be the world's first immortal creature and the only true immortal.
Hybrids are immortal because they have both a werewolf gene, and a vampire gene.
The only way to kill a hybrid is through decapitation or heart extraction.
Witches can use spells and herbs to delay the aging process, but it will eventually catch up with them.
Unless they are killed and have their body preserved, in which when they are awakened they'll look the same as they did when they died.
Silas was said to be the world's first immortal creature. He was originally a witch who created a spell that would grant him immortality. However, he was later buried alive.
The Immortality Spell is a spell casted and created by Qetsiyah and adopted by Esther. The spell was used to immortalise Silas and the Original Family.
Uses and Witches:
Werewolves
Edit
It is unknown whether or not werewolves fit into this category. Because they are living creatures, it is unclear if they are resistant to the process or continue to age naturally. If a werewolf becomes a hybrid, he/she will not age.