Homecoming is the ninth episode of the Third Season, as well as its mid-season finale, and the fifty-third episode of the series.  
Summary
ROCK BAND
My Morning Jacket
PERFORMS — On the night of the Homecoming dance,
Rebekah
opens up to
Elena
about why the evening is so important to her leaving Elena with conflicting emotions.
Caroline
and
Matt
are both shocked at
Tyler
`s behavior throughout the evening. The evening takes a surreal turn when
Klaus
puts his latest plan in action. Determined to outsmart Klaus, 
Damon
enters in a dangerous partnership leading to a horrifying turn of events. The band
My Morning Jacket
performs in the party scenes.
Paul Wesley
and
Kat Graham
also star.
Plot
SPOILERS AHEAD
In the episode, the plan is set in motion to kill Klaus once and for all. Damon and Elena enlist the help of Mikael to lure Klaus back to Mystic Falls after he fled after hearing a rumor about Mikael being back there. The plan involved Elena daggering Mikael and then un-daggering him, after Stefan had talked to Klaus to get him back. Stefan made the call to Klaus and told him that Mikael was dead. Klaus requested that his body be delivered to him. Later on in the bathroom, Damon and Elena are making wolfsbane grenades. Elena is telling Damon how many ways the plan can go wrong, that Rebekah might be on their side now but Klaus is her brother in the end.

Later on, Rebekah and Elena are talking in Stefan's room when Elena gives Rebekah back her necklace and ultimately stabs her in the back with the dagger. Damon later hides her body in the basement. Damon remarks that it was a very Katherine move on her part for stabbing her in the back. Outside the school, the gym is flooded: Tyler moves the party to his house as a part of Klaus' plan. Matt shows up at the mansion to pick up Rebekah, his date, and is greeted by Elena who nervously suggests that they go together as a couple, her being his "back up" date. Matt agrees, though is a little suspicious. Once there, Tyler reveals that the party they are at is not homecoming but a "wake" for Mikael.

Tyler had gotten a live band to play, and Klaus had compelled complete strangers to come to the party and had ordered new hybrids to be stationed at the entrances to the house. While at the party, Klaus and Tyler takl about how Tyler mom would freak if she saw the party at her house.

Then Klaus tells Tyler to look around the party to see Bonnie, Matt, Elena and then Klaus says to Tyler about Caroline, "There's your pretty little girlfriend." Klaus tells him that he is free to warn his friends about the hybrids in the party. At the party, Elena is cornered by Klaus, who tells her that whatever she's planning, it won't work and that she should it give it her best shot. She is visibly nervous and remarks when he asks why she looks nervous that she doesn't like him. In an upstairs room, Tyler confronts Caroline about a plan to kill Klaus.

She denies knowing anything about the plan and retorts back that even if she did know anything about a plan, she wouldn't tell him what it was. She begins to leave but he quickly gives her a shot of vervain and begs Matt to take her safely away and make sure she was safe. He goes back downstairs and is immediately cornered by Damon who forces him into his mother's office where he and Tyler get into a fight where Tyler almost bites him. Damon is about to kill him but Bonnie, using her powers, gives both of them blinding headaches and stops them.

Meanwhile, back at the party, a woman that Klaus had compelled comes up to him and tells him he has a visitor by the name of Mikael. Klaus remarks that they shouldn't keep him waiting and he goes off to meet Mikael, who he has not seen in a century or more. Mikael meets him in the entrance to the Lockwood mansion and orders Klaus to come outside so he can kill him.

Klaus refuses and they end up getting into a verbal argument that comes to a head when Mikael grabs Elena and threatens to kill her. Klaus refuses to believe him and tells him that for all his life, he has underestimated him. Mikael angrily tells Klaus that he has no one by his side other than those whose loyalty he forced.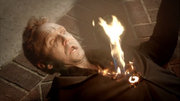 He keeps Elena by his side and Klaus tells Mikael he is calling his bluff and shouts at Mikael to kill her. Elena, in a shaking voice, tells Klaus that he would really do it. Klaus shouts at his father to kill her and Mikael hesitates before plunging a knife into Elena's back.

Klaus gasps but before he can do much, Damon jumps on him and stabs him in the stomach with the white oak stake in an attempt to incapacitate him before killing him. Meanwhile, Katherine, who was impersonating Elena, reveals herself to Mikael, successfully distracting him. She then and turns and throws the wolfsbane grenades at the hybrids.

Stefan appears out of nowhere and gets Damon away from Klaus. Klaus then grabs the white oak stake and stabs a distracted Mikael who burns to his death. Damon is completely shocked by what Stefan did. Klaus then gives Stefan his freedom back, he is no longer compelled.

The last scene consists of the telephone call between Klaus and Stefan. Stefan affirms that he only wants revenge and this is the reason why he had stolen the coffins in which the Originals stay. Klaus, with an angry attitude, promises that he will kill Stefan and everyone he has ever loved.
Cast
Main Cast

Recurring Cast

Co-Starring
Trivia
Deaths:
Production Notes
Continuity
Cultural References
Quotes
Mikael: "This is the only weapon that can kill an Original. So I think I'll hold onto it, no offense"
---
Mikael: "You do what you can, and I will kill him."
---
Damon: "Elena, if this thing blows up in our face, just remember only one of us heals quickly."
---
Stefan (to Elena): "I'm compelled to protect you. And if I look at your track record at highschool dances, it's pretty tragic."
---
---
Damon: "It's very Katherine of you."
Elena: "Not the way to make me feel better about myself."
Damon: "It was a compliment. Sort of."
---
---
---
---
---
Mikael: "You were never the one I was after."
Rebekah: "Nik was my family. If you were after him you were after me."
---
---
Tyler: "I'm sorry I stabbed you. It's the only thing I could think of to get you out of there."
Caroline: "Oh yeah? Not, 'Hey Caroline. I'm worried about what might happen this evening. So maybe you should go home and watch Dancing with the Stars'."
---
Bonnie: "You're mad at your little brother. You'll yell at him a little, teach him a life lesson. But you cant really be mad like I'm mad."
Elena: "Bonnie..."
Bonnie: "And you shouldn't have to be. He's your brother. So no I can't really talk to you about it."
---
Multimedia
Videos
Pictures
See also