Ad blocker interference detected!
Wikia is a free-to-use site that makes money from advertising. We have a modified experience for viewers using ad blockers

Wikia is not accessible if you've made further modifications. Remove the custom ad blocker rule(s) and the page will load as expected.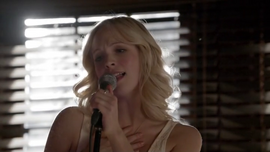 Hit Me With Your Best Shot is a song, originally sung by Pat Benatar, which was later performed by Caroline Forbes in "I Could Never Love Like That". Caroline sung this song at the karaoke bar.
Well, you're a real tough cookie with a long history
Of breaking little hearts like the one in me
That's ok, let's see how you do it
Put up your dukes, and let's get down to it

Hit me with your best shot
Why don't you hit me with your best shot?
Hit me with your best shot
Fire away