Ad blocker interference detected!
Wikia is a free-to-use site that makes money from advertising. We have a modified experience for viewers using ad blockers

Wikia is not accessible if you've made further modifications. Remove the custom ad blocker rule(s) and the page will load as expected.

Evan Gamble is the American actor who portrays Henry Wattles on The Vampire Diaries.
Biography
Edit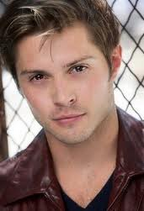 Texas native Evan Gamble is most known for the band Two Guy Trio which is actually a quartet that plays a variety of rock covers and original material.
With a theater background and a Bachelor's in Advertising from the University of Texas Austin, Evan hopes to continue influencing people with his music and acting. Evan resides in Los Angeles.
| Year | Title | Role |
| --- | --- | --- |
| 2017 | Hap and Leonard | Sneed |
| 2016 | Relationship Status | Peter |
| 2012-2016 | Meanwhile... | Various / Cleveland Stapleton |
| 2010-2016 | The Vampire Diaries | Henry Wattles |
| 2015 | Lost Angels | Miles Walker |
| 2015 | Earthfall | Mike |
| 2015 | Hawaii Five-0 | Kaleo Fisher |
| 2014 | Henry Toy | |
| 2014 | Criminal Minds | Chad Griffith |
| 2014 | American Sniper | JAG Officer #1 |
| 2014 | NCIS: New Orleans | Navy Lieutenant Ted Nash |
| 2014 | Killer Party | Ryan |
| 2014 | Mi$Match | Guitarist |
| 2013 | Under the Dome | Larry |
| 2013 | Aura | Chad Barrington |
| 2013 | Mad Men | Johnny |
| 2013 | NCIS: Los Angeles | Chad Parish |
| 2012 | Wild Cards: The Web Series | Del |
| 2012 | You're Gonna Make It | Ben |
| 2012 | Applebaum | Dakota |
| 2011 | Dream in the Dark | Jack |
| 2011 | A Good Day | Barry |
| 2011 | Criminal Damage | Alvin |
| 2011 | Craigslist Audition | Ed Houston |
| 2010 | Drop Dead Diva | Donald Hobbs |
| 2010 | In Plain Sight | Bob Draper |
| 2010 | Brotherhood | Tyler |
| 2009 | Having My Baby | Darren Clark |
| 2009 | Balls Out: Gary the Tennis Coach | Gary at 15 (uncredited) |
| 2008 | Future Farmer | Kasey kelly |
| 2008 | Alamo Gold | Neal |
| 2008 | Living Proof | Peter Wilson |
| 2007 | Girl, Positive | Greg Markwell |
| 2007 | God's Work | Jimmy |
| 2006 | Prison Break | Teenage Boy |
Appearances
Edit
External links
Edit