Ad blocker interference detected!
Wikia is a free-to-use site that makes money from advertising. We have a modified experience for viewers using ad blockers

Wikia is not accessible if you've made further modifications. Remove the custom ad blocker rule(s) and the page will load as expected.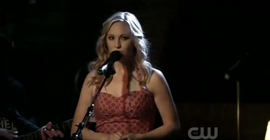 Eternal Flame is a song, originally sung by The Bangles, which was later performed by Caroline Forbes in The Vampire Diaries' Season Two episode The House Guest. Caroline sang this song as a way to convey her true feelings towards Matt Donovan during a concert at the Mystic Grill. Caroline's song was enjoyed by many in attendance at the concert, including Matt, Elena Gilbert, Bonnie Bennett, and Jenna Sommers.
Close your eyes, give me your hand, darling
Do you feel my heart beating, do you understand?
Do you feel the same, am I only dreaming?
Is this burning an eternal flame?
I believe it's meant to be, darling
I watch you when you are sleeping, you belong to me
Do you feel the same, am I only dreaming
Is this burning an eternal flame?
Say my name, sun shines through the rain
My whole life so lonely you come and ease the pain
I don't want to lose this feeling