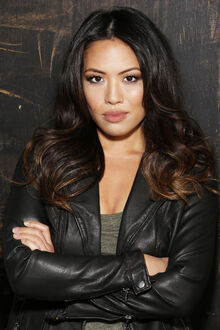 Emily C. Chang is an American actress and has appeared on several TV series, most recently being, How I Met Your Mother, and Community. She portrays the role of Ivy in Season Six of The Vampire Diaries.
Biography
Edit
Emily C. Chang is an Emmy Award-winning performer and writer. Since the age of 5, Emily has been onstage, from playing piano to touring international choral festivals. She began performing theatrically at the age of 12 and has since studied under Anna Deveare Smith at NYU's Tisch School of the Arts and comedic acting guru, Lesly Kahn.
She has been married to Alex Rubens since September 22, 2012.
Attended NYU's Tisch School of the Arts.
External links
Edit
Ad blocker interference detected!
Wikia is a free-to-use site that makes money from advertising. We have a modified experience for viewers using ad blockers

Wikia is not accessible if you've made further modifications. Remove the custom ad blocker rule(s) and the page will load as expected.