"
I never told you, but over countless years you've meant so much to me. You've been a redeemer, a confidant, a mentor, and a rival. And a friend. And at times, yes, you've been a royal pain in the ass. Now look at you. I'm so sorry, my brother. This will not be your end. I will not rest until I bring you back. No matter how many I have to kill to insure it.
"
The relationship between the two half-brothers Elijah and Klaus. Has frequently changed from between being best friends to enemies and back again, due to Klaus constantly daggering his half-siblings. Elijah and Klaus finally begin to repair their brotherly bonds during the third season of The Vampire Diaries. In The Originals, their relationship swings from partners in crime to enemies, usually based on Klaus' mood. Upon returning to New Orleans, Klaus saw his relationship with Elijah as a weakness that could be exploited by his enemies, and often took out his frustrations on Elijah as a result. However, Elijah, unlike Rebekah, is unwilling to give up on Klaus and insists that the only moment he will stop looking for his half-brother's redemption is when Elijah believes there is no chance left of his redemption to be found.
In the first season of The Originals, it was shown that while Klaus cared for his half-brother, he was willing to dagger him if it came to it to regain his title of king of New Orleans, and even went so far as to bite him when Elijah and Hayley falsely accused him of planning to use his child to sire more hybrids.
In the second season of The Originals, however, Klaus and Elijah's relationship has improved greatly, as the strife they had dealt with involving the witches (led by Genevieve) and the Guerrera werewolves, in addition to being forced to send away Klaus' daughter Hope, had caused the half-brothers to start trusting each other more and generally treating each other better.
Unfortunately, in the end of the second season, their relationship becomes worse than ever, when Elijah daggered Klaus and allowed Hayley to try and take Hope away from him, in retaliation Klaus kills his half-brother's girlfriend Gia, and daggered Elijah with Papa Tunde's Blade, their relationship becomes estranged/broken after this, as they both want nothing to do with each other any more.
By the end of the third season, they reconcile.
History
The Middle Ages
Elijah was the third eldest of seven children born to Mikael and Esther. Though Elijah and Klaus' oldest sister, Freya, was lost when she and Finn were very young, the remaining six children were very close when they were growing up. Elijah taught his younger brother Niklaus how to hunt with a bow and arrow. One day, they were hunting a doe but Niklaus missed his shot. Despite Elijah's assurance that his aim was improving with practice, Mikael arrived and berated his second eldest son for encouraging what he believed to be Klaus' failures. Belittling his middle son, Mikael began beating Niklaus in order to 'make him strong,' Elijah tried to intervene, but Mikael threatened to beat him as well if he interfered, leaving Elijah unable to do anything but watch as his brother is mercilessly beaten by his father.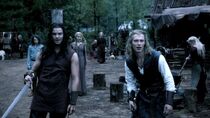 Years later, Elijah and Klaus were once in love with a local girl named
Tatia
, even despite the fact that she had a child with her husband who died in battle. Both of them fought for her affections, but she couldn't decide which one she wanted to be with. She finally made up her mind and she chose to be with Elijah, a love triangle that paralleled the relationships that
Katherine Pierce
and
Elena Gilbert
each had with the
Salvatore brothers
. They later learned that Tatia was a
Petrova doppelgänger
, descended from
Amara
, and that her blood was used to both bind the curse that suppressed Klaus' werewolf side, as well as to bind the spell that made Mikael and his children into vampires.
One day, during the Middle Ages, while they were still human, the brothers were sword fighting each other, each of them very skilled, though Elijah appeared to be better at holding his ground. When their younger siblings, Rebekah and Henrik, ran over to watch them fight, Elijah joked that they were coming to watch him win, so the brothers continued sparring until Klaus finally overpowered Elijah and cut off his belt. Esther and Mikael, their parents, walked towards them as Klaus laughed in glee at his victory, although he was later scolded and humiliated by his father for "fighting for fun."
After their father, Elijah, Klaus, and the rest of their siblings were turned into Original vampires, their family burned the white oak tree that was used in the spell to the ground, as it was the only object on earth which could kill them.
After Esther's death, Elijah, Klaus, and Rebekah made a pact that they would stick together for life, "always and forever."
Southern France, 1002
After fleeing from Mikael, the siblings stuck together, feeding when they had to while trying to remain hidden from their father. Elijah took up a strong leadership role and stressed that they stick to their vows of remaining together always and forever. One day, after killing a caravan of nobles in fine clothing, they thought about taking the clothes and posing as their victims so they could finally stop running and settle in one place. When they discovered a servant of a nearby castle, Lucien, was hiding from them and had overheard their thoughts, he offered to help them with their ruse. Klaus put it to a vote to stop his siblings from senselessly bickering over what to do with him. While Elijah voted to kill him in order to protect their presence from Mikael, Klaus had the tie-breaking vote to let Lucien live.
With Lucien's help, they infiltrated the castle and pretended to be nobles. Elijah and Klaus shared concerns in putting their faith in a stranger but Lucien proved to be of use when he introduced them to Count de Martel. Elijah and Klaus played to the count's personality; Elijah complimenting the count and saying how they could learn much from him while Klaus played on his love of hunting. After nearly being caught, the siblings were welcomed into the count's court.
Italy, 1114
During their time in Italy, Elijah and Klaus watched a vampire hunter release a vampire from his cage in public in broad daylight in front of a sizable crowd. Once the vampire was released, he immediately burned up in the sunlight, while the hunter explained to the crowd about the danger of vampire-kind. Elijah seemed to believe that the hunter put on a good show, but Klaus was not impressed, and claimed that he was nothing and that he could kill him himself for sport. Elijah and Klaus grew more curious about the new vampire hunter when he started to become fond of Rebekah, their sister. They got to know him better over time, and learned that his name was Alexander. One night, Alexander was over for dinner, and Elijah, who had been watching him closely, said that he was curious to learn more about his order and their cause, Alexander revealed that he and some other members were initiated into their order by
a dying witch
to rid the world of vampires. 
Klaus asked what they needed to do to succeed in that task, so Alexander explained that they had a secret weapon to destroy them. While the brothers were mildly concerned about how the word of vampires was spreading across the lands, they believed themselves to be safe from suspicion, thanks to their daylight rings. However, later that night, Alexander and his brothers made a move against the Originals by daggering them all with an enchanted silver dagger dipped in the ash of the burned down White Oak tree. Fortunately for them, the dagger didn't work on Klaus, because he is half werewolf, so he was left unharmed and able to kill the hunters before undaggering his siblings (except for Finn, whom he left daggered, because as Klaus believed Finn was judgmental and didn't like him.)
1359
According to Elijah's journal entries, he had begun noticing Rebekah and Klaus losing their humanity more and more each day. However, Elijah hoped, as their eldest brother, that he could lead them down the right path to reclaiming their humanity and carry on their family legacy. But, he believed that, should he fail, their family legacy would fall in ruins.
England, 1492
Over the centuries, Klaus was absolutely determined to unleash the werewolf side that laid dormant inside him. Elijah knew that Klaus breaking his hybrid curse would allow him to create his own hybrid race, which could endanger vampires as well as humans, but he loved his brother, and wanted to help him. One of Klaus' hobbies was recreating art and other cultural relics, so he and Elijah decided to create what looked like an old Aztec scroll that documented a made-up curse, called the Curse of the Sun and the Moon, which was supposedly cast by an Aztec shaman to both force werewolves to only change at the full moon, and to make vampires unable to walk in sunlight without being burned to death. The scroll described the ingredients needed to break the "curse", which were the same ingredients necessary to break Klaus' hybrid curse; the
moonstone
, a full moon, and the blood of a human
Petrova Doppelgänger
. Klaus and Elijah believed that if both vampires and werewolves thought there was a curse that, if broken, would make all their lives easier, that both species would all be looking for the moonstone and the doppelgänger. Once found, news would travel back to Klaus and Elijah, allowing them to step in and break Klaus' curse.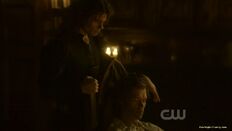 Elijah and Klaus were noblemen in late 15th century England when they met
Katherine Pierce
, a guest of Trevor, who was a friend of Klaus and Elijah. Katerina was (presumably) the second Petrova doppelgänger, and was said to look exactly like Tatia. Klaus charmed Katerina, and knew that he needed to keep her close by to perform the ritual to break the curse. While waiting for the full moon, Elijah got to know Katerina better and though he claimed to not believe in love, he eventually fell for her. This love is what ultimately led Elijah to find a way to break the curse without permanently killing Katerina in the process. He found a witch who created an elixir which, if taken before the sacrifice, would resuscitate her afterwards, and tried to convince Klaus to let her take it before the ritual. Klaus viewed Elijah's love as a weakness, and stated simply that the sacrifice would go as planned, and that Katerina would die, because she was a human, and "human life means nothing." Unfortunately for Klaus, when Katerina lea
rned that Klaus and Elijah were vampires, and wanted to kill her to break the curse, she ran away. Before she left, she took the moonstone that was to be used in the ritual, and fled from the castle with help from Trevor, who also had feelings for her. He led her to Rose's cottage, where she tricked Rose into turning her into a vampire so her blood would be useless for the ritual. As a result of Katerina's transformation, which went against the Mikaelson brothers, Katerina, Rose, and Trevor all were forced to run from Klaus and Elijah for 500 years. Klaus was furious when he found out that Katerina had run away, and blamed Elijah for telling her. Elijah promised to find her, but ultimately never did, and it is assumed that Klaus and Elijah were estranged for years afterward.
1700's
Having fled the Old World in order to escape Mikael's wrath, Elijah, along with Klaus and Rebekah, sailed back across the seas until the returned to the New World. They eventually made it to the Mississippi River and arrived in what had just become New Orleans. Upon arriving in the French Colony, they slaughtered all the men who boarded their ship, but leaving only one alive to question and carry their luggage, including the two coffins of their neutralized brothers, Kol and Finn. Elijah requested that man to find more help with the luggage and sarcastically added. "My sincere apologies".
1800's
In 1820, Elijah, Niklaus and Rebekah were living in New Orleans at the Governor's mansion, and paid the Governor in gold to keep quiet about the existence of vampires. One day, the Governor threw a party for the Mikaelsons. Rebekah went upstairs with the Governor's son, Emil, who she was in love with and wanted to turn so they could be together. Elijah was seen kissing a Creole woman named Céleste, and was having fun with her when Rebekah came to him with Emil and asked Elijah if she could turn him, to which Elijah suggested it would be an unwise move to turn the Governor's only son into a vampire.
Klaus also rejected her request and told her that if she turned every boy with whom she fell in love, the human race would cease to exist. The boy then began to fight with Klaus for insulting Rebekah, so Klaus threw him down the stairs, despite Elijah and Rebekah's protests. While the siblings were attending Emil's burial, Klaus saw a young African-American boy being whipped by a slave master, who turned out to be the Governor's illegitimate son with one of his slaves. Klaus, who was reminded of his own abuse by his father, killed the man whipping the boy and came to the child's rescue. Klaus ultimately took him in and named him Marcellus, raising him in their family's compound. Elijah saw Klaus' kindness toward Marcellus and told his sister; "Perhaps there is hope for our brother after all'.
1900's
Elijah, Niklaus, Kol and Rebekah all lived in New Orleans for centuries. Elijah mentioned that he and his siblings had many fun times in New Orleans and didn't want to leave. However, in the year 1919, after Mikael arrived, leaving countless bodies in his wake, they had no choice but to flee and hope they could evade him. Kol was daggered by Niklaus shortly after Elijah and his siblings fled New Orleans for reasons that have yet to be revealed. However, Elijah eventually broke apart from Klaus and Rebekah for unknown reasons.
Throughout The Vampire Diaries Series
After some difficulties between Elena, Damon, Stefan and Elijah, Elijah eventually helped the Salvatore brothers form a plan to kill Klaus. Elijah learned from two witches,

Jonas

and

Luka Martin

, that a witch could channel the power of a site in Mystic Falls where over a hundred witches were murdered for practicing witchcraft to weaken or even kill Klaus.

Bonnie Bennett

was able to harness the power at a the witch burial ground, and was instructed by Elijah to use it to weaken Klaus to the brink of death, at which point he would step in and finish him off. This plan almost succeeded; Elijah appeared after Bonnie had weakened Klaus, surprising him, as Klaus thought that Elijah was still daggered at the Salvatore House.

Elijah punched through Klaus' chest, grabbing his heart in his hand, and was about to rip it out when Klaus quickly revealed that he didn't bury their family at sea, as Elijah thought, and that if Elijah killed him, he would never find them. Desperate to see his siblings, Elijah decided at the last moment to save Klaus, grabbing him and fleeing at vampire speed before Bonnie could kill them both with her powers.




In As I Lay Dying, Klaus woke up in the forest after his first transformation as a true hybrid, and was approached by Elijah, who informed him that he had been a wolf for two days, demonstrating that Klaus could indeed transform at will.

Elijah then demanded to see their family, as part of their deal. Klaus taunted Elijah by saying that he

did

try to kill him, but that all was forgiven because now no one can kill him. They go to Alaric's apartment, where Klaus and his minions had been staying, where they find

Katherine

(Katerina) and

Stefan.

Stefan revealed to Klaus that he needed a cure for

Damon

, who was bitten by a

werewolf

. Stefan, knowing that Klaus had a reason to spare his life during the ritual, insisted that he was willing to do anything in return for the cure. Klaus tells them both that the

would have to wait, as he first had to reunite Elijah with his family, as promised. But Klaus, still bitter from Elijah's attempt to kill him several days prior, daggered Elijah right in front of his guests. Elijah's body was later placed into a coffin and stored in a storage facility with the rest of his family, where Klaus muttered that Elijah has been reunited with his family, as promised.
In Our Town, Stefan, whose first move after Klaus gave him his freedom back was to steal all of the coffins containing Klaus' family members, ordered Klaus to remove his newly-turned hybrids from Mystic Falls. Klaus' hybrids were acting in part as bodyguards to protect Klaus, as well as doing his bidding out of loyalty to him, so naturally, Klaus refused. Stefan countered by threatening to throw Elijah's daggered body into the bottom of the ocean. Klaus believed that Stefan was bluffing, stating that he would be willing to lose a brother (when in reality he would be heartbroken), if Stefan was willing to lose his brother as well.

In The Ties That Bind, Klaus finally retrieved the coffins that contained his siblings from the witches' burial ground, where the spirits were hiding them. He returned home, but decided not wake them just yet due to unfinished business with the Salvatore brothers regarding the last remaining coffin that was still in the Salvatores' possession Elijah suddenly appeared behind one of his hybrids, ripping the hybrid's heart out. As Elijah wiped his hands clean, he asked Klaus what he's missed.

In

Bringing Out The Dead

, Elijah noticed aloud that Klaus he was surprised to see him, which suggested that Klaus wasn't the person who undaggered him. Elijah then proceeded to fight his brother in anger for being daggered in the first place. Klaus retaliated by taking the dagger from Kol's body and threatening to use it on Elijah, but Elijah merely states that if he did, he would have to deal with Kol, and encouraged him to feel free to do it if that is what he wanted. Klaus instead re-daggered Kol and admitted that he killed Mikael for good. Elijah was shocked, and asked why he still has not released his siblings from their coffins, now that they can finally live in peace, but Klaus insisted that they first need to kill Stefan Salvatore, before their family can be whole again.

Later, Elijah and Klaus have a dinner party and invite the Salvatore brothers to come and make an agreement about Elena and the last remaining coffin. Elijah wonders how the doppelgänger (Elena) is doing, which then leads them to talk about

Tatia

, the first Petrova doppelgänger. Elijah explains that he and Klaus both loved her equally, despite the fact that she had a child by another man, and reveals that it was her blood that was used in their transformation into vampires and the spell that bound Klaus' werewolf aspect. When they tried to make a deal regarding Elena, Stefan declines Klaus' offer, and Klaus grabbed Stefan and holds his arm into the fireplace while Elijah took hold of Damon and kept him back. Klaus instructed Damon to go get Elena and the last coffin, and ordered Elijah to go with him to keep him honest. However, instead, Elijah went and undaggered their siblings, unbeknownst to Klaus, as he had made an earlier deal with Damon before they had their dinner.

When Elijah and Damon "returned," Elijah claimed he had brought dessert, and opened a tray to reveal a dagger laying inside. Just then, Klaus is attacked by Kol, Finn, and Rebekah, all of whom had just awoken from their dagger nap, and all of whom were wielding their daggers. Elijah told the Salvatore brothers to leave, as they had family business to attend to. Elijah then explained to Klaus that they

would

be a family again, but this time, it would be without him. It was then that Esther arrived, having just been released from her own enchanted coffin by Bonnie and

Bonnie's mother, Abby

. Klaus assumed that she came there to kill him, but she lied and claimed that she was there to forgive him and so they could be a family again.

In All My Children, Elijah found out about his mother's intention to use Elena's blood to link all of the Mikaelson siblings together, before then using a willing Finn to turn them all back into humans so they would all be killed when Esther killed Finn. When he learned the plan, he trapped Elena underground in a tomb with Rebekah watching over her while he went to warn Klaus and Kol, who were at the Grill. Unbeknownst to them, Alaric and Damon were also at the Grill, where they both had the intention of taking advantage of Esther's plan by having Alaric dagger Kol, which would neutralize all of the Mikaelson siblings except for Klaus. Since Klaus remained unharmed, he quickly realized what was happening. Klaus then undaggered Kol and they both left to find out where Esther and the Bennett witches were and what they were doing.

Elijah found the Salvatore brothers and forced them to tell him where the witches were by threatening to order his sister to kill Elena. Later Elijah, Klaus and Kol met up with their mother and brother Finn. They sneered that their brother Finn was a "sacrificial lamb," but Finn retorted that they were monsters, and he was happy to die if it meant killing them. Esther was channeling the entire Bennett line of witches' power through Bonnie and Abby, so they only way that she could be stopped was if the line was broken. Stefan assumed Damon planned to kill Abby, but he really intended (and succeeded) in turning her into a vampire, which resulted in Abby losing her powers and connection to nature, and Esther losing the power she was channeling through the now-broken Bennett line. Finn and Esther, realizing their plan had been foiled, ran away before Klaus, Kol, and Elijah could retaliate and went into hiding while they came up with a new plan. Kol and Elijah ended up leaving Mystic Falls, while Rebekah and Klaus stayed behind.

In The Departed, Bonnie was successful in desiccating Klaus, and he was put in his own coffin and taken by the Salvatore brothers to hide. Elijah went to the Gilbert house to make a deal for Klaus' body: he said that as long as he got his brother, the remaining Mikaelson siblings would do Elena and her friends/family no harm. He also promised that they would leave town, and would not resuscitate Klaus in Elena's lifetime, or even her children's lifetimes. and said as long as he gets his brother, him and his sister and his other brother won't harm Elena; since Klaus had daggered them all multiple times, they were okay with leaving him in a similar state for a long length of time. Elena was skeptical, but Elijah stated that he and Klaus are brothers and needed to remain together; adding that Klaus' time being desiccated would hopefully teach him some manners.

Alaric was turned into an Original vampire by Esther in a last ditch effort to kill her children once and for all, and the transformation, in conjunction with his vampire-hating alter-ego as a result of the Gilbert ring, caused him to to become a strong vampire hunter like Mikael was. He eventually found Klaus' coffin and staked him with the indestructible White Oak stake, not knowing that Bonnie had secretly done a body-swap spell on him that put Klaus' essence in Tyler's body, preventing him from dying. In another stroke of luck, Alaric closed the coffin while Klaus was still burning, and his body ended up being in good enough condition to return his spirit to his body later.
In American Gothic, Elijah and Klaus conversed for the first time since All My Children, over the phone. Elijah told Klaus he had the cure and he would be returning to Mystic Falls, which Klaus seemed thrilled about, as Klaus wanted to discuss this matter "like family."

In

Pictures of You

, Klaus and Rebekah each tried to convince Elijah that they, and not the other, were most deserving of the cure. Elijah rules with allowing Rebekah the cure for her shot at happiness, much to Klaus' annoyance. He demands to know if Elijah is joking since he was fating him to an "eternity of torture" at Silas' hands, to which Elijah responds he had made his decision. Klaus, angry, snarls in Rebekah's ear before walking out.

Later on, Elijah gives Niklaus the White Oak Stake, proving that he has nothing to fear from Silas, as only the stake can kill him. Klaus bitterly responds Silas will continue to torment him, to which Elijah said he has survived torment over the centuries and will shake this; if not, he will have to outrun him. Klaus laughed at him, and refused to spare Katherine's life without the cure. Elijah replied that, as his only living brother, Klaus should give him this opportunity to love, yet Klaus remained unmoved, retorting that, as Elijah's only living brother, he will make it so Elijah will never know a minute of happiness. The two stand in silence for a moment before Elijah pushes away the stake Klaus taps on his chest, and rests a hand on his face telling him "it's such a hollow little life you lead." before leaving.

In

The Originals

, Elijah followed his brother to New Orleans after hearing of a plot by

Jane-Anne Deveraux

to take down Klaus. When he arrived, he

learns that

Klaus was to become a father, which shocks him. Elijah first met with Klaus upon the gallery, where he urged him to join him, as he had learned the truth about who was conspiring against him. Elijah took him to a mausoleum where Jane-Anne's sister

Sophie Deveraux

and several other witches are waiting for them. Sophie admits to Klaus her plot to end Marcel's rule over the supernatural population of New Orleans by infiltrating his army. Klaus was unconvinced of her scheme until she revealed to him why he will want to help her. She then brought out

Hayley Marshall

, a werewolf with whom he had a

one-night-stand

several weeks earlier, and revealed to him that she was pregnant with his child. Klaus was clearly in shock and disbelief until Elijah repeated that she was carrying his child and that the witches were telling the truth, and he urged Klaus to listen for her heartbeat.
Throughout The Originals Series
Quotes
The Vampire Diaries
Klaus: He's nothing. I could eat him for sport.
Elijah: Still, you should heed the warning. With you here and Kol in the east, you have not been discreet. Stories of the Original vampires are spreading.
Klaus: I welcome search in for me. But, if you're worried about discretion. Perhaps, you should wrangle our sister.
-- The Five
---
---
---
Klaus : What are we doing here?
Elijah : You wanna know what the witches have in store for you? Follow me.
Klaus : This is why you brought me here?
Elijah : Hear her out.
Klaus : I don't need to hear her out. I assure you, love, there is not a thing on this earth that would matter enough for me to waste even thirty more seconds of my time. Elijah what madness is this?
Elijah : Niklaus... the girl is carrying your child.
Klaus : No. It's impossible. Vampires cannot procreate.
The Originals Gallery
The Vampire Diaries
The Originals