Elijah Mikaelson
Comments

6k
1,300pages on
this wiki
Elijah Mikaelson
Biographical information
Born
Status
Occupation

Nobleman (1200-1400s)
Historian (2010)

Species
Gender
Family information
Family members
Supernatural information
Significant sires

Several people over the centuries

Significant kills

Slater (Compelled)
Two unknown Vampires
Three unknown Werewolves
Two unknown Vampires

Cause of death

Stabbed through the heart (as a human)

Killed by
Appearance
Played by
First seen
Last seen
.
"
Always and forever! Those words are as important to me today as they ever were.
"
Elijah Mikaelson is an Original Vampire, who was born to Mikael and Esther in the 10th century. He has six siblings, a deceased unnamed older brother, three younger brothers (Finn, Kol, Henrik), and a younger sister named Rebekah. He also has a younger half-brother named Niklaus. After Mikael's death, Elijah is the eldest Original alive and the second oldest immortal being in the world after Silas.
During the 10th century when Elijah was human, he used to have fun with his half-brother Niklaus by battling each other with swords a few times which their Father Mikael didn't approve of. Elijah and Niklaus used to be in love with a girl named Tatia and they almost broke their family bond with each other, but soon came to realize of how important the family bond is. When Henrik had been mauled by a Werewolf, Elijah came running to his mother and his siblings. Elijah comforted his mother while she cried of her youngest son's death. Once they became Vampires all of their emotions and personality were all heightened. After their mother had been killed by Mikael, Elijah, Niklaus and Rebekah made a pact that they would stay together always and forever.
In 1492 in England both Elijah and Niklaus were noblemen. They soon met with a girl named Katerina Petrova who was the first doppelganger of Tatia. Klaus planned to have her sacrificed, but Elijah started to have feelings for Katerina and asked his brother to spare her life. Klaus told his brother that love was a vampires' greatest weakness and they were not weak. Klaus then told him not to brother as the sacrifice would go on as planned. When Katerina escaped Klaus went to Elijah, thinking that he had helped her escape. Elijah promised his brother that he would find her, and Klaus made a promise of his own if he did not find her, he would be dead.
In Season Two, once Elijah discovered the existence of the second Petrova/doppelganger, Elena Gilbert. He plans to use her as bait to lure his brother back to Mystic Falls. But later gets daggered by the dopeelganger and once his brother comes to town, the doppelganger decides to un-dagger him. Elijah tells his history in 1492 with his brother to the doppelganger. After his brother Klaus finally broke his curse, Elijah was about to kill him until he told him the truth of what happened to their family. Elijah then decided to save Klaus and waited for him to wake up after his transformation. Elijah was then later daggered by his brother and was reunited with his family.
In Season Three, Once Elijah was un-daggered, he killed one of Klaus' Hybrids and started a fight with his brother. Later Elijah un-daggered the rest of his siblings and all of them decided to leave Niklaus all alone, until their mother arrived. Elijah was the only one who didn't trust their mother, and asked Elena to tell him what she is up to. Elena lied to him and the next day he confronted her about it and she confessed and told him everything, his mother had said to her. Elijah then intended to keep Elena hostage until they have stopped their mother from killing them. After his mother had been stopped he left Mystic Falls and left Elena a letter for her to read. Elijah later appeared to deal with Elena for Klaus' body, then after Alaric staked Klaus. Elijah and Rebekah mourned him.
In Season Four, Elijah eventually began a relationship with Katherine after having a long-standing crush on her. However, he broke up with her since he chose to leave Mystic Falls for good and live in New Orleans with his brother Niklaus. He will have the lead role in The Originals (TV Series).
Elijah is decribed as quiet but highly intelligent and a boy next door. He is a man of honor and also noble at times, he is very calm when dealing with people such as Elena Gilbert and the Salvatores brothers, he also has great respect for them. Elijah is also a little vengeful and impulsive when people betray him, like Trevor who betrayed him by helping Katerina Petrova to escape. Elijah is also a family man and he tries to protect his family no matter the cost. Like his brother Niklaus he wants their family to stay together as one.
Elijah is a member of the Mikaelson Family.
Pre-history
The Middle Ages
Elijah was born into a family of wealthy land owners (
Mikael
and
Esther
). Elijah was born in the New World (America). During Elijah's early life, he and
Klaus
both fell in love with a woman named
Tatia
. Although she had a child by another man, both brothers fought over her before realizing family was more important. They lived among
werewolves
for about twenty years, and during the full moon, the humans would simply hide in the underground caves while the werewolves turned.
He enjoyed sparring with Klaus, much to the disapproval of his father, who didn't like the fact he was sparring with his step-son Niklaus whom Mikael viewed as reckless. One morning after a full moon, Niklaus comes out of the woods holding his dead little brother Henrik. Elijah comes running from the woods to Niklaus and Rebekah and sees that Henrik is dead.
Before Esther completed the vampire ritual, Mikael gave his children wine laced with blood from Tatia. Then he then stabbed Elijah and his siblings through the heart with a sword and made them drink human blood. After becoming a vampire, Elijah, along with his family, made sure that the White Oak Tree burned down completely as it was the only thing capable of killing them. The ash from the tree was saved and could be used in conjunction with a silver dagger to neutralize all of the Originals except for Niklaus since he also had the werewolf gene when turned, which allowed him to heal from silver.
Shortly after becoming a vampire, his mother was killed by "Mikael". After burying their mother, Elijah, Klaus, and Rebekah promised that they would never turn their backs on each other and that they would stick together as one, always and forever.
Italy, 1114
Elijah was in Italy along with his siblings
Rebekah
and
Klaus
. They came across a vampire hunter named
Alexander
who was part of a group called
The Five
. Rebekah fell in love with Alexander. Elijah and Klaus took advantage of this as an opportunity to get closer to Alexander and find out his secrets. One day, the three siblings were invited to a party at Alexander's home where they were attacked by surprise and daggered. Klaus was again unaffected by the dagger thanks to his werewolf lineage and undaggered Elijah and the rest of his siblings.
England, 1492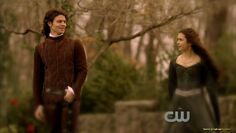 In England, Elijah and Klaus were noblemen in late 15th century. Elijah met with Katerina Petrova, through a vampire named Trevor; she strongly resembled someone he once knew. He arranged for her to meet Niklaus. While Elijah was helping Klaus achieve his goal of breaking the hybrid curse, he started to fall in love with Katerina, whom Klaus planned to sacrifice in order to break the curse. One night, Elijah and Klaus looked over some of Klaus's previous work and Elijah meant his finest work was the Aztec and said to his brother, "Who can resist a shaman?". When Elijah and Katerina were having fun outside, they sat at a bench and talked. When Katerina asked Elijah if true love is not real unless it is returned, he confessed to Katerina that he didn't believe in love, to which she responds "If we cease to believe in love, why would we want to live?" Klaus then came and took Katerina away from Elijah and they both looked at each other. Elijah tried to persuade Klaus to spare her life, but Klaus told him not to bother and that the ritual would go on as planned. On the night of the full moon, Katerina took the moonstone and fled with the help of Trevor.
Klaus assumed Elijah helped her because of their discussion the night  before about sparing her life. Elijah promised him that he would find her, and Klaus responded with a promise of his own: if he did not find Katerina, he would be killed. Elijah attempted to track down Katerina Petrova in the woods as she hid behind a tree. Elijah shouted out that Klaus would find her wherever she went, and that he could smell her blood. Trevor comes and leads Elijah away from Katerina which allows her to escape. Trevor would later pay the price for his betrayal.
New Orleans, 20th century
During the 20th century Elijah lived in New Orleans along with his siblings. Niklaus, Kol and Rebekah. Elijah and his siblings had many fun times in New Orleans and didn't want to leave. But then Mikael came and drove them out of New Orleans, leaving countless of bodies behind him. Kol was then neutralized by Niklaus for reasons unknown, Elijah and his siblings left New Orleans behind before their father could reach them.
Throughout The Vampire Diaries TV Series
Elijah was first introduced when two vampires named Rose and Trevor called a person on Elijah's inner circle in the hope that he would come to meet them and pardon them because they were tired of constantly running from the Originals. They held Elena captive in the hope of using her as a bargaining chip. Initially skeptical of their claim of having the Petrova doppelgänger, by testing whether Elena was human, he proceeded to smell her neck. Surprised, he confirmed that Elena was indeed a human and alive. He forgave Rose because she helped Trevor out of loyalty to him which he respected, but he executed Trevor by decapitation for his betrayal of having helped the second Petrova doppelgänger, Katerina Petrova, escape.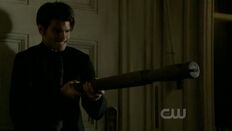 As they were leaving the house that Rose and Trevor were hiding out in, the Salvatore brothers came to rescue Elena. They shot Elijah in the hand with a wooden stake, Elena then came out and threw a vervain grenade which exploded and burnt his face; however, he soon healed. Stefan shot multiple stakes at him and eventually tackled him to floor. When Elijah got the upper hand and was about to kill Stefan, Damon then staked him with a broken coat rack, pinning him to the wall; however, some time later, he came to back to life and pulled the stake out of him.
When Rose and Damon went to see a vampire named Slater looking for information about the curse, Elijah appeared and gave a guy a 100 dollar bill in exchange for some coins. He listened to the conversation for a while before throwing some coins at the web-Café's special UV protected glass. It shattered, which sent the vampires inside running for cover. Later that night, he compelled Slater to call Rose (who was with Damon) and tell her that they can stop the sacrifice by dispelling the moonstone. Elijah then further compelled Slater to stake himself.
The next day Elijah, with the help of the allied Jonas Martin, found Elena through a locator spell and appeared at the window Elena was watching. She saw Elijah and freaked out a little bit. Elijah told Dr. Martin that he knew exactly where to find her. When Elijah found himself in Slater's apartment, he killed the three vampires who were going to take her to Klaus, but he let Elena and Damon live, much to their surprise. When Dr. Martin asks him about it, he said that it was good that Damon was alive so he can protect Elena as he needs her alive.
In By the Light of the Moon, Elijah meets with Jenna Sommers who is Elena's aunt and was then invited to her house. Elena sees Elijah and is extremely shocked. Elijah greeted her, thanked Jenna for inviting him in, and said to Elena that he hoped to see her again soon. Elena runs up to warn her brother, but Elijah raced to the door and told her that they needed to talk.
After Elena makes an excuse to Jeremy, Elijah and she go to her room. Elijah tells her that he won't harm her or her family. Elena then asks why he killed the vampires who were going to take her and Elijah responds by saying that he didn't want her to be taken and then tries to make a deal with her to kill Klaus and keep her friends and family safe. He then says that he has no concern in breaking the curse, but to find Klaus and kill him. Later Elijah asks Dr.Martin to break the tomb spell under the Fell's church. As per his agreement with Elena, he frees Stefan from it, but compels Katherine to stay there until Klaus comes.
In Crying Wolf, Elijah takes on the surname of Smith and when Damon tries to get the truth out of Elijah at the Historical society meeting, Elijah overpowers him and tells him that he can kill him when he's completed his part of the deal. Later, when Damon and Alaric Saltzman are captured by the werewolves, Elijah comes to the Salvatore Boarding House to find Alaric dead and Damon being tortured by Jules. He offers them the Moonstone but when they try to grab it, he kills all the werewolves with amazing ease, causing Jules to run away without the Moonstone.
Elijah then releases Damon as Alaric comes back to life with the help of his ring, reminding the younger vampire that it was the third time that he saved his life. Under Bonnie's spell, Luka reveals that he, his father, and Elijah all want Klaus dead, and the reason they are helping Elijah is because Klaus has Luka's sister, also a witch, and is forcing her to help him find a way to break the curse without the Petrova Doppelgänger, as he has been doing for generations with other witches. He also reveals that Elijah will return his sister to them if they help him but that they will kill Klaus after the sacrifice, when he is most vulnerable, meaning Elijah intended for the sacrifice to happen all along.
In The Dinner Party, Elijah goes with Jenna into the woods and talks. Then Alaric comes and joins them and he spend hours with Elijah and Jenna. Elijah and Jenna later go to the Grill and meet Damon, Andie and Alaric. Andie asks Elijah and Jenna if they would join the dinner party at the Salvatore boarding house. Elijah says it will be his pleasure. When Elijah comes to the Boarding House for the dinner party with Damon, Alaric, Jenna, Andie Star and John Gilbert, Elijah says if Damon tries to cross him Elijah will kill him and everyone in the house.
During the dinner party, Elijah and Damon take drinks together in the study. As Damon is about to use the dagger to kill Elijah, Alaric enters the room and says they forgot dessert. Unsure of Alaric's interruption, Alaric quickly writes to Damon that the dagger will kill him if he uses it. When Elijah returns to the dinner party, Damon says he doesn't have to protect John as per the deal between Elijah and Elena. Elijah begins to say that he will take Elena away from both Damon and John if Damon becomes a liability.
Alaric then stabs Elijah with the white oak ash dagger, seemingly killing him. It is later revealed however that the dagger has to remain in an Original to keep him dead. Elijah shows up at the lake house and tells Elena that their deal is off, and demands that Elena come with him. Elena threatens to turn herself into a vampire, but Elijah calls her bluff. Elena responds by stabbing herself. Elijah, not wanting history to repeat itself, agrees to the terms of the new deal Elena strikes and begs her to let him heal her. As Elena moves towards him through the door, she stabs him with the white oak ash dagger.
The day after he was neutralized, Damon is shown trying to torch Elijah's body (dagger still intact) with a flame thrower. However, this doesn't work and Katherine states that Elijah is indestructible. After Klaus almost killed Bonnie, a fearful Elena pulls out the dagger from his chest and waits until Elijah wakes up. Once he does, he thinks Elena is Katherine, calling her "Katerina". When coming to his senses, he recognizes that he has not been invited into the "Elena's" house, and starts to suffocate and become disoriented until he finally gets out the house. While outside the house catching his breath, he sees Elena in the doorway and rushes at her for neutralizing him but is stopped due to not being invited into her house. Elena gives him the dagger to prove that he can trust her so they can talk somewhere private.
While he and Elena talk about Klaus and how she needs his help to defeat Klaus, they drive to The Lockwood Mansion where Elijah needs to get a new suit. Elijah informs Elena that the curse of the sun and moon is fake, Klaus is an original vampire/werewolf hybrid and Elijah's brother, and that he had found a way to save the life of the Doppelgänger after the sacrifice. He also reveals he had once cared for Katerina, but that it was a mistake he does not care to iterate. When Elijah and Elena come to The Salvatore Mansion, they see the Salvatore brothers fighting, which causes Elijah to remember something similar (Niklaus attacking Elijah and blaming him for Katerina escaping).
The day after he was resurrected, Elijah explains that the curse should be broken during a full moon and Klaus is preparing for it. Elijah procures an elixir that has a chance to resurrect Elena from the dead after the curse is broken, but Damon doesn't believe it. Elena tells everyone that they should understand why she is willing to do it.
Elijah asks her why and she says that she is the doppelgänger, she is the key to breaking the curse, and if she doesn't do it, Klaus will never stop. Then she goes upstairs to explain it to Damon but Damon, convinced the elixir wouldn't work, forces her to drink his blood. When Damon comes back downstairs, Elijah says she doesn't need the elixir anymore, as feeding her vampire blood rendered it useless. Before he goes he says to Damon that Elena will never forgive him.
After the curse is broken and Klaus is delivered to the brink of death, Elijah walks up to his brother. When he is about to rip his brother's heart out, Klaus reveals that he didn't bury their family at sea, their bodies are safe, and if he is killed, Elijah would never find them. After a moment of hesitation, Elijah saves Klaus and helps him escape before Stefan and Bonnie could stop them.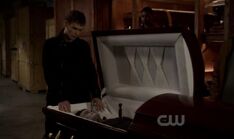 Two days after the ritual, Elijah is in the woods waiting for Klaus to wake after his transformation. When Klaus wakes, Elijah explains that Klaus stayed a werewolf for two days, even when the full moon went. Elijah reminds him of their deal - if he didn't kill Klaus, Klaus promised to reunite Elijah with their family, even though he was almost killed by him. Elijah and Klaus return to Alaric's apartment and find Katherine and Stefan waiting. Klaus explains before he can help Stefan, he has to stick by his deal to Elijah. Elijah explains to Stefan that his brother gave his word that he would reunite him with his family. Then Klaus suddenly appears behind him stabbing Elijah with the white oak ash dagger, neutralizing him. Elijah is later seen in a coffin about to be "reunited" with his family.
In Ordinary People, When Elena wanted to know more of Original family, Rebekah started to tell about her violent history with both her brothers Klaus and Elijah, when they were all humans a 1000 years ago. And of they became the very first vampires after a tragic death.
In Our Town, Elijah is mentioned by Damon when he tries to find out who is in the 4th coffin, then later Stefan tells Klaus to remove his newly-turned hybrids from Mystic Falls after he seized the coffins containing the other Originals. When Klaus refuses, Stefan threatens to throw Elijah at the bottom of the ocean.

In The Ties That Bind, Elijah makes his first "live" appearance in the third season after being undaggered by Damon, before Klaus could reach the coffins. When Klaus moved his coffins to his house and had to go, Elijah appeared and killed his Hybrid by ripping Daniel's heart out, leaving Klaus shocked that Elijah had awakened.
In
Bringing Out The Dead
, Elijah asks Klaus if he was surprised to see him since he wasn't the one to remove the dagger. He then fights with
Niklaus
and he fights back until he falls on Kol's coffin and then Klaus takes the dagger from Kol's body and says he will use it on Elijah. But Elijah 
dares him to use it, knowing that Klaus will then have Kol to deal with. Klaus then tells Elijah that he killed their father Mikael. Elijah then asks why their family still remains in the coffins and says, "Finn
for over 900 years, Kol for over a century". Klaus says because of Stefan Salvatore and asks Elijah's help to destroy Stefan and help him get the fourth coffin in order to reunite their family. Elijah idly stands by as Klaus inserts the dagger back into Kol's heart. Elijah then meets with Damon and says to him that he left a note for him. Elijah then invites Damon to a dinner party at 'The Originals Mansion'.
At the dinner party they begin to talk about Tatia, the original Petrova. They reveal that Elijah and Niklaus both loved her equally and that it was her blood which was used to create 'The Originals'. Klaus then tries to make a deal with Stefan, which he rejects. Then Klaus threatens to kill Stefan if Damon doesn't return the missing coffin and asks Elijah to go with Damon. After sometime, it is revealed that Elijah had undaggered his siblings when they all start to enter one by one. Elijah then asks the Salvatores to leave as its their family business. Then Elijah and the other siblings decide on abandoning Klaus. And while Klaus continues to argue with them, their mother Esther arrives, and tells all of her children that she wants them all be a family again.
In Dangerous Liaisons, Elijah prevents Rebekah from killing Elena as revenge for daggering her. He then tells her that Esther wants her family to live in peace with the other inhabitants of Mystic Falls and that she doesn't want war. Elijah is then in the morning seen preparing for the ball that night. During the ball, Elijah serves as the master of ceremony and leads the evening into a dance. He later joins Elena as she is going to talk to  Esther where he reveals his suspicions to her. He doesn't believe that his mother's forgiveness is sincere and wants to know what she will tell Elena.
Elena promises to tell him what Esther says. Later, after Elena talked with his mother, she lied to Elijah by telling him his mother only wanted to apologize for trying to have her killed. Elijah and Elena then raised their glasses of wine when his mother talked to everyone from the stairs, and when she was finished speaking, everyone began to drink the wine with Elena's blood in it.
He later witnesses Damon snapping Kol's neck after the latter tried to kill Matt and promises his mother that he will keep Kol and Rebekah from ruining everything with the inhabitants of Mystic Falls. Unbeknownst to Elijah, his mother is planning on killing him and his siblings which she is possible since she linked them all as one through the champagne (laced with Elena's blood) that they drank earlier that evening. Esther regrets having to kill her children, most notably Elijah, commenting on how moral he is to his brother Finn.
Elijah continues to distrust his mother and in
All My Children
, he talks with Rebekah about their mother and asks if she found something weird about their mother. Rebekah says that he should ask Finn, but Elijah expresses his reluctance to talk to Finn since he knew that Finn hated being a vampire. Rebekah didn't believe that their mother was doing anything suspicious and said that Esther just wants the family to be whole again. Elijah then goes to Elena's house and asks her to come with him, saying he wants to show her something. They both went on a drive to the woods where Elijah says he used to play as a boy. Elijah then yet again asks what his mother is up to. Elena begins to lie, but Elijah informs her that her heart skips a beat when she lies.
She tells him that she agreed to help
Esther
kill Klaus, but didn't know it would also kill the other Originals and that she wishes there was a way to help him. He causes the ground to collapse beneath them, creating an opening to the caverns underneath, and traps Elena below. He sends Rebekah to keep her there while he informs Stefan and Damon that they have until the end of the night to stop the spell by killing the witches who are with his mother,
Abby
and Bonnie. Trying to find an alternative solution,
Alaric
stabbed Kol with a dagger neutralizing Elijah along with Finn and Rebekah. Klaus, however, removes the dagger moments later, reawakening his siblings.
Elijah appears and stops Klaus from killing Damon and then demands the location of their mother or Elena dies. Damon says that they should be at the old witch house, where the Original proceed to confront their mother and brother (Finn). The family has a standoff, but after Damon kills Abby, the witch spirits leave Esther, causing her and Finn to disappear. Elijah later tells Rebekah that they no longer have a mother, only Esther and that Esther only turned them into vampires, whereas they turned themselves into monsters.
In the same scene with Rebekah, he also admits that he is a hypocrite as he has not always acted morally, using whatever means necessary to get what he wants. Rebekah tries to defend his actions, saying that they are better than the ones trying to kill them. Elijah questions that and leaves the room. He writes a note to Elena explaining that she has good traits which he admires and that he is filled with regret for what he has done to her. Klaus informs
Rebekah
that Elijah is fleeing as
Kol
has.
In
The Departed
, Elijah shows up at Elena's house and surprises her with his return. Elena called Stefan and Matt and said that Elijah was with her. When they came and saw Elijah standing there with Elena, they acknowledged each other. Elijah said that he will take Alaric's stake and run from him until Elena dies from old age, like Klaus and Rebekah ran from their father for 1000 years. Elijah then begins to make a deal for Klaus' body with Elena, saying that he will not revive Klaus in her lifetime nor her children's, saying that it may teach him some manners. But Matt didn't believe him, asking why they should trust him since everything Elijah had done has screwed her over in past. This prompts Elijah to apologize for his past actions.
He then said that Elena could have been dead when Stefan and Matt came over and that it only mattered whether you wanted to trust him or not. When Elena asked why Elijah wants Klaus back, he said Klaus is his brother and that they remain together. Elena then made the deal with Elijah to hand his brother back to him.
After Alaric staked Klaus with the white oak stake, Stefan told Elijah about it and then Elijah waited for Rebekah to come to him. When Rebekah came, she said that Klaus was gone and that there was nothing she could do to stop it. They both hugged each other and mourned Klaus' death. Elijah said that Tyler Lockwood is dead, but the other vampires have survived and says that he nor Kol created their bloodline. Rebekah says that she didn't either and that she was sure it was Klaus. Elijah then wondered how the vampires from Klaus' bloodline could still be alive.
In Growing Pains, the Town Council had hoped that capturing Rebekah would draw her siblings, including Elijah, back to Mystic Falls so they could kill them with the white oak stake, wiping all vampires off the face of the Earth. However, their plan failed as Rebekah was freed.
In The Five, Klaus and Rebekah told the story of The Originals' first encounter with the Brotherhood of the Five, explaining how Elijah and the others had been daggered back in the early 1100s.
In Catch Me If You Can, when the feud between Kol, Rebekah, and Klaus reached a breaking point with Rebekah drawing a dagger on Kol, Kol brought up Elijah in his fury. He said it was this type of bickering that had driven Elijah away and made him want nothing to do with them.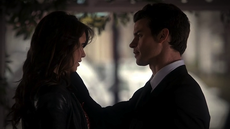 In American Gothic, when Elena and Rebekah tracked down Katherine Pierce after she had gained possession of the cure, they learned she was meeting with a contact of hers. Elena posed as Katherine, discovering her contact was Elijah, who she was her broker in the deal to exchange the cure for her freedom from Klaus. Elijah and Katherine had rekindled the relationship they had formed centuries prior and through this affection, Elijah was helping her. When they met, Elijah kissed her, but he quickly saw through Elena's disguise and confronted her by asking here where Katherine is. When Stefan called 
Elijah, he threatens Stefan that if anything happens to Katherine he will descend upon Elena. He realized she had turned off her humanity as well as seeing her as a vampire for the first time. She told him that Katherine had killed Jeremy, much to Elijah's surprise, and he showed great sympathy, upset by Katherine's lies.  Katherine arrived and tried to explain herself but Elijah's distrust of her made it hard for him to go along with her plans but she finally gave him the cure, proving herself to him and telling him that she truly did love him.
With the cure now in his possession, Elijah spoke with Rebekah, uncertain as to why she would want to be human since that would take her away from her family. He then spoke to Klaus over the phone, telling his brother that he now has the Cure and intends to bring it back to Mystic Falls, much to Klaus' elation. When Klaus voices out that Elijah may have a long list of demands before handing it over, Elijah tells him "Not that long."
In
Pictures of You
, Elijah, Rebekah, and Klaus have a conversation about who deserves the cure more then the other. Rebekah explains her wish to becoming human, but Klaus teases his sister's wishes and Elijah said to his brother to come with a more compelling reason why he should have the cure. Klaus told him that Silas would torment Klaus, until he has the cure. But then the other side would be destroyed and even though their brothers Kol and Finn would return, Elijah didn't thought that he should give the cure to Klaus, so that Silas could destroy the veil and put the entire world in danger so he choose to give it to Rebekah. But only if she could pretend to be human for a day without any vampire privileges. And then she will get the cure.
Later, Elijah gets the
White Oak Stake
from Rebekah and hands it off to Klaus and tells him they are immortals except from the stake they have nothing to fear. Elijah believes that Klaus will survive the tormenting from Silas as he has survived endless torments over the centuries, but says if he can't he'll outrun him. Klaus asks Elijah why he would spare Katerina without the cure, Elijah says. "I would ask you to provide me with this opportunity, to feel, to care, to love." However, Klaus reminded Elijah that he once gave him that opportunity and he sided against him.
Elijah waited for Rebekah at her house and he handed the cure and asked if she truly wanted the cure, she took it and thanked her brother. The real Rebekah then called, Elijah confused answered the phone, and Rebekah told him that something was not right and told him not to take his hands off the cure, but Elijah told her it was too late for that.
In
The Originals
, Elijah tells Rebekah that their brother Niklaus has gone to
New Orleans
to find out who is plotting against him. Elijah then decided to head to New Orleans to find out who is plotting against his brother and tells Rebekah, that he will either stop them or help them. "Depending, on my mood."
Once Elijah came to New Orleans he saved a Witch named Sophie Deveraux, from two unknown vampires who worked for Marcel, the king of New Orleans. Elijah asked her what business her family had with his brother. Sophie told him how she and many others wants Marcel gone and also tells him of Klaus' Unborn Child.
Elijah then meets with his brother and tells him to come with him and tells him he has found out who is plotting against him. Elijah leads Klaus to an old Cemetery where they meet with Sophie. Sophie tells Klaus and demands him to help her and the other witches get rid of Marcel. Sophie and Elijah then reveals that the
Werewolf
, girl named Hayley is having Klaus's child. Sophie then comes and explains how it is possible that
Hayley
is having his child. Sophie then threatened to have both Hayley and the child killed if Klaus did not help them, Elijah then interrupted and told that if they wanted Marcel dead he could kill him himself, but Sophie tells him they have a better plan. Klaus got mad and thought it was lies. Elijah then told Klaus to listen and Klaus heard the heart beat of the child. Klaus then walked away and didn't care what would happen to Hayley and the child.
Elijah tried to convince his brother, that it was a gift and that it was their chance to be a family after all the centuries of being despised by their parents and their lives being ruined. He tells his brother this their chance to take back what ever they've lost. Klaus refused to save Hayley and his child and then left Elijah. Elijah then called Rebekah, and tells her that neither of them is good without that child, Rebekah then asked when he would stop searching for Klaus's redemption. Elijah responded with. "I'll stop searching for his redemption, when I believe there's none left to be found".
Elijah then later sat with Klaus at a bench and talked of how much fun they had in New Orleans and of how they had to leave thanks to their father. Klaus then tells him that he wants to take back this town and be king, when Elijah asked of Hayley and the child, Klaus said that every king needs an heir.
Elijah then met with Sophie in the morning and asked her how this would work, Sophie told him that Klaus needs to come in Marcel's inner circle, and they'll be hitting Marcel where it hurts. Elijah then headed back to Mystic Falls to bring Rebekah with him to New Orleans, and tried to convince Rebekah to come with him but Rebekah wouldn't saying she didn't owe him anything then walked away. Katherine then appeared before Elijah and told him his sister is right about Klaus, Elijah kissed Katherine on the forehead and says goodbye.
Season 5
TBA
The Originals Series
Season One
TBA
Personality
"
You may know him, an original brother, impeccable taste.
"
Human
Elijah is a man who lives by a code of honor and morality that has been with him since he was a human. As he told Elena in All My Children, he valued qualities such as compassion, honor and virtue long before his mother turned him into a vampire. Having learned to take care of his family over the years and being naturally responsible, Elijah had developed into a very free-spirited, mature and independent person.
Original Vampire
Elijah is described as unpredictable, over-protective and stubborn, but also very warm, quiet, kind, smart, selfless, beautiful, empathetic, compassionate and caring towards others. He has a tendency to underestimate the people around him mainly because of his concerns for their safety. He has a very sarcastic sense of humor, especially when he is angry. He is also very self-reliant, intelligent, strong-willed, determined, brave and headstrong. However despite his tough facade, Elijah is naive, vulnerable and easily manipulated, which is shown several times throughout the series'. He strongly believes in trust, honesty and loyalty and whenever he would give his word to someone, he would keep it. This earned him the trust of Elena, Jonas Martin and a few others. He has a lot of respect and admiration for human life, which is unseen in many other vampires and is normally very reluctant to kill anyone when unnecessary as he is not a violent person at heart. He has a very impressive amount of control over his abilities.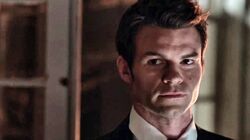 However despite his generous traits, his turning into a vampire also brought out more impulsive sides to his personality, developing a tendency to be shallow, insensitive, ignorant and an over achiever. He is always willing to kill whenever it suits his needs and shows little to no remorse about it. Elijah very rarely has tolerance for those who broke their words to him, shown when he killed Trevor for betraying him and imprisoned Katherine for her own betrayal. Despite the fact that he always kept his word, he was proficient at finding loopholes in the deals he made and was very careful with those that he proposed, making it clear that whenever he did something, he hadn't promised not to do it. Ultimately, he would always do whatever he needs to do to get what he wants. Elijah's biggest defining trait, as well as his greatest weakness, is his love and loyalty to his family. He believes that it is his duty to preserve and protect them, despite knowing the consequences.
Physical Appearance
Elijah is an exceptionally attractive, beautiful and handsome man, 5'11" in height, and has a thin but muscular body. He has short brown hair, with hazel brown eyes. His facial features are angular - high cheekbones, a strong jawline, and a straight nose. Despite being centuries old, he appears to be in his late twenties or early thirties, somewhere between 28 - 32. He also appears to be older than his half brother Niklaus, and is possibly older than his brother Finn, making him the oldest sibling of the family. Elijah is similar to his younger brother Kol, in facial features, but resembles all of his siblings in a more general way.
Elijah in the present day is consistently well-dressed. His boy-next-door esque wardrobe typically consists of a dress jacket, dress shoes, dress pants, shirt and sometimes a tie. This continues his trend of dressing well throughout the centuries. As a human, he wore more simplistic clothing, along with the other males in his family. But after a 100 years it seems he upgraded his attire to clothing indicative of a nobleman. Elijah has also worn different hairstyles in keeping with the times. As a human he wore it long, but by the 12th century he wore it shorter and  also wore some facial hair. His hair does not appear to have changed much in style by the 15th century, only a bit shorter. As a 21st-century man, Elijah maintains a much shorter style for a cleaner look, suggesting along with his attire a man of refined tastes.
Relationships
Before Elijah and his siblings became vampires, the family was quite close. However, after Esther performed the immortality spell on her children, their transformation acted as a catalyst for the disintegration of most of the family relationships. After Klaus framed Mikael for their mother's murder, Elijah made a pact with his two younger siblings, Niklaus and Rebekah, that they would always stick together.
Main article: Elijah and Klaus
Niklaus is Elijah's half-brother and his closest brother. When they were humans they both had fun together by battle with swords match of their father's disapproval. After their mother died Elijah and Niklaus made a pact with Rebekah that they would stick together always and forever. In the year 1114, they came across a vampire hunter named Alexander and the brotherhood of the Five. Alexander and his brothers neutralized four originals, but were released (except Finn), by Niklaus. In 1492 they met with a woman named Katerina Petrova, the first doppelgänger of Tatia. Klaus planned to sacrifice her, while Elijah started to have feelings for her. After Katerina's escape, the family relationship between Elijah and Klaus was broken for a while. During 2010, Elijah was helping Elena Gilbert and the Salvatore brothers to kill Klaus, while Klaus was preparing to break his curse. After the curse was broken, Elijah met with his brother and was about to kill him when Klaus revealed their family was safe and only he knew where they were. Klaus daggered Elijah once they arrived at Alaric's apartment, but eventually Elijah was un-daggered by Damon Salvatore. Later, Elijah had un-daggered all of their remaining siblings, but when they were about to leave Klaus for good, their mother appeared. Elijah tried to figure out his mother's motives and once he did, Elijah, Klaus and Kol confronted their mother and their brother, Finn. Elijah left Mystic Falls, while Klaus attempted to locate their lost brother Finn. Later, Elijah came back to bargain with Elena for Klaus' body. After Klaus "died", Elijah left again. Once Elijah had possession of the cure, he met with his brother again. He later handed his brother the white oak stake, asking him to spare Katerina.
Main article: Elijah and Katherine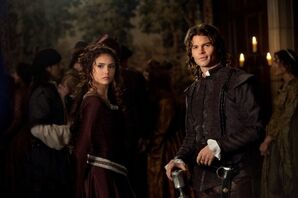 In 1492, Elijah met with a woman named Katerina Petrova who was the first doppelganger of Tatia. Elijah and Katerina got to know each other before he introduced her to his younger brother Niklaus. Klaus wanted her to be sacrificed, but Elijah had started to have feelings for her. When Katerina escaped, Elijah felt betrayed by her and started hunting her down, but was mislead the other way thanks to a vampire named Trevor. 500 years later, Elijah finds her stuck inside the vampire tomb and compelled her to stay. Almost a year later, Katerina contacts Elijah and asks him to help her find the cure. During their search for the cure, their friendship grows to be very strong and eventually fall deeply in love, therefore beginning a sexual relationship. After Elijah discovered that Katerina killed Jeremy Gilbert, he got mad at her lies. Elijah says that he doesn't know who she really is. Katerina then met with him again and handed him the cure and told she loves him and she wanted him to trust her, as she is trusting him. During the episode "The Originals", Katherine asks him to be with her, instead of heading to New Orleans for a life with Klaus. He doesn't say anything except 'goodbye', and leaves, after kissing her on the forehead. It is unclear whether their relationship will have a future.
Other Relationships
Powers and Abilities
Super Strength - Original vampires are much stronger than other vampires, werewolves, non-original hybrids and humans. They are able to decapitate other species with a single chop and shatter windows and doors with small objects. They grew stronger with time.
Super Speed - Original vampires are much faster than other vampires, werewolves, non-original hybrids and humans. They are able to stop other supernatural species in their tracks and run miles in mere minutes. They grow faster with time.
Super Senses - Original vampires have extremely keen senses of hearing, sight and smell that far exceed those of humans, regular vampires, werewolves and non-original hybrids. Their senses improve with time.
Super Agility - Original vampires possess superhuman agility, flexibility, and dexterity. They can move, jump, climb, and run incredibly fast without difficulty or exhaustion. These abilities improve with time
Super Healing - The injuries of Original vampires heal faster than those of other vampires, werewolves, non-original hybrids and humans. Original vampires also seem to heal much more quickly when exposed to vervain or wood. They can heal/recover/regenerate from any and all injuries in a matter of seconds.
Super Durability - Original vampires can take far more trauma than other vampires, werewolves, hybrids and humans can without much discomfort or injury. No Original has ever been dismembered throughout the series, implying that their durability may be close to invincibility. Wood seems to be ineffective at weakening them.
Weaknesses
White Oak Stake - Is the only physical weapon that can permanently kill an Original, It comes from an ancient white oak tree that existed during the time of the genesis of The Originals and which was used as the source of their immortality. It was at first thought that the stake used to kill Mikael was the last white oak wood that existed, but it was soon discovered by Rebekah and Klaus that there was a Sapling of the original tree to replace the old the wood of which was used to build the Wickery Bridge.

Magic - It is said a witch with enough power can kill a being as powerful as an original but its never been proven. Esther also had some way of reversing the originals into humans but the spell was incomplete before it could be finished. Originals can also be harmed by other magic spells.
White Oak Ash Dagger - An enchanted silver dagger dipped in the ash of the white oak tree will kill an original but only as long as the dagger remains in their heart. They will however also kill any vampire that wields them.
Stakes - A wooden stake through the heart will incapacitate an original for a short period of time.
Sunlight - Sunlight will burn an original but cannot kill them. members of the original family possess lapis lazuli rings to combat this.
Werewolf Bite - Where a werewolf bite can't kill Originals, it weakens them and gives them the same sort of affect as it would an ordinary vampire, causing hallucinations. However, the affect only lasts for a few hours. 

Attitude Toward Humans
Elijah strongly respects human life. He is shown to be generally gentle, kind, caring and considerate with humans, the opposite of his half brother Klaus, who is shown to have little to no regard for human life. He has not been seen compelling a human except Elena as he needed information from her and
Carol Lockwood
(for a change of suit). As a vampire, he strongly dislikes the idea of feeding on humans and instead feeds from blood bags. Elijah gives Elena an elixir that has a chance to resurrect the person who drinks it. The elixir was meant for Katerina before she escaped but now he proffered it to Elena, so she could have had a chance to survive after the sacrifice.
Esther, Elijah's mother, however, mentions that he is no better than the others causing him to reflect that he kills, tortures and manipulates others to get what he wants, mainly to protect his family. Esther says this to Elijah and his two brothers Kol and Niklaus, "For a thousand years, I've been forced to watch you. Felt the pain of every victim, suffered while you shed blood. Even you, Elijah, with your claim to nobility, you're no better. All of you. You're a curse on this Earth. Stretched out over generations." When his brother was entombed, Elijah offered Elena a deal to hand Klaus back to him and, in exchange, no one will harm her. After the loss of his brother (Klaus), Elijah and Rebekah hugged for a few seconds.
Appearances
Name
"Elijah " from the Hebrew אֱלִיָּהוּ (eliyyahu) meaning YAWEH is my God. It's the name of a Prophet who was carried to the heavens in a chariot of fire. It was a popular name during the middle ages.
Elijah was a Hebrew prophet of the 9th century BC, during the reign of King Ahab and his queen, Jezebel. The two Books of Kings in the Old Testament tell of his exploits, which culminate with him being carried to heaven in a chariot of fire. Because Elijah was a popular figure in medieval tales, and because his name was borne by a few early saints (who are usually known by the Latin form Elias), the name came into general use during the Middle Ages. In medieval England it was usually spelled Elis. It died out there by the 16th century, but it was revived by the Puritans in the form Elijah after the Protestant Reformation.
Mikaelson
Trivia
Elijah is the first Original to appear in Season 2 with Klaus being the second.
He is the second vampire shown compelling Elena and the first Original Vampire to be neutralized by Elena.
Elijah does not appear in the books, but his appearance seems to be modeled after the Klaus of the books.
Elijah presents himself to everyone under the guise of an historian by the name of Elijah Smith. This mirrors Damon in the novels when he presents himself to Elena's family as Damon Smith.
Elijah is absent for only three of the fifteen episodes between his first appearance (Rose) and his last appearance (As I Lay Dying) of Season 2.
Elijah and Rebekah are the only Originals who weren't hunted down by Klaus before being neutralized. Rebekah was neutralized by Klaus when she choose Stefan over him, and Elijah was neutralized because he tried to kill Klaus.
Elijah, Rebekah, and Klaus are the only characters who have met the Original Petrova and her two Doppelgängers as humans.
Elijah was the first member of the Original Family to make their first appearance in a present day episode.
Elijah has been neutralized 4 times in season 2, once in season 3 and once in a flashback -
Elijah and Alaric are the characters who have died most on the show. Elijah have died 5 times on the show and Alaric has died 8 times on the show. But now since Alaric is dead, Elijah can top that.
Both Elijah and Rebekah has both been given an episode when they are just neutralized.
Just like Elijah was neutralized 4 times in season 2, so was Rebekah in season 3.
Among of all the Originals. Elijah can be considered the most moral, though his sense of what's right and wrong is slightly twisted, as shown when he killed Slater in 2x10 or the hybrid in 3x12.
Elijah is always seen wearing different suits on the show in almost every episodes he's on.
Elijah has met/interacted with every one of the main characters except for Tyler. But he did mentioned him when he died.
Elijah and Finn are the only vampires in show, who haven't shown their fangs and bloody red eyes. Also, all aforementioned vampires are originals.
Despite the fact that most people call Katherine with the Anglo version(Katherine) of her name both Klaus and Elijah both call her by her original name Katerina.
Elijah is the last living true son of Mikael.
Elijah is the first Original to be invited into the Gilbert House, followed by Kol and Klaus.
He believes Klaus' child is the key in reuniting his family.
Tropes
Quotes
Season Two
(To Rose) "Oh, when you called and invited me into this armpit of civilization......which is a mere three hours from the town we know as Mystic Falls......I surmised it had everything to do with Katerina."
(To Trevor) "Well, yes, you are the guilty one. And Rose aided you because she was loyal to you. That I honor. Where was your loyalty?"
(To Damon and Stefan) "Excuse me. To whom it may concern, you're making a great mistake if you think that you can beat me. You hear that? I repeat, you cannot beat me."
-- Rose
---
(To Katerina back in 1492) "She's here. Katerina! I know you're near, I can smell your blood. It's pointless to run, Klaus will find you wherever you are."
(To Slater) "I'm a special vampire."
-- Katerina
---
(To Jenna and Elena) "Thank you so much for inviting me into your home, Jenna... I hope to see you again sometime soon."
(To Elena) "If I wasn't being truthful, all of your family would be dead and I'd be taking you to Klaus right now. Instead, I'm here and I'm preparing to offer you a deal."
(To Elena) "Do nothing. Do nothing, live your life, stop fighting and then, when the time is right, you and I shall draw Klaus out together and I shall make sure your friends remain unharmed . . . Then I kill him."
(To Elena) "I'm a man of my word, Elena. I make a deal, I keep a deal."
(To Katherine) "Good evening, Katerina. Thank you for having the good sense to be frightened."
---
(To Damon) "You young vampires, you are so arrogant. How dare you come in here and challenge me?"
(To Damon) "I am an Original. Show a little respect. The moment you cease to be of use to me, you are dead . . . So you should do what I say. Keep Elena safe."
(To Damon) "So do you realize this is the third time I have saved your life now?"
-- Crying Wolf
---
(To Damon) "Just one moment. Can I just say that if you have anything less than honorable intentions about how this evening is going to proceed, I suggest you reconsider. Because, you know, although Elena and I have this deal, if you so much as make a move to cross me, I'll kill you and I'll kill everyone in this house. Are we clear?"
(To everyone at the Dinner Party) "Well, the lore says that there was this wave of anti-witch hysteria. It broke out in the neighboring settlement, so these witches were rounded up. They were tied to stakes in a field together and, uh, burned. Some say you could hear the screams from miles around us. They were consumed by the fire."
(To Damon) "It's quite a collection you have here. It's a funny thing about books. Before they existed, people actually had memories."
(To John and Damon) "Gentlemen, they're a few things we should probably get clear right now. I allow you to live solely to keep an eye on Elena. I allow Elena to remain in her house living her life with her friends as she does as a courtesy. If you become a liability, I'll take her away from you and you'll never see her again."
(To Elena) "You have nothing left to negotiate with.(...) I'm sorry, Elena. I'm gonna have to call your bluff."
---
(To Elena) "Our whole family was [human]. Our origin as vampires is a very long story, Elena. Just know... We're the oldest vampires in the world. We are the Original family, and from us all vampires were created."
(To Elena) "I need some air. I'm still feeling a tad... dead."
(To Elena) "I'm a little behind on the times, but I believe the term you're looking for is OMG."
(To Elena) "Easiest way to discover the existence of a Doppelgänger or to get your hands on some long, lost moonstone is to have every single member of two warring species on the lookout."
(To Elena) "So as you've seen, nothing can kill an Original. Not Sun, not fire, not even a werewolf bite. Only the wood from one tree. A tree my family made sure burned. Yes. The witches won't allow anything truly immortal to walk the earth. Every creature needs to have a weakness in order to maintain the balance."
(To Elena) "He's both. A hybrid would be deadlier than any werewolf or vampire. Nature would not stand for such an imbalance of power. Therefore the witches, the servants of nature, saw to it that my brother's werewolf side would become dormant."
-- Klaus
---
(To Damon) "The problem, Damon, you talk a good game but you don't actually know anything. She'll never forgive you. And never for a vampire... It's a very long time."
-- The Last Day
---
(To Stefan) "Well, Klaus was not my only brother. I had siblings; Parents. I had a family. Over the centuries, Klaus hunted them down one by one and he took them from me. He scattered them across the seas where their bodies couldn't be found."
(To Klaus) "Hello brother. In the name of our family, Niklaus."
---
(To Klaus) "Yes, I've been cleaning up your little mess along the way. You've had your fun."
(To Stefan) "You understand how important family is, or you wouldn't be here. My brother gave me his word that he would reunite me with my own."
Season Three
(To Klaus back in the middle ages) "Oh look, our sister has arrived. Watch my fast approaching victory."
---
(To Klaus) "So, Niklaus....What'd I miss?"
---
(To Klaus) "You look surprised to see me, so it wasn't you that removed the dagger from my chest." (Elijah attacks him; Klaus flies through a window)
(To Klaus) "What have you done? See, I've learned not to trust your vulgar promises, Klaus."
---
(To Rebekah) "Leave. Are you challenging me?"
(To Elena) "Well, her ability to forgive my brother after everything he's done to destroy this family strikes me as a little strange to say the least. It has me asking questions I never thought I'd ask. Can I depend on you to tell me what she says?"
(To Elena) "And for what reason did she need to speak to you in private? Elena. Should I be concerned about my mother's intentions?"
---
(To Elena) "You know, one thing I've learned on my time on this Earth… be careful what you wish for." (Elijah breaks a hole into the Earth, grabs Elena, and jumps down the hole with her.)
(To Rebekah) "My talk of virtue. When it suits my needs, I kill, maim, and torment. Even today, I terrorized an innocent. I used your hatred of her to get what I wanted. Wielded you like I would a sword. My sister."
(To Rebekah) "Mother made us vampires. She didn't make us monsters, we did that to ourselves." (Elijah leaves.)
---
(To All) "Hello again."
(To Elena) "I give you my word, Elena. I will not revive Klaus within your nor even within your children's lifetimes. Perhaps that will finally teach him some manners."
(To Matt) "And for that, I am deeply ashamed. But know this, she could have been dead the instant I walked through that door tonight. So Elena, I leave it to you to make the decision whether to trust me or not."
-- The Departed
Season Four
(To Klaus) "He's putting on quite the show. But still, you should heed the warning. Between you here and Kol in the east, you have not been discreet. Story of the Original vampires are spreading."
(To Alexander) "That's the least we can do, for opening our eyes to the truth. I'm curious to learn more about your order. Your crusade."
-- The Five
---
(To Elena) "What kind of man would I be if I didn't try to find my Katerina beneath this…...Katherine facade?"
(To Katherine) "Do you honestly feel nothing for this girl, a girl fated to live the same life that you've endured? And now you've just taken away the last of her family, just as yours was taken away from you."
(To Katherine) "I just keep wanting to believe you, but how can I when at every turn, you give me a reason to doubt you? I don't know you. [He chuckles softly.] I don't know that I ever will."
(To Rebekah) "You don't have a smart brother. It turns out I'm just as stupid as the rest of you."
(To Rebekah) "How do you know that being human is the answer you're looking for? I mean, it's nothing but a romantic notion. The grass won't necessarily be greener, Rebekah."
(To Rebekah) ""I still don't understand. I mean why must you always consider our family a burden? Always and Forever. I mean those words are still important to me today as they......as they ever were"."
(To Klaus) "Complication speaking."
---
(To Klaus) "Your personal discomfort might not be sufficient reason for putting the entire world in jeopardy, Klaus. I think our sister deserves a shot at happiness."
(To Klaus about Katherine) "You will spare her because I am asking you to spare her. As your family, as your only living brother, I would ask that you provide me with this opportunity to feel, to care. To love."
(To Klaus) "It is such a hollow little life you lead, Niklaus."
Gallery
Videos
References
See also