Elena and Stefan
Comments

2k
1,590pages on
this wiki
Stefan and Elena
General Information
Nickname(s)

Stelena, SE

Intimacy Level

Close Friends, Dated, Made love, protective of one another, Love each other.

First Met

September 7, 2009 (Pilot)

Started Dating

September 9, 2009 (The Night of the Comet)

Status

Close Friends, Exes, Strong feelings for one another, He is still in love with her.
"
She's... the love of my life. And I'd go back to her in a heartbeat. But if that's not how she feels, then maybe that'll be just what I need to get my ass out that door.
"
The relationship between Elena Gilbert and Stefan Salvatore.
Stefan originally returned to town to get to know Elena after saving her from a car accident. They instantly fell in love and began a romantic relationship in season 1, which became strained when Damon fell in love with Elena and Katherine returned to win Stefan back. Though they continuously reassurred each other and remained loyal throughout seasons 1 and 2. They fell out of contact at the end of season 2, when Stefan left to save his brothers life. Though they stayed faithful to eachother, whilst Elena searched for him, until Damon kissed Elena. She admitted this to Stefan and at the end of season 3 rejected Damon, choosing to be with Stefan. Their relationship was rekindled and lasted into the beginning of season 4. Though they eventually broke up when Elena began to reciprocate Damon's love, and chose to be honest with stefan about her feelings and intentions. He was determined to move on, before he came upon the discovery that Elena was sired to Damon. He stayed to help Elena in their search to cure her vampirism, throughout the sire bond. He admitted to still being in love with her, and even attempted to seduce her into finding her humanity again. But when the sire bond was broken and Elena chose Damon all the same, it became apparent that her affections for him were real, and Stefan was finally convinced to leave town. He still loves her though, and he will never stop loving her. Stelena isn't over, even Julie Plec admitted that.
They are known as "Stelena" by fans.
Early History
While visiting his uncle Zach Salvatore, Stefan hears a car crash near Wickery Bridge and sees a car submerged in the water. He dives in the water and goes after it and is able to get to the car. A man is still conscious and tells him to help his daughter, who is unconscious. Stefan does as he is asked, and saves Elena from drowning. When he sees her face, he is shocked to see she resembles an old flame of his, Katherine Pierce. He goes back to the car, but is too late to save her parents. Due to his curiosity about Elena, Stefan remains in Mystic Falls and keeps an eye on her from a distance. When school starts, he decides to become a student so that he can meet her and get to know her better. 
Throughout the Vampire Diaries
Season One
Elena bumps into Stefan.

After the death of her parents, Elena Gilbert promises herself that she will be fine on the first day of school. She is with her best friend, Bonnie Bennett when she sees a new guy registering in the office. Bonnie remarks on the sexiness of his back. Elena gets distracted when she sees her brother, high on drugs and follows him into the men's room to scold him. As she exits, she accidentally bumps into the new guy, Stefan Salvatore and leaves awkwardly. At the Mystic Falls Cemetery, Elena is spooked by a sudden fog and a crow. She hurries away and gets injured. She runs into Stefan again; Stefan tells her he is visiting some of his deceased family. After seeing the blood from her injury, Stefan mysteriously disappears, but he comes back the following evening to return Elena's journal, which she had forgotten at the cemetery. She invites him to come join her at the Mystic Grill with her friends Bonnie, Caroline Forbes, and Matt Donovan. Caroline invites him to a back-to-school party which Stefan accepts, seeing as Elena is going as well.

Elena and Stefan see each other at the Cemetery.

Added by

RoR-El

At the party, Stefan hears Bonnie and Elena talking about him from a distance and tries to make his way over, but is stopped by Caroline. By the time he gets to Elena, Bonnie has left. Elena is happy that he is there. As they talk, Stefan notes that she is sad. Elena admits that her parents died the previous spring, and only she survived. Stefan tells her that she won't be sad forever. Elena explains that she used to date Matt, but they broke up after her parents died. Elena then notices there is something wrong with Stefan's eyes and he hurries away to get himself and Elena a drink.

Stefan and Elena talk.

When Stefan comes back, Caroline tries again to get his full attention, but he kindly rejects her and goes to Elena, who sees her brother high again and has to go after him, leaving Stefan alone. She and Jeremy come back with Vicki Donovan, who has been attacked by an animal. Elena notices Stefan has mysteriously disappeared again. He comes by her house later that night to see whether she is alright. She tells him that that is all people wonder about her, but he should ask her the next day. She invites him in — and he accepts.

The next morning, both Elena and Stefan feel better than they had before, knowing that they will see other again. While talking to Caroline and Bonnie, Elena decides to go to the Salvatore Boarding House to see Stefan, but runs into his older brother, Damon Salvatore. Damon "unintentionally" mentions Stefan's past love Katherine Pierce, driving Elena to believe Stefan is on the rebound. Stefan finds the two and Elena talking, and Elena leaves, seeing that Stefan doesn't seem very happy. Elena is disheartened after hearing about Katherine.

Elena and Stefan share their first kiss.

They later meet at the Night of the Comet Festival, where Stefan apologizes for his attitude when she visited his house. Elena tells him about what Damon said to her about Katherine, and she tells him that when you lose someone, it stays with you and always reminds you how easy it is to get hurt. Stefan replies by telling her that it was a long time ago, meaning that he's over it. Before she leaves, Elena says that it isn't going to work, because it is too complicated.

After Elena and Jenna had a talk, Elena realizes that she is a little scared of starting a new relationship. She visits Stefan at his house, and says that she was going to do what she always does, and write in her diary, but she should be saying it to him. Stefan tells her what he would write, saying exactly what Elena had said earlier at the comet festival, and they share their first kiss.

Stefan and Elena holding hands

Wanting Bonnie to like Stefan, Elena arranges a dinner for the three of them, and as she hoped, Bonnie warms up to him. Stefan, who is against letting Damon inside the house when he arrives with Caroline, loses the argument. Elena has no problem with it. Wanting to protect Elena from Damon, Stefan gives her a necklace containing vervain so she won't fall victim to compulsion. Elena asks Stefan to be her escort to the Founder's Party to which he accepts, though reluctantly. While she and Bonnie are getting ready, Bonnie tells Elena what Caroline told her: Stefan tried to take Katherine from Damon.

At the party, Elena asks Stefan to be open with her, but he keeps dodging her questions, leading her to believe what Bonnie had told her is true. But when she discovers Damon has been hurting Caroline, she begins to see that Stefan has been truthful on the subject all along.

Elena and Stefan at the car wash.

Stefan goes about his daily life after he imprisons Damon. While leaving the Mystic Grill, Stefan runs into an old man who is shocked to see that Stefan hadn't aged a day. Stefan denies knowing him, but it makes Elena curious, for this isn't the only strange thing that has happened since they began dating. Stefan and Elena go to the Sexy Suds Car Wash together. Elena sees and speaks to Tiki's Grandfather, who tells her he had seen Stefan in June 1953. With the help of Logan Fell, Elena investigates this, and sees Stefan's face for herself on an old film at the local television station. Still disbelieving, she goes to the Salvatore Boarding House and demands to know what Stefan is. She is shocked when he tells her he was a vampire. She runs to her car and goes home, but he gets to her room and tries to explain that Damon is behind the attacks in Mystic Falls. Elena, still frightened, asks him to leave. Stefan does as she asks, and leaves. The next day, Elena arranges a meeting between them, so Stefan can explain everything to her.

Elena admits she researched vampires on the Internet, but only got fiction. Stefan explains that holy water, garlic, and crucifixes are harmless to vampires, and that his ring protects him from the sunlight. He takes her to the ruins that were once his home, revealing he has 17 years old since 1864. It all goes back to Katherine, who is a vampire. She toyed with Stefan and Damon's hearts, and both brothers fell in love with her. He tells her the necklace he gave her has vervain, so she would be protected from vampires' compulsion. They then go home to find Jeremy and Matt with Vicki, who Stefan realizes was transitioning into a vampire. When she escapes, Stefan goes after her to help her, but fails in stopping her from drinking Logan Fell's blood. Elena understands what Stefan is, and promises to keep his secret, but she explains to him that she can't be with him in the process and broke up with him.

Stefan and Damon keep Vicki in their house, but she escapes when Damon starts to teach her how to use her vampire powers. Stefan alerts Elena on the matter, and they find Vicki with Jeremy, whom Vicki was about to attack. Elena tries to stop her, but Vicki bites her and throws her aside. Seeing no other choice, Stefan takes a broken piece of wood and plunges it in Vicki's chest, killing her. This devastates Jeremy and Elena. Elena tells Stefan that she would give anything to forget what she knew about vampires, but she would never forgive Stefan if he took the memories away. For Jeremy's sake however, she asks him to erase the memories of Vicki. Stefan, however, can't do it properly because of how he feeds, so Damon volunteers to do it instead.

Sheriff Forbes questions Matt, Jeremy, Elena and Stefan on Vicki's disappearance and all have no clue what happened to her or where she went, although Stefan and Elena are forced to lie. Stefan wants Elena to talk to him about her concerns about Matt and Jeremy, but she tells him he has to stay away from her.

Later, deciding to talk to Stefan, Elena goes to his house. The door is answered by Lexi, who has just gotten out of the shower. When Elena asks where Stefan was, Lexi tells her that he is in the shower. Misunderstanding, Elena leaves.

Stefan comes to Elena's house that evening and realizes that Elena thought Lexi is his "rebound girl". Stefan explains that Lexi is a 350 year old vampire and Stefan's best friend, who came to Mystic Falls to celebrate Stefan's 162nd birthday. He asks Elena why she came by, but she tells him it was a mistake. Again, Stefan asks her to talk to him, and she says she can't because she needs to talk, but could only be with him and that was too hard. Before he leaves, Stefan asks Elena if she needs a ride to Caroline's party. Elena says she is not going, and tells Stefan having a great time with Lexi.

After Stefan leaves, Elena changes her mind and goes to Caroline's party at the Grill. After small talk with Damon, Elena decides to leave. However, Lexi invites her to talk, unaware that Stefan is eavesdropping. Lexi gives Elena advice about Stefan before leaving, drinking Elena and Stefan's tequila before joining Stefan at the pool table.

After another attack, Sheriff Forbes injects Lexi with vervain because the witness was compelled by Damon to think Lexi was the attacker, and takes her away. Stefan sees what happened, and tries to leave, but the deputies refuse to let him go. He and Elena manage to get out of the Grill, and see Lexi fight off the deputies. She is then shot by wooden bullets by Forbes, and was staked by Damon, much to Stefan's horror. Stefan is grief-stricken by the death of his friend, and Elena tries to comfort him, but is too angered by what Damon has done, and says that he has to kill him. Elena tries to stop him from destroying his life, but Stefan says she is right to stay away, and leaves.

Damon soon reveals why he had returned to Mystic Falls: to get Katherine, who is trapped in a tomb under the ruins of Fell's Church. Emily Bennett, Katherine's handmaiden, was a witch who cast a spell over the vampires to protect them from being destroyed. however, she couldn't let Damon have what he wanted and possessed Bonnie, her descendant, to destroy the crystal that would help open the tomb. Enraged by Emily's actions, Damon attacked Bonnie. Elena was horrified by this but Stefan went over to Bonnie and fed her some of his blood which healed her wound. Elena took Bonnie home, but before leaving, she saw that being with Stefan was something she could handle after all and was willing to continue there relationship, but Stefan, seeing that he could put her in danger, refused, believing it best if he left Mystic Falls, breaking Elena's heart.

Stefan's reaction to Elena's passion.

Added by

Yolanda salvatore

Elena declares her love.

Added by

Buffyfan123

Elena and Jenna spoke over the events of their ex-boyfriends, with Logan reappearing and Stefan leaving. however when another vampire started attacking in town, Stefan decided to stay a little longer and warned Elena about it. On Career Night, Stefan and Elena discussed Stefan never sticking to anything because he always had to leaving due to his immortal age. Elena didn't want to discuss her future because he wouldn't be in it. After finding out Logan Fell was the vampire, Stefan and Damon went after him. They rescued Caroline from him and Stefan took her home, leaving Damon to deal with Logan. At the Salvatore Boarding House, Elena told Stefan that she wanted him to stay, but he couldn't. Elena declared her love for him and they made love for the first time. Later, Stefan went for a drink of water and left Elena alone in his room. Their relationship hit a rocky patch when Elena came across his photo of Katherine and was shocked at how much she looked like her. Heartbroken and confused, Elena took off her necklace and left. Stefan came back and found Elena's necklace on Katherine's photo and realized what happened.

Stefan holds Elena in his arms shortly after he tells her that she was adopted and that he loves her

Added by

Xoxostelena123

Stefan tried to contact Elena but didn't expect Damon to answer her phone. Damon brought Elena back to Mystic Falls and Stefan told Elena about how they had first met, how he had save her from the car with her parents. Elena wanted to know why she looked like Katherine, and Stefan said it was a possibility that she was adopted since Katherine was a "Pierce" and Elena was a "Gilbert", going over all the research he had done after seeing her for the first time. Elena was still shocked, but Stefan said it didn't matter to him, he loved her. They shared a kiss initiated by Elena and made up.

Noah prepares to attack Elena.

Stefan questioned Elena about the mysterious guy but all she could remember was that he was hooded. Stefan gave her the compass so she would know when a vampire was around and a box with jewelry with vervain for her friends, Jenna and Jeremy. While getting ready for the 50's dance, Elena found the compass spinning in all directions and called Stefan out of panic but Damon answer, telling Elena that Stefan was coming over. Elena was relieved as she believed Stefan was one the one the compass was pointing to until she was attacked by Noah, who had posed as a pizza-delivery guy to get in the house. Damon suggested Elena become the bait for Noah, something Stefan was against, but Elena agreed to it.

Elena dances with Stefan.

She and Stefan danced at the party until she saw a hooded man in the crowd. Stefan went after him, but he wasn't Noah. Noah threatened Elena with Jeremy's life and she left the dance and fled into the cafeteria. She managed to subdue Noah with pencils and broke a mop to stake him but Noah caught it before she could kill him. Stefan was able to save her in time, stabbing Noah with the broken handle of the mop. Stefan and Damon questioned Noah who told them about Emily's spell book but refused to spill anything else, so Stefan killed him. After taking Elena home, Stefan told her he promised to help Damon get Katherine back, but it was a lie. Elena promised to help him.

Damon was unaware of what the two had planned, but he suspected something was up. Because he couldn't believe what Stefan told him, he asked Elena whether Stefan was lying. She lied to him and Damon believed her. Elena and Stefan continued to try to find the grimoire themselves. They learned from Johnathan Gilbert's journals that he had given the book to Giuseppe Salvatore, Stefan and Damon's father. Stefan always heard his father say he would take secrets to the grave and realized where the grimoire was: buried with his father. He and Elena found Giuseppe's grave. They unearthed it and Stefan took the book away from his father's corpse. But then Damon arrived, knowing the Stefan would plan something like his. However, he admitted that Elena had him fooled, but he wanted the book. When Stefan denied handing it over, Damon did the one thing to make sure Stefan gave him the grimoire.

Damon grabbed Elena and forced blood into her mouth, threatening to turn her into a vampire if he didn't give him the book, and Stefan gave it up for Elena's safety. Stefan took her home and explained why Damon no longer trusted him: because he had broken the promise not to reveal what Katherine was to their father Giuseppe. Stefan went to get Elena medicine for her headache and heard from Jenna that Jeremy had brought a friend of his home: Anna. Stefan immediately knew that Elena was in danger and hurried to her room find her missing.

He went back home but Damon was unhelpful, saying sincerely that he hoped Elena died. Stefan went to Bonnie's grandmother Sheila Bennett who helped him find Elena and Bonnie held captive by Ben McKittrick who had been turned by Anna. For the sake of getting Damon out of town, the Bennetts agreed to open the tomb. Damon took Elena in with him so they wouldn't close the tomb with him inside. However, the witches hadn't broken Emily's spell and when Stefan went in to save Elena, he couldn't get out of the tomb. The Bennetts broke the spell to let him out. To Damon's disbelief, Katherine wasn't in the tomb at all and later learned from Anna's mother Pearl that Katherine had never been in the tomb and didn't care about Damon.

Stefan and Elena were both worried about Damon's behavior after finding out the Katherine never gave a damn. While researching her mother Isobel, it was revealed that she had been Alaric Saltzman's wife and that Damon had killed her. Elena was angry and confronted him. She and Stefan left the Mystic Grill to find a stranger who warned them to stop searching for Isobel, meaning she was alive—or at least, undead. He committed suicide after delivering the message.

Stefan gives Elena flowers for their double date.

Wanting her life to be normal without any vampires except Stefan and wanting to just have fun, she and Stefan accepted Caroline's invitation of a double date with herself and. At the Mystic Grill, Elena and Matt reminisced about their childhood memories, much to Stefan's amusement and Caroline's disappointment. While walking back from the bathroom, a man called her "Katherine" but said he mistook her for someone else when he heard Caroline call her "Elena". Elena told Stefan, but the man had already left. They all had fun until arriving at the Salvatore Boarding House to find Damon making out with Matt's mom Kelly Donovan. Elena left with Caroline and spoke to Stefan on the phone when she got home. He decided not to tell her he and Damon were attacked by two vampires after she left, one of them being the guy who called her Katherine.

Elena remained hostile towards Damon. While Stefan went out to feed on animals, he was attacked by the tomb vampires. Damon got worried and informed Elena who had no clue where he was. Damon went to Miss Gibbons House and saw that the vampires were torturing Stefan in revenge for killing Bethanne, Frederick's girlfriend. Samantha Gibbons was compelled never to let Damon in and he had to watch helplessly as they took Stefan away. He went back to his car and told Elena had Stefan was their prisoner. Elena decided she was going in to get Stefan, but Damon believed it would be too risky. They went to Alaric who agreed to help because Damon had lied to him. Elena didn't want to remain in the car so she took a vervain dart and went to the house. She came across an angry Damon along the way and they found a tortured Stefan, who convinced Damon not to kill Harper, another vampire who had tried to stop the others from hurting him.

Elena took Stefan away from the house and to the car, but they were attacked by Fredrick who stuck a branch in Stefan, badly wounding him. Elena shot him with a vervain dart and removed the branch. Seeing that Stefan was severely weak, she forced him to drink her blood to get stronger. Stefan refused, but eventually gave in and ferociously killed Frederick. His behavior had frightened Elena, as she had never seen him like that before. He thanked her afterwards for saving him and said he never wanted her to see that side of him. Elena believed had gone back to normal but the memory was still unsettling. Unknown to her however, Stefan had grown a craving for human blood and Damon found him drinking out the blood he had taken from the blood bank.

An angered Stefan compels Duke to apologize.

Stefan kept his new secret away from Elena, but she noticed he started to act livelier than he had before. At the Founder's Day Kick-Off Party, Stefan persuaded the DJ to play better music than what was assigned and danced with Matt's mother, Kelly, and Elena. They accidentally bumped into Duke, who rudely spoke to Elena for what had happened. This angered Stefan and he compelled Duke to apologize twice since the first time was unsatisfactory. This started to worry Elena.

Elena and Stefan practice for the pageant.

Stefan was Elena's escort to the Miss Mystic Falls Pageant but his craving for blood led him to steal from the blood bank. This news was reported to Damon by Sheriff Forbes and he alerted Elena to the new situation. Stefan walked in on the conversation but his attempt to assure Elena that he would be fine failed. Frustrated, he broke the mirror in the bathroom and was interrupted by Amber Bradley, another contestant. Stefan compelled her to not be afraid and took her away from the event, leaving Damon to take his place as Elena's escort. Stefan remained confused and angry and eventually compelled Amber to be frightened and run, but caught up and fed on her. Elena and Damon arrived to see what Stefan had done and with Bonnie's help, Stefan fled the scene without Amber remembering what happened.

Elena injects Stefan with vervain.

Added by

Love Edward

For Stefan's own good, Elena went to Alaric and asked for one of his vervain darts, which she injected into Stefan to weaken him. She and Damon locked Stefan in the basement until the effects of human blood left his system. However, Stefan was guilt-ridden about the recent events and wanted to die. He refused to drink the animal blood he was given and Damon explained to Elena how they had finally become vampires: Stefan had transformed first and persuaded Damon to do so afterwards. Stefan believed that he was responsible for making a monster of his brother and every bad thing that had happened was his fault. He tried to scare Elena, but was unsuccessful. She left his door open so when he was ready to talk, he could come upstairs. But Stefan left his ring behind and went to the quarry where he and Damon had been during transitioning and Elena arrived. Stefan felt guilt and pain for what he had done, but he also felt the constant craving for blood and worried that one day he may not be able to control it any longer and hurt her. Elena knew that would never happen and gave him his ring back with two choices: throw the ring away and wait for the sun to rise and die, or wear the ring and fight the cravings he had. Stefan chose the latter.

Stefan comforts Elena after Isobel leaves.

Added by

AnneMMadeline

Not long afterwards, Isobel Saltzman came to town with a mission: to get the device for Katherine. Stefan kept a watchful eye on Elena and Isobel at The Grill where Isobel told Elena to get the device from Damon. After renewing her friendship with Bonnie, Elena managed to get the device from Damon and had Bonnie remove the spell cast upon it. Bonnie of course, knew that Grams would never have done it, so she faked that she had and Elena gave the device to Katherine. Isobel told Elena that Damon loved her and as long as she had a Salvatore with her, she was doomed. After Isobel left, Elena embraced Stefan with relief as Damon watched on.

Stefan and Elena in Founder's Day.

Added by

Elementalstudios

Stefan was Elena's escort Founder's Day Parade. He told Elena what Damon had told him, and that it was a possibility that her uncle, John Gilbert, was her biological father, something Elena didn't want to believe. By the time night fell, Elena was still upset about her fight with Jeremy, but Damon arrived to tell them that the tomb vampires were in the crowd, wanting revenge on the founding families. Elena and Stefan went to find Jeremy when the device was set of by John. Stefan was also affected and Elena, with the help of Alaric, took him to safety. She was confused about how the device had worked and Stefan believed that Bonnie had never really removed the spell. The two went to rescue Damon from being burned to death with the help of Bonnie who was able to calm the fire long enough for Stefan to retrieve his brother. Stefan was worried that Elena may fall in love with Damon but she reassured him that he was the one she loved. Elena went back to school to get her things to find that they were missing and someone had taken them. Elena told Stefan this when she came home and entered the house to hear a noise coming from the kitchen.
---
Season Two
Elena knows what Stefan did.

After Katherine's attack at her house, Elena called Stefan, worried about Jeremy. He examined Jeremy to see whether he became a vampire or not, confirming he hadn't. Elena was upset about what Jeremy wanted and stopped Stefan when he handled Jeremy roughly. She left Jeremy in Stefan's care while she went to check up on Caroline. In her absences, Katherine returned to the house, but did not fool Stefan like she had Damon. Elena and Damon arrived just as Katherine escaped Stefan's wrath.

Damon explained how he attempted to kiss Elena, angering Stefan, but Elena managed to calm him by reminding him it was Katherine. They went to the hospital together to see John, but he wasn't pleasant towards them and openly insulted vampires, wishing that Elena would kill Stefan. His rudeness offended Elena and she left, but Stefan remained behind and became hostile. He threatened John to leave, or otherwise, Stefan would turn him into a vampire himself. Elena was not fooled by what Stefan had done and was grateful for it. Stefan went to try and find Katherine, but when he angered her, she stabbed him. Elena cleaned his wound.

Stefan and Elena protect Caroline.

Stefan comforts a devastated Elena after Damon kills Jeremy out of a drunken rage.

He went back to the Gilberts' house and consoled Elena when Damon killed Jeremy out of rage because Elena denied his advances. When Jeremy came back to life, Stefan again confirmed that he was still human, much to Elena's great relief.

Elena wanted to have an ordinary day with Stefan at the carnival: no vampires, no Damon, with the exception of her boyfriend. This was unavoidable when Caroline was killed by Katherine and revealed a vampire. Stefan disagreed with Damon on killing her, but secretly knew it was right after what happened to Vicki Donovan. They protected Caroline from Damon who told them that the consequences were theirs.

Elena and Stefan make out in front of Damon.

Added by

ElenaSmith14

Stefan and Elena discussed Elena's going to Duke University with Damon and Alaric. Stefan thought it was good for her to find out more about her heritage and admitted he hated that fact she was going. He saw her off, giving her a passionate goodbye kiss to make Damon uncomfortable.

A shaken Elena hugs Stefan after meeting Katherine.

Katherine almost fooled Stefan as Elena, but he saw through her. He interrogated her for the rest of the day, but she got the upper hand and met Elena in the boarding house living room. Stefan rushed in and Katherine out, leaving the two alone. Stefan embraced Elena in relief and they went to the Mystic Grill where Caroline apologized for her behavior to Elena and eavesdropped on their conversation. Stefan and Elena argued about how Katherine was trying to get between them and after Stefan said she had, Elena responding by leaving. However, Stefan appeared at her house, revealing that the fight was an act to prove Caroline was working for Katherine. They decided to fake their break-up and force everyone to believe the lie.

Elena and Stefan "argue."

They continued their relationship facade until they openly 'broke up'. Mason spiked Damon's drink with vervain, so Stefan and Damon went after him, but were shot by Sheriff Forbes and her deputies, and injected with vervain. Caroline knew something was up and she and Elena went to find out. They found Liz torturing Damon with Stefan lying unconscious. Elena ran in and Caroline followed, killing the deputies. Elena held Stefan as he started to recover from his wounds. After he fed on animal blood, he and Elena got into an argument about Stefan drinking human blood, due to the fact that last time he had human blood, he'd ended up addicted to it. Elena disapproved, but Damon told her that Stefan needed that blood, to be stronger. She went to speak to him again, and Stefan told her he had to try to control himself and learn to drink a little blood everyday. Elena agreed and cut herself, deciding that they were going to do this together, allowing Stefan to drink a some of her blood before kissing him passionately.

Elena wakes up with Stefan.

Added by

Elajnel

Unbeknownst to Stefan, Elena was also searching for the moonstone with Bonnie and Caroline's assistance. She, worried about how Damon and Bonnie were doing and unable to be patient, repeatedly texted him and he later called her, saying that they were fine. Later on, she and Stefan figured out that the moonstone was hidden in a well, which turned out to be the one that Bonnie and Caroline used to play at when they were young. Stefan jumped in, but the water was contaminated with vervain. He screamed for Elena's help, and she went into the well to save her boyfriend. She wrapped the chains around Stefan and Caroline pulled him up while Elena retrieved the moonstone after encountering a snake that Mason had possibly planted there. She then fed her blood to a severely weakened Stefan, assuring him that everything was fine and that she had retrieved the moonstone.

Elena breaks up with Stefan.

After Katherine had compelled Jenna to stab herself, a traumatized Elena was terrified by the possibility that she could kill everyone she loved just because she and Stefan were together. She visited a tearful Stefan at the Boarding house, saying that she'd been selfish because of her love for him. She kissed him one last time and, feeling as if she had no other choice, ended their relationship before leaving in tears.

Elena tells Stefan that she can't be with him yet.

Due to Jenna's incident, Stefan decided it was time to kill Katherine and worked out a plan with Alaric, Jeremy, Damon, Caroline and Bonnie, without Elena's knowledge. When she finally discovered that they were setting their plan into motion, she was surprised and worried about their safety. She headed to the masquerade ball, but when Katherine was stabbed multiple times during her fight with Stefan and Damon, she began bleeding to due one of Lucy's spells. When the fight ended, Katherine was incapacitated by a spell that Lucy had put on the moonstone and placed into the tomb, with a seal that prevented her from escaping.

Stefan later assured Elena that Katherine was gone forever, clearly wanting to resume their relationship, but this did not change anything, even though she still loved him. She told him that she couldn't be with him until she knew for sure that her family was safe again, putting them before her love for him. Stefan was upset by this, but understood her reasons.

Elena embraces Stefan.

However, he was unaware that Elena had been kidnapped. He had Bonnie use a locating spell, using Jeremy's blood due to his relation to Elena, and discovered that she was 300 miles away from Mystic Falls. After Bonnie sent Elena a message that told her that Stefan and Damon were coming for her, she was relieved. Once they did so, Stefan gave her a vervain bomb, which she threw at Elijah in self-defense and Damon eventually "staked" him. She ran into Stefan's arms, grateful that she was safe again.

Stefan was worried about Elena's safety when he couldn't find her anywhere, given the fact that she'd recently been kidnapped. He later discovered her in the tomb just after the end of her conversation with Katherine, and warned her not to believe anything she said. However, Elena and Katherine knew it was the truth. At her house, a hysterical Elena came to the realization that she put her loved ones in danger just because she was Katherine's doppelgänger and he consoled her as she cried.

Elena is devastated by the realization that her loved ones are in danger due to her being Katherine's doppelgänger.

When Jeremy attempted to retrieve the moonstone from Katherine, she attacked him and this forced Stefan to intervene. He tossed Jeremy out of Katherine's reach, trapping himself in the tomb. A devastated Elena tried to visit him, but Damon wouldn't allow it. After she departed, Stefan requested that she be kept away from the tomb, and he and Damon promised to protect Elena, despite her decision to turn herself in to Klaus.

Elena negotiated with Elijah for the security plan, and she asked one favor from him: to free Stefan from the tomb. After he was released, Stefan went to Elena's bedroom and she was ecstatic to see him, and ran into his arms, initiating a passionate kiss and resuming their relationship.

After Stefan's return, he debated with Elena about whether he should contact Isobel, who could help them research more about Klaus, but Elena refused the idea. Stefan went ahead with it anyway and John reappeared in town.

Elena and Stefan go to the Lake House.

Added by

Polemina

Elena and Stefan went on a romantic getaway at the Gilbert Lake House, where Elena discovered the existence of more Gilbert Journals. They recorded a few of Stefan's ripper days and Stefan explained to her that it was a time when Stefan wanted revenge on the Founding Families, but Lexi took him under her wing when she discovered him. During their stay there, they were tracked by the werewolves so they could capture the doppelgänger and break the curse in their favor. However, they failed and were killed. Elena read the journals and discovered the dagger with white ash wood can kill an Original. She was upset when she realized that Stefan and Damon planned to use the dagger to kill Elijah and argued with Stefan about the matter where he said her sacrifice would be tragic, not heroic.

Elena, Stefan and Damon.

Elena isn't pleased that Katherine's back.

Added by

Realvamp2010

Alaric stabbed the dagger into Elijah, killing him, but when he removed the dagger, Elijah came back to life. Elena fooled Elijah but stabbing herself and when he tried to heal her, she stabbed him with the dagger, revealing that Damon had gotten to the lake house in time. Stefan then used his blood to heal Elena. On their return back to town, the warlocks, Luka and Jonas Martin, try to bring Elijah back, resulting in Luka's death. Jonas went after Elena, but since Katherine was freed from the tomb due the Elijah's death, she was able to take Elena's place and eventually killed Jonas with Stefan's help.

Stefan and Elena kiss while getting ready for the dance.

Elena and Stefan attended the 60's dance together, not knowing that Bonnie and Damon have a plan to trick Klaus. Jonas returned Bonnie her powers before he died, and information that could help them against Klaus. Damon kept it a secret from Stefan, knowing he would tell Elena, which he did eventually. The plan was for Bonnie to "die", but, in reality, it was a spell to fake her death. Elena was horrified and heartbroken at first, but after learning the truth, she recovered quickly, happy that Bonnie was alright although furious with Damon.

Stefan and Elena at the 60's dance.

Elena released Elijah from his death, much to the outrage and shock of the brothers. When Elena returned home to comfort Jenna (who found out Stefan was a vampire), but Damon wouldn't let Elena return to Elijah. Stefan found it in himself to trust Elena and let her leave, but when she came back with Elijah, she found the brothers in a fight, caused by Stefan saying he had Elena's respect while Damon did not. Stefan apologized to Elijah for the death plan, for Elena, while Damon didn't, much to Elena's disappointment.

Stefan wants Elena to have an eventful last human day.

Elena and Stefan share a goodbye kiss.

Damon didn't trust Elijah's plan to save Elena, and decided to force Elena to drink his blood so she would come back as a vampire. Stefan and Damon fought about this, Stefan being furious that Damon was taking away Elena's life. Stefan later took Elena on a hike to enjoy her last few hours of human life. By the end of the day, Elena broke down in tears, confessing that she had no desire to be a vampire at all.

Elena tells Stefan she doesn't want to be a vampire

Added by

RW02

Returning to the boarding house, Klaus was there waiting for her. Stefan reluctantly let Elena go with Klaus, but was worried for her safety, upset about what was happening. The Salvatores learn that Katherine tricked Jenna into leaving her house where she was kidnapped by Klaus and turned into a vampire for the sacrifice. Stefan tried to trade places with her, but failed. He and Elena were horrified when she was killed. Klaus wounded Stefan so he was unable to anything while he drained Elena of blood. Damon arrived and killed Klaus' witch, Greta Martin, and carried Elena's body away from the scene while Stefan and Bonnie waited for Elijah to kill Klaus. However, Elijah failed his end of the deal when he helped Klaus escape after discovering that their family's bodies weren't lost forever.

Damon told Stefan of his werewolf bite and asked him not to tell Elena. Stefan turned to Bonnie to see if she could find a cure, but he ended up having to go to Klaus. He made a deal to becomes Klaus's wingman so Klaus would give him the werewolf cure: his blood. Katherine delivered the cure to Damon who was being cared for by Elena. Stefan left town with Klaus, leaving Elena with Damon.
---
Season Three
For some months until her birthday, Elena desperately tried searching for Stefan despite Caroline's efforts to get her to move on. In Elena's birthday, with a tired and sick expression, Stefan called her, who picked up and immediately understood that it was Stefan, and she told him that he would be okay, that she loved him and for him to hold on that and never let it go.

Stefan tells Elena he doesn't want to see her again

Added by

Aleu el12345

However, she finally found him in Chicago. Stefan found her hiding from Klaus and protected her from him, but later on, he harshly told her that he didn't want to be with her. It is later revealed that Stefan still does care, indeed his love for Elena is so strong that he can resist Niklaus' compulsion to feed off of her, however Niklaus, enraged by this, compels him to 'turn the switch off' making Stefan not care about anything anymore, including Elena.

Elena and Stefan go for a nice jog.

Added by

AnneMMadeline

He then, on under Klaus's compulsion, bites Elena and almost kills her. He is next seen telling Elena and Damon that he has to protect Elena for Klaus because he does what Klaus wants him to do. He starts going back to Mystic Falls High while keeping a close watch on Elena.

In Disturbing Behavior, In Chicago, Klaus uses Gloria the witch to find out why his hybrids aren't turning out the way he planned and Gloria discovers that Stefan is hiding the fact that the doppelgänger is still alive.

In The Reckoning, Klaus tells Stefan to feed on Elena. Stefan tries to stop his urge, but Klaus makes him turn off his emotions and feed on her.

In Smells Like Teen Spirit, Elena and Alaric try to capture Stefan. Elena saves Stefan from a fire after Vicki tries to kill Elena in Alaric's van.

Lexi torturing Stefan.

In Ghost World, Stefan is knocked out by Lexi and dragged to the Lockwood's old jail cell where she attempts to "fix him" by giving him false visions of himself hungry and starving blood. He is under the illusion that he has had nothing to drink in years. This happens with Elena's hesitant support-eventually, she has to leave the room when the torture comes to be too much for her.

Later that night, when Elena goes to leave the jail cell, Stefan remarks that he wondered when she was going to give up and that Lexi had given her a glimpse into her "tragic" future. She goes back over to him and says that she hasn't given up hope but that if he didn't get his back and fight, he would lose her forever. "I won't love a ghost for the rest of my life", she says to him, before leaving.

During The Homecoming, Stefan makes a deal with Klaus to get his humanity back if he would deliver the body of Mikael to him. Unbeknownst to Klaus, Stefan, Elena and Damon had made a plan to kill Klaus and break the compulsion Stefan was under. However, before the plan was about to be executed, Katherine arrives and tells Stefan that if he wanted to go through with the plan, Klaus would have Damon killed.

Stefan jumps on Damon knocking him off Klaus at the last second and takes off with Katherine. He says that he doesn't want to get his humanity back, that it was too painful. Back at the Salvatore mansion, Damon is furious that their plan had broken apart and that they would never get Stefan back. Elena tells Damon that they would have to let him go, then.

Elena and Stefan leave the car

In Our Town, in an effort to get Klaus to back off and remove his hybrids from Mystic Falls, Stefan kidnaps Elena and feeds her his blood, telling Klaus that if he doesn't tell his hybrids to back off he would drive off Wickery Bridge so that Elena would die and turn into a vampire. Klaus tells him to stop the car, that he would call off the hybrids. Elena jumps out of the car and yells tearfully at Stefan, asking him how he could drive over that bridge, knowing that her parents had died and that she had almost died with them. Stefan tells her that destroying Klaus is all he has left. Elena tells him that 'he had her' and Stefan responds by saying that he lost her the minute he left town with Klaus, that she just hadn't admitted that to herself yet. She asks him if he was doing all this just so that he could make her hate him, Stefan responds by saying that he didn't really care what she thought of him anymore.

In The Ties That Bind, Elena reunites with Stefan at Bonnie's mother's place and Stefan expressed anger at her for coming here. Afronted by Stefan's hostile attitude, Elena tells him just how horrible he was becoming and Stefan simply said it had to be this way. Soon after, Stefan is shot by wood from a shotgun while Elena was tied up. Eventually breaking out of it, she rushed to help Stefan and was forced to remove the wood from his chest. Once she was done, Stefan noted that she had changed from the way she was before. Elena then takes the opportunity to tell him about kissing Damon since she felt guilty he was unaware of it. Clearly pained and stunned by this information, Stefan walked away for her and said nothing. Elena followed him and begged him to say something to her. Stefan finally speaks up and apologized for what he did to her on the bridge, admitting that he had went too far but he also scolded her for lying about going to see Abby as it was too dangerous for her to do so while Klaus was still around. Elena understands him concerns, and tells him that she never intended to kiss Damon. Stefan, still hurt, told her that she was better than both him and Damon before driving away in his car. He soon after sees his brother and punches him for kissing Elena, angry with him.

In Bringing Out The Dead, Stefan told Damon that he loved Elena and Damon said "so do I".

Elena and Stefan share a moment

Added by

Mrs.KlausMikaelson

In Dangerous Liaisons, Elena is surprised to receive an invitation to a formal ball, and when Damon and Stefan hear the party is being hosted at Klaus's newly renovated mansion, they both insist on attending the event with her. Elena reaches out to Stefan he admits that he hates himself for everything he did to her but if he lets himself care, all he feels is pain.

In All My Children, Stefan and Damon are given an ultimatum from Elijah that puts Elena in danger so they turn to Meredith and Alaric for help which ends up being a terrible choice.

In 1912, Finally, Elena comes across Stefan drinking human blood(coaxed by Damon) and horrified, quickly leaves. While discussing her feelings for the Salvatore brothers with Matt, Elena confesses that she fell in love with Stefan because she felt safe and knew that he would never stop loving her. Never die either like her parents did but she also admits that Damon got under her skin and she couldn't shake him off, no matter what she did.

In Break On Through, When Damon informs Elena of Stefan's latest struggles, she reaches out to Stefan to help her save a friend in danger, in hopes that it will help bring Stefan even closer to his humanity.

In The Murder of One, Elena and Stefan confront each other and Elena admits to him that she never once stopped loving him, despite all the things he's done. Stefan says he knows that, and everything that happened is his fault. Stefan confesses that he loves her and always will but to also tell him the truth about her feelings for Damon. Elena tells him she doesn't know what she feels for him. Unsatisfied with her answer, Stefan quickly leaves.

In Heart of Darkness, Stefan is convinced that Elena has some feelings for Damon. He suggests to Elena that he go to Colorado with Damon to find Jeremy. During the episode, Rose tells Jeremy that Stefan's love for Elena is pure.

Stefan and Elena slow dancing

In Do Not Go Gentle, Caroline convinces Elena to ask Stefan to go to the decade dance with her. During the dance Elena and Stefan slow dance for a little while until Damon tells them that Alaric has been taken over by The Darkness and wants to kill him. After Alaric is turned into a vampire and refuses to complete the transition, Elena is distraught. Elena starts to clean out Alaric's desk of all his vampire slayer weapons, but Stefan takes her to the gym hall. Elena tells Stefan how she doesn't have anybody anymore and he says, "You have me."

In Before Sunset, Stefan saves Elena from Klaus. Stefan makes a promise to Damon that if Elena chooses Damon then he will leave town.

In The Departed, Stefan comes back to Mystic Falls leaving Damon to drop Klaus' body somewhere after Elena has a minor concussion. Stefan says Elena should be able to make her own decisions after Matt questions Elena's decision to stay in Mystic Falls. Before Stefan leaves to take the stake from Alaric, he promises Elena to do everything he can to come back to her. After he makes the promise, he kisses Elena, and says, "In case there is no later." Matt then gets Elena in his car and are driving when they find out Klaus is dead.

Stefan and Elena

Elena insists that they go back and Matt tells her that Damon isn't in Mystic Falls. When Elena calls Damon, she confesses that she loves Stefan. Elena has at that point in her life, chooses Stefan. Rebekah calls Stefan and tells him that she wants to kill Alaric and in order to do that she has to kill Elena. Rebekah stands in the middle of Wickery Bridge and Elena tells Matt to watch out. It is too late and Matt swerves off of the Wickery Bridge. Elena and Matt then are trapped in the car in the river beneath the Wickery Bridge and water starts to fill up the car. Elena starts to remember the first time Stefan saved her when she was with her parents. Then it flashes back to current day and Matt's car is completely immersed in water.

Stefan saves Matt for Elena's sake

Elena in transition

Stefan comes and tries to save Elena, but Elena tells Stefan to save Matt instead of her. Elena then drowns shortly after Stefan saves Matt. Damon then comes to the hospital and Meredith tells him that Elena came to the hospital she had a serious brain injury and that Meredith Fell gave her vampire blood to heal the wounds. However, the vampire blood was still in Elena's system when she died. Stefan is sitting next to Elena's dead body in tears when suddenly Elena awakens, taking her first breaths as a vampire in transition.
---
Season Four
In Growing Pains, Elena becomes fully conscious and is horrified and distraught that she has indeed become a vampire and is in transition. As she deals with the painful, intense process of being in transition, Stefan is there for her. Admitting to Damon that he made a mistake in letting Elena die and would regret it the rest of his life, he apologizes to Elena that she has to go through this. Elena, however, disagrees, telling him that he saved Matt and was respecting her decisions like he always did. As Elena soon after starts to cry, Stefan holds her and promises that he and Bonnie will do all in the power to stop the process.

Soon after, Elena gets kidnapped by the people Alaric had rounded up to destroy vampires and puts her in a cell, believing her to be one as well. Stefan also gets taken and as Bonnie's efforts to bring her back fail, thanks to her grandmother, Elena admits to him that she is dying as she still didn't feed. Stefan is upset by this and tells her that Damon was right in saying that she should've feed earlier. She softly and tiredly says that he had hope and that's all she ever wanted him to have. Stefan tells her he loves her and in reply, Elena reveals to him that she was on Wickery Bridge because she choose Stefan over Damon, and that it was the best choice she ever made. Stefan is choked up by this.

In the end though, Elena goes through with her transition and later is seen on the roof with him. They contemplate what the future holds and the challenges that await them but as Stefan gives her a daylight ring, she is touched. Elena tells him that they'll get through this together and we'll be with each other forever, like they always wanted. They hold each other and take comfort in each other's presence.

Stefan training Elena in the woods.

Added by

Stelana for ever

In Memorial, Stefan decides to get Elena on animal blood like him, fearing that she'll go off the deep end like he did if she drinks human blood. He also hopes to spare her the intense guilt she'd feel if she killed a person, which might make her resort to shutting off her humanity. Damon and Stefan once again argue over what's best for her. Damon believes that she should just be a vampire and drink human blood from the vein. Elena goes with Stefan's plan, and great sexual tension shown between them in the woods as they practice darting wooden stakes. All is going well, and Elena feeds on a deer, only for her to cough up the blood right after. She does not tell Stefan this though, not wanting to ruin his uncharacteristic happy mood for their "success". So she instead contacts Damon, telling him her problems, and he manipulates her starvation by getting her to feed off him for the blood. It is not to Elena's knowledge, though it is to Damon's, that by doing this, she created a deep connection between them. He advises her not to tell Stefan about it, as it was an intense moment for Damon.

Stefan soon finds out from Damon that Elena lied to him and was starving, unable to keep down any blood. He is visibly hurt and jealous, especially when told that she had fed off Damon. As Elena struggles even more and with a hunter on the loose in the Church during the funeral for the dead townspeople, Stefan nevertheless comforts her and allows her to feed off Matt a bit so she can survive. Despite this, he was still jealous and angry (even punching Damon in the face when feigning to help him up after fighting the hunter) and confronts Elena over this. She admits she lied but only because she believed Damon would understand more where she was coming from and that she didn't want to ruin Stefan's happiness. He, however, is wounded by this information, upset that she had thought he wouldn't understand and bluntly said he was suffering just as much because she was suffering. Elena apologizes and that she never wanted to hurt him, being brought to tears in the process.

Stefan takes Elena to burn Japanese lanterns as it was a sign of letting go of the past, in an attempt to ease her pain.

Added by

COUVS14

She rants to him about how she feels like she is always crying since her parents died and that her life is a never-ending funeral as everyone around her dies. She confesses that what's heightened for her is that she feels everyone's grief and she can't ignore it. Stefan then takes her and the rest of their friends to light Japanese floating lanterns, a sign of letting got of the past, in an attempt to ease her pain.

In The Rager, Elena heads out to meet Matt at their old make out spot at Mystic Falls High. After dying and coming back, Elena decides she might as well finish her senior year at school. "I've survived this long," she says. "There's no way I'm bailing before graduation." But first she has to eat. Ever guilty that he survived the car crash, Matt extends his wrist to Elena for a mid-morning snack. She feeds politely.

While in class, Rebekah sees this as the perfect excuse to throw a housewarming/curfew-ditch party. She invites the entire student body of Mystic Falls High — including Elena and Stefan. But the sight of her gives Elena the full-on rage. The two vampires exchange words, then Elena throws a pencil at Rebekah. The Original catches it and tosses it back, staking Elena in the shoulder. "I hate her," Elena growls as she storms out of the room, with Stefan by her side. "I didn't think I was capable of hate. But. I. Hate. Her. ... And I hate that I hate her."

Minutes after she arrives at Rebekah's bastion of under-aged drinking, Elena again gets the rage and obsesses over Klaus' sister. Rebekah knows this and plays it for laughs. Later, Elena is in Damon's room "supposedly" looking for bourbon, though he knows that she is lying as she wants the White Oak stake. He starts undressing in front of her (which she doesn't seem bothered by), and then asks her if she'd like to stay for the show, but she leaves.

Downstairs, Rebekah smoothly lifts Elena's day ring off her finger and throws it into the garbage disposal, leaving Elena awkwardly exposed. Elena's rage sharpens into a murderous point. Armed with the White Oak stake, she tells Stefan that she plans to kill Rebekah. Stefan responds by reminding her that taking out an Original isn't just murdering one vampire. It is killing every vampire that she sired.

Stefan gives Elena a ride on his motorcycle.

Rather than attack her host, Elena does an impressive keg stand on the way out, to the cheers of her schoolmates. Rebekah watches, but is distracted but the pain pulsing through her body, caused by the werewolf venom that Connor slipped into the keg. After they leave the party, Stefan and Elena go on a motorcycle ride. Elena realizes something is wrong a few minutes after stopping. They are just about to take things to the next level, when instead of seeing her beloved Stefan, she sees her be-lusted, Damon. Elena pushes "Damon" off of her and Stefan is bewildered and confused, wondering what is wrong. After Stefan realizes that Elena has been poisoned with the werewolf venom Connor stole from Tyler, he calls and asks Klaus to save her. Klaus believes Elena might be worth something to him after all, and agrees.

Stefan and Elena making out

Added by

PaulWesleysWifey

In The Five, Elena makes sure to inform Stefan of her trip with Damon and Bonnie to Whitmore College, where Bonnie's grandmother had taught, as she doesn't want him to suspect any foul play. While Bonnie is busy, Elena is encouraged by Damon to practice feeding from the vein. Though at first Elena is positive she can't go through with it, she chooses her victim in a college class. But after she sees a photo of the girl on her phone with her sister, Elena's compassion stops her.

Elena trains with Stefan as Elena tells Stefan about Whitmore College.

That night, Damon, Elena, and Bonnie attend a themed fraternity party, 'Murder House'. In costumes, it is easy for Damon and Elena to blend in and feed at their leisure. Elena's first victim is a guy who roofied a girl's drink. While feeding, Damon is behind her to remind her not to kill him. After that, she is hooked, and she feels good. She hugs Damon and she tells him she wants more. She and Damon take to the dance floor, looking for victims and dancing together. Elena enjoys herself as she repeatedly chooses her victims, feed, and compels them to forget the incident. She doesn't realize how caught up she is in it, until Bonnie sees her. Bonnie gives Damon a reprimanding for letting Elena let loose like that, but Damon is anything but apologetic. He claims Elena is like him more than anything and she's allowed to behave the way she did because she's no longer a human, but a vampire.

Damon walks away and Elena begins to cry as she realizes what she has done to him. He accompanies her home and she apologizes for letting things get out of hand at the party. She unintentionally hurts his feelings by saying she hates thinking that he's right about what a vampire is supposed to be. "Because you don't want to be like me," Damon finishes. Damon and Elena are interrupted when Stefan opens the door and greets the both of them. Damon leaves both Stefan and Elena on the porch. Stefan asks Elena how everything went. Elena tells Stefan that she learned how to feed without hurting anyone. However, she tells Stefan that she got caught up in the blood and in the feeding and almost lost control.

Stefan comforts Elena and tells her, "You just have to hold on." (Click on picture to see it move.)

Stefan tries to reassure her that the feeding will get easier with time. Elena then slowly starts to break down as she confesses to Stefan that she is becoming something that she doesn't want to become; she is feeling things that she doesn't want to feel. Elena tells Stefan that she doesn't think that she is going to make it, and survive being a vampire. Stefan comforts her and tells her that she will get through it, and that she just as to hold on. Stefan holds onto her affectionately as Elena tries to calm down.

Elena and Stefan writing in their diaries.

In The Killer, at home, Elena is narrating the first diary entry she's written since her change into a vampire. The side effects of being a new vampire include hopelessness, depression, anger, and fear. "Dear diary, I know it's been a while. A long while. I haven't needed... I haven't wanted to write this stuff down. But I don't want to say it out loud either. The thing is, I'm a vampire. And I hate it." ... "But most of all I'm scared," she writes. Damon comes to see Elena, hoping to find Stefan, because Stefan is dodging his calls. Elena still has not told Stefan about the party with Damon. Damon knows she's in a shame spiral filled with new vampire remorse, but Elena still won't admit it to anyone but her diary. When Stefan won't answer a call from Elena's cell, they realize something must be wrong.

Later, they go to the Lockwood mansion, and make up a plan to kill Connor. Stefan arrives and Elena goes to greet him with a hug. Stefan listens to Damon's plan and rejects it, and tells him that he is the one to fix this.

Elena hugs Stefan.

After Connor holds Jeremy, April, and Matt hostage, Damon finds Alaric's map of the tunnels that provide an entrance to the Grill. Since Connor doesn't know she's a vampire yet, Elena wants to offer to trade herself for the hostages. Damon believes this is a stupid idea because she's not ready to go up against a professional killer. A mock fight ensues that ended with Elena straddling Damon on the bed. She tells him that Jeremy is the only thing holding her together, and he promises they'll get him out.

Later on, with Stefan, Damon wonders why Stefan is making references to Klaus in his plan. He says he's going to make a move with or without Stefan, so Stefan vervains Damon with some of Alaric's stash.

Stefan and Elena kiss after Stefan asks Elena to trust him.

Stefan doesn't tell Elena the truth, being to sworn to secrecy by Klaus—he says he is worried that Damon would get Jeremy out, and then go after Connor with no regard for Matt and April's lives. But in truth, he wants to prevent Damon from killing Klaus and thus ruining the chance to cure Elena of her vampirism. Elena wants to go with Stefan to rescue her brother and friends, but he tells her she won't be able to handle the guilt if she has to defend herself and kill Connor.

Damon wakes up, and Elena, still waiting for Stefan to return, bids Damon to go to the Grill. Stefan, however, took his day ring, so he cannot leave the house. Elena then decides she is going to the Grill, and Damon tells her to use the fact that Connor doesn't know she's a vampire to get as close as she can before making her move.

Elena rushes in and pleads with Connor to set Jeremy free, since he's all the family she has left. Connor says he'll shoot Jeremy right in front of Elena on the count of three if Stefan doesn't come out from hiding. He reaches two, and Stefan appears. Elena tackles Connor, but he fires and hits Jeremy in the gut. Stefan has to get falling Jeremy off the mine fast enough so he can shield them from the bomb with a table.

Elena pauses her assault on Connor to ask if Jeremy is okay, and Connor is able to flip her. She holds him off long enough for Stefan to get Connor off of her — and Stefan speeds away with him. After Elena feeds Jeremy her blood to save him, he tells Elena about Connor's tattoo and that someone had compelled him to forget the day he'd spent with Connor.

Elena, in a rage, finds Connor in the tunnels where Stefan left him. She bites his neck and warns, "Stay the hell away from my brother." Connor drops to his knees and calls Elena the biggest monster Jeremy will ever meet. He tries to stake her while he talks to her. "You missed," she says, and snaps his neck.

Elena thinks she's a killer

Added by

Drechao

Stefan and Damon show up as Elena is burying Connor in the woods, sobbing, and angry at Stefan for lying to her. After taking a tortured shower, Elena writes in her journal some more about how the worst feeling isn't when you lose someone, it's when you lose yourself. She starts seeing drops of blood, then splotches that lead her into the bathroom. Blood is everywhere. Written on the mirror is "Killer". Elena tries to back away from the mirror, but slips on the floor because of all the blood. When Elena looks back down to the floor, she sees no blood, and she gets back to her feet. She then looks at the mirror to see the message, but all she sees was her own reflection. Thus begins the haunting that ensues when one kills one of the Five.

Stefan breaks up with Elena.

Added by

Drechao

In We All Go A Little Mad Sometimes, Elena and Stefan break up, after Elena tells Stefan that her feelings for Damon became magnified when she became a vampire. Stefan tells her that he understands why she feels this way for Damon when he himself was gone, but that he doesn't understand why she still has these strong feelings for Damon.

In My Brother's Keeper, Stefan saves Elena from being killed by Jeremy, who is now one of the Five. After, Elena tells Stefan that he doesn't have to love her like this, and that's she's changed and he needs to let go. She tells him that the Elena he loves died on the bridge. 

Elena tells Stefan to let her go

In O Come, All Ye Faithful, Caroline admits to Stefan that Damon and Elena are together. Stefan goes into a rage.

In After School Special when trapped in the school by Rebekah, she plays a little game of truth or dare, with Caroline, Elena and Stefan and compels them.

Elena is stunned to see Stefan

She forces Elena in front of a heartbroken Stefan to confess that she didn't sleep with Damon because of the sire bond, but because she is in love with him. She admits that while she still loves Stefan, she is no longer in love with him, because she feels Stefan only sees her has a project, a thing that needs fixing. She says that if she is honest, when he looks at her, all he sees is a broken toy. This leaves Stefan heartbroken. After Rebekah calls Tyler to tell him that she has Caroline, he turns up at the school. 

Elena is forced to confess.

Once there, she forces him to turn, as Tyler begs Stefan, Elena and Caroline to leave before he hurts them. At this point Rebekah disappears with Kol to torture Shane about the whereabouts of the cure.

Stefan and Elena find a room where they lock themselves in to get away from Tyler. Elena tells him they need to talk, but Stefan doesn't want to know, telling her there is nothing to talk about. He asks her how many more ways can she rip his heart out.

Stefan is heartbroken by Elena's confession.

Elena tearfully says she's sorry for everything's she's done to hurt him, but Stefan says nothing. Rebekah turns up in the room and tells Elena that she can make Stefan forget everything about her, all his love for her and every kiss they shared. Stefan tells her to do it, which stuns Elena, and she begs him not to let Rebekah do it. Rebekah refuses to anyway, as it would be too easy. She tells him she wants him to live with the pain, like she has for last 900 years. Rebekah tells them they can leave and walks away. Stefan looks at Elena one last time and then leaves, she goes after him, but he just walks on.

In Catch Me If You Can, when Damon is compelled by Kol to kill Jeremy, Elena calls Stefan for help, but Rebekah answers. Elena tells Stefan that even though he may not care about her any more, he should at least care what happens to Jeremy. Stefan doesn't answer this, and Elena hangs up.

However, when Damon does try to kill Jeremy, Stefan speeds in to stop him. In order to stop Damon, he locks him in the cellar and drains him of blood to weaken him. There, he tells Damon that once the cure is found he and Elena can do as they please, and that he no longer cares. As he walks out, Elena is there and asks if she can see Damon, but Stefan tells her no, as he will only ask her to let him out—which she will—because the sire bond.

Elena asks him what he is doing with Rebekah and that his acting like he doesn't care and that isn't him, to which he replies, "That's because you've never seen me when I'm not in love with you." Elena appears to be upset by this and leaves. When Stefan returns to where Rebekah is staying, she tells him to not care, no strings attached, and they end up kissing passionately and having sex.





In A View To A Kill, Elena learns from Damon that Stefan slept with Rebekah, and looks very upset about it. In addition to this, Stefan gets closer to Rebekah after spending the whole day together.

Going to A View To A Kill, Elena still has her plan to kill Kol, which she informed Bonnie of over the phone. No one seems at all upset that if Kol dies, and his bloodline follows, there could be nice vamps like Stefan and Damon among that body count.

In Into the Wild, Rebekah gave Elena the evil eye, and Elena tried to stake her. Damon declined to tell Elena if he'd take the cure when it's found. In the morning, the group had to split up: Bonnie wanted to stay behind and try a locator spell, Shane wanted to stay with her, and Damon wanted to stay with Shane. That meant Elena got to go off with Stefan and Rebekah. Rebekah and Elena continued bickering as they walked with Stefan, and the only thing that shut them up was when Elena tripped a wire and almost got herself staked. Rebekah stopped the wood before it got to Elena. Elena genuinely thanked her, but Rebekah wouldn't play nice: She said she didn't care if Elena died, but if it was going to happen, it should be epic. At the camp, Rebekah freaked out thinking Elena and/or Stefan had taken the headstone or was working with Shane. That makes no sense, which they were able to convince her of. Elena offered Rebekah the white oak stake as a peace-offering. Rebekah said there was no peace, they're all screwed. That's why Elena said the three of them have to work together now. Rebekah accepted it.




Elena excepting Stefan's friendship.

In Down the Rabbit Hole,  Elena recapped everyone's whereabouts on the phone for Caroline.Elena and Stefan talked about the fact that he'd never told her he's always wanted to be human again, even before he met her. But Stefan referred to Elena as a friend, which made Elena happy and Rebekah concerned. Rebekah had sent Elena jumping first off a cliff so she could tell Stefan there was only one dose of the cure. She knew even if she gave it to him, he'd just give it to Elena.




Elena and Stefan are friends.

She couldn't handle two against one, so she snapped his neck which Elena saw. Elena had made her way back to the top of the cliff to sit beside Stefan. As he drank from a blood bag, he told Elena about there only be one cure, and she said she couldn't take it above everyone else who deserved it just as much as her. She said maybe it was for the best: Even if she could be human again, she'd never be the same girl she was before Matt's truck went off the Wickery bridge. She'd have to learn to embrace the new her and live her life. Sired to Damon, Stefan said. She'd deal with that when they got home. HOME. They realized Bonnie's spell holding Klaus would soon wear off, and after what they did to Kol, Klaus would kill them all. They had to get the cure and ram it down his throat. Stefan and Elena caught up, and Vaughn fled through the passage. Stefan sent Elena on, and he stayed behind to try to help Damon.

Elena was on her own—except for whoever jumped out and attacked her. Later, Stefan finally caught up to bleeding Elena, who confirmed that Katherine was there.

In Stand By Me, Stefan and Elena arrived home with Jeremy's body. Upstairs, Elena covered Jeremy in his bed, held his hand, and waited. In the kitchen, Stefan and Caroline turned on the faucet so Elena wouldn't hear them discuss how her denial was the only thing keeping her sane until they could get Damon back there to sire bond her through this. Meredith went into doctor mode and told her how Jeremy's body would start to bloat if they didn't get him to a funeral home soon. More uncomfortable tough talk. Elena shoved Meredith and started saying they needed magic. Someone had to bring her Bonnie. And then Matt arrived and started to tear up. Elena hugged him and told him Bonnie would be there and everything would be fine. She just kept repeating it. Elena went upstairs and now smelled what everyone else had. Damon came in, and she wouldn't listen to him. She went downstairs and asked for Bonnie. Matt was taking her home, so Elena said they'd have to do this the old-fashioned way. She wanted to burn the house down with Jeremy it. It was a good cover story. Plus, she didn't want the memories of everyone she's lost. She lit a match and dropped it when it started to burn her fingers. Luckily, Damon caught it. Elena collapsed to the floor and wailed. The pain hurt too much. She just wanted it to stop. Stefan told Damon to help her, and here's what made this whole episode worth it: Damon told her to turn it off. He said it would all go away. It's what he wanted her to do. She stared ahead. And then did it. After talking, the brothers went back inside to find Elena with another lit match. This was still the best cover story, she said—again, despite the fact that she told April that Jeremy was dead way before the fire actually "killed him. Stefan tried to tell her that maybe one day she'll want to come home, but she said she wouldn't. She dropped the match, and they walk out as the flames built. Elena and Damon don't look back. As she lets go of her memories and past.

A few days later in Bring It On, Elena plays injured in the middle of the road simliar to what Damon did back in the series. A woman stopped her car to see if Elena was okay and asked if she felt any pain. "I don't feel anything," Elena said.

Stefan followed her after letting Caroline drop to the ground, and he figured out she'd joined the squad so she could feed on the vervain-free victims who'd come in from out-of-town for the competition. Elena said they all want her to be okay so badly, they'll hear whatever she wants them to. He had a trick up his sleeve though: He made her think he wanted to take her to a dive bar where she could have fun with few witnesses, but when she caught the helmet he tossed her, he shot her up with vervain.

When Elena woke up, Stefan compared Elena to Katherine when Elena changed out of her cheerleading uniform in front of him at Salvatore Mansion. Like Katherine, he said, Elena is now manipulating people with sex. Elena said she's nothing like Katherine, who's been on the run so long that she's afraid of her own shadow. Elena's afraid of nothing now, she's shut everything off including her feelings for Stefan. He looked a little hurt, so she clarified: She looks at him and can see he's hot: "I remember our sex, and it was good sex. I just don't feel anything about it anymore." She asked Stefan why he still cared about her, and he said because he brought this all into her life. She told him his whole world revolves around her—so maybe he needs to turn it off, too. Stefan asked who she was texting. The answer: Everyone. If he wouldn't let her go to a party, she'd bring the party to her. She told Caroline to take him out for a spin. Then things took a turn. Liz showed up, no doubt having received complaints about the noise. Elena threatened her. Caroline separated them, then Stefan held Caroline back from going after Elena. Elena bolted. Stefan said Elena had thrown that party to distract them so she could leave. Stefan texted Damon that Elena was AWOL and he needed help. The brothers arrived just in time to save Elena from staking Caroline after a pretty badass fight sequence in the woods. Caroline is an older vampire and should be more powerful, but Elena's training with Alaric gave her the edge. Elena didn't care that she hurt Liz. She wanted Caroline to turn off her humanity, too, because then she'd stop whining about Tyler leaving her and she wouldn't have to feel guilty for having dirty Klaus thoughts. When the Salvatores stepped in, Damon noted that under other circumstances, Elena fighting another chick would be a major turn on.

In Pictures of You, Stefan danced with Elena for alittle abit during prom. While they were dancing, Stefan kept bringing up the wonderful memories they had together when they dated, in an attempt to bring her humanity back on but it didn't work.  In Graduation (Episode), Elena thanks Stefan for always being there for her. Elena gives Stefan The Cure but Stefan gives it back to her because he wanted to get it for her. Stefan later eavesdrops on Elena's confession to Damon about being in love with him, which causes Stefan to be heartbroken and shed tears. Later that night, Stefan reveals to Lexi  that he is still in love with Elena and asks if Elena was the one and Lexi states that she was an epic love.
---
Season Five
In I Know What You Did Last Summer, Stefan is hallucinating while in the safe of Damon trying to convince him to turn off his emotions, Stefan begins to consider it until a vision of Elena interferes and convinces him to keep on fighting for her, which he does.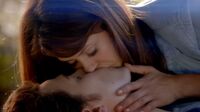 In True Lies, Stefan continues to hallucinate but he and Elena are laying with one another next to the quarry talking about how it is just another hallucination, the two kiss until Elena starts coughing and water comes out of her before Stefan wakes up in the safe again.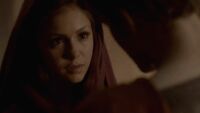 In Original Sin, Stefan discovers from Qetsiyah that he and Elena are both doppelgangers of Silas & Amara, Qetsiyah's hand-maiden who was Silas's true love. After stripping Silas of his mind control, Qetsiyah mentions to Damon on how every version of Stefan and Elena found each other and fell in love. Later on Elena arrives and goes strait to Stefan not even noticing Damon. They bring Stefan back to the Salvatore Boarding House, where Elena puts Stefan's daylight ring back on him. He then wakes up only to reveal that he has no knowledge of who they are.
Character Quotes
Elena and Stefan's Quotes
Season One
---
---
---
Season Two
---
---
Stefan: Okay how about this. Today when we're fighting, if I say "I can`t do this anymore Elena," what I really mean is that I love you.
Elena: And when I say "Fine, Stefan, whatever," that'll mean I love you too.
---
Elena: It's you and me, Stefan. Always.
---
---
Stefan: I look hot in your dead great grand-dad's jacket?
Elena: Beyond hot.
-- Crying Wolf
---
Stefan: [To Elijah] I'm sorry for the part that I played in your death. I was protecting Elena. I will always protect Elena.
-- Klaus
---
Stefan: If it was my choice, I'd want to be with you forever.
-- The Last Day
---
Season Three
Elena: [On the phone] Stefan, if this is you, you'll be okay. I love you, Stefan. Hold on to that. Never let that go.
-- The Birthday
---
---
Klaus: Fascinating, I've never seen this before. The only thing stronger than your craving for blood, is your love for this one girl.
---
---
Stefan: [To Alaric] Yeah. You know, you can hate it all you want, but Elena needs me. I'll always protect her. I think you're both better off having me around.
---
---
---
---
Stefan: We were in this gym the night Klaus compelled me to turn my feelings off. I thought I hit rock bottom in the 20s, but after I bit you, I never wanted to feel anything again. But someone, kept telling me it was okay to feel, no matter how much it hurt, that our emotions are what make us human, good or bad. And to never lose hope.
---
Season Four
---
[Stefan is standing behind Elena. He is trying to teach her how to use her super speed.]
---
Stefan: I never did answer your question. If it meant that I got to be with her, have children, grow old with her... If it meant that we'd die together, be buried together...then yes, I'd take the cure.
-- The Five
---
Stefan: I can't do this anymore, Elena.
Elena: I know.
---
Note: Look back at Killed Or Be Killed for reference.
Caroline: Because Stefan is your soul mate.
---
Klaus

(to

 

Damon

): I remember when I compelled (Stefan) to feed on Elena. He fought so hard he actually managed to resist. Now, that's love. 
---
Klaus

(to 

Damon

): 

All I see is Stefan and Elena.. I think you see the same thing. 
Dating Timeline
First Relationship:
Second Relationship:
Third Relationship:
Fourth Relationship:
Trivia
Gallery
Video's
Elena and Stefan's videos
The Novels
The Awakening

Elena Gilbert is a popular teenager in her senior year, mostly referred to as the Queen of the school, but somehow felt lost in her world, wanting to fit in somewhere else. She is confident and bold and always got what she wanted, until a new student came to school, a gorgeous Italian named Stefan Salvatore. Stefan was a centuries old vampire, who still felt guilt over the lost of Katherine von Shwartzchild, a young lady he had loved very much. At first, he felt Elena's powerful personality, but had no clue who she was, and Elena was shocked that he never even noticed her, as did the other guys. During European History Class, Stefan was shocked when he saw Elena and how her appearance was exactly like Katherine's. He then purposely tried to keep away from her, and left immediately when the class was over. Elena, hurt by his behavior towards her, vowed that she'd have him.

She broke up her current boyfriend Matt Honeycutt, as she felt that their relationship wasn't what she wanted. Matt was hurt, but remained her friend. After another attempt to talk to Stefan failed, she created a rumor to make it seem that she wasn't upset. She explained the matter to Matt and got him to get Stefan to the Homecoming Dance, but was shocked that Stefan had come with her ex-friend, Caroline Forbes. Truly upset, she left the dance with Tyler Smallwood, his friend Dick, and Dick's girlfriend, Vickie Bennett. Her friends Meredith, Bonnie, and Matt went to look for her. Stefan left as well. He went to the cemetery and saved Elena from being assaulted by Tyler. He took Elena back to the boarding house and took to her room to get her a cloak to wear over her torn clothes. Finally, Elena angrily spilled out how she felt about him and asked him why he hated her, but was surprised when he said she reminded her of a friend he lost years ago. Stefan succumbed to his feelings and kissed Elena passionately and she realized that he didn't hate at all. She felt safe with Stefan, and knew where she belonged now.

Stefan took her home afterwards, where Matt, Bonnie, Meredith, Aunt Judith, Uncle Robert, and several policemen told her Vickie had been attacked. Stefan left not long afterwards, suspecting the attack was caused by a vampire, and even suspected himself, though he couldn't remember it.

The Struggle

Elena and Stefan are improving in their relationship, until Damon appear in the village and started havoc on Stefan's image in society. Caroline and Tyler begin to cause rumors among students, these rumors were saying that since the arrival of Stefan to the town, the attacks have occurred. During the celebration of Halloween, Damon kills Tanner, but it is believed that Stefan was the cause. Elena, along with Meredith, Bonnie and Matt manage to find Stefan in a water well, after the incident Tanner. Everyone thinks it was Damon, but Stefan says I can not have been because it's not his style. During the coronation celebration, Caroline and Tyler try to reveal the nature of Stefan but Damon involved avoiding the disclosure of the truth. Shortly after that, Elena and her family have strong discussion caused by Damon. Elena out of school but during her journey, she is attacked by a great power causing her death.

The Fury

Elena becomes a vampire while Stefan and Damon try to help. Elena begins to feel something for Damon and Stefan says he just wants to be happy. A large number of incidents start happening in town. Elena, Stefan, Damon, Bonnie, Meredith, Matt and Alaric investigate who is causing all this. Eventually, Elena, Stefan and Damon discover that Katherine is the cause and she just wanted to Stefan and Damon were happy. Elena manages to defeat Katherine, but she dies. Before her death, Elena asks Stefan and Damon to take care each other.

The Return: Nightfall

Elena comes back from the dead and starts acting in a strange way with Stefan and all his friends.
See also