Elena and Matt
General Information
Nickname(s)

Melena

First Met

Since childhood

Status

Dated; Close Friends
"
You're my oldest friend. You're the girl that I've loved longer than I can remember... I know that still means something to you.
"
The relationship between Elena Gilbert and Matt Donovan has been a good, although occasionally awkward, friendship, due to the fact that they dated and broke up, and are now dating other people.
In Season Three, Matt becomes Elena's close friend again, as well as a confidant.
As a testament to the strength of their friendship, the shock of thinking that Damon had killed Matt, and then the joy of finding out that he wasn't actually dead thanks to the fact that he was wearing the Gilbert Ring, were enough to make Elena turn her humanity back on in She's Come Undone.
They are referred to by fans as "Melena".
Early History
Edit
Kelly Donovan, Matt Donovan's mother, and Miranda Gilbert, Elena Gilbert's mother, were best friends during high school, which meant that Elena and Matt had known each other from infancy, even sharing a crib when they were babies.[1] They remained the best of friends through childhood and eventually started dating in their teen-years. After Elena's parents died in a car accident, Elena broke up with Matt, as she felt she needed time to be alone. Matt was crushed by her decision, but accepted it, still hoping that there was a chance for them to eventually get together. But, as their junior year started, Elena became meets a handsome new student, Stefan Salvatore, and is instantly interested in him; Matt was clearly hurt when he saw them together, and suggested that he still wasn't over Elena.
Season's One, Two and Three
Edit
When the school year started, Elena knew Matt was still upset about their break-up. During history class, Matt noticed the new guy, Stefan Salvatore, staring at Elena, and even saw Bonnie Bennett text Elena about it. Elena brought Stefan to the Mystic Grill and introduced him to Bonnie, Caroline Forbes and Matt. During the Back to School party, Matt told Elena he still believed in them and though she broke up with him because she needed some time to be alone, she didn't seem alone, as she was hanging out with Stefan. Later, Elena and her brother Jeremy found Matt's sister Vicki in the woods, who was attacked by what they thought was a wild animal, but was really Damon Salvatore.
Tyler Lockwood, Matt's friend tried to embarrass Stefan in front of Elena to show her she "chose wrong", by attempting to hit him in the back of the head with a football, but was shocked and slightly humiliated when Stefan turned around in a split second and caught it before it hit him, surprising everyone and impressing Elena. Elena encouraged Stefan to join the football team, and their coach and history teacher William Tanner eventually permitted. Everyone was impressed with how good he was, causing Tyler to try to get Matt to tackle Stefan and embarrass him again for showing them up. Stefan overheard them talking and let them tackle him roughly as a way to make themselves feel better.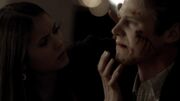 Bonnie told Matt to stop pining over Elena, as they saw she was happy with Stefan. He later found out that Elena and Stefan broke up, but saw they were still hanging out together. Eventually, Stefan and Elena got back together and Matt started dating Caroline. Caroline, wanting to show Matt that Elena was happy with Stefan, set up a double-date, but when Matt and Elena started reminiscing their childhood memories, Caroline became upset, although Stefan enjoyed the conversation, and understood that she and Matt have history. The date started to "improve" has the night drew on but it was cut short when the four entered the Salvatore Boarding House to find Matt's mother Kelly and Stefan's brother Damon Salvatore making out, enraging Matt.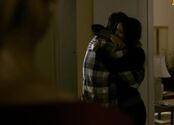 While trying to get to a birthday party, Caroline's car broke down in the middle of a thunderstorm. She couldn't find cell service, and got out of the car in the downpour to try to find a place with a signal so she could call for help. She slipped and fell down a small mudslide; she slid down the hill and grabs for a plant to hold onto, accidentally grabbing the wrist of a dead body that was found to be Vicki Donovan, much to her horror. Caroline and her mother, Sheriff Forbes delivered the grave news to Vicki's family. Matt, grieving his sister's death, told Caroline he wanted to be alone, before Elena shows up at his house. When Matt sees Elena come in, they run to each other and hug, upsetting Caroline.
Matt was unable to escort Caroline to the Founder's Day Celebration, due to work. Ironically, Elena wasn't escorted by her boyfriend either. 
While both Elena and Matt were helping prepare for the Masquerade Ball, Matt asks Elena about Caroline, who he had just broken up with, and tells her he thinks she is seeing someone else. She tells him that Caroline isn't dating anyone, and tells him to 'just give it time', in an attempt to hide the fact that Caroline is now a vampire.
Matt helps Elena bring home from the hospital after Jenna nearly died after stabbing herself in the stomach (due to being compelled by Katherine Pierce.) Later, Elena and Matt discuss their lives, and Matt asks Elena if she's going to the Masquerade Ball. Elena tells him that she isn't, since she and Stefan are broken up, and Matt replies that he's going because there is something he needs to do, although he doesn't go into detail. He assures her that he's always here for her, and leaves for the ball.
During Elena, Bonnie, Caroline and Jenna's girl's night, they go to the Mystic Grill to see a band perform, and Elena walks into the ladies' restroom to find Matt and Caroline making out, and Elena tells them she's happy that they've made up. The power goes out, and it is revealed that Jonas Martin is there to take Elena to Klaus to trade for his daughter, and the gang try to protect Elena. Caroline attacks Jonas, who hits her with a mystical brain aneurysm spell, causing her to fall onto the ground in pain. When Matt sees Caroline crying, he runs up to Jonas to protect Caroline. Jonas stabs Matt in the neck with a broken beer bottle and leaves, leaving Caroline to help Matt. She almost feeds on him when she smells the blood, but eventually controls herself and feeds him her blood to heal him, and takes him back to her house.
After Matt found out about vampires, and that Caroline is one, he disappears, freaking out because he thought Vicki was just tripping on drugs when she told him that she was hurt by a vampire. Elena tells Caroline that Matt is not one to run away, and offers to help her find him, but is ultimately unable to because she is kidnapped by Katherine and Isobel. Matt has Caroline tell him everything about vampires and the supernatural, and then gets overwhelmed and asks her to compel him to forget. She does, and it is later revealed that he is working with Caroline's mother, Sheriff Forbes, and had taken vervain and only pretended to be compelled. 
Matt attends Elena 18th birthday party, in which Elena spots him getting smoking marijuana with Jeremy. Caroline blames herself for Matt's drug use, but Elena assures her that Matt is just sad that he's not with her anymore.
During Senior Prank Night Matt and Elena help the other by setting up pranks around the school. When Klaus threatens to kill Tyler (by attempting to turn him into a hybrid, even though he had had no success in creating them so far) and Elena (who he believes is the reason why he can't turn hybrids), Matt kills himself by drowning himself in the swimming pool, and has Bonnie revive him with CPR so that he could contact his sister Vicki on the Other Side and find a solution to help Elena. It is eventually learned that Elena (the doppelgänger)'s blood is what creates a successful hybrid, and Tyler and Elena's lives were spared.
In Homecoming, Matt and Elena plan to go to the Homecoming Dance together when his date, Rebekah, is neutralized by a dagger, but that didn't end up happening because Katherine took Elena's place in order to keep Elena out of harms way when they tried to take out Klaus.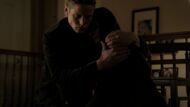 In Our Town, Matt and Elena plan Caroline's birthday party. However, when Caroline admits her disappointment that she's sad to be stuck at age 17 forever, Elena, Bonnie and Matt decide that what Caroline needs is a funeral, so she can mourn her human life, and move on with her new one. When Caroline doesn't return from her walk with Tyler, Matt and Elena start looking for her. They find her, hallucinating due to being bitten by Tyler, who was under Klaus' sire bond. Klaus eventually heals her with his blood. The next day, Elena and Matt meet at Wickery Bridge; she tells Matt about all that has happened since she nearly died in the car accident that killed her parents, and that, in a way, she feels like she let her former self down. Matt tells her that she's not that girl anymore, and tells her that it's okay for her to let that girl go and move on. Matt takes a handful of dandelions and throws them in the river as a symbol of moving on to her new life.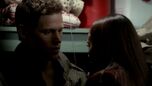 In Bringing Out The Dead, Matt shows up to comfort Caroline, after her dad's death. Elena watches and smiles at her friends comforting each other. Matt walks Elena home, where they arrive to find the power out. The two grab knives off the table and search the house, where they find Alaric in a hallway, stabbed, bleeding, and near-death. Elena has no other choice but to kill him, so that he can be revived through his ring, as they don't know if the assailant was supernatural, but they do know that Elena is supernatural, as the doppelganger. Matt watches in horror as Elena stabs him again, killing him. After Alaric dies, they move him upstairs, where Elena asks Matt to stay with her until Alaric wakes up, confessing that she can't lose anyone else in her life. Matt assures her he'll stay, and they wait around Alaric's body.
In The Departed, Matt and Jeremy struggle with what to do to protect Elena from the Original Vampires and the-newly-turned enhanced Original vampire, Alaric, who is on a mission to kill all the vampires, and whose life is tied to Elena's life. He decides to drug Elena's tea so she will go to sleep, and then puts her in his truck and drives to take her out of town. They're still on the road when they get news that Alaric staked Klaus with the indestructible white oak stake, which means that Tyler, Caroline, Stefan and Damon will die, as a part of his bloodline. She screams that they have to turn back, but Matt says that Damon is 100 miles away. They can keep driving to him, or they can turn back to go to Stefan and the rest of the gang. Elena eventually chooses the latter, and calls Damon to say goodbye. After hearing about Klaus' death, Rebekah calls Stefan and tells them their deal is off, and that she's tired of running, and her only choice is to kill Elena so that Alaric will die and won't be able to kill her. Matt is handing Elena his cellphone when Elena sees someone in the road. She screams and Matt swerves the car, flipping off the Wickery Bridge and into the river below. Stefan runs to rescue Elena, and she gestures to save Matt first. While Stefan is taking Matt back to land, Elena drowns. Damon returns to Mystic Falls after Alaric dies, and runs to the hospital to see Elena, where Meredith Fell explains to him that Elena died with vampire blood in her system, from when Meredith treated her injuries from the day before, which were more extensive than anyone realized. 
Season Four
Edit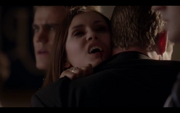 Matt, who feels guilty about Elena becoming a vampire just to save his life, tells Damon he will help him free her. Damon takes him to Pastor Young's ranch, where Rebekah, Elena and Stefan are being held in cow pens. Damon uses Matt as bait, and bites into his neck and drinks deep. Pastor Young sends in his minions, who are killed by being impaled by their own rifles. Damon, angry that Matt gets to live and Elena died, goes to kill Matt, who tells him that he can't hate him any more than he hates himself. Damon is about to kill him when Elena attacks him in full "game face", telling him to leave him alone. 
In Memorial, Matt and Elena's friendship goes further when he suggests that she feed on him, when she shows up at the Council Memorial weak and starving, after being unable to keep down animal blood, blood bag blood, or vampire blood. She feeds on him and immediately feels better, and Matt agrees to continue to donate his blood to her, since he owes her his life.
In The Rager, Matt continues to allow Elena to feed on him. She grabs her "lunch" at their old make-out spot at school. Elena feeds on Matt (carefully, so she doesn't hurt him too badly) but only drinks a little, because she's afraid of drinking too much. At the end of the episode, Matt arrives at the Gilbert household, apologizing for inadvertantly poisoning her with werewolf venom by giving Connor Jordan false information. Elena tells him that it's okay, but confesses that she's been feeling angry and enraged, especially towards Rebekah, ever since she turned, which makes her more hungry. Matt lets Elena feed from him again, but she starts drinking more. Matt tries to get Elena to stop, but she begins to feed even harder, pushing him against the wall and ignoring his attempts to stop her. Luckily, Damon intervenes and pushes Elena away from Matt, admonishing her as one would a small child who has done something wrong. Damon then compels Matt to forget what happened and to only know that he came over, let Elena fed a little bit, and left.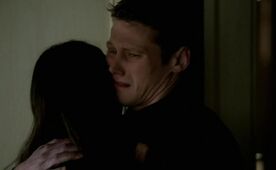 When Jeremy is awakened as a vampire hunter of The Brotherhood of the Five, he begins to experience increased strength and energy, as well as vivid dreams where he kills vampires, including his sister Elena. These changes begin to worry Matt, who demands that Jeremy tell Elena, or Matt will tell her himself. When Jeremy kills another vampire, his hatred and instinct to kill vampires gets even stronger. He attacks Elena at the second Miss Mystic Falls pageant, and Matt attempts to intervene until Stefan arrives and saves Elena, telling Matt to take Jeremy home. Elena moves in with the Salvatores, and Matt moves in with Jeremy at the Gilbert's house as a way to protect Elena.
After the gang returns from the island without the cure, Elena is in denial that Jeremy is dead. Matt comes over to comfort her, and breaks down when he sees Jeremy's body. Elena tells him it will be fine, and Matt takes Elena to the "stoner pit" at school, where he found some graffitti art done by Vicki and Jeremy, and tells her it's okay to have hope. He continues to comfort her, but is seen breaking down in tears alone in his truck after it is obvious that Jeremy is dead and not coming back.
---
Elena: You look good in a suit.
Matt: You and Stefan are working it out.
Elena: I don't think so, Matt. There's so much about me and Stefan that'll never work.
Matt: You know I'm here for you always.
-- Masquerade.
---
Elena: I wish I did, but he wasn't really one to run (about Matt).
Matt: Hey guys. (big smile)
Elena: Matt, hey! (He kisses her on the cheek) oh..
Matt: Happy Birthday.
Elena: Thank You. Hmmm...
-- The Birthday.
Matt: You're not that girl anymore. It's okay if you want to let her go.
Elena: Is it? Cause I feel like I disappointed her a little like, if I disappointed them. My parents.
Matt: For my too sense, as a guy who knew that girl, you're doing better than you think. Here lies Elena Gilbert. A girl-friend, and an amazing friend.
--Our Town
Matt: Are we running a marathon.
Elena: If you can't keep up.
Matt: Elena you can't out run your problems. Looks like you're going to try.
--1912
Season Four
Edit
In the novels, Matt's surname is "Honeycutt" but in the series it is "Donovan".
Both in the novels and series he is Elena's ex-boyfriend.
The Novels
Edit
The Awakening
Edit
Matt Honeycutt was a good friend of Elena's and when they started dating, it didn't feel right to her due to her feelings for Matt were similar to that of a sibling. At the start of the school year, Elena was immediately drawn to the new guy, a beautiful, foreign student, Stefan Salvatore. Elena broke up with Matt, feeling that the relationship between them wasn't as great them being really good friends. Matt was suspicious that it had something to do with Salvatore. At school, Tyler Smallwood was being rude to Stefan, not allowing him to enter European History Class. Matt got them to back off and invited Stefan to football tryouts to be a replacement player, but Stefan wasn't interested. By the end of the class, Elena put her first plan to have Stefan into motion, but became nervous. Stefan, wanting to get away from her, immediately took up Matt's offer for tryouts and left the room quickly, humiliating Elena in front of her classmates.
Elena was hurt but decided on a new plan with her two best friends Meredith Sulez and Bonnie McCullough, creating a rumor that Elena had met a Frenchman while on her vacation in France named "Jean-Claude" (but the photo she showed was actually the gardener who had two kids). Matt was hurt by the rumor as it meant that Elena was with someone else while she was with him. Realizing how he felt, she told him the truth and she had made the rumor so no one would think she was upset by Stefan. Matt told her, "You only want everybody and everything revolving around Elena Gilbert". These words hurt Elena's feelings and Matt apologized. She asked him to invite Stefan to the Homecoming Dance and Matt agreed.
On the night of the Homecoming Dance, Elena tried to get Stefan to dance with her, but she was shocked that he had come with Caroline Forbes. After being crowned Homecoming Queen, Elena left the party with Tyler, Dick and Vickie. Meredith, Bonnie and Matt went to look for her. They found Vickie in hysterics; she had been with the others when Elena left, and she had been attacked. Matt was with the others at Elena's house when she showed up with Stefan Salvatore who had rescued her from Tyler.
After Stefan started dating Elena, Matt's friendship with him became strained, with Stefan losing his only friend other than Elena. After Mr Tanner's death, Stefan was accused and Elena, worried, sent Matt to look for him. Matt found Stefan unconscious in the locker room and told him what happened. Stefan left, having Matt make a promise to protect Elena.
The Struggle
Edit
Matt kept his promise to Stefan to look after Elena after Stefan disappeared. Elena, still upset that Stefan was missing, pushed Matt away, but Matt stayed and watched from a distance. He followed Elena, Bonnie and Meredith to Wickery Bridge and helped figure out Stefan's true location. They rescued Stefan, and while Matt insisted that Stefan go to the hospital, Elena convinced him to take Stefan back to the boarding house.
After Elena die and become a vampire, Matt is totally desperate and tries to talk to Stefan. And he asks you if you want the truth, and it is accepted by more than scared.
Stefan takes you to a room and Matt is desperate to see Elena holding hands with Damon. Stefan proposes to Matt who want to stay close to Elena have a condition. The condition is that Matt his blood to Elena. Elena almost kills him.
Dark Reunion
Edit
References
Edit
↑ During a double date Caroline had organized, Elena and Matt shared memories of when they were children, as well as Elena stating they shared a crib (There Goes the Neighborhood).